Preparing for Your Interview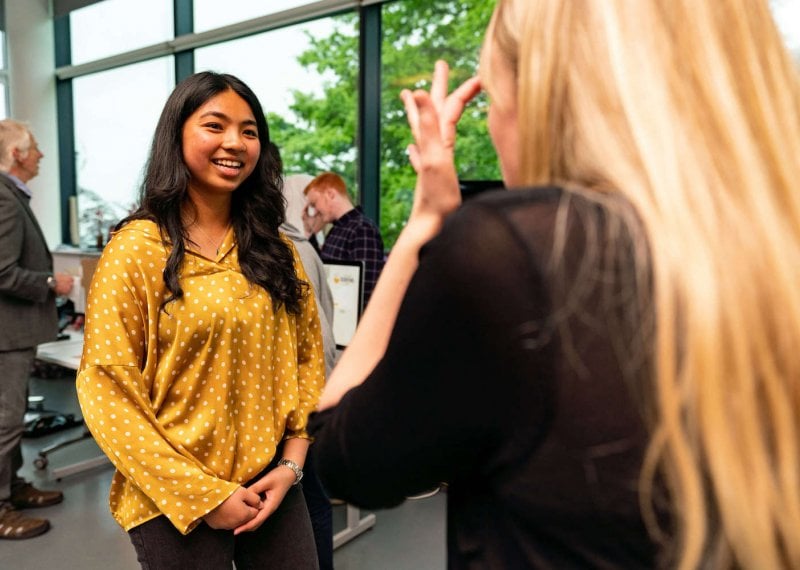 Get all the information you need to prepare for your interview
The majority of our interviews will be held online this year, but if you would rather see us in person, you can request to change to an in-person interview. If you choose to be interviewed in-person, you'll need to attend on campus, in Cornwall. We're not able to run our regional interview dates this year due to the ongoing covid situation but we would love to welcome you on campus.
We've also provided some helpful advice to support you below, such as answers to questions like: which interview type is right for you, how to reschedule your interview date, and when you'll know the outcome of your interview.
Find out what you need to do and how to prepare by selecting the course(s) you've applied for below.
Types of interview
If you're offered an interview you'll automatically be scheduled for an online interview. This can be helpful if you have a long way to travel or have already visited the campuses before. You can also visit the campus after your interview if you want to, we'll include details with your offer.
If you would prefer an in-person interview because you find it easier talking in person, then you can choose to have an on-campus interview instead. We're not running our Regional interviews this year due to the ongoing covid situation.
An on-campus interview might be the best option if you haven't visited the campus yet, as you'll also have the chance to look at the facilities and explore Cornwall.
Interview information by course
Q. Where can I find my interview date and time?
You can find details of your interview in the Applicant Portal
Q. How do I attend my interview
You'll receive an email from us with all the details about attending your interview. If it's online, we'll send you information about what platform it will be held on and how to use it. If you're being interviewed in-person we'll send you information on how to get to your interview and what to expect when you're there.
Q. What interview type is right for me?
There are two interview types to choose from:
Online
In-person on campus
You'll want to choose your interview type depending on what's best for you. 
Q. How do I change my interview to an in-person one?
You'll automatically be given an online interview, but if you'd prefer an in-person interview then you'll be able to change your interview type in the Applicant Portal.
Q. When are the on-campus interviews?
We'll be taking interviews on-campus between November and March and you'll be able to choose the date in the Applicant Portal.
Q. I can't make my interview date, where can I find alternative dates?
You can find a list of alternative dates in the Applicant Portal if you're not able to make the one we've allocated to you. If you do need to reschedule we would advise you do this as soon as you can as dates fill up quickly.
Q. How do I prepare for my interview
You can view a list of our courses and the relevant interview preparation above. We understand that it may be daunting for you to prepare for your interview, but don't worry, we'll support you. If you have any questions you can contact our applicant services team.
Q. When will I know the outcome of my interview?
We aim to make all decisions within five working days of interviews. However, in some cases, we might wait until we have held a batch of interview sessions before we make a decision. All decisions will be made online in your UCAS Track account, or the Applicant Portal if you applied directly with us. We'll also send you an email.
Q. I want to go to university but I'm worried about my grades
We understand that the last two years have been a challenging time for students, so if you're concerned about your grades then please don't worry. At Falmouth, we like to interview all applicants who show potential. Your personal statement, interview, portfolio, performance or presentation are all opportunities to show us your skills, talent and enthusiasm for your subject.
Find your course in the list above to see how you can showcase your work outside of your results.
Interview Technique advice
Online Interview Tips and Tricks
If, in order to attend an online interview, you have any individual requirements due to a long-term health condition, specific learning difficulty or disability, please contact the Accessibility Service as soon as possible.
T: 01326 370460
E: accessibility@fxplus.ac.uk
This will enable us to discuss and put in place any support or adjustments you may require, for example, live online captioning, BSL interpreter, adjusted interview time/length, or information in a different format.
Need help?
If you need to speak to someone about your application, just get in touch with our friendly Applicant Services team.
T: +44(0) 1326 213730
E: applicantservices@falmouth.ac.uk
WhatsApp: +44 (0)1212 852937
SMS: +44 (0)1277 420398
Enquiry form