Creative Writing BA(Hons)
Join our thriving writing community. Experiment with all forms of writing to find your passion and develop your writing voice. Explore audiences in the virtual and real worlds while working on live publishing projects. You'll flourish as a writer, surrounded by inspirational staff and beautiful natural spaces.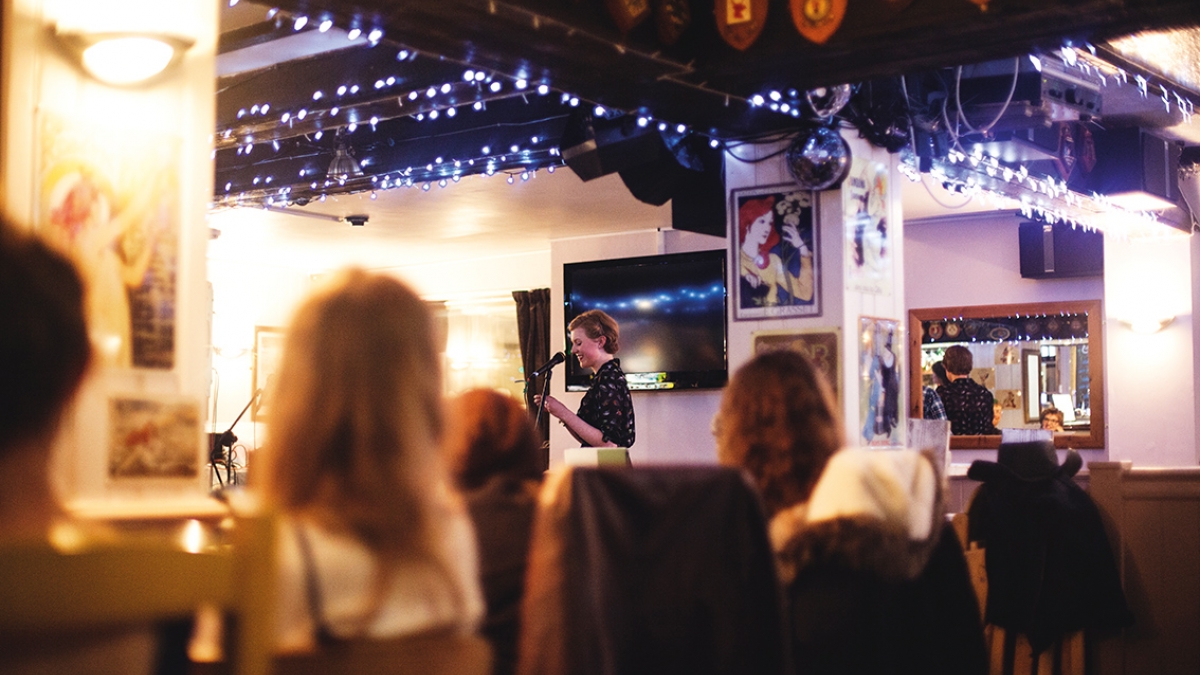 Key details
| | |
| --- | --- |
| Location | Falmouth Campus |
| Course Duration | 3 years |
| Attendance | Full-time |
| UCAS code | W890 |
| Contact | 01326 254350 |
Introduction
On this course you'll explore non-fiction, poetry, fiction, children's literature and writing for digital games – learning to draft, edit and pitch your creations. By working on literary, community and industry-engaged projects, a final portfolio and an online profile, you'll also develop industry-level confidence and outstanding creative work.
You will:
Produce illustrated anthologies, organise mini-festivals, or work with a business as part of your third-year collaborative project

Attend our exciting guest lecture series, where you'll build relationships and contacts within all facets of the literary world

Have the opportunity to attend and participate in literary events such as The London Book Fair and the 

North Cornwall Book Festival

Take inspiration from The Lighthouse – the glorious workspace at the heart of our community – which hosts everything from skills and craft workshops to board game sessions, literary quizzes and poetry readings

Use the stunning natural surroundings as inspiration for the writing process

Contribute to a vibrant, thriving, writing community

Write for FalWriting, our student-led online magazine, or read your work at our literary evenings and feel the warmth of the applause
Covid-19 update
In response to the Covid-19 pandemic, we have reviewed and made changes to our courses to provide flexible, blended delivery that offers high-quality digital engagement and access to face-to-face teaching in our facilities. You can see how your course may be adjusted by viewing the changes for the current academic year by visiting our welcome letters & latest course updates pages
What our graduates do
From digital content creators to creative developers, theatre directors to professional authors, our graduates go on to work in a wide range of roles. Alumni are currently working as Director at Bristol Old Vic Young Company, Web Content Editor at TorFX, and Creative Developer at Brand Institute, Miami. 
Course details
What you'll learn
This Creative Writing degree seeks to capture and analyse the most vital contemporary writing (across all formats and media) within the context of a rich literary, historical and theoretical past. You'll learn, debate and create under the guidance of industry professionals, whether in The Lighthouse, our state-of-the-art campus facilities, or any of our immediate and beautiful natural spaces.
By customising your learning journey you will fully maximise your creative potential. Find your voice and focus on your strengths. Make personal connections with industry and community partners through collaborative projects, which will springboard your professional journey from university to your desired industry.
The first year gives you a grounding in the basics of creative writing, english literature and publishing – all key areas for aspiring writers to be familiar with. But along with the introduction you need, the course also challenges and breaks the norms of most creative writing degrees with modules like Exploding the Canon: Writing Then and Now and Breaking the Rules: Remix and Writing Back. Each week, you'll have a mix of lectures, workshops and tutorials.
Modules
Writing: Craft and Contexts
Writing: Craft and Contexts explores the practice of writing as a discipline and a craft and asks you to debate ideas about writing, authorship, genre, creativity and audience.
Breaking the Rules: Remix and Writing Back
A challenging, radical and 'breaking the rules' creative writing module, which covers remix and writing back in theory and practice.
Exploding the Canon: Writing Then & Now
How do the literatures of the past infuse the fictions of the present and what do these literatures reveal about us as we are now and us as we once were?
Literatures of Revolution
From the revolutionary ideas of Darwin's theories of evolution to postcolonial revelations, LGTBQi movements and the #MeToo phenomena, literature and other textual forms reflect and create society. How do contemporary notions revolutionise texts and how do texts inform revolutionary ideas?
Publishing Cultures
In this module, you'll encounter publishing as a literary and cultural tradition that is dynamic and in a constant state of flux. You will consider the role of technology on the production and dissemination of written texts in the contemporary world.
Publishing Studio: Technologizing the Word
A practical and intermedia publishing module, which might include book design, zine making, performance and exhibition as publication and screen-based media.
This year is all about narrowing down to your specialisation. Want to be a screenwriter? There's a module for that. Want to write for games? There's a module for that too. You can take modules in poetry, creative non-fiction or radio and theatre. You'll take two core modules, but otherwise you'll create your own personalised degree, focusing on your specific interests.
You will progress to higher levels of analysis and creation, honing your skills as a writer and a critic. You will learn how to research, plan, pitch and build a profile as a writer.
Modules
Writing Project: Making Your Voice Heard
Cut through the noise: get the skills you need in researching, planning, pitching, building a profile or performing resistant alternatives to work as a writer.
Post-Digital Content
Working closely with live, department-based digital media projects such as FalWriting, you'll get to experience what it's like to be an industry-quality practitioner.
Optional modules
Screenwriting
Poetry
Games
Satire & Scandal
Fiction
Creative Non-Fiction
Radio & Theatre
Magic and the Impossible
The final year of your Creative Writing degree is a culmination of the tools and knowledge you picked up in years one and two. At this level, you will be working on two major 40-credit modules. The first, Collaborative Project, gives you the chance to work on real-world collaborations, for example with community groups, sound projects, work placements, and writing projects. Past students have created podcasts, poetry collections, and a range of community projects with partners such as Mind, the National Trust and others.
The second module, Portfolio, allows you to create a sustained piece of work that you can continue or begin to pitch after graduation. For the portfolio, you have weekly half-hour tutorials with your supervisor, giving you a close focus on your own writing. You can still choose option modules in the first study block, and in the second we ask you to consider experimentation and adaptation.
Modules
Collaborative Project
In this module you'll consider the writer's role as part of a creative eco-system, and/or literature's role in the creative economy through working on a live collaborative project. The project can be a placement in the writing-related industries, a case study or live brief with a business (for example, literary festivals, creative agencies, publishing houses, the heritage sector), or a collaborative project with peers culminating in an event performance or piece of creative practice.
Portfolio
You'll write an independent extended piece of creative writing or collection of creative pieces in a genre, form, topic of your choosing.
Experiment and Adaption
Engage with some of the limits of textuality, testing the boundaries of understanding, meaning and communication. By looking at how texts can be remediated, how they morph and repeat, you'll analyse how texts sit within the time and place of their production, but also how they can innovate and shift.
Optional modules
We Have Never Been Human
Crime & Dark Fiction
Children & Young Adult
The modules above are those being studied by our students, or proposed new ones. Programme structures and modules can change as part of our curriculum enhancement and review processes. If a certain module is important to you, please discuss it with the Course Leader.
From module information to course aims and assessment criteria, discover the full course details 
We are making changes to our curriculum framework for courses starting in 2022. Modest amendments to our course module structure will provide you with new opportunities to collaborate and co-create with students from across disciplines during your studies.
This course page will be updated when these changes have been finalised and applicants will be notified.
How you'll learn
In this hands-on creative writing course, you'll work on live briefs set by creative industry partners, and learn from lectures and workshops with our guest speakers and Writers in Residence.
On top of your regular lectures, seminars, workshops and self-directed learning, you'll get plenty of time with our staff and the chance for frequent one-to-one tutorials. You'll also have the opportunity to contribute to With, our student writing journal.
How you'll spend your time
Year

Timetabled

teaching and

learning

activity

Guided

independent

study

Placements

1

24%

76%

0%

2

24%

76%

0%

3

15%

79%

6%
How you'll be assessed
| Year | Written exams | Practical exams | Coursework |
| --- | --- | --- | --- |
| 1 | 0% | 0% | 100% |
| 2 | 0% | 8% | 92% |
| 3 | 0% | 5% | 95% |
The above percentages relate to 2019/2020 data.
Assessment methods
Coursework and e-learning exercises.
Live creative industry briefs.
Final-year creative writing portfolio.
Staff
You'll be taught by published writers and academics from fields like screenwriting, radio, theatre, contemporary poetry, digital texts, writing for games, writing and environment, fiction and non-fiction, publishing and print culture, and children's and young adult writing.
Some members of staff only teach on specific modules, and your course might not feature every member shown here.
Facilities
Digital labs, lecture theatres and seminar rooms.
Libraries housing 140,000 books, 17,000 DVD and video titles, and exhaustive electronic and journal resources.
Printmaking studio with a range of printmaking techniques from screen-printing to lithography and monotyping.
Digital printing and reprographics.
The Lighthouse: a beautifully appointed room designed to be a social space for students and alumni to meet, collaborate and relax.
The Shed is a space designed for focused, individual work for writing and journalism students.
IT suites and technical workshops for Adobe InDesign and other digital tools.
Extensive library facilities, including archive and special collections, specialist poetry collections, the Cornish Performance Archives, Chris Brooks Collection of Victorian Culture, and Patrick Gale author archive.
The Soundhouse hosts state of the art audio recording and editing facilities. Specialist technical support is provided.
How to apply
Apply via UCAS
Ready to join us? If you're applying through UCAS Apply and Track, you'll need to reference the university and course codes below. 
University code: F33
Course code: W890
Applying as an international student? 
International students can apply for a course through UCAS, via an agent or directly with the university. For more information about how to apply as an international student, visit our International applications page.
 
We consider all applications on their own individual merit and potential. We invite all applicants to an interview day or audition to give them the opportunity to demonstrate this along with what inspires and motivates them in their field. Applicants will also be able to show their portfolio or give a performance depending on the course. We welcome applications from all subject backgrounds, whether you've specialised in STEM, the arts or humanities.
As a guide our typical offer at undergraduate level is 104 – 120 UCAS Tariff points, primarily from Level 3 qualifications such as but not limited to A-levels, a BTEC Extended Diploma or a Foundation Diploma.
For applicants whose first language is English we require you to have or be working towards GCSE English Language Grade 4 (C), or equivalent.
If English is not your first language you will need to meet the same standard which is equivalent to the IELTS Academic 6.0 overall score, with at least 5.5 in Reading, Writing, Speaking and Listening. We accept a range of in country equivalencies and approved tests.
If you need a student visa to study in the UK, you'll need to take a recognised language test that is approved and vouched for by the University. You can read our English Language Requirements for more information.
UK applications: 29 January 2021 (for equal consideration)
Late applications will be considered if there are places available.
International fee payers can apply throughout the year. But we recommend applying as early as possible, to make time for visa and travel arrangements.
What we're looking for
We want someone who:
Is enthusiastic and knowledgeable about the subject.
Can talk about why they want to study creative writing.
Has writing skills.
Shows an emerging understanding of literature's role in the past and present.
Has a passion for and interest in writing as part of the creative industries.
Fees, costs & funding
Tuition fees
£9,250 per year - full-time UK/EU
£16,000 per year - full-time international
£9,250 per year - full-time UK
£16,950 - full-time EU
£16,950 - full-time international
Typical course costs
£200 - £300 - Recurring annual costs
£50- £70 per module 

for associated course materials. Many modules will have lower costs than these indicated.

£50 - Optional study visits and placements for the course duration
You do not need any specific software, but a reasonable home or work computer and standard wifi will be required for this course.
If you need to bring equipment or materials with you, these will be outlined in your Welcome Letter.
The figures above don't include accommodation and living costs
Tuition fees are set annually and are subject to review each year. The University may therefore raise tuition fees in the second or subsequent years of a course, in line with inflation and/or the maximum permitted by law or Government policy. Students will be notified of any changes as soon as possible. 
Funding
For information about funding available, please visit our undergraduate funding page
Ask a student
What better way to find out about life at Falmouth University than by asking our current students? 
From course details, our facilities and the local area to the social scene and settling in, our students are ready and available to answer any questions you might have. Simply set up your account, send them a question and they'll get back to you within 24 hours.
Virtual Open Days & online events
See how we turn real industry experience into real careers.
Experience Falmouth