Apply as an International Student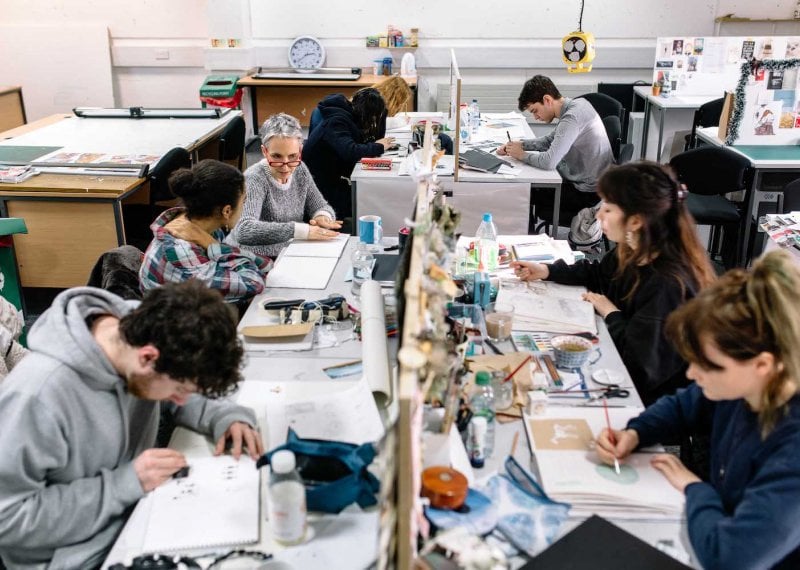 Become part of Falmouth's creative community.
Read about each way to apply below and then choose the one you'd prefer. You may also want to read the UKCISA's helpful application tips on Studying in the UK before applying.
After you apply
After you apply to Falmouth you will receive confirmation of your application and also the name and contact details of your dedicated Applicant Services Officer who you can contact with any questions. We will then check your qualifications and that you meet the English Language Requirements.
Visa information
The process for obtaining a visa can be lengthy, so we'd encourage applying as early as possible to ensure there is enough time before your course starts. You'll only be able to apply for your visa once you have an unconditional offer, have accepted the offer and paid the acceptance fee. We'll also need proof of your qualifications.
Your application journey
Applications open at UCAS the September before you want to start. You can also apply for a deferred place for the following year as well.
Ways to apply
You can apply through UCAS right up until the end of June. You can also apply directly to the University or through an International Agent, this can be done from around October before the course starts the following September.
If you're applying after the end of June you'll need to call the University directly to make an application.
In order to secure an online interview, some of our courses will require you to send samples of your work to us. To find out what your course requires visit our interview information page. Our types of course are:
Performance
If you apply for a performance course you'll need to upload a link to your online performance.
Portfolio
If you apply for a portfolio based course you'll need to upload a link to your digital portfolio.
Presentation
If you apply for a presentation-based course you won't need to upload anything prior to your interview, but you'll need to prepare a presentation for your interview (in whichever format you like).
We ask all applicants to attend an online interview so we can meet you and get to know you. Once you've applied (and submitted a portfolio or performance if applicable), you'll be allocated an online interview.
If you're based in the UK already or want to travel to the UK you can arrange an in-person interview, but most applicants choose to be interviewed online. All interviews, regardless of whether they're online or in-person, will include the opportunity to chat to our student ambassadors about life at Falmouth, a face-to-face conversation with a member of the course team and a guided campus tour (using our virtual tour if online).
We aim to send you our decision within five working days of your interview, during peak interviews this might be a little longer.
You'll receive your decision either at UCAS, through our Applicant Portal if you have applied to us directly or through an International Agent. Check carefully if there are any conditions to fulfil, such as certain grades or demonstrating your English Language ability.
How you accept your offer will depend on how you applied. If you applied through UCAS you'll accept through them. If you applied directly or through an agent you'll use the Applicant Portal. 
Once you have decided to accept your offer, you'll also need to pay an acceptance fee. The amount you pay will depend on residential status.
Please visit our Undergraduate Fees page to see how much you'll need to pay if you're applying for an undergraduate level course. Please note, there is a separate process for applying to our postgraduate level courses and the acceptance fees for these can be viewed on our Postgraduate Fees page.
Your acceptance fee is used as a deposit towards your tuition fees. Full details of what to pay and how to pay will be sent to you in the Applicant Portal regardless of how you applied.
If you receive a conditional offer, you'll need to send your results as soon as you have them either to Applicant Services or upload them through the Applicant Portal.
They'll need to be either an official transcript or certificate and will need to have been translated into English, if not already in English, by an official translator.
From March onwards, if you've accepted an unconditional offer, you should start preparing your financial documents. If you've got a conditional offer we recommend starting this a month before your results are due.
You can use the UKCISA guidance and ask your agent for help if you're using one.
After we have requested them, you can send us your financial documents by following the instructions in the Applicant Portal.
We'll then review your documents and ensure they meet the guidance. If they don't, we'll contact you again to re-send them.
Once we've received your results (if applicable), you've paid your acceptance fee and we've seen and verified your financial documents we'll be able to issue your CAS.
We start issuing CAS's from April for those who have completed all of the above steps and are starting in September.
You can apply for your visa after you have your CAS. 
Use the UKCISA guidance and ask your agent for help if you're using one.
After your visa has been issued and you have made your travel plans, please email your arrival details to Applicant Services.
Do not travel to the UK until you have your visa application decision.
You must do this before the vignette sticker in your travel document expires or within 10 days of arriving in the UK, whichever is later. 
We will email you towards the start of term with a link to book an appointment to collect your BRP (if you requested it to be sent to us as part of your visa application), for you to bring your BRP to us to be verified (if you chose to collect it yourself from a Post Office), or to have your Online Immigration Status 'share code' verified if you are an EEA national.