All the ways you can engage with your local university
We're not just a university in Cornwall, we're a university for Cornwall.
We are committed to sharing our spaces, resources and knowledge to support our local community to thrive. 
From community days, exhibitions and events, to business support and knowledge exchange, here's how you can benefit from everything that's happening at Falmouth University. 
Opening our campuses to the community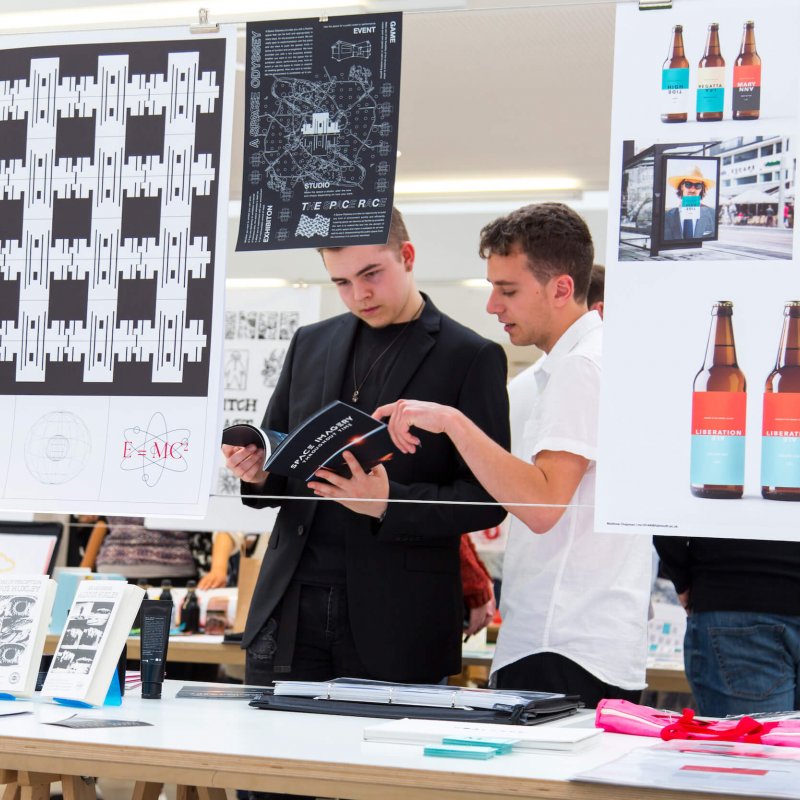 Community Day
Our annual Community Day is the perfect opportunity for staff, students and the local community to get together and enjoy our beautiful Falmouth Campus.
Coinciding with our graduate shows, you'll be able to discover our graduating talent while enjoying creative workshops, lawn games and live entertainment.
Falmouth Showcase & Games Expo
Our graduate shows (Falmouth Showcase) and the Games Expo are the highlight of our events calendar. At every corner of our campuses, you'll find an array of inspirational work produced by our graduating students.
From Advertising to Fine Art, Game Development to Interior Design, you'll discover just what our student community is made of. You'll also have the chance to purchase prints, books and artwork, and play our students' games.
These events take place in May every year.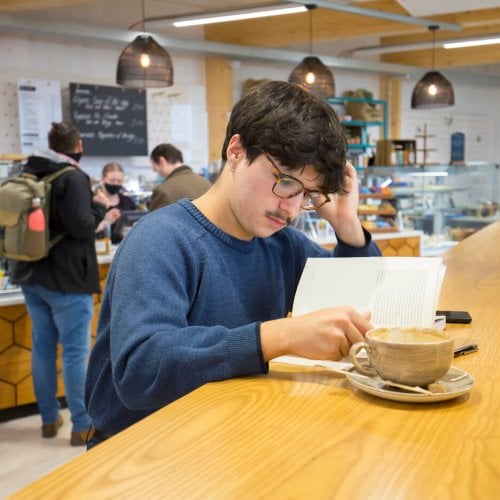 Penryn Campus Sustainability Cafe student reading
Enjoy our gardens & eateries
---
Across our Falmouth and Penryn campuses, you'll find an array of tropical flora, Italian orchards and beautiful lawns to enjoy. Visitors are also welcome in our cafes and food outlets, so feel free to pop in for coffee or a bite to eat.
Explore our campuses
Contributing to our economy
We are the only university headquartered in Cornwall. As a significant local employer, driver of skills development and hub of local enterprise, boosting the region's economy is at the heart of our mission.
From Knowledge Exchange and business support to facilities hire and our employability services, see how we're supporting the local economy.
Business Support
We offer a suite of business support opportunities. From in-house expertise to industry connections and access to immersive technology solutions, we're here to help you towards the cutting edge of your sector.
We offer business-focused short courses to up-skill your team, equipment and facilities hire, and the ability to tap into our students' creative talents.
Knowledge Exchange
We champion the flow of knowledge in and out of the University to benefit the local economy. If you are a local business or organisation that wishes to share insights and ideas for growth, please get in touch with our Knowledge Exchange programme team.
Work with our students
Looking for student talent in your business?
Tap into our pool of creative skills by working with our students. Whether you have an internship to offer, a live brief you want fulfilled or a role out for recruitment, we can help you connect with our student community.
You can do this by connecting with our employability service, RealWORKS, or contacting our creative agency, Mayn Creative.
Get in touch
Community helpline
We are proud of the positive impact that our students make in our local area. 
We encourage all our students to be respectful and responsible members of the local community and emphasise the importance of this throughout each academic year. 
If you would like to report a student related concern or seek advice, please telephone our community issues helpline on 01326 370737 or email community@fxplus.ac.uk.