Digitally Enhanced Learning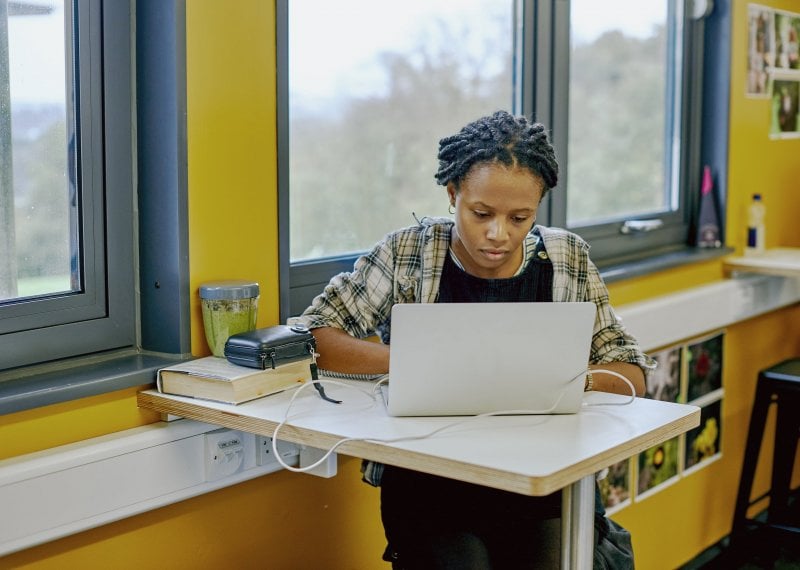 At Falmouth, we know that Higher Education is changing. Having listened to student feedback, we're redefining how we teach and how you learn to meet the needs of the 21st century.
We know that campus-based students want access to professional-standard facilities and benefit from the creative spark that happens when people get together for face-to-face collaboration. Our students have also told us this can be enhanced by elements of digital learning where it offers inclusivity, accessibility and an improved learning experience.
What is Digitally Enhanced Learning?
As a creative institution, we pride ourselves on our professional-standard workshops, studios and equipment. You'll have access to all of this, as well as in-person teaching and collaboration with your peers.
However, where it offers a better learning experience, we enhance this with digital elements.
Your experience will always be predominantly in-person, including seminars, tutorials and studio teaching, with some, more targeted elements, being online either live (synchronous) or pre-recorded (asynchronous).
Although academic teams have the freedom to adapt their approach to suit the course and the opportunities available, as an institution, we provide a regularly reviewed threshold to provide a balance of structured learning activities and ensuring that most weeks our students will have in-person teaching activities.
What does the student experience look like?
Digitally enhanced learning and teaching at Falmouth could see you working in one of our many workshops or studios for several days and then engaging in small group work with other students in-person the next. Another day might see you doing more self-study with some online one-to-one meetings with your tutors, after which you watch some pre-recorded course content, supported by online chat forums with industry professionals or other external guests for online Q&A sessions.
This means your learning experience has been carefully and purposefully created to give you the best opportunities, access to staff and facilities as well as inclusive and accessible ways to engage with our learning materials.
Please note that students on our online remote-learning degrees do not have access to technical facilities, workshops, studios and equipment. However, the libraries, online resources and student support services are all available to you.