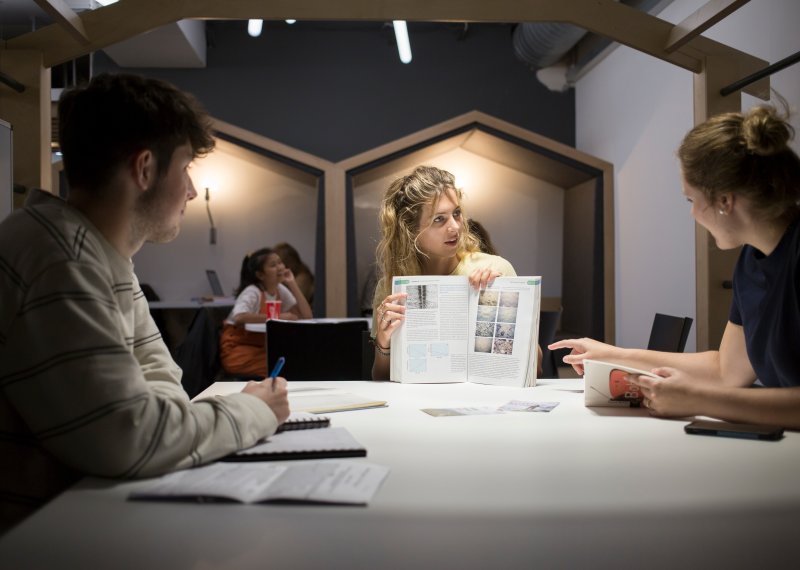 Whether you are looking for resources, spaces or support to inspire and inform your studies, your library is here for you - whenever and wherever you need it. 
The library collections provide a wealth of print and online resources, including textbooks, journals, magazines, audio-visual material, images, news, archives, academic, creative and industry databases. The Library works with course teams to make sure the collections are exactly what you need to inspire you during your studies. 
At the campus libraries you can browse our physical collections, get support from the Compass Help Desk, study with your friends or just find some needed quiet. There are different kinds of study space across both Penryn and Falmouth campuses. You'll find laid-back areas with sofas, informal group work spaces, silent reading rooms and bookable pods. 
Every subject has a librarian, who can offer specialist support and guidance, helping you to develop the information and digital literacy skills you'll need to make the most of your studies. 
For more information and to browse the catalogue: 
Falmouth Campus library
Collection focused on the creative subjects taught at Falmouth Campus.
Wide selection of art periodicals, independent magazines and the illustrated books collection
Quiet and group work study spaces
Open 7 days a week in term-time
Penryn Campus library
Located in The Exchange building, open 24/7 in term time.
The large open-plan space has an IT suite, flexible group study areas and both quiet and silent study rooms.
If your subject is based at Penryn Campus, the resources you need will be here.
The Archives & Special Collections are situated on Level 0, bringing together original records with specialised book collections - unique, eclectic and inspiring sources for use in both research and creative practice, available to view by appointment
IT facilities
Open-access Mac and PC IT suites on both campuses
Specialist IT and IT training suites with a range of software to meet generic and subject-specific needs
A central service desk with extended opening hours for IT support
Laptop loan and laptop clinic service
A range of IT training courses to complement training at course level