Interior Design BA(Hons) (Online)
Test the bounds of what's possible to achieve in interior spaces and develop the entrepreneurial know-how to become a resilient commercial interior designer.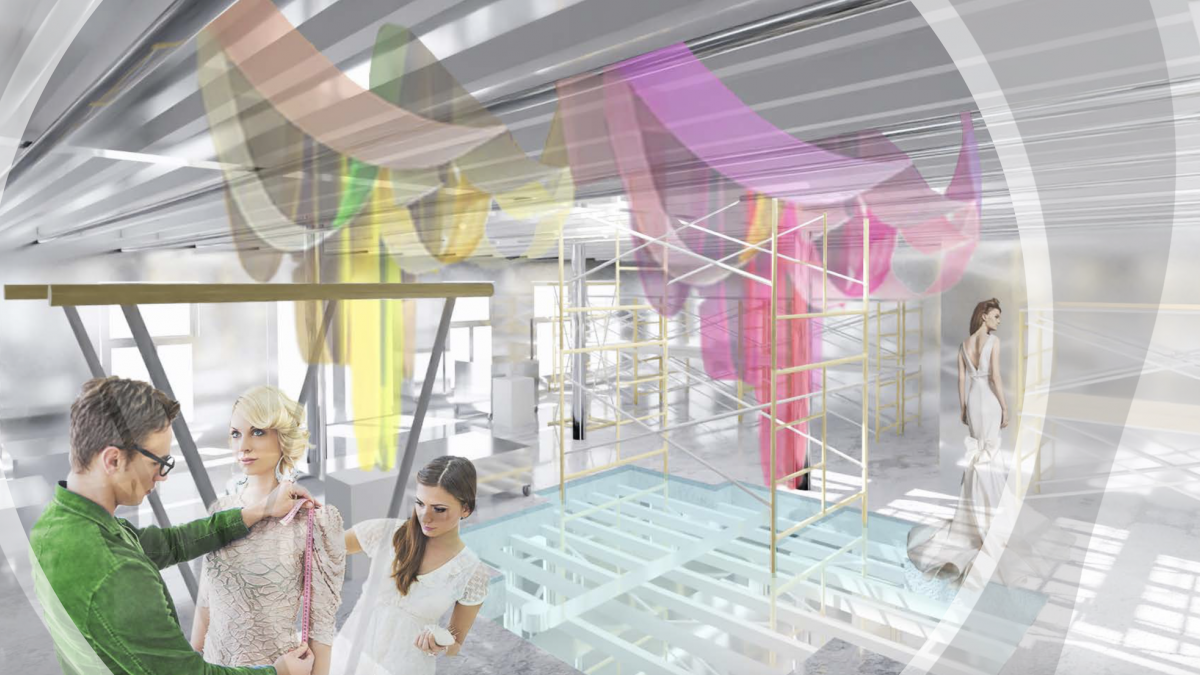 Key details
| | |
| --- | --- |
| Course Duration | 2 years / 3 years |
| Attendance | Full-time / Part-time |
| Contact | 01326 254350 |
| Subject to validation during this academic year | ✔ |
Applications will open shortly
Request information to speak to a Course Advisor about this course.
Introduction
This course is new for entry year 2022
This online course gives you the freedom to craft your interior design future. With practicing academic staff and the opportunity to collaborate with our industry partners on live briefs, you'll consider the impact of interior design while tracking real challenges and delivering forward-thinking projects such as as experiential brandscapes and pop-ups, as well as localised and personalised spaces.
You will:
Gain the ability to create spaces suitable for a wide range of commercial applications.

 

P

ursue disruptive approaches to real-world problems.

 

Understand and employ large-scale 

p

l

anning

 strategies and the small-scale fine detail required to deliver design projects.

 

Learn how to negotiate and collaborate effectively in order to deliver projects within multi-

skilled

 teams.

 

Master 

industry

-

recognised

 computer

-

aided design and presentation software

.

 

Put your understanding of the 

i

nterior 

d

esign profession 

in

to practice by 

work

ing

 with 

real 

clients or develop

ing your

 

own

 start-up

. 

 

Learn from professional tutors that are still working in the industry

.

 
What our graduates do
As a graduate, you could become:
An expert in a wide range of interior design roles, from retail design, fixtures, fittings and equipment to hotel and leisure design.
Enter into an architecture practice, design or build practive
A business owner
Course details
What you'll learn
From day one you'll be challenged to respond to real-world design scenarios and reimagine current societal challenges. Our society is in need of a new model of sustainble living in thriving and connected communities. Interior designers have a role to play, now more than ever to resolve some of these challenges. We will work with you to develop the skills to tackle these global issues and revive struggling economies.
You'll be asked to consider the role of commercial space and client and user requirements with a focus on the hospitality and leisure sector.
You'll be introduced to core skills and theories within the interior design discipline; develop hand and scale drawing and visualisation skills; get to know professional presentation software and play with colour, materials and finishes palettes. You'll also learn about the evolution of the interior design profession.
Modules
The processes of interior design
Space planning and circulation
Visual articulation - hand drawing and presentation skills
Visual articulation - CAD 2D Skills
Evolution of commercial interior design practice
Sustainable material selection and colour theory
Commercial design thrives on innovation. While considering sustainable approaches and the psychology of space and consumer behaviour, you'll be challenged to create disruptive design concepts in response to the evolution of the workspace and the future of retail. Through project work, you'll learn project management skills, including fee structures and timelines. You'll also learn how to create working drawings and specifications for project costings and use 3D visual articulation to help refine and present your ideas professionally.
Modules
Brand development and brand spaces
Design detail - technical drawing
Sustainability (materials and approaches)
Visual articulation - CAD visualisation
The psychology of consumer behaviour
The business of design: project management and costing
You'll refine your project management skills, deepen your understanding of the build process and explore the creation of interactive experiences and environments. You'll also work with build experts to develop and refine design proposals, take CAD workshops in augmented/virtual reality and undertake a final year project. Liaising with industry professionals and design mentors, you'll follow your own interests as a designer to create a career-launching portfolio.
Modules
Specification and drawing package
Visual articulation - ar/vr
Career portfolio
The business of design: starting your own business and entrepreneurship
Introduction to Statutory Requirements: planning, building regulations and health and safety.
The modules above are those being studied by our students, or proposed new ones. Programme structures and modules can change as part of our curriculum enhancement and review processes. If a certain module is important to you, please discuss it with the Course Leader.
We are making changes to our curriculum framework for courses starting in 2022. Modest amendments to our course module structure will provide you with new opportunities to collaborate and co-create with students from across disciplines during your studies.
This course page will be updated when these changes have been finalised and applicants will be notified.
How you'll learn
You'll learn through online lectures, webinars, forums and design activities, which are available on our virtual learning environment. Presentations, tutorials and team meetings with your online tutor and your peers will provide support and help you to develop ideas. You'll also be encouraged to collaborate, share ideas and to establish a support network with your peers.
Throughout the course you'll be provided with a structured diversity of experiences which will enable you to develop a strong skills base and working knowledge of industry practise. You'll refine dynamic design processes, spending between 27-40 hours a week working on your craft, depending on your choice of full-time or part-time study.
On completion of the course you'll have a varied portfolio of creative work and a keen sense of enterprise. These will equip you well to identify, create and respond to the many opportunities that exist throughout the design industry.
How you'll be assessed 
The BA Interior Design course employs a variety of assessment strategies over the course of the year. These include the submission of digital portfolios of work, online presentations, reports and a major practise project.
Your summative (final) assessments occur at the end of each module, usually at the end of the study block. You may also have interim formative assessments part way through a module as well. These assessments help ensure that you remain on track with your work.
You will receive continuous written and/or verbal feedback on all your work throughout the year. At the end of the module you will receive detailed feedback in written form.
You'll be able to check in with your online tutor to discuss your progress and ask any questions you have about your course.
Staff
Our academic staff members are practising professionals within the design industry and have worked with the likes of Yo! Sushi, Brewdog, Eden Project, Lush and Office Shoes. With an array of specialisms between them, you'll gain current industry insights from across the interior design sector. You'll also learn from practitioners across the globe through live brief projects.
Facilities
24/7 access to Falmouth's extensive online library of contextual books, journals and resources
Accessible online audio / visual content
Dedicated Virtual Learning Environment
Face-to-Face events - usually run twice a year*
Invitation to attend alumni events
Online digital showreel for promotion to industry
Access to online software tutorials at LinkedIn Learning
Students' Union community
Access to our Student Support Services and a Student Advisor to support you throughout your studies.
*Please bear in mind that the Covid-19 pandemic may impact these events. You can view the latest information here.
How to apply
Apply online
Applications are not yet open for this course. If you'd like to talk to a Course Advisor about this course and be the first to know when applications open, get in touch by using the simple form below.
We consider all applications on their own individual merit and potential. We invite all applicants to an online interview to give them the opportunity to demonstrate this along with what inspires and motivates them in their field. Applicants will also be able to show their portfolio or give a performance depending on the course. We welcome applications from all subject backgrounds, whether you've specialised in STEM, the arts or humanities.
As a guide our typical offer at undergraduate level is 104-120 UCAS Tariff points, primarily from Level 3 qualifications such as but not limited to a-levels, a BTEC Extended Diploma or a Foundation Diploma.
For applicants whose first language is English we require you to have or be working towards GCSE English Language Grade 4 (C), or equivalent.
If English is not your first language you will need to meet the same standard which is equivalent to the IELTS Academic 6.0 overall score, with at least 5.5 in Reading, Writing, Speaking and Listening. We accept a range of in country equivalencies and approved tests.
If you need a student visa to study in the UK, you'll need to take a recognised language test that is approved and vouched for by the University. You can read our English Language Requirements for more information.
The enrolment deadline for online undergraduate courses in 2022 is TBC.
Applications for these courses remain open whilst there are spaces available. We encourage you to apply as early as possible to avoid disappointment.
Interview information & applicant advice
Fees, costs & funding
Online tuition fees for courses commencing in 2022
Tuition fees for the academic year 2022-23 for new online students from September 2022 onwards:
Undergraduate
BA (Hons) courses, 2 years accelerated full time: TBC.

BA (Hons) courses, 3 years part time: TBC.
Tuition fees are set annually and are subject to review each year. The University may therefore raise tuition fees in the second or subsequent years of a course, in line with inflation and/or the maximum permitted by law or Government policy. Students will be notified of any changes as soon as possible.
For information on fees when it's available, get in touch using our online form.
Typical course costs
You will need to purchase a laptop/desktop computer. It is an essential piece of equipment that you will need right from the start of the course. Our students use both PCs and Macs.
When considering your purchase of a laptop, the most important things to look out for is the CPU/RAM/graphics card, as we use software that needs a large amount of power, especially, for CAD and 3D visualisation. We recommend one with as fast a processor as you can afford (8GB of RAM minimum) and a reasonably sized screen (13" minimum, 15" is optimum), plus the following absolute bare minimum computer specifications:
Windows:
Windows 10
At least an i7 processor
No less than 8-16GB Ram – more is better!
Graphics Card (nVidia 1080 minimum - not Intel Iris integrated graphics) with at least 2GB – the bigger the memory the better!
256GB hard drive space minimum - bigger = better!
1920 x 1080 display resolution or higher – most displays are better than this now
Mouse with a scroll wheel and two buttons
Apple Macbook Pro:
Mac OS 10.15 or newer
At least an i7 processor
No less than 8-16GB Ram – more is better!
Graphics Card – the Intel Iris graphics will be ok and get you by but it will struggle with some of the more complex 3D Software so the Radeon cards would be a better choice although they are significantly more expensive
256GB hard drive space minimum – more is better!
1920 x 1080 display resolution or higher – most displays are better than this now
Mouse with a scroll wheel and two buttons
A dongle to plug things into the laptop is also required for all modern apple laptops
In general, it is cheaper and more cost effective to buy a Windows Laptop. A good spec Windows machine can be sourced from places such as Dell or PC World. Windows laptops do tend to be heavy for carrying about though. A good rule of thumb is if your laptop is capable of running a modern 3D computer game then it should generally be suitable for the kind of graphical work you will doing.
Anything in the MacBook Pro range will be suitable for your work and light to carry around. A USB dongle is a wise purchase with an Apple laptop as you can then plug in mice, keyboards, usb sticks, digital projectors etc. Avoid the MacBook and MacBook Air as they are small and underpowered for the work you will be doing
Other digital equipment/software:
Adobe Creative Cloud
16 -32 GB memory stick – approximately £10-20. You will need to be able to back up and save work regularly.
Wireless or Bluetooth mouse – approx £15
A3 printer/copier/scanner
Funding
For information about funding available for online study, please visit our Online Study Funding page.
Virtual Open Days & events
Head to our Experience page to see upcoming virtual Open Days and online events covering everything from student funding to application advice.
See all online events