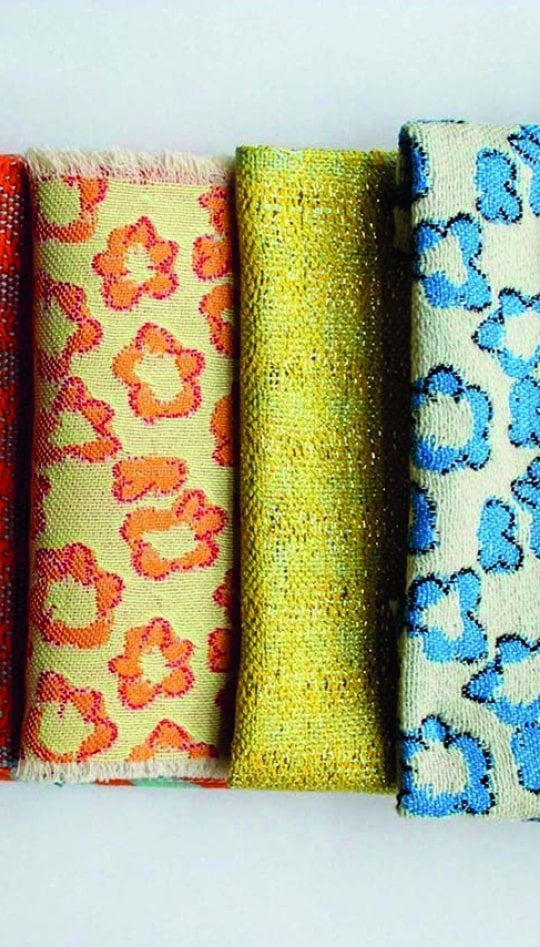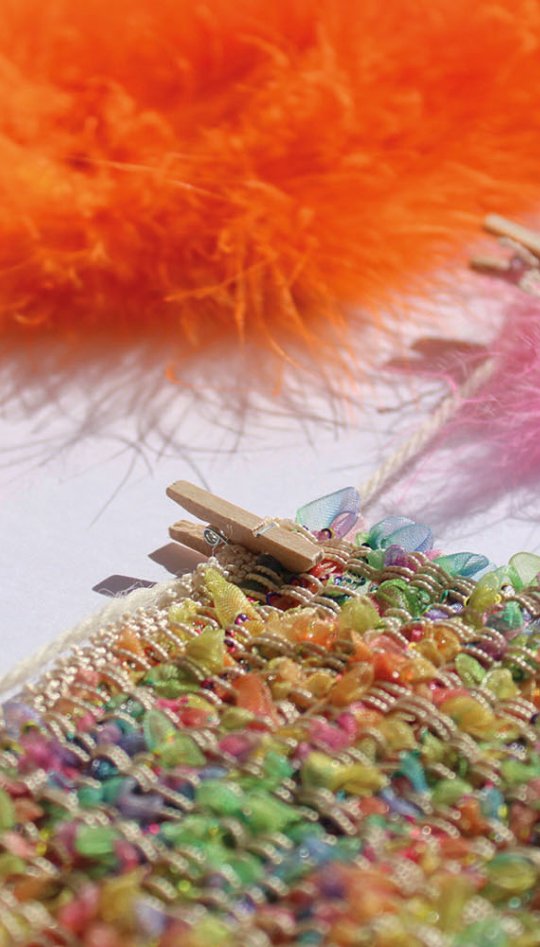 Textile Design BA(Hons)
Create sustainable textiles using innovative and traditional techniques.
Key details
Course duration
3 years / 4 years
Attendance
Full-time / Placement year
UCAS code
W230 / FY17 / PY24
Course overview
Through this Textile Design course, you'll develop and explore your creative potential - cultivating insightful design thinking in an industry-linked studio environment, using both artisanal processes and the latest mechanical and digital textile production techniques.
Supported by a team of professional designers and makers, you'll develop confidence, global awareness, technical expertise, critical judgement and self reliance, evidenced through your original and environmentally conscious textile designs.
You will:
Learn essential skills for woven, printed and mixed-media textiles, with sustainability embedded throughout 

Work in fantastic facilities, using industry-standard kit such as industrial sewing machines, screen printing workshops, digital embroidery machines and weaving looms 

Have opportunities to collaborate with degree students in areas such as fashion design, fashion marketing and interior design, across a range of projects

Take on live briefs set by companies such as The Natural Fibre Company, to boost your professional portfolio

Embrace artisanal, traditional craft methods – such as hand-dyeing using plants from our Dye Garden – alongside the latest mechanical and digital production techniques mirroring industry practice 

Study at one of only six universities supported by the Worshipful Company of Weavers, which offers individual scholarships and educational grants  

Have the chance to travel to events such as Première Vision, the international textile and trend forecasting show in Paris 
Lead image: Megan Howell.
On this Textile Design degree, you'll have the opportunity to gain a BA(Hons) degree over three years or the option to study Textile Design BA(Hons) with an Integrated Foundation Year and/or placement year study options.
Through this career-focused Textile Design degree, you'll learn about technical process and production alongside environmental and sustainability issues surrounding the textile industry. You'll learn how to design and make woven, printed and mixed media textiles for a broad range of outcomes, including fashion, interiors and one-off artefacts. Preparing for your career, you'll also learn how to innovate and take creative risks, communicate professionally, network and approach potential employers.
BA(Hons) Textile Design course video
The first year supports you to develop individual creative skills and a voice within textile design. The modules are designed to help you to become adept at deploying a range of textile production methods with consideration for responsible, environmentally sustainable design. In studio based practical projects, you'll be supported through tutorials and workshops with design development and technical textile processes. 
You'll learn to use professionally equipped studios to create constructed and surface design textiles. 
Modules
Colour and Pattern
In this practical module, you'll compile a journal focused on applied colour and pattern through a series of workshops.  
Colour-related workshops include colour theory, the development of colour palettes, yarn and fabric dyeing, screen printing, hand embroidery and warp design.   
Pattern-related workshops include explorations into the use of repeat, differing scale and placement of pattern, block printing, machine embroidery and weaving.   
Belonging
You'll explore your personal identity as a textile designer through visual and contextual research related to colour and pattern.    
You'll explore ideas of identity while working in mixed groups in an accepting and inclusive environment. You'll challenge prevailing narratives around race and cultural exclusions relating to marginality based on ability and disability, body size, religion, ethnicity, sexual orientation and gender.
Responsible Material and Design
Through a series of workshops, you'll create a journal of investigations related to fibre and materials.
You'll then demonstrate your knowledge and skills in the design and production of a range of textile samples. 
Workshops include fibre analysis, natural dyeing, fabric handling and composition, print, weave, and mixed media processes, CMF ('colour, material, and finish') and the sustainable use of alternative surfaces and methods. 
Histories
In this module, you'll produce your first piece of written work.
Through lectures and seminars, you'll examine the social history of dress through a range of perspectives, exploring the relationship between fashion, textiles and wider visual culture. You'll carry out research using real garments from Falmouth's extensive Textiles and Dress Collection. 
During your second year, you'll gain an understanding of the range of markets and audiences available to you, and learn to communicate your creative vision, concepts, and design narratives externally.  
You'll be encouraged to take creative risks, working with a range of techniques and share the development of your practice in regular group tutorials.  Advanced workshop processes are delivered in areas such as jacquard design, digital embroidery, and complex repeat design. 
The year is characterised by communication, collaboration and professional practice by working on live briefs and entering competitions. 
Modules
Process
You'll develop innovative and sustainable textile processes through traditional or unconventional means.
You'll select an area of textile exploration (for example; gold-work, cyanotype printing, woven pleats) and creatively experiment to push the boundaries of the technique, whilst adhering to an ethos of responsible and sustainable practice.
The emphasis on this module is creative risk-taking and the annotation of trial sampling rather than finished resolved textile pieces.
Connection
This module makes use of industry-facing design briefs, with work completed for an external client, partner, competition or exhibition.
You'll be taught advanced production techniques and develop personal investigations and creative design thinking with the guidance of your tutors.
You'll attend IT workshops and learn how to use digital textile technologies and software to create visualisations of your own designs.
Responsible Production
You'll develop advanced core skills that are essential to textile design; these are related to visual research, colour palettes and pattern fit for purpose. 
You'll attend workshops on repeat pattern design and engineered design. You'll strengthen your knowledge of manufacturing and production methods in response to a raised awareness of conscious design practices in industry and related global environmental issues.
The emphasis in this module is investigation into process: the development of alternative iterations of designs, and development of advanced textile production skills such as digital embroidery, screen registration and woven production. 
Collaboration
During this module, you'll build upon your communication skills, focusing on problem-solving, critical thinking, teamwork, listening, negotiation and reflection.
Joining interdisciplinary teams across the University, you'll work towards common set project goals which will enhance both your employability and communication skills. 
Theories
In this module, you'll produce your second piece of written work.
You'll select a subject topic from 'objects', 'bodies', 'identities' or 'representations'. Lectures and seminars are delivered following these themes.  
Drawing on art and design history, cultural studies and media studies, lectures introduce theoretical approaches to practice. 
Seminars provide a range of opportunities to explore theoretical texts relevant to practice.
You can choose to take an optional placement year after your second year on a three-year programme, or after your third year if you're studying for a degree with an Integrated Foundation Year. 
You'll be responsible for finding your own placement, with support from the RealWORKS employability team. 
Choosing this option will enhance your industry experience and skills while studying. 
How you'll study during your placement year 
You'll spend time working in a professional context, as part of a business or organisation. This can be in one role, or up to three, and must be for a minimum of 24 weeks. 
You'll develop in-demand workplace skills, deepen your insight into industry and grow your network of contacts, all of which could help you get ahead in your career after graduation. 
Throughout this year, you'll develop a portfolio of work that includes critical self-reflection on what has been learned from the experience. You'll be required to evidence your experiences, the skills you've learned and your professional growth.
Alongside writing your dissertation, you'll create your own studio briefs in order to design and produce original textiles. This usually (but not exclusively) takes the form of collections of samples.
You'll also start creating your professional portfolio and other self-promotional materials, and have the chance to take part in the New Designers exhibition in London.
Modules
Futures
You'll build your own considered future-focused concepts for the creation of textiles with an enhanced awareness of global and sustainable contexts.
Innovation is encouraged through an experimental, process-driven approach to technical and material development making use of advanced production techniques. 
Investigations
In this module, you'll complete a dissertation or equivalent, which arises out of agreed individual interests relating to your own creative practice.
Through group and individual tutorials, you'll determine the nature, form, breadth and depth of your guided independent study, then draft and produce a substantial body of work.
Innovate
You'll develop confidence, critical judgment, self-reliance, and the ability to communicate your skills, capabilities, and aptitudes to appropriate professional audiences before and after graduation.
The module is focused on the design and production of a body of work that forms a significant part of your portfolio and demonstrates your independence as a designer or practitioner. 
Identity
Employability is at the centre of this module's focus.
You'll identify your professional journey; understanding what makes you unique, knowing your options and ambitions and how to tell your own story as an individual designer.
You'll learn how to communicate professionally to potential employers and clients, and will be supported in the development of self-promotional material (digital and physical) focused on the next stage of your creative journey.
Why study an Integrated Foundation Year route? 
If you're taking on a new subject that you haven't studied in depth before, have been out of education for a while or have a non-standard educational background then an Integrated Foundation Year degree may be the right choice for you. It is a four-year degree with an Integrated Foundation Year to start, which allows you to explore the primary elements of your subject before progressing on to the remaining three years of the BA(Hons) degree. 
What you'll study in your Foundation year
If you choose this pathway, you'll study five core modules in your Foundation year. These are all designed to help you explore the foundational elements of your subject. You'll gain relevant technical skills, learn to experiment and take risks, develop an understanding of professional practice, have opportunities to work across disciplines and collaborate with other students on live project briefs. 
Modules
Explore
You'll begin your foundation year by working collaboratively with others to explore themes of the future. You'll take risks, experiment through play and be supported to break through barriers.
Technique
You'll take subject-specific workshops and develop essential technical and practical skills in your area of study. You'll also enhance your analytical and organisational abilities.
Apply
You'll work with your peer group to think beyond discipline by addressing a societal or global issue. You'll then showcase your work to your peers and deliver and accompanying evaluation of your process.
Industry
You'll enhance your creative and practical skills in your subject specialism by responding to typical industry briefs, underpinned by focused research and experiments. You'll also gain industry insights through guest lectures and workshops.
Launch
You'll develop your unique identity in your specialism through the production of a self-initiated body of work. Your final project will be the bridge to your next year, fully supported by evaluative reviews and critical analysis of the work you have created.
After the Foundation year, you progress into Year One of the full three-year degree, equipped with a deeper knowledge of your subject, a clear understanding of your strengths, and develop a practical and technical skillset and the confidence to excel in your chosen subject. 
If you apply for and enrol onto a degree with an Integrated Foundation Year, you'll have the option to switch onto a five-year version including a placement year. That means you'll complete the first three years of your course before completing a placement in industry in your fourth year and returning to Falmouth for the fifth year of your programme. 
The modules above are those being studied by our students, or proposed new ones. Programme structures and modules can change as part of our curriculum enhancement and review processes. If a certain module is important to you, please discuss it with the Course Leader.
From module information to course aims and assessment criteria, discover the full course details:
How you'll learn
The Textile Design degree blends studio work with professional practice. You'll learn through workshop-based studio modules, lectures, seminars, group and individual tutorials, and advanced workshops in certain disciplines. There may also be opportunities to visit major trade fairs like Première Vision in Paris.
At Falmouth, we use a 'digitally enhanced learning & teaching' approach. Your experience will always be predominantly in-person, including seminars, tutorials and studio teaching, with some, more targeted elements, being online either live (synchronous) or pre-recorded (asynchronous). You can read more here.
How you'll be assessed
100% of your assessment will be coursework.
Assessment methods
There is formative and summative feedback given throughout your studies to help you progress your skills. This Textile Design course is also assessed via portfolio, journals, reports and written assignments: 
Portfolio assignments include research, development, and production of textiles. Portfolios often consist of a sketchbook, technical files and textile outcomes presented on sheets or in an appropriate manner
Journals are formal ways of documenting the technical development and outcomes of projects
Reports are used to describe your process and contribution on collaborative assignments
Written assignments are assessed essays, for your cultural studies modules. There is a one written assignment per year
Dissertation or final-year project
Foundation year assessments are 100% coursework based 
Stories from our community
Explore student projects, graduate successes, staff news and industry insights
Staff
You'll be taught by a team of industry professionals and technical instructors, bringing experience in areas like weave, contemporary culture, fashion and interiors, public exhibitions, national and international research projects, and writing textile design books. 
The Textile Design course team are enthusiastic about creating a more sustainable textile industry and aim to nurture a mindset of responsible, and creative professional approaches to textile design and production.
Some members of staff only teach on specific modules, and your course might not feature every staff member who teaches on the course.
Facilities
Specialist industrial sewing, embroidery and embellishment machines 
Open-plan, collaborative studio 
Table looms and mechanical and electronic dobby floor looms 
7-metre-long screen-printing tables and dedicated space for block/ mono/ transfer/ cyanotype printing 
A productive natural dye garden within the campus walled garden  
Digital print facilities 
Laser cutting machines 
A dye lab with a range of vats of different sizes 
Excellent physical and online library resources including online access to sites such as WGSN 
Digital embroidery machines and associated 'Wilcom' software 
Power jacquard 'dataweave' loom and digital TC2 Jacquard loom and 'Scotweave' software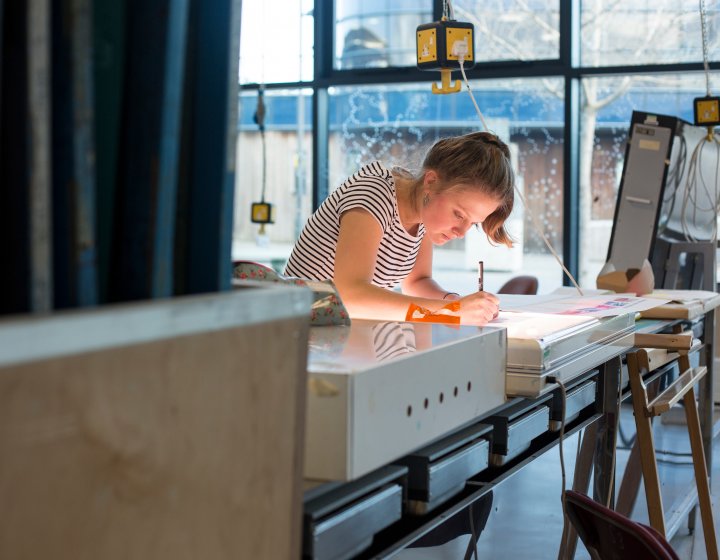 Fashion student in studio
Fashion & Textiles Facilities
Centred around studio spaces that cater for solo and group working, our Fashion & Textiles Insti...
Fashion & Textiles Facilities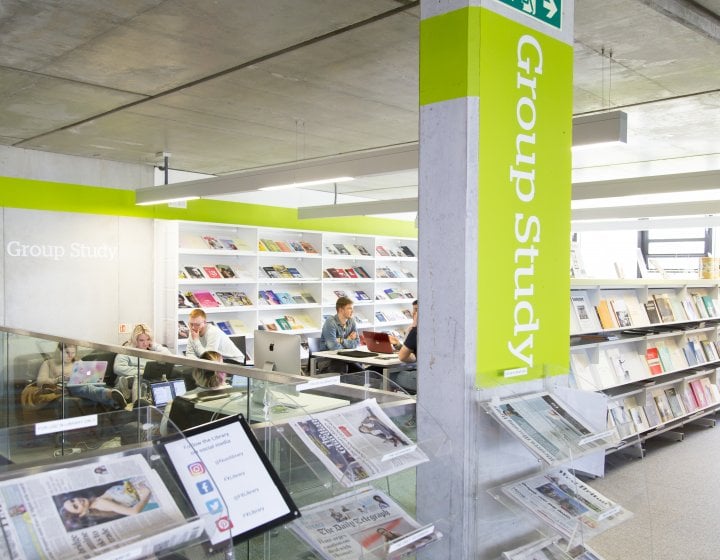 Penryn library group study area
Library Facilities
Offering extensive collections, our two libraries provide a wealth of digital resources, magazines, ...
Library Facilities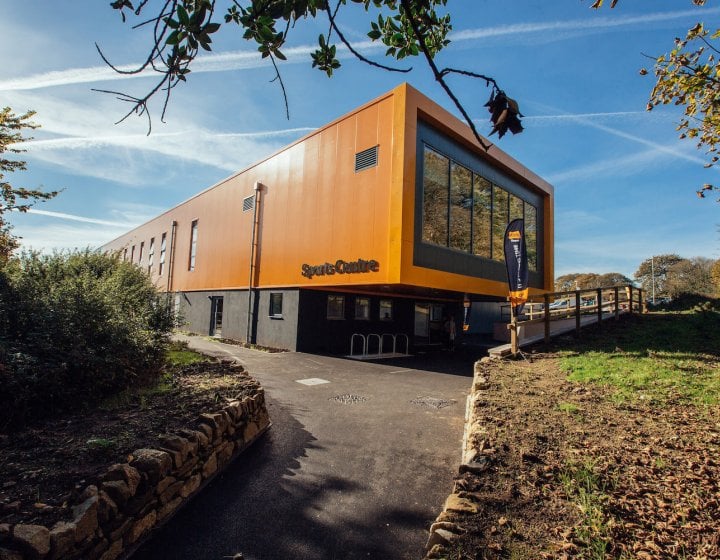 Sports Centre - Outside
Sports Centre
Sports Centre
Our Sports Centre, on Penryn Campus, includes a spacious gym with up to 90 of the latest, new statio...
Sports Centre
Our Textile Design graduates have worked as:
Company Owner, Anna Glover
Product Developer at Toast
Colour, Materials and Finish Designer at Dyson
Textile Designers at Boden, H&M, Joules & Burberry
Creative Assistant at Colour Hive
Woven Development Engineer at Heatcoat Fabric
Apply via UCAS
Ready to join us? You can apply through UCAS. You'll need to reference the course and University code (F33).
Applying as an international student? 
International students can apply for a course through UCAS, via an agent or directly with the university. For more information about how to apply as an international student, visit our international applications page.
| Course route | UCAS code |
| --- | --- |
| Textile Design BA(Hons) three year degree | W230 |
| Textile Design BA(Hons) with Integrated Foundation Year | FY17 |
| Textile Design BA(Hons) with placement year | PY24 |
We consider all applications on their own individual merit and potential. We invite all applicants to an interview day or audition to give them the opportunity to demonstrate this along with what inspires and motivates them in their field. Applicants will also be able to show their portfolio or give a performance depending on the course. We welcome applications from all subject backgrounds, whether you've specialised in STEM, the arts or humanities.  
| Course route | Entry requirements |
| --- | --- |
| BA/BSc(Hons) three year degree | 104 – 120 UCAS Tariff points |
| BA/BSc(Hons) four year degree with placement year | 104 – 120 UCAS Tariff points |
| BA/BSc(Hons) four year degree with Integrated Foundation Year | 80 – 120 UCAS Tariff points |
Check the title of your course to see if it's a BA or BSc award. UCAS Tariff points will primarily be from Level 3 qualifications such as but not limited to A-levels, T Levels, a BTEC/UAL Extended Diploma or a Foundation Diploma. 
For applicants whose first language is English we require you to have or be working towards GCSE English Language Grade 4 (C), or equivalent. 
If English is not your first language you will need to meet the same standard which is equivalent to the IELTS Academic 6.0 overall score, with at least 5.5 in Reading, Writing, Speaking and Listening. We accept a range of in country equivalencies and approved tests.  
If you need a student visa to study in the UK, you may need to take a recognised language test. You can read our English Language Requirements for more information.
For starting your studies in 2023
UK applications: 25 January 2023 (for equal consideration)
Applications after the 25 January will be considered on a first-come, first-served as long as there are places available. Apply for this course now.
International fee payers
International fee payers can apply throughout the year. But we recommend applying as early as possible, to make time for visa and travel arrangements.
What we're looking for
We want someone who:
Has a range of either completed work from organised projects, or independent studio work development.
Shows skills in design communication, problem-solving and drawing.
Can think critically and develop ideas.
Demonstrates visual investigation through techniques like drawing, mark-making, image manipulation and pattern.
Combines conceptual thinking and practical skills.
Knows about textile design practitioners, and how creative professionals have influenced their own work.
Can verbally express ideas, discuss work, and talk about project strengths and weaknesses.
Tuition fees
| Annual tuition fee | Student |
| --- | --- |
| £9,250 per year | Full-time UK |
| £17,460 per year | Full-time EU/international |
| Annual tuition fee | Student |
| --- | --- |
| £9,250 per year | Full-time UK |
| £17,460 per year | Full-time EU/international |
| £1,850 per placement year | Full-Time UK and EU/international |
Tuition fees are set annually and are subject to review each year. The University may therefore raise tuition fees in the second or subsequent years of a course, in line with inflation and/or the maximum permitted by law or Government policy. Students will be notified of any changes as soon as possible. 
The figures above don't include accommodation and living costs
Typical course costs
£100-£400 - Recurring annual costs (materials, fabrics, dyes, etc.) 
£100-£400 - One-off costs for the course duration (compulsory trips, final portfolios or shows, etc.) 
£700-1000 - Optional study visits and placements for the course duration (Paris study visit, News Designers London event)  
If you need to bring equipment or materials with you, these will be outlined in your Welcome Letter. 
Additional typical course costs for Integrated Foundation Year pathway
£250 for materials
A laptop/desktop computer
Adobe Creative Suite
In order to participate in our digitally enhanced learning approach, you'll need to have a personal laptop/desktop computer. Depending on your subject, you may need a specific type of computer. If you're unsure about what you might need, please contact our course advisors.
What better way to find out about life at Falmouth University than by asking our current students?
From course details and academic support, to the social scene and settling in, our students are ready and available to answer any questions you might have. Simply set up your account, send them a question and they'll get back to you within 24 hours.