Key details
| | |
| --- | --- |
| Location | Penryn Campus |
| Course duration | 3 years / 4 years |
| Attendance | Full-time |
| UCAS code | W230/FY17 |
Course overview
Blending studio work with professional practice, you'll develop your understanding of the textiles industry while perfecting a range of techniques in our well-equipped, purpose-built studios. With opportunities to visit international trade fairs and exhibit work in a final year show, you'll graduate as a confident, industry-ready textile designer.
You will:
Learn essential skills for woven, printed and mixed-media textiles, with sustainability embedded throughout
Embrace artisanal methods and digital design and production techniques
Work to live briefs set by companies such as Envisage, Joules, Seasalt, Wallace Sewell and David Walters
Have the opportunity to be selected for New Designers, London and to enter international competitions, such as those organised by the Bradford Textile Society, Hand & Lock, i-dott and the SDC
Have the chance to travel to events such as Première Vision, the international textile and trend forecasting show in Paris
Study at one of only six universities supported by the Worshipful Company of Weavers, which offers individual scholarships and educational grants
The Integrated Foundation Year pathway for this course is new for entry year 2023 and subject to validation.
On this Textile Design degree, you'll have the opportunity to gain a BA(Hons) degree over three years or the option to study Textile Design BA(Hons) with an Integrated Foundation Year.
Through this career-focused Textile Design degree, you'll learn about technical process and production alongside environmental and sustainability issues surrounding the textile industry. You'll learn how to design and make woven, printed and mixed media textiles for a broad range of outcomes, including fashion, interiors and one-off artefact. Preparing for your career, you'll also learn how to innovate and take creative risks, communicate professionally, network and approach potential employers.
BA(Hons) Textile Design course video
You'll learn professional production processes in weave, print and mixed media. This will be backed up by intensive conceptual research alongside cultural studies lectures, drawing sessions, and tutorials with peers and academic staff. Building on essential knowledge and skills, you'll create your own design collection in a textile process of your choice. 
Modules
Core Skills: Print
Core Skills: Weave
Core Skills: Mixed Media
Themes in Culture
Design and Make
Along with the help and insights of our industry partners, you'll learn the realities of designing for business. In the second year of your Textile Design degree, we'll explore marketing basics, working techniques, trend forecasting, innovation, and career opportunities. You'll also have the chance to take on self-directed national and international work placements with companies like Wallace Sewell, Liberty and Rebecca Taylor (New York). We encourage cross-disciplinary collaborations where possible in order to build positive relationships across the university and to create fully resolved pieces of work. 
Choosing a textile process to focus on for the rest of the course, you'll design and create textiles for national and international competitions, and briefs set by industry clients. You'll then present your work to your clients in a real-life simulation of industry practice. 
Modules
Targeted Design: Futures
Targeted Design: Client & Market
Production
Theories of Culture
Optional modules
External Engagement
Global Fashion
As well as writing your dissertation, you'll create your own studio briefs in order to design and produce original textiles. This usually (but not exclusively) takes the form of collections of samples. You'll also put together your professional portfolio and other self-promotional materials, and have the chance to take part in the New Designers exhibition in London. 
Modules
Dissertation
Professional Portfolio: Business Focus
Professional Portfolio: Career Focus
Why study an Integrated Foundation Year route? 
If you're taking on a new subject that you haven't studied in depth before, have been out of education for a while or have a non-standard educational background then an Integrated Foundation Year degree may be the right choice for you. It is a four-year degree with an Integrated Foundation Year to start, which allows you to explore the primary elements of your subject before progressing on to the remaining three years of the BA(Hons) degree. 
What you'll study in your Foundation year
If you choose this pathway, you'll study five core modules in your Foundation year. These are all designed to help you explore the foundational elements of your subject. You'll gain relevant technical skills, learn to experiment and take risks, develop an understanding of professional practice, have opportunities to work across disciplines and collaborate with other students on live project briefs. 
Modules
Explore
You'll begin your foundation year by working collaboratively with others to explore themes of the future. You'll take risks, experiment through play and be supported to break through barriers.
Technique
You'll take subject-specific workshops and develop essential technical and practical skills in your area of study. You'll also enhance your analytical and organisational abilities.
Apply
You'll work with your peer group to think beyond discipline by addressing a societal or global issue. You'll then showcase your work to your peers and deliver and accompanying evaluation of your process.
Industry
You'll enhance your creative and practical skills in your subject specialism by responding to typical industry briefs, underpinned by focused research and experiments. You'll also gain industry insights through guest lectures and workshops.
Launch
You'll develop your unique identity in your specialism through the production of a self-initiated body of work. Your final project will be the bridge to your next year, fully supported by evaluative reviews and critical analysis of the work you have created.
After the Foundation year, you progress into Year One of the full three-year degree, equipped with a deeper knowledge of your subject, a clear understanding of your strengths, and develop a practical and technical skillset and the confidence to excel in your chosen subject. 
The Integrated Foundation Year pathway for this course is new for entry year 2023 and subject to validation.
The modules above are those being studied by our students, or proposed new ones. Programme structures and modules can change as part of our curriculum enhancement and review processes. If a certain module is important to you, please discuss it with the Course Leader.
From module information to course aims and assessment criteria, discover the full course details
We are making changes to our curriculum framework for courses starting in 2022. Modest amendments to our course module structure will provide you with new opportunities to collaborate and co-create with students from across disciplines during your studies.
This course page will be updated when these changes have been finalised and applicants will be notified.
How you'll learn
The Textile Design course blends studio work with professional practice. You'll learn through workshop-based studio modules, lectures, seminars, group and individual tutorials, and advanced workshops in certain disciplines. There may also be opportunities to visit major trade fairs like Première Vision in Paris. 
At Falmouth, we use a 'digitally enhanced learning & teaching' approach. Your experience will always be predominantly in-person, including seminars, tutorials and studio teaching, with some, more targeted elements, being online either live (synchronous) or pre-recorded (asynchronous). You can read more here.
How you'll spend your time
Year

Timetabled

teaching and

learning

activity

Guided

independent

study

Integrated

Foundation

Year (optional)

1

35%

65%

2

32%

68%

3

22%

78%
How you'll be assessed
Year

Written exams

Practical exams

Coursework

Integrated

Foundation

Year (optional)

0%

0%

100%

1

0%

0%

100%

2

0%

0%

100%

3

0%

0%

100%
The above percentages relate to 2019/2020 data. 
Assessment methods
Submitted project work will be assessed against the learning outcomes of each brief. Occasionally you will formally present your work to tutors as part of the assessment.
Self-assessment and peer assessment will be used to develop your ability to critically evaluate your own work and that of others.
Foundation year assessments are 100% coursework based
Continuous assessment with no formal examinations
Coursework and portfolio
Dissertation or final-year project
As a student on this Textile Design degree, you'll have the opportunity to take on industry placements and exhibit your work at national exhibitions. Check out the stories below to see what our Textile Design students have been up to lately.
Staff
You'll be taught by a team of industry professionals and technical instructors, bringing experience in areas like weave, contemporary culture, fashion and interiors, public exhibitions, national and international research projects, and writing textile design books.
Some members of staff only teach on specific modules, and your course might not feature every member shown here.
Facilities
Weave facility featuring hand looms and a computer-controlled power jacquard loom
Industrial and digital embroidery machinery
Digital and traditional screen-printing facilities
Dye lab
Laser cutting equipment
Open-plan design studios
Workshops dedicated to dyeing and manual printing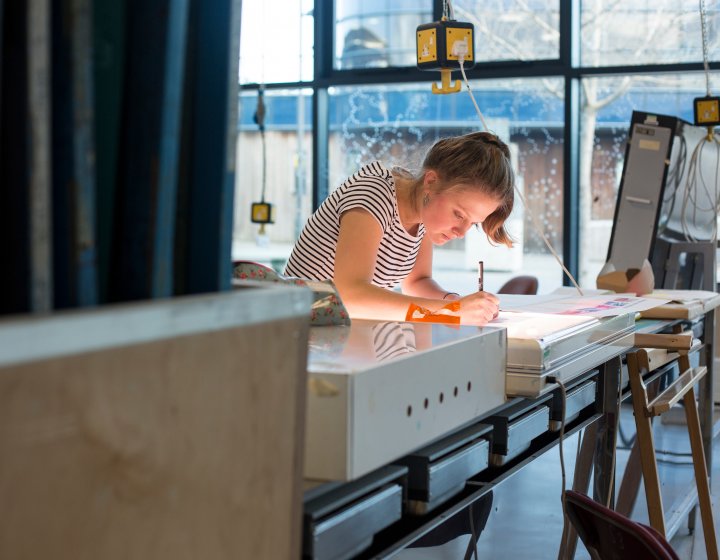 Fashion student in studio
Fashion & Textiles Facilities
Centred around studio spaces that cater for solo and group working, our Fashion & Textiles Insti...
Fashion & Textiles Facilities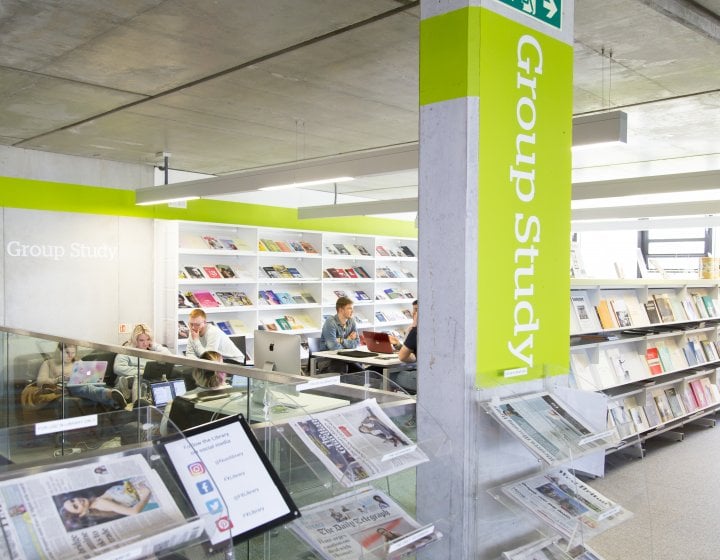 Penryn library group study area
Library Facilities
Offering extensive collections, our two libraries provide a wealth of digital resources, magazines, ...
Library Facilities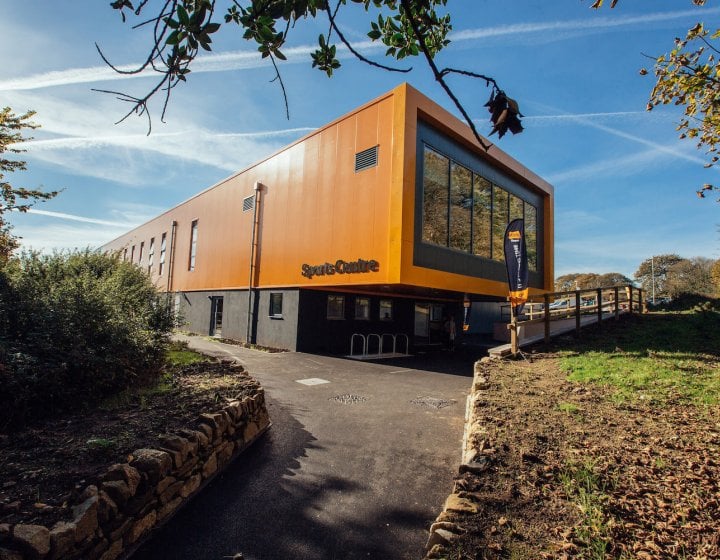 Sports Centre - Outside
Sports Centre
Sports Centre
Our Sports Centre, on Penryn Campus, includes a spacious gym with up to 90 of the latest, new statio...
Sports Centre
Our Textile Design graduates have worked as:
Company Owner, Anna Glover
Product Developer at Toast
Colour, Materials and Finish Designer at Dyson
Textile Designers at Boden, H&M, Joules & Burberry
Creative Assistant at Colour Hive
Apply via UCAS
Ready to join us? You can apply for September 2022 through Clearing or for September 2023 through UCAS Apply and Track. You'll need to reference the course and University code (F33).
Applying as an international student? 
International students can apply for a course through UCAS, via an agent or directly with the university. For more information about how to apply as an international student, visit our International applications page.
| Course route | UCAS code |
| --- | --- |
| Textile Design BA(Hons) three year degree | W230 |
| Textile Design BA(Hons) with Integrated Foundation Year (new for entry year 2023) | FY17 |

We consider all applications on their own individual merit and potential. We invite all applicants to an interview day or audition to give them the opportunity to demonstrate this along with what inspires and motivates them in their field. Applicants will also be able to show their portfolio or give a performance depending on the course. We welcome applications from all subject backgrounds, whether you've specialised in STEM, the arts or humanities.  
| Course route | Entry requirements |
| --- | --- |
| BA(Hons) three year degree | 104 – 120 UCAS Tariff points |
| BA(Hons) four year degree with Integrated Foundation Year  | 80 – 120 UCAS Tariff points |
UCAS Tariff points will primarily be from Level 3 qualifications such as but not limited to A-levels, T Levels, a BTEC/UAL Extended Diploma or a Foundation Diploma. 
For applicants whose first language is English we require you to have or be working towards GCSE English Language Grade 4 (C), or equivalent. 
If English is not your first language you will need to meet the same standard, which is equivalent to the IELTS Academic 6.0 overall score, with at least 5.5 in Reading, Writing, Speaking and Listening. We accept a range of in country equivalencies and approved tests.  
If you need a student visa to study in the UK, you'll need to take a recognised language test that is approved and vouched for by the University. You can read our English Language Requirements for more information.
UK applications: 25 January 2023 (for equal consideration)
Applications after the 25 January will be considered on a first-come, first-served as long as there are places available. Apply for this course now.
International fee payers can apply throughout the year. But we recommend applying as early as possible, to make time for visa and travel arrangements.
What we're looking for
We want someone who:
Has a range of either completed work from organised projects, or independent studio work development.
Shows skills in design communication, problem-solving and drawing.
Can think critically and develop ideas.
Demonstrates visual investigation through techniques like drawing, mark-making, image manipulation and pattern.
Combines conceptual thinking and practical skills.
Knows about textile design practitioners, and how creative professionals have influenced their own work.
Can verbally express ideas, discuss work, and talk about project strengths and weaknesses.
Tuition fees
| Annual tuition fee | Student |
| --- | --- |
| £9,250 per year | Full-time UK |
| £17,460 per year | Full-time EU/international |
| Annual tuition fee | Student |
| --- | --- |
| £TBC per year | Full-time UK |
| £TBC per year | Full-time EU/international |
Tuition fees are set annually and are subject to review each year. The University may therefore raise tuition fees in the second or subsequent years of a course, in line with inflation and/or the maximum permitted by law or Government policy. Students will be notified of any changes as soon as possible. 
Typical course costs
£250-£800 - Recurring annual costs
£100-£400 - One-off costs for the course duration (compulsory trips, final portfolios or shows, etc)
£1,600 - Optional study visits and placements for the course duration
If you need to bring equipment or materials with you, these will be outlined in your Welcome Letter.
Additional typical course costs for Integrated Foundation Year pathway
£250 for materials
A laptop/desktop computer
Adobe Creative Suite
In order to participate in our digitally enhanced learning approach, you'll need to have a personal laptop/desktop computer. Depending on your specialism, you may need a specific type of computer. You can find out more about the type of machine you'll need on your course specialism page. If you're unsure about what you might need, please contact our course advisors.
The figures above don't include accommodation and living costs
Funding
For information about funding available, please visit our undergraduate funding page.
What better way to find out about life at Falmouth University than by asking our current students?  
From course details, our facilities and the local area to the social scene and settling in, our students are ready and available to answer any questions you might have. Simply set up your account, send them a question and they'll get back to you within 24 hours.