Graduating Textile Design student announced as overall winner of New Designers 2023
05 July 2023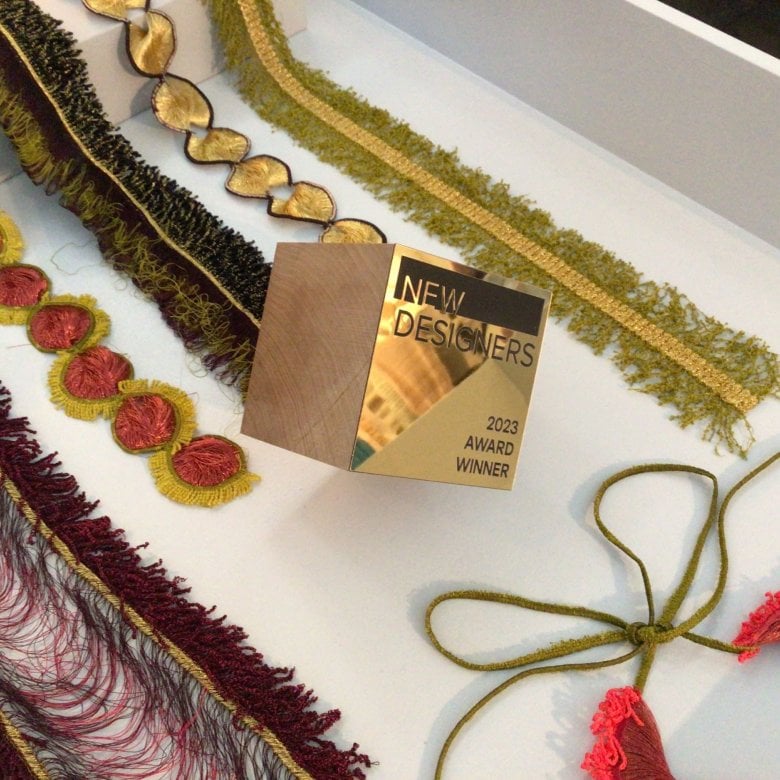 New Designers 2023 - Beth Somerville - 1
Wilcom Europe said: "The quality of the digital embroidery and it's use across mixed media from Falmouth University was simply outstanding and extremely pioneering. The students, along with their lecturer's, passion for creativity in pushing the boundaries of digital embroidery is what won them [the awards]."
The course team's responsive approach ensures that Falmouth graduates can be recognised as true gamechangers in their field.
Beth's collections, Stigma Stamen and Mountain Fold, explored the space where new technologies and old craft processes meet. Commenting on the win, and Beth's work, Textile Design BA(Hons) course leader Sally-Ann Gill said: "Beth's extraordinary talent for innovative textile design incorporates hand and digital embroidery, beading, print and weaving. The recognition of her skill by the judges at New Designers validates our high opinion of her as a designer. At one stage last week, Beth was surrounded by 11 judges!  
"This win is tremendous not only for Beth, but for the course and University as a whole. With acknowledgment from industry that we nurture and facilitate designers of Beth's calibre."  
Reflecting on the success at the awards, John Boddy, Head of Fashion & Textiles at Falmouth University said: "This award is not only an acknowledgement of Beth's incredible talent but also that of the hard work put in by the Textile Design academic and technical teams, who are continually updating the curriculum direction to ensure that it is industry facing and responding authentically to global issues related to the textiles industries. This responsive approach ensures that Falmouth graduates can be recognised as true gamechangers in their field..."