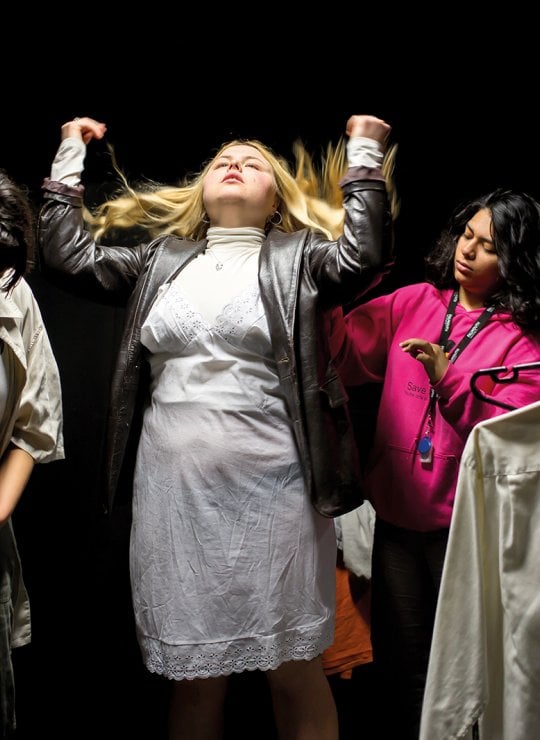 Costume Design for Film & Television BA(Hons)
Cultivate the skills to enter the world of costume design on-screen.
Key details
Course duration
3 years / 4 years
Attendance
Full-time / Placement year
UCAS code
W451 / FY14 / PY21
Course overview
On this costume design course, you'll learn from industry professionals, developing in-demand expertise in garment design, acquisition, alteration and creation to bring characters to life.
From wardrobe curation and exploring contemporary fashion history to interpreting scripts, we'll equip you with the practical, entrepreneurial and collaborative skills you'll need to succeed in this vibrant industry.
You will:
Master core techniques such as drawing, cutting, wardrobe pulling and fitting 
Investigate the social, cultural and environmental factors that influence memorable costume designs of our time
Analyse industry applications such as music promos, commercials and costume breakdown, applying this knowledge to innovative challenge-based projects
Utilise our extensive wardrobe store and textiles and dress collection to achieve your vision of a character
Refine your skills as a costume practitioner in your final year through a collaborative screen production project to develop your professional portfolio 
The Costume Design for Film & Television course is one of the few undergraduate programmes recognised by BAFTA UK as an eligible course for the BAFTA UK Scholarship programme.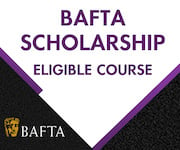 On this Costume Design for Film & Television degree, you'll have the opportunity to gain a BA(Hons) degree over three years or the option to study Costume Design for Film & Television BA(Hons) with Integrated Foundation Year and/or a placement year.
From costume design to wardrobe curation, exploring contemporary fashion history to interpreting scripts and characters and learning how to work as part of a creative team, we'll equip you with the creative, practical and entrepreneurial skills you'll need to succeed in this vibrant industry. 
During the first year of this costume design degree, you'll be introduced to fundamental skills such as research, drawing, pattern cutting, garment alteration, fitting techniques, script analysis and costume plotting. You'll also learn how to become a costume designer that can analyse characters and scripts through the lens of anthropological, socio-political, psychological and cultural concepts. Practical work will be supported by lectures and written work exploring the history and theory of film and visual culture. 
Modules
Making
You'll learn foundation skills in cutting and sewing as well as skills specific to the live fitting of garments on the body. You will explore shape and volume and fabric manipulation. Through practical workshops, you'll learn how to use industrial sewing machines and operate efficiently and safely in a busy environment that mirrors professional practice.
Seeing
You'll develop enhanced observational skills and learn how to record, reference and communicate detailed information on the clothes worn by real people and the costumes worn by fictional characters. You'll understand the cultural, social and environmental factors that support character development through costume.
Histories
You'll learn how social and fashion histories impact today's costume designs by examining real garments and fabrics from the Textiles & Dress Collection. You'll explore the relationship between fashion, textiles, costumes and wider visual cultures.
Communicating
In this module you'll develop your traditional drawing and painting skills of clothes and clothed models through abstraction and deconstruction techniques, to present costume designs effectively. You'll also explore digital drawing, all the while contributing to your growing professional portfolio.
Belonging
A truly collaborative module, you'll work in groups of mixed disciplines to explore ideas of identity in relation to costume choices, in an accepting and inclusive environment where we look to change established narratives. Ideas of marginalisation around ethnicity, ability, body size, religion and sexuality are discussed and applied to screen costumes, resulting in a game-changing showcase of work.
Emerging
Collaborating with students from Film, Television or Digital Games specialisms, throughout this module you'll work in an environment that mirrors industry practice. You'll work from concept art, scripts or game narratives to create moodboards, wardrobes and costume design options. This module culminates in the construction of a piece of costume fit for purpose, ready for peer review and feedback.
In year two you'll continue to develop your design profile through an exploration of screen theory, costume breakdown and industry applications, such as styling for music promos and commercials. Alongside your creative practice, you'll also gain vital skills for successful freelance practice, including budget organisation, self-management and collaboration.
Modules
Wearing
With industry practices at its centre, this module will teach you about costume buying, hiring and commissioning. You will also explore processes such as costume breakdown and the importance of detail when developing character 'realness'.
Working
Focusing on the differing roles of the professional costume design team, you will gain an understanding of a variety of working arrangements, including freelance practice. You will get to grips with relevant financial management skills, such as personal and client budget management, as well as team dynamics and ethical interpersonal relationships.
Appearing
This module provides an opportunity to bring fully-fledged costumes to life. Collaborating on a live project with industry partners or other Falmouth University schools, you'll be provided with a script and assigned a suitable costume design team role.
Applying
You'll research areas of design history, film, television and cultural studies to enhance your growing theoretical perspectives on the costume design industry and your own developing design practice.
You can choose to take an optional placement year after your second year on a three-year programme, or after your third year if you're studying for a degree with an Integrated Foundation Year. 
You'll be responsible for finding your own placement, with support from the RealWORKS employability team. 
Choosing this option will enhance your industry experience and skills while studying. 
How you'll study during your placement year 
You'll spend time working in a professional context, as part of a business or organisation. This can be in one role, or up to three, and must be for a minimum of 24 weeks. 
You'll develop in-demand workplace skills, deepen your insight into industry and grow your network of contacts, all of which could help you get ahead in your career after graduation. 
Throughout this year, you'll develop a portfolio of work that includes critical self-reflection on what has been learned from the experience. You'll be required to evidence your experiences, the skills you've learned and your professional growth. 
In your final year on the costume design degree, you'll prepare for entry into industry by refining your skills through ideas pitching, a major collaborative screen production project, and portfolio creation.
Modules
Daring
This challenge-based module gives you the opportunity to collaborate with outside agencies or with teams from a variety of Falmouth University schools. You'll develop character profiles and a range of costume options for main and supporting characters in live collaborative projects, both individually and as part of a costume team. You will also experience industry-standard practices of pitching for leadership or participation.
Underpinning
Research is key to this module: you'll identify a topic that is relevant to your identity as a costume designer before carrying out a sustained and focused investigation into it. You will write, reference and illustrate a critical essay that aligns with your own practice in the field of costume design. You'll also offer an assessment of the screen industries that evaluates the relationship of your research topic with your future career aspirations.
Being
In this final module you'll showcase the skills that have been acquired throughout the course in a live, challenge-based environment. Your costume design skills will contribute to the completion of a real screen output, be it a short film, TV show, advert, still or other collaborative project. You'll be allocated an appropriate costume role in the production in line with industry practice, and participate in the teamwork that brings it to fruition. Receiving ongoing feedback from your colleagues, you will record and evaluate your performance in the execution of your professional role.
Why study an Integrated Foundation Year route?
If you're taking on a new subject that you haven't studied in depth before, have been out of education for a while or have a non-standard educational background then an Integrated Foundation Year degree may be the right choice for you. It is a four-year degree with an Integrated Foundation Year to start, which allows you to explore the primary elements of your subject before progressing on to the remaining three years of the BA(Hons) degree.
What you'll study in your Foundation year
If you choose this pathway, you'll study five core modules in your Foundation year. These are all designed to help you explore the foundational elements of your subject. You'll gain relevant technical skills, learn to experiment and take risks, develop an understanding of professional practice, have opportunities to work across disciplines and collaborate with other students on live project briefs.
Modules
Explore
You'll begin your foundation year by working collaboratively with others to explore themes of the future. You'll take risks, experiment through play and be supported to break through barriers.
Technique
You'll take subject-specific workshops and develop essential technical and practical skills in your area of study. You'll also enhance your analytical and organisational abilities.
Apply
You'll work with your peer group to think beyond discipline by addressing a societal or global issue. You'll then showcase your work to your peers and deliver and accompanying evaluation of your process.
Industry
You'll enhance your creative and practical skills in your subject specialism by responding to typical industry briefs, underpinned by focused research and experiments. You'll also gain industry insights through guest lectures and workshops.
Launch
You'll develop your unique identity in your specialism through the production of a self-initiated body of work. Your final project will be the bridge to your next year, fully supported by evaluative reviews and critical analysis of the work you have created.
After the Foundation year, you progress into Year One of the full three-year degree, equipped with a deeper knowledge of your subject, a clear understanding of your strengths, and develop a practical and technical skillset and the confidence to excel in your chosen subject. 
If you apply for and enrol onto a degree with an Integrated Foundation Year, you'll have the option to switch onto a five-year version including a placement year. That means you'll complete the first three years of your course before completing a placement in industry in your fourth year and returning to Falmouth for the fifth year of your programme. 
The modules above are those being studied by our students, or proposed new ones. Programme structures and modules can change as part of our curriculum enhancement and review processes. If a certain module is important to you, please discuss it with the Course Leader.
From module information to course aims and assessment criteria, discover the full course details:
Stories from our community
Explore student projects, graduate successes, staff news and industry insights
How you'll learn
You'll hone your creative practice and gain invaluable practical and critical skills through a blend of lectures, seminars, masterclasses, workshops, tutorials and guided independent study.
At Falmouth, we use a 'digitally enhanced learning & teaching' approach. Your experience will always be predominantly in-person, including seminars, tutorials and studio teaching, with some, more targeted elements, being online either live (synchronous) or pre-recorded (asynchronous). You can read more here.
How you'll be assessed
100% of your assessment will be coursework. 
Assessment methods
Foundation year assessments are 100% coursework based
Assessment can take the form of artefacts (such as pieces of costume you have made), portfolios, projects, reports and dissertation.
Formative feedback will be ongoing through regular tutorials with academic staff and visiting professionals, and summative feedback will take place following the end of the designated study block assessment periods.
Staff
Staff have experience at the highest levels of industry and bring established and innovative new practices to the course. Their experience spans costume design and supervision through to breakdown, plotting and characterisation for companies such as Paramount Pictures, the BBC, The National Theatre and Channel 4.
Some members of staff only teach on specific modules, and your course might not feature every staff member who teaches on the course.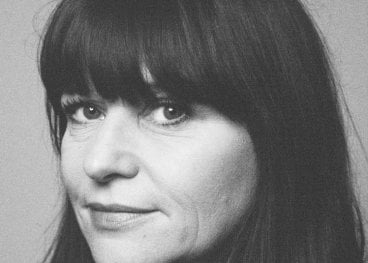 Julie Ripley
Senior Lecturer, BA(Hons) Textile Design
Julie Ripley studied history of modern art, design and film at Northumbria University, where she wen...
Julie Ripley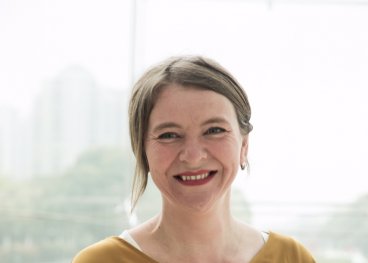 Dr Kate Strasdin
Senior Lecturer
I joined Falmouth University in 2009 as an associate lecturer teaching histories and theories to stu...
Dr Kate Strasdin
"This course is an extremely viable prospect for students looking to gain the necessary skills needed to access one of the most interesting and fun industries to work in, with potential earnings in this industry being very good."
Susie Coulthard, Costume Designer (guest speaker)
Facilities
Open plan contemporary studios
Industrial sewing machines and specialist construction equipment
Dye lab and breakdown facilities
Access to digital suites with Adobe CS, Gerber pattern plotting and CLO3D software
Wardrobe store with a selection of costumes from contemporary history
Access to archive collections of historical and contemporary garments
Collaborative opportunities within the School of Film and Television
As a costume design graduate, you could become:
A costume designer for film and TV, commercials or music videos
A stylist or styling assistant for celebrity, commercial or internet content
A costume supervisor for visual media
A costume stand-by, working on set to look after hero talent
A costume buyer for film and TV
Apply via UCAS
Ready to join us? You can apply through UCAS. You'll need to reference the course and University code (F33).
Applying as an international student? 
International students can apply for a course through UCAS, via an agent or directly with the university. For more information about how to apply as an international student, visit our international applications page.
| Course route | UCAS code |
| --- | --- |
| Costume Design for Film & Television BA(Hons) three year degree | W451 |
| Costume Design for Film & Television BA(Hons) with Integrated Foundation Year | FY14 |
| Costume Design for Film & Television BA(Hons) with placement year | PY21 |
We consider all applications on their own individual merit and potential. We invite all applicants to an interview day or audition to give them the opportunity to demonstrate this along with what inspires and motivates them in their field. Applicants will also be able to show their portfolio or give a performance depending on the course. We welcome applications from all subject backgrounds, whether you've specialised in STEM, the arts or humanities.  
| Course route | Entry requirements |
| --- | --- |
| BA/BSc(Hons) three year degree | 104 – 120 UCAS Tariff points |
| BA/BSc(Hons) four year degree with placement year | 104 – 120 UCAS Tariff points |
| BA/BSc(Hons) four year degree with Integrated Foundation Year | 80 – 120 UCAS Tariff points |
Check the title of your course to see if it's a BA or BSc award. UCAS Tariff points will primarily be from Level 3 qualifications such as but not limited to A-levels, T Levels, a BTEC/UAL Extended Diploma or a Foundation Diploma. 
For applicants whose first language is English we require you to have or be working towards GCSE English Language Grade 4 (C), or equivalent. 
If English is not your first language you will need to meet the same standard which is equivalent to the IELTS Academic 6.0 overall score, with at least 5.5 in Reading, Writing, Speaking and Listening. We accept a range of in country equivalencies and approved tests.  
If you need a student visa to study in the UK, you may need to take a recognised language test. You can read our English Language Requirements for more information.
For starting your studies in 2023
UK applications: 25 January 2023 (for equal consideration)
Applications after the 25 January will be considered on a first-come, first-served as long as there are places available. Apply for this course now.
International fee payers
International fee payers can apply throughout the year. But we recommend applying as early as possible, to make time for visa and travel arrangements.
Tuition fees
| Annual tuition fee | Student |
| --- | --- |
| £9,250 per year | Full-time UK |
| £17,460 per year | Full-time EU/international |
| Annual tuition fee | Student |
| --- | --- |
| £9,250 per year | Full-time UK |
| £17,460 per year | Full-time EU/international |
| £1,850 per placement year | Full-Time UK and EU/international |
Tuition fees are set annually and are subject to review each year. The University may therefore raise tuition fees in the second or subsequent years of a course, in line with inflation and/or the maximum permitted by law or Government policy. Students will be notified of any changes as soon as possible. 
The figures above don't include accommodation and living costs
Typical course costs
Recurring annual costs 
There are no studio fees on this course, so all students provide their own materials to fit their personal design style, at an approximate cost of £80 per year.  
As this is not a garment creation/production course, this estimate is based on; notepads and sketchbooks, fabric, thread and embellishments, drawing and painting materials and copying and printing costs. 
Optional study trips
In Year Two of this course, there is an optional study trip to London where students can experience working in an industry setting. This trip costs approximately £500.  
One-off costs for the duration of the course 
All students require a laptop or tablet in order to access online content, create presentations and write essays.  

For creating digital designs, a tablet is sometimes preferred for drawing and costs up to £1,000.
BAFTA Scholarship programme
The BAFTA UK Scholarship programme aims to assist talented students in need of financial support on undergraduate and postgraduate courses.
This course is eligible for the BAFTA Scholarship programme for UK students. If a student's application to the BAFTA Scholarship programme is successful, they will receive up to £12,000 towards tuition fees, an industry mentor and free access to BAFTA events. Visit the BAFTA website to find out more.
Additional typical course costs for Integrated Foundation Year pathway
£250 for materials
A laptop/desktop computer
Adobe Creative Suite
In order to participate in our digitally enhanced learning approach, you'll need to have a personal laptop/desktop computer. Depending on your subject, you may need a specific type of computer. If you're unsure about what you might need, please contact our course advisors.
What better way to find out about life at Falmouth University than by asking our current students?
From course details and academic support, to the social scene and settling in, our students are ready and available to answer any questions you might have. Simply set up your account, send them a question and they'll get back to you within 24 hours.