Fashion Design BA(Hons)
Create original, responsible and inspiring fashion, making your unique footprint on the industry. On this innovative fashion design course, you'll work in a supportive studio environment with experienced professionals who'll nurture your growth towards becoming a future-facing designer.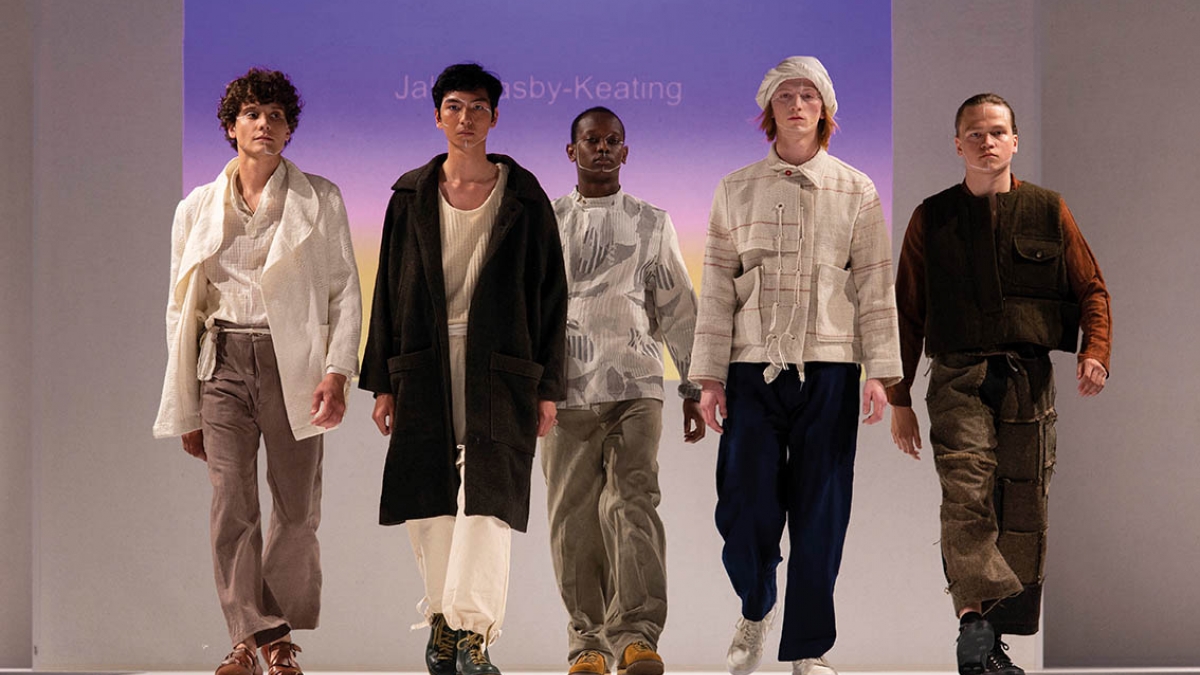 Key details
| | |
| --- | --- |
| Location | Penryn Campus |
| Course Duration | 3 years |
| Attendance | Full-time |
| UCAS code | W232 |
| Contact | 01326 254350 |
Introduction
You'll hone your creative edge to cultivate your own design perspective. Working on both simulated and live briefs, you'll learn how to effectively articulate your ideas. By challenging the status quo, you'll develop innovative fashion concepts to remain at the forefront of an ever-changing global industry.
You will:
Raise your awareness through learning that's driven by the environmental, ethical and moral challenges of our time.

Take your place at the forefront of the industry, with access to resources from industrial, specialist sewing and knit machines, screen printing and a natural dye garden, to ultrasonic welding machines.
Learn to use the latest digital design technologies, including CLO 3D.
Thrive by working together on collaborative, challenge-based projects.
Work on live briefs with leading brands like Fred Perry, Lou Dalton, O'Neill and New York-based Ryan Roche.
Share a common first year with Sportswear Design students, where you'll select a specialist pathway as you move into your second year.
Covid-19 update
In response to the Covid-19 pandemic, we have reviewed and made changes to our courses to provide flexible, blended delivery that offers high-quality digital engagement and access to face-to-face teaching in our facilities. You can see how your course may be adjusted by viewing the changes for the current academic year by visiting our welcome letters & latest course updates pages
What our graduates do
Our graduates have gone on to work with names like Calvin Klein, Margaret Howell, Victoria Beckham, Acne Studios, Burberry, Iris van Herpen, palmer//harding, Jigsaw, Whistles, H&M and Adidas.
In 2018 the course was presented with the British Fashion Council's Outstanding Portfolio Award for our graduate portfolio presentations.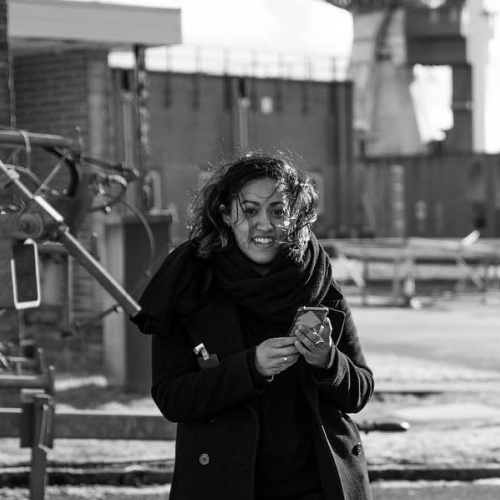 Fashion Graduate Selected to Open International Conference
---
Michelle Facey, graduate from BA(Hons) Fashion Design, was recently selected to showcase her work at the International Foundation of Fashion Technology Institute's (IFFTI) annual conference.
Discover more
Read More
Course details
What you'll learn
Reflecting professional life from day one, this practical fashion degree teaches technical and creative design skills across womenswear and menswear – helping you stand out in the industry as you create original, responsible and inspiring fashion proposals. You'll gain a working knowledge of core fashion design skills such as research, analysis, translation, drawing, pattern cutting and construction, as well as innovation skills like risk-taking and experimenting with new technologies like CLO3D and ultrasonic construction techniques.
You'll develop your practice in our professionally equipped fashion studios. Supported by the academic and technical course teams, you'll learn essential skills like concept development, 2D and 3D design, fashion illustration and colour and material development. You'll also learn technical skills like pattern cutting and garment construction. While studying the theories surrounding fashion and writing, you'll explore cultural, historical and ethical issues.
Modules
Research
In this module, you'll begin to acquire core skills in research within the context of a fashion design brief. You'll become familiar with methods of research and the fashion vocabulary, and explore traditional mark making in the form of drawing, while also developing digital communication skills.
Cut and Construct
This module will help you to grow core garment production techniques. In-depth analysis of specific techniques and processes will inform your knowledge of the pattern/construction process and their application in the fashion industry.
Discovery
Through design project briefs, you'll build upon the techniques explored in previous modules to enhance your production and research skills, and your own emerging design voice. You'll engage with concepts of risk-taking, play and curiosity to develop original and progressive design ideas in both 2D and 3D formats.
Themes in Culture
This module helps you to contextualise your design and production skills. You'll work on developing appropriate research, presentation, and communication skills to enable you to effectively articulate your ideas.
With a focus on professional practice, this year will see you begin to shape your identity as a fashion designer, as you develop a confident personal perspective. Through live and simulated industry briefs, you'll apply your skills to areas like brand and market awareness, sustainability, ethical and moral issues, and ideas presentation. You'll be introduced to digital and screen printing, machine knitting, advanced cutting techniques, tailoring and advanced CAD/digital design solutions. You can also choose to take on a self-directed industrial placement during the summer break. Students have undertaken work experience with brands like Maison Margiela, Dior, Christopher Kane, Mary Katrantzou, JW Anderson and palmer//harding.
Modules
Fashion Thinking
You will research, interrogate and form a defensible viewpoint of the contemporary fashion industry based on up-to-date design practices, futurology and ethical considerations. Alongside this philosophical investigation, you will also learn how clothing brands are formulated. Working as part of a group, you will experience team dynamics and be encouraged to present your ideas in open forums, where you'll discuss, negotiate and defend them.
Fashion Industry Practice
In this module, you'll gain a "Real World" experience, working on live projects or those simulating industry working practices and timescales. You will explore the synergies and tensions that take place between the creative and professional contexts of the fashion industry and develop skills to creatively direct a brand-specific clothing collection and present design ideas to be carried through into garment realisation.
Innovation
Following introductory workshops in advanced garment production techniques such as knit, print and advanced cutting, you will harness these new skills to enhance your own fashion design voice. You'll produce innovative and progressive new ideas for clothing in both 2D and 3D, while being encouraged to embrace the unexpected and reject the obvious.
Theories of Culture
This module delves deeper into the historical, social, cultural and global contexts in which contemporary fashion design practice occurs. It introduces theoretical perspectives in order to develop your ability to discuss your own and others' practice in an academic framework.
In the final year of your Fashion Design degree, you'll develop a graduate collection by intensively researching, developing and exploring 2D and 3D concepts. Alongside this, you will produce a dissertation, portfolio and look book to help launch your career. There will be opportunities to promote yourself by participating in industry live competition briefs set by the British Fashion Council and the Graduate Fashion Foundation.
Modules
Collection Research
You'll develop and collate the concept, market/customer, colour, materials research, and so on, that you will use to inform your pre- and graduate collections. Research will be meaningful and also explore the ethical and sustainability considerations of your chosen fashion message.
Pre-Collection
You will investigate, develop and present a pre-collection which fully integrates your research materials. This process will allow you to make informed decisions about areas of strength and weakness within your research before committing to a final decision on your graduate collection.
Dissertation
In this module, you will complete a dissertation on an agreed subject relating to your individual interests and practice. You will reflect on personal research strengths and practice and engage in considered debate and detailed discussion of the chosen topic.
Collection
In this module, you will complete your graduate fashion collection, based on preparation completed in previous Year Three modules. This will culminate in the delivery of an assigned number of fully realised garments collated as coherent outfits, ready for presentation at a fashion show or equivalent.
Professional Strategies
This module will support you in developing a range of self-promotional materials relevant to your individual ambitions following graduation. Industry guests and careers/employability specialists will share advice and guidance regarding interviews, placements, contacting potential employers, and postgraduate study.
The modules above are those being studied by our students, or proposed new ones. Programme structures and modules can change as part of our curriculum enhancement and review processes. If a certain module is important to you, please discuss it with the Course Leader.
From module information to course aims and assessment criteria, discover the full course details.

We are making changes to our curriculum framework for courses starting in 2022. Modest amendments to our course module structure will provide you with new opportunities to collaborate and co-create with students from across disciplines during your studies.
This course page will be updated when these changes have been finalised and applicants will be notified.
How you'll learn
Working with our team of highly experienced academic and technical teams, you will collaborate with colleagues and students from different courses, learn from industry guest lecturers, take on live projects with brands and develop your own practice to an industry standard. Regular learning comes through tutorials, both one-to-one and in groups, lectures, seminars, workshops and technical demonstrations. You will also have the chance to study abroad for a term through our Erasmus+ and Study Abroad partnerships.*
* Due to ongoing restrictions on travel caused by the Covid-19 pandemic and changes to the UK's study abroad programme due to Brexit, we cannot guarantee study exchanges as a part of this course.
How you'll spend your time
Year

Timetabled teaching and

learning activity

Guided

independent study

1

35%

65%

2

30%

70%

3

22%

78%
How you'll be assessed
| Year | Written exams | Practical exams | Coursework |
| --- | --- | --- | --- |
| 1 | 0% | 0% | 100% |
| 2 | 0% | 0% | 100% |
| 3 | 0% | 0% | 100% |
The above percentages relate to 2019/2020 data.
Assessment methods
Continuous assessment of visual, verbal and written assignments.
Final-year dissertation and two final-year exhibitions.
Staff
On top of working for iconic designers like Alexander McQueen, our tutors and support staff provide detailed knowledge in areas like styling subculture, business entrepreneurship, ethics, sustainability, and running their own labels.
Some members of staff only teach on specific modules, and your course might not feature every member shown here.
Facilities
Cutting tables.
Fitting stands.
Industrial flatbed machines.
Digital design solutions like clo3D, Gerber and Adobe.
Digital and traditional printing equipment.
Laser cutting equipment.
Silicon taping equipment.
Ultrasonic construction machines.
Industrial overlockers.
Blind-stitching machines.
Knitting machines.
Publication/portfolio production facilities.
Online access to WGSN and LS:N Global.
How to apply
Apply via UCAS
Ready to join us? If you're applying through UCAS Apply and Track, you'll need to reference the university and course codes below. 
University code: F33
Course code: W232
Applying as an international student? 
International students can apply for a course through UCAS, via an agent or directly with the university. For more information about how to apply as an international student, visit our International applications page.
 
We consider all applications on their own individual merit and potential. We invite all applicants to an interview day or audition to give them the opportunity to demonstrate this along with what inspires and motivates them in their field. Applicants will also be able to show their portfolio or give a performance depending on the course. We welcome applications from all subject backgrounds, whether you've specialised in STEM, the arts or humanities.
As a guide our typical offer at undergraduate level is 104 – 120 UCAS Tariff points, primarily from Level 3 qualifications such as but not limited to A-levels, a BTEC Extended Diploma or a Foundation Diploma.
For applicants whose first language is English we require you to have or be working towards GCSE English Language Grade 4 (C), or equivalent.
If English is not your first language you will need to meet the same standard which is equivalent to the IELTS Academic 6.0 overall score, with at least 5.5 in Reading, Writing, Speaking and Listening. We accept a range of in country equivalencies and approved tests.
If you need a student visa to study in the UK, you'll need to take a recognised language test that is approved and vouched for by the University. You can read our English Language Requirements for more information.
UK applications: 29 January 2021 (for equal consideration)
Late applications will be considered if there are places available.
International fee payers can apply throughout the year. But we recommend applying as early as possible, to make time for visa and travel arrangements.
What we're looking for
We want someone who:
Is interested in contemporary fashion.
Has problem solving and development skills.
Shows an understanding of design context.
Is interested in developing 3D communication skills.
Has analytical and communication skills.
Can draw or illustrate and document development.
Shows original and critical thinking, and visual research skills.
Fees, costs & funding
Tuition fees
£9,250 per year - full-time UK/EU
£16,000 per year - full-time international
£9,250 per year - full-time UK
£16,950 - full-time EU
£16,950 - full-time international
Typical course costs
£200-£400 - Recurring annual costs
£100-£400 - One-off costs for the course duration (compulsory trips, final portfolios or shows, etc)
£1,350 - Optional study visits and placements for the course duration
If you need to bring equipment or materials with you, these will be outlined in your Welcome Letter.
The figures above don't include accommodation and living costs
Tuition fees are set annually and are subject to review each year. The University may therefore raise tuition fees in the second or subsequent years of a course, in line with inflation and/or the maximum permitted by law or Government policy. Students will be notified of any changes as soon as possible. 
Funding
For information about funding available, please visit our undergraduate funding page
Ask a student
What better way to find out about life at Falmouth University than by asking our current students? 
From course details, our facilities and the local area to the social scene and settling in, our students are ready and available to answer any questions you might have. Simply set up your account, send them a question and they'll get back to you within 24 hours.
Virtual Open Days & online events
See how we turn real industry experience into real careers.
Experience Falmouth