Outstanding Award for Fashion Design
13 June 2018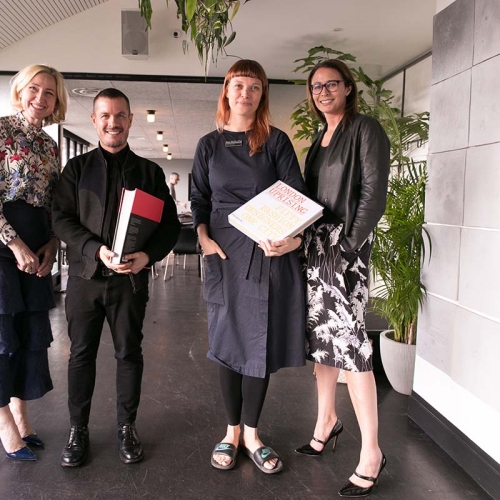 The Fashion Design course has won the accolade of Outstanding Portfolio at the British Fashion Council's Graduate Preview Day in London.
The prestigious Outstanding Portfolio Award honours the best student portfolios presented by the top fashion institutions from across the country. Previous winners include the University of Westminster and the Royal College of Arts.
Geertje Dreijerink, Senior Fashion Design Lecturer and staff member responsible for developing the final year portfolio module, headed to London to receive the award on behalf of Falmouth.
Speaking on Falmouth's success, Geertje stated: "We are extremely proud of our final year group, pushing the visualisation of their creative process and shaping their individual identities. Excellent work!"
The winners are meticulously selected from a group of nominees by a panel of illustrious judges, all with strong ties to the industry. This event marks 24 years since the inception of Graduate Preview Day, with twenty-eight universities attending the ceremony.
Working closely with industry, the BFC's Graduate Preview Day aims to highlight talented students and the leading fashion design courses across the UK. As well as opportunities to access support through scholarships, the BFC aims to encourage students to access arts education, study at universities and pursue careers in the fashion industry.
John Boddy, Head of Fashion, stated: "This award is a fantastic achievement for our Fashion Design staff and students, who should all be extremely proud of the work they've done over the past year.
"Graduate Preview Day showcases and celebrates the talents of graduates from the top fashion colleges in the country and only a select few have won, so it's a fantastic honour for Falmouth to be awarded the Outstanding Portfolio Award."
You might also like