What can you do with a Fashion degree?
A degree in Fashion offers you the chance to build a portfolio and gain valuable work experience so you're ready to enter the exciting and fast-paced fashion industry when you graduate. 
If you love following the latest trends on the runway or channelling your creativity through the clothes you wear, then a degree in Fashion may be the route to turn your passion into a career.  
A Fashion degree can lead to a variety of jobs in the industry, whether it's a career in haute couture, with high street brands or in making manufacturing operations more sustainable.
You could work as a fashion designer or become a stylist; a fashion advertiser or editor. Alternatively, you could move into the business of fashion, becoming a strategic fashion buyer for retail chains. There are also opportunities to enter other industries, such as costume design for film and television or fashion media. 
Job opportunities
Our Fashion degrees are designed to equip graduates for a broad range of careers in the creative industries. You could become a: 
Fashion Designer 
Stylist 
Art Director 
Textile Designer 
Visual Merchandiser 
Costume Designer 
Colourist 
Costume Supervisor 
Fashion Buyer 
Pattern Cutter
Wardrobe Manager 
Wardrobe Technician 
Studio Designer 
Studio Technician 
Fashion Photographer 
Graduates in the spotlight
Our graduates have gone on to work in the following roles: 
Merchandising at Selfridges & Co 
Textile Designer at Burberry 
Pattern Assistant at COS 
Footwear Designer at Clarks Originals 
Menswear Designer at Belstaff 
Product Developer at Toast 
Development Engineer at Heathcoat Fabrics 
Fashion Retailer at Browns 
Creative Marketer at The White Company 
PR at Inditex 
A Fashion degree will help you to build the skills, knowledge and creativity to become a confident design practitioner. Our Fashion & Textiles Institute is equipped with cutting-edge digital design technologies as well as traditional tools, so you can experiment and refine your creative practice. 
All our Fashion courses are underpinned by a progressive foundation of sustainability and ethical practice.
Supported by academic and technical course teams, our students gain professional skills in digital and screen printing, advanced cutting techniques, tailoring, CLo3D and ultrasonic construction techniques, as well as machine knitting, embroidery and weaving. If you study Fashion Photography, you'll also have access to our industry-standard photography facilities, where you can experiment with light, colour, composition and form.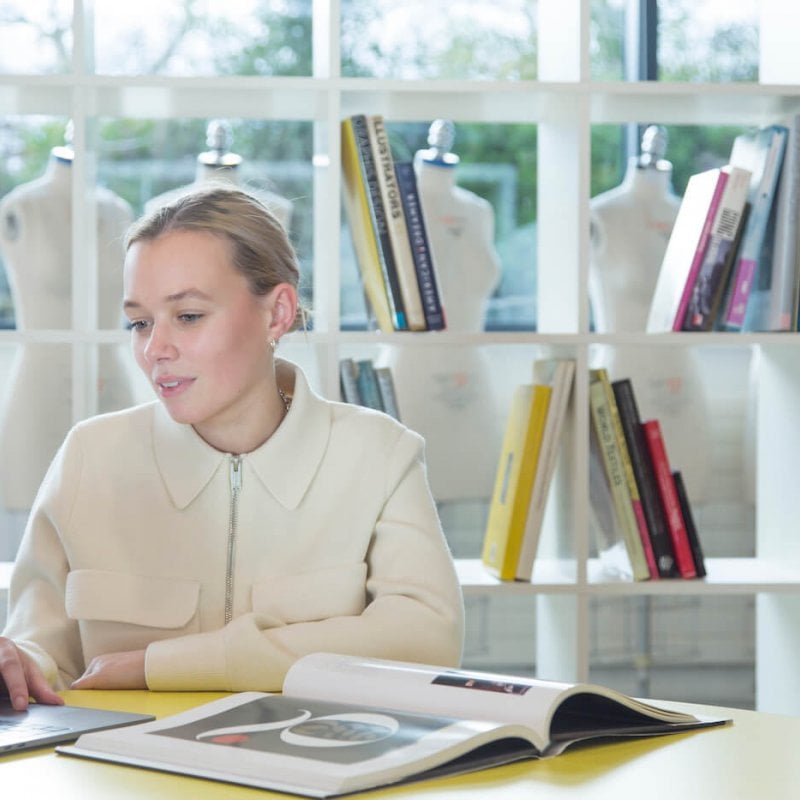 Transferable skills
As well as specialist skills, students develop a variety of transferable skills that are desirable to a range of employers. These include:
Visual, verbal and written communication skills, including presentation and pitching
Leadership skills through project management and collaborative outputs
A strong work ethic and tenacity to move projects forward
Innovative solutions to problem solving and a willingness to take creative risks
Interpersonal skills through critiques, peer reviews and group tutorials
Entrepreneurial skills in marketing your work and building professional networks
Our Fashion degrees have been designed to prepare you for real-life industry scenarios. Students get to work on live briefs set by renowned companies such as Circleline, Joules, Fred Perry and John Lewis. We also encourage students to enter international competitions such as the Bradford Textile Society and the Graduate Fashion Week Awards.  
Students have the option to go on study trips to global fashion events, such as Première Vision in Paris. Several of our Fashion degrees facilitate self-directed national and international work placements with companies like Wallace Sewell, Liberty and Rebecca Taylor. 
When you study at Falmouth, you also have access to our dedicated Employability Service. Students can sign up for weekly career workshops and events, take practice interviews and get support on CV writing or even going freelance.