Join the next generation of creative image-makers, designers and thinkers.
Take advantage of our world-class resources, top connections including Adidas, Polartec and Finisterre, and respond to real projects to develop the hands-on experience and future-focused skills you'll need to succeed after graduation. 
Fashion & Textiles Institute
Our Fashion courses sit within the Fashion & Textiles Institute. Across our degrees, we teach our students about the impact of their work. We believe exploring sustainable practices is crucial for the next generation of fashion creators. Director of the Fashion & Textiles Institute, Tracy Pritchard shows how studying at Falmouth University will help you to develop your own creative practice to become a future-facing fashion designer, photographer or marketeer.
Take the virtual experience
Looking for a different course?
Apply now
Found the Fashion degree for you? Discover our application information, key dates and interview advice.
How to apply
"I wouldn't have had the confidence to apply for Gul if it wasn't for my course and my tutors giving us these opportunities. My portfolio was strong because in third year, there was a big focus on preparing us for industry."
– Millie Winson, Junior Designer, Gul Watersports (Sportswear Design Graduate)
Explore our fashion facilities
Our Fashion courses are served by industry-standard equipment and facilities, allowing you to transform creative concepts into commercial realities. As well as textiles studios and tools – including hand looms, printmaking studio and digital fabric printers – you'll also have access to one of the UK's leading student photography studios with professional equipment to loan.
See facilities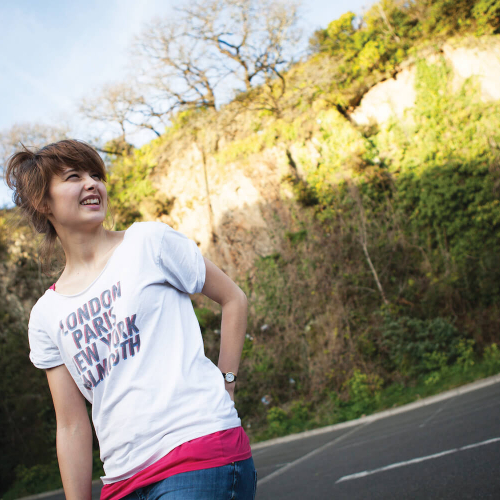 Doing it for real
---
Studying Fashion at Falmouth gives you the chance to work alongside a range of other creative disciplines. Not only does this push your own practice, it also sets you up for real-world collaborations after graduation. By tasking our students with live briefs from clothing designers, inviting a range of guest speakers to provide industry insight and encouraging collaboration across our courses, we provide our students with a platform for future success.
Read more
Read More
Discover what our students do
Virtual Tour
Get a 360º feel for our facilities, town and scenery in just a few clicks.
Take the tour
Open Days & online events
See how we turn real industry experience into real careers.
See upcoming events
Any questions? 
If you have any questions about our Fashion courses, get in touch with our Future Studies Team. 
E: futurestudies@falmouth.ac.uk 
WhatsApp: +44 (0)1212 852937 
SMS: +44 (0)1277 420398