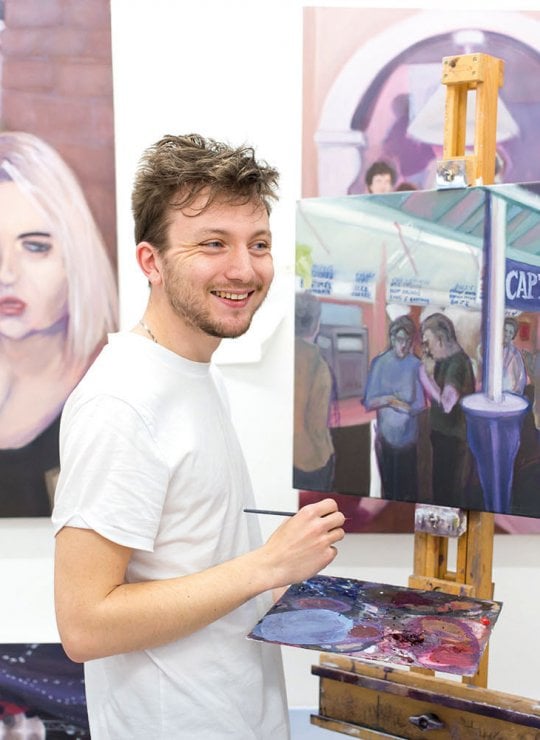 Fine Art BA(Hons)
Harness Falmouth's renowned fine art expertise, which champions critical exploration.
Key details
Course duration
3 years / 4 years
Attendance
Full-time / Placement year
UCAS code
W100 / FY11 / PY19
Course overview
On this studio-based degree you'll delve into culture and theory, evolve your practice and gain vital professional skills. You'll investigate contemporary and historical art practices, theories and debates, developing an industry-ready portfolio and the ability to effectively present your work to the world. Learning from experienced practitioners and collaborating with industry partners, you'll build the foundations for an enduring art career.
You will:
Work in a fine art studio space from day one, with access to excellent facilities including 3D, printmaking and time-based media workshops
Collaborate with industry partners such as Newlyn Art Gallery and Tate St Ives
Develop professional practice skills, learning to identify opportunities, take initiative and sustain a viable long-term career in the arts and beyond
Evolve your practice through opportunities such as field recordings, voice laboratories, self-publishing projects, specialist workshops, guest lectures and performances
Collaborate with peers and staff to produce group exhibitions and an online arts festival
Build an industry-ready fine art portfolio
The placement year pathway for this course is new for 2023 and subject to validation.
Lead image: Edward Scott.
On this Fine Art degree, you'll have the opportunity to gain a BA(Hons) degree over three years or the option to study Fine Art BA(Hons) with Integrated Foundation Year and/or a placement year.
On this studio-based Fine Art degree you'll delve into culture and theory, evolve your practice and gain vital professional skills. Learning from experienced practitioners, you'll investigate contemporary and historical art practices, theories and debates. You'll also develop the skills to effectively present your work to the world. Throughout the course, you'll collaborate with staff and peers to plan and deliver public exhibitions.
BA(Hons) Fine Art course video new
In your first year, you'll join technical workshops and inductions to kick-start approaches to artistic practice. With a focus on co-creation, you'll collaborate with your peers to develop a range of ways to think about, self-initiate, and develop your practice. You'll also investigate contemporary and historical art contexts, developments and debates. At the end of the year, you'll go on to develop and deliver a group exhibition.
Modules 
Press Play
With a focus on co-creation and collaborative peer learning, you'll develop a range of ways to think about, self-initiate, and develop your artistic practice. You'll undertake technical workshops and inductions and explore ambitious ideas – testing boundaries, taking risks, experimenting and making meaning. You'll also be introduced to a range of contemporary and historical art practices, cultural issues, debates, and contexts.
Practice in Context 1
In this module, you'll benefit from the combined expertise of both our Fine Art and Drawing courses. Through lectures and group discussions surrounding contemporary and historical art contexts, developments and debates, you'll develop a self-reflective approach to studio practice.
You'll also be introduced to academic writing and research conventions. Through this, you'll develop your own critical analysis skills and learn to communicate your ideas professionally and effectively.
Initiating Practice
In this module, you'll strengthen your understanding of what it means to have and maintain an independent artistic practice. You'll explore methods for practice-based research to identify connections between sources, underpin your practice with rich source material and develop conceptual themes for your work. You'll also look at how your practice fits within the professional industry and construct a collaborative group exhibition – exploring different modes of display and audience experience.
Practice in Context 2
This is part two of the Practice in Context module, where you'll have access to expertise across Falmouth School of Art. You'll be introduced to a range of themes and trends that have shaped contemporary artistic practices, such as socially engaged practices and recent philosophical shifts in the role and value of artistic production. You'll also engage with a greater range of academic source material and strategies for analysing, researching, and writing about art.
In your second year, you'll expand your horizons of what art practice is and can be, and how this translates to professional contexts. You'll further your understanding of research by exploring the relationships between sources, methodologies, themes, and ideas in support of your evolving practice. You'll also continue to develop the academic and cognitive skills required to develop thoughtful and critical practice, in both visual and written forms.  
At the end of the year, you'll work in teams to produce a public-facing arts event. To do this, you'll utilise vital professional practice skills including collaboration, team working, negotiation, persuasion, liaison and project management. 
Modules 
Situating Practice: Studio 
In this module, you'll establish themes in your practice and gain an understanding of how your work interacts with a range of professional and theoretical contexts. Working in both the studio and technical workshops, you'll develop a new body of work focusing on process, material investigation and technical experimentation.
You'll also explore how to identify themes and contexts that emerge from thinking through making and how you 'tell the story' of your practice and research, situated in real-world contexts. 
Situating Practice: Art Discourses  
In this module, you'll be introduced to discussions on a range of diverse themes in contemporary art. You'll look at the histories that have given rise to certain works and the ideas informing them, questioning the choices that artists make and how artists orientate themselves on the constantly shifting grounds of contemporary art. 
Testing Ground: Art Encounters  
Here, you'll begin generating a portfolio of research. You'll be introduced to core research methodologies and contemporary critical research practices. You'll also learn and then apply methods for planning and organising your research. Additionally, you'll explore a range of strategies for undertaking critical reading, and experimental, creative modes of writing.   
Testing Ground: Collaboration  
Working in exhibition planning groups, you'll identify and work towards a live context for your current practice. Each group will contribute to planning and preparing a public-facing arts festival and the group curation of your practice.  
Testing Ground: Studio 
In this module, you'll challenge and test established conventions within your practice. The emphasis will be on experimentation and risk through the practical business of making. Through a combination of seminars, tutorials and peer review you will articulate and receive critical feedback on your work. You will curate a body of work into an organised portfolio with a supporting artist statement. 
You can choose to take an optional placement year after your second year on a three-year programme, or after your third year if you're studying for a degree with an Integrated Foundation Year. 
You'll be responsible for finding your own placement, with support from the RealWORKS employability team. 
Choosing this option will enhance your industry experience and skills while studying. 
How you'll study during your placement year 
You'll spend time working in a professional context, as part of a business or organisation. This can be in one role, or up to three, and must be for a minimum of 24 weeks. 
You'll develop in-demand workplace skills, deepen your insight into industry and grow your network of contacts, all of which could help you get ahead in your career after graduation. 
Throughout this year, you'll develop a portfolio of work that includes critical self-reflection on what has been learned from the experience. You'll be required to evidence your experiences, the skills you've learned and your professional growth. 
In the third year, you'll work to establish a professional level of agency over your own creative practice. You'll complete an extensive research project that addresses the question of 'research as practice'; providing an opportunity to scope the embedded methodologies and theoretical frameworks of your practice. You'll then mobilise this research to produce a professional, public-facing final exhibition.   
Throughout the year, you'll be supported to develop your professional practice skills, expand your industry and research networks, and find opportunities to test your practice in the real world.  
Practice as Research  
Through challenge and exploration, in this module you'll begin to understand and mobilise research as an integral aspect of practice, culminating in a set of outputs distinctive to your own critical concerns. 
Entrepreneurial Practices: Agencies & Audiences  
In this module, you'll build an entrepreneurial skillset by engaging with public contexts as a dynamic material within your practice. You'll also be required to identify the relevant audiences, platforms and tools for the dissemination of your practice and research in relation to your career goals.  
Realisation  
This module is a culmination of the skills, knowledge and understanding you have accumulated over three years of study. You'll be expected to challenge and finesse your practice, with your degree show exhibition showcasing your accomplishments to a wider audience. You'll also be required to liaise with your cohort to collectively organise, curate and promote an exciting exhibition.   
Sustaining Practice 
In this module, you'll consider things like curation, the catalogue, planning and delivering a show – and what to carry forward beyond university. You'll be required to thoroughly document the planning, investigation and development of your chosen project, reflect on and evaluate your own professional development and initiate industry connections and explore opportunities for your career. 
Why study an Integrated Foundation Year route?
If you're taking on a new subject that you haven't studied in depth before, have been out of education for a while or have a non-standard educational background then an Integrated Foundation Year degree may be the right choice for you. It is a four-year degree with an Integrated Foundation Year to start, which allows you to explore the primary elements of your subject before progressing on to the remaining three years of the BA(Hons) degree.
What you'll learn
If you choose this pathway, you'll study five core modules in your Foundation year. These are all designed to help you explore the foundational elements of your subject. You'll gain relevant technical skills, learn to experiment and take risks, develop an understanding of professional practice, have opportunities to work across disciplines and collaborate with other students on live project briefs.
Modules
Explore
You'll begin your foundation year by working collaboratively with others to explore themes of the future. You'll take risks, experiment through play and be supported to break through barriers.
Technique
You'll take subject-specific workshops and develop essential technical and practical skills in your area of study. You'll also enhance your analytical and organisational abilities.
Apply
You'll work with your peer group to think beyond discipline by addressing a societal or global issue. You'll then showcase your work to your peers and deliver an accompanying evaluation of your process.
Industry
You'll enhance your creative and practical skills in your subject specialism by responding to typical industry briefs, underpinned by focused research and experiments. You'll also gain industry insights through guest lectures and workshops.
Launch
You'll develop your unique identity in your specialism through the production of a self-initiated body of work. Your final project will be the bridge to your next year, fully supported by evaluative reviews and critical analysis of the work you have created.
After the Foundation year, you progress into Year One of the full three-year degree, equipped with a deeper knowledge of your subject, a clear understanding of your strengths, and develop a practical and technical skillset and the confidence to excel in your chosen subject.
If you apply for and enrol onto a degree with an Integrated Foundation Year, you'll have the option to switch onto a five-year version including a placement year. That means you'll complete the first three years of your course before completing a placement in industry in your fourth year and returning to Falmouth for the fifth year of your programme. 
The modules above are those being studied by our students, or proposed new ones. Programme structures and modules can change as part of our curriculum enhancement and review processes. If a certain module is important to you, please discuss it with the Course Leader.
From module information to course aims and assessment criteria, discover the full course details:
Stories from our community
Explore student projects, graduate successes, staff news and industry insights
How you'll learn
This Fine Art degree is constructed around the studio. You'll learn through individual tutorials, group discussions, critiques and technical workshops, while leading your own efforts in exhibitions and presentations.
Beginning with introductory studio-based exercises and media workshops, you'll take more and more responsibility for self-directed study as you learn and present work in public exhibitions.
At Falmouth, we use a 'digitally enhanced learning & teaching' approach. Your experience will always be predominantly in-person, including seminars, tutorials and studio teaching, with some, more targeted elements, being online either live (synchronous) or pre-recorded (asynchronous). You can read more here.
How you'll be assessed
You'll be assessed with practical exams and coursework.
Assessment methods
Foundation year assessments are 100% coursework based
Practice-based modules will be assessed on the presentation of visual work, including preparatory work
Critical studies modules will be assessed on written assignments
In the final year you'll be assessed on your dissertation and your studio-based module - culminating in an exhibition of your final-year work
Staff
All staff are practising artists, working across a range of disciplines. Our visiting professors have included Elizabeth Price and Rory Pilgrim, and our speakers have included Zoe Williams, Phoebe Coolings-James, Charlie Porter, Martin Clark and Richard Wentworth.
Some members of staff only teach on specific modules, and your course might not feature every staff member who teaches on the course.
Facilities
Studio space.
Dedicated workshops for 3D and bronze casting foundry, printmaking, paint preparation, laser cutting and rapid prototyping.
Digital imaging facilities.
Video and photography facilities.
Performance and sound facilities.
140,000 books, 17,000 DVD/video titles and over 400 journal titles.
Radio archives, slides, pictures, maps and archive collections.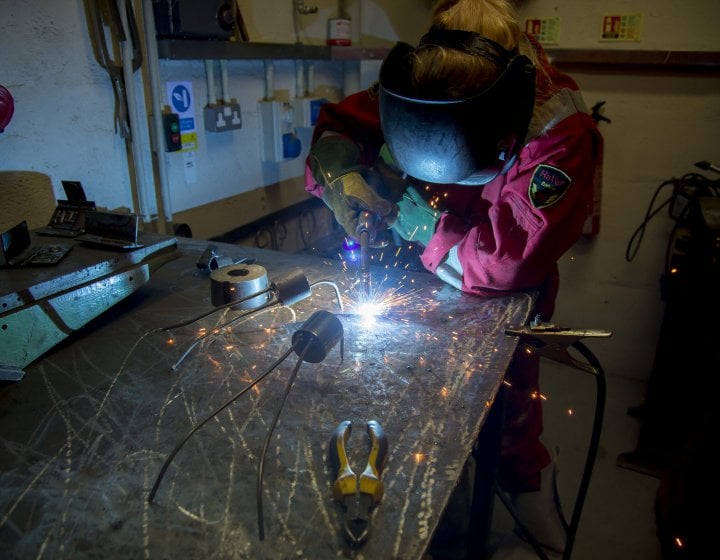 Art Facilities_01
Art & Design Facilities
Primarily located at the Falmouth Campus in a subtropical garden, our studios and workshop facilitie...
Art & Design Facilities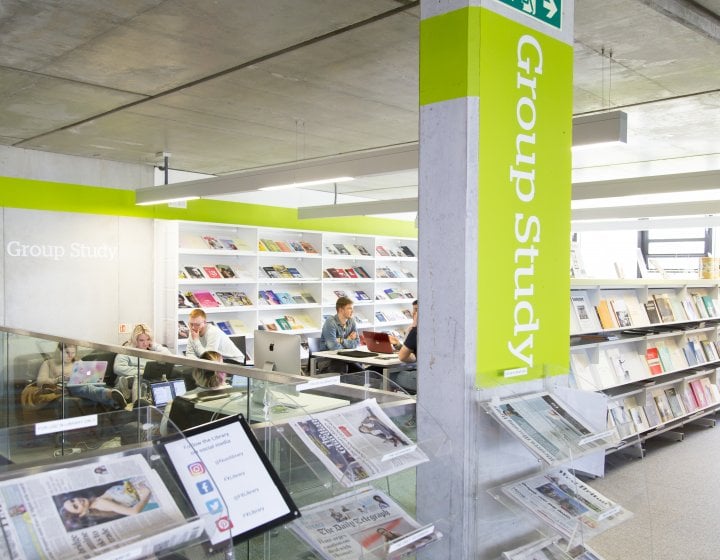 Penryn library group study area
Library Facilities
Offering extensive collections, our two libraries provide a wealth of digital resources, magazines, ...
Library Facilities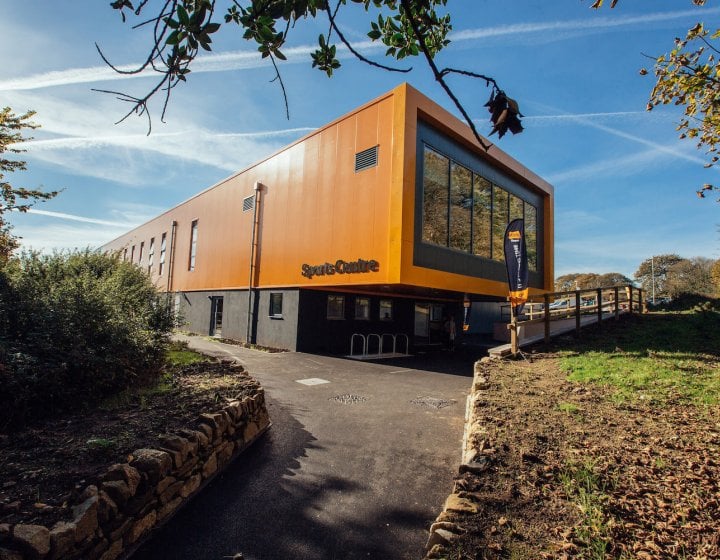 Sports Centre - Outside
Sports Centre
Sports Centre
Our Sports Centre, on Penryn Campus, includes a spacious gym with up to 90 of the latest, new statio...
Sports Centre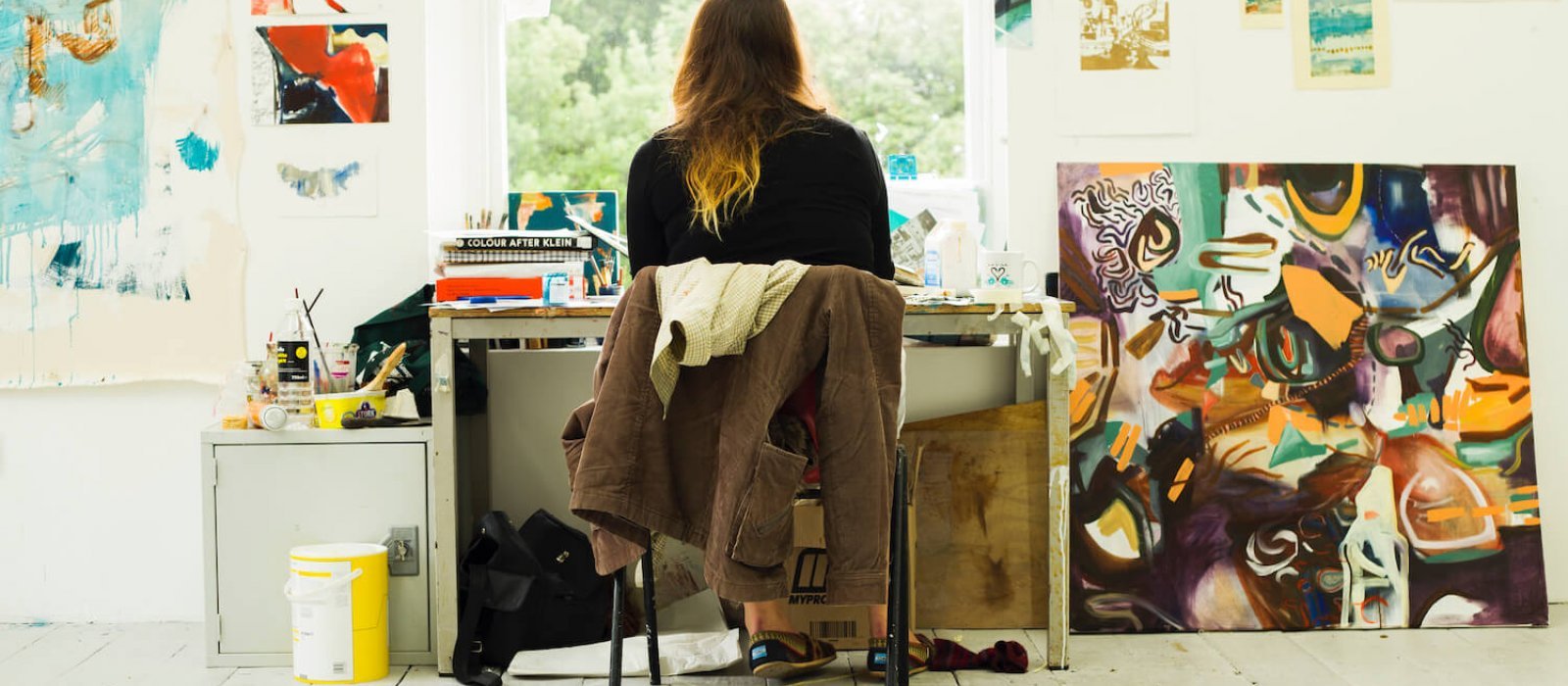 Our graduates have worked as:
Internationally exhibiting artists shortlisted for the Turner Prize
Exhibitors at Bischoff/Weiss
A Cannes Film Festival prize-winning filmmaker
A Creative Presenter at Ralph Lauren
Apply via UCAS
Ready to join us? You can apply through UCAS. You'll need to reference the course and University code (F33).
Applying as an international student? 
International students can apply for a course through UCAS, via an agent or directly with the university. For more information about how to apply as an international student, visit our international applications page.
| Course route | UCAS code |
| --- | --- |
| Fine Art BA(Hons) three year degree | W100 |
| Fine Art BA(Hons) with Integrated Foundation Year | FY11 |
| Fine Art BA(Hons) with placement year | PY19 |
We consider all applications on their own individual merit and potential. We invite all applicants to an interview day or audition to give them the opportunity to demonstrate this along with what inspires and motivates them in their field. Applicants will also be able to show their portfolio or give a performance depending on the course. We welcome applications from all subject backgrounds, whether you've specialised in STEM, the arts or humanities.  
| Course route | Entry requirements |
| --- | --- |
| BA/BSc(Hons) three year degree | 104 – 120 UCAS Tariff points |
| BA/BSc(Hons) four year degree with placement year | 104 – 120 UCAS Tariff points |
| BA/BSc(Hons) four year degree with Integrated Foundation Year | 80 – 120 UCAS Tariff points |
Check the title of your course to see if it's a BA or BSc award. UCAS Tariff points will primarily be from Level 3 qualifications such as but not limited to A-levels, T Levels, a BTEC/UAL Extended Diploma or a Foundation Diploma. 
For applicants whose first language is English we require you to have or be working towards GCSE English Language Grade 4 (C), or equivalent. 
If English is not your first language you will need to meet the same standard which is equivalent to the IELTS Academic 6.0 overall score, with at least 5.5 in Reading, Writing, Speaking and Listening. We accept a range of in country equivalencies and approved tests.  
If you need a student visa to study in the UK, you may need to take a recognised language test. You can read our English Language Requirements for more information.
For starting your studies in 2023
UK applications: 25 January 2023 (for equal consideration)
Applications after the 25 January will be considered on a first-come, first-served as long as there are places available. Apply for this course now.
International fee payers
International fee payers can apply throughout the year. But we recommend applying as early as possible, to make time for visa and travel arrangements.
What we're looking for
We want someone who:
Has the confidence and curiosity to identify source material for development.
Can develop visual ideas through drawing and engagement with materials, working methods and skills.
Shows enthusiasm, commitment and an open approach to fine art practice.
Knows about contemporary fine art.
Demonstrates written and visual research of artists' work.
Tuition fees
| Annual tuition fee | Student |
| --- | --- |
| £9,250 per year | Full-time UK |
| £17,460 per year | Full-time EU/international |
| Annual tuition fee | Student |
| --- | --- |
| £9,250 per year | Full-time UK |
| £17,460 per year | Full-time EU/international |
| £1,850 per placement year | Full-Time UK and EU/international |
Tuition fees are set annually and are subject to review each year. The University may therefore raise tuition fees in the second or subsequent years of a course, in line with inflation and/or the maximum permitted by law or Government policy. Students will be notified of any changes as soon as possible. 
The figures above don't include accommodation and living costs
Typical course costs
£380-£480 - Recurring annual costs
£100-£400 - One off costs for the course duration (compulsory trips, final portfolios or shows, etc)
£800 - Optional study visits and placements for the course duration
If you need to bring equipment or materials with you, these will be outlined in your Welcome Letter.
Additional typical course costs for Integrated Foundation Year pathway
£250 for materials
A laptop/desktop computer
Adobe Creative Suite
In order to participate in our digitally enhanced learning approach, you'll need to have a personal laptop/desktop computer. Depending on your subject, you may need a specific type of computer. If you're unsure about what you might need, please contact our course advisors.
What better way to find out about life at Falmouth University than by asking our current students?
From course details and academic support, to the social scene and settling in, our students are ready and available to answer any questions you might have. Simply set up your account, send them a question and they'll get back to you within 24 hours.