Lecturer, Fine Art BA(Hons)
Bronwen Buckeridge works with field recordings, dialogue and text, paying attention to the non-human and to the small rituals and coded language of rural and other social practices. 
Bronwen engages collaboratively with small communities where she steps into the role of witness, translator and producer, gently remixing and shaping what she finds into performative events, installation and artist books. Recent work includes a live pigeon race, audio conversations with dogs and an earthwork made with the assistance of witches. 
Bronwen has shown extensively in gallery and non-traditional contexts, with solo presentations at Matt's Gallery London (2020, 2018), Estuary Festival (2016), City Gallery Gdansk (2016) and the Whitstable Biennale in 2014 and 2012. 
Before joining Falmouth University in 2019 Bronwen was a Tutor and Visiting Lecturer at the Royal College of Art.
External Links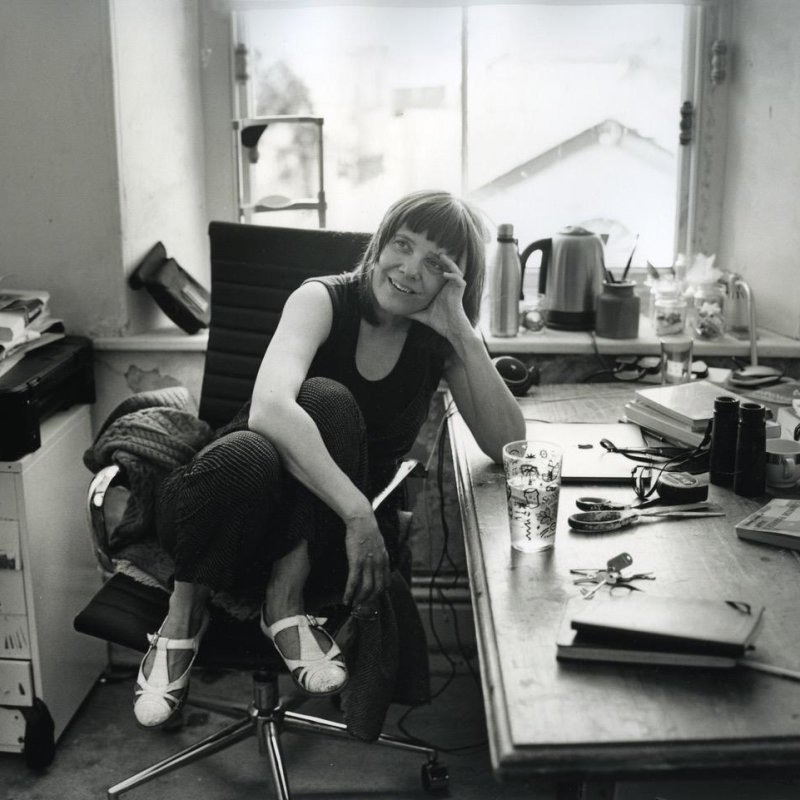 Contact details
Qualifications
| Year | Qualification | Awarding body |
| --- | --- | --- |
| 2007 | MA Fine Art | Chelsea College of Art & Design |
| 2006 | PG Dip Fine Art | Chelsea College of Art & Design |
| 1994 | BA Modern Languages | University of Manchester |
Membership of external committees
Since 2019 Bronwen has been an elected officer for the Wildlife Recording Society. The role involves responsibility for members with a creative practice related to field recording.
Research interests and expertise
Working at the intersection of sound, sculpture and live performance Bronwen Buckeridge sets up imaginative encounters between humans and other animals. 
Bronwen's research into the non-human landscape and working practices of rural communities finds form in installations, artist books and socially-engaged events. She also designs and hosts workshops involving ideas of deep listening and a shared experience of the landscape.
Bronwen has shown her work at galleries of national and international repute with exhibitions at Matt's Gallery (2022, 2020, 2018, 2014), Turner Contemporary (2018), John Hansard Gallery(2014) and Studio Voltaire (2014)
Presentations of practice in festival and non-traditional contexts include The Whitstable Biennale (2014, 2012), Estuary Festival (2016) and ArtHouses (2019)

Bronwen has been awarded a number of residences in the UK and overseas including BlackRock/Matt's Gallery (2015), Metal Southend (2015), Red Mansion Art Prize China, (2008) and ACA, USA, (2008). She has presented papers at conferences hosted at Oxford University (2021) and The Royal Collage of Art (2019).
She is an officer for the Wildlife Sound Recording Society.
Research topics
Rural communities
Deep listening 
Wildlife sound 
Field recording
The non-human landscape
Post human
Archives
Formal constraint
Fluxus
Collaborative practice
Graphic scores
Areas of teaching
Bronwen teaches across all years on the Fine Art BA(Hons). She works across studio practice and critical studies delivering research based lectures, supervising dissertations, facilitating studio seminars and conducting 1-1 tutorials. She also leads the second year arts festival where students explore public facing outcomes, self-organisation and collaborative approaches to making.
Bronwen has also taught in real-world environments working with RCA students onsite at the archives in Tate Britain and Falmouth students at the independent radio station Source FM.
Policy engagement within Cornwall
Engagement with organisations which contribute to the development of educational, cultural or socio-economic policies in Cornwall
Bronwen is a studio holder at CAST in Helston where she actively engages with the learning programme, designing and leading workshops for the Saturday Club and the summer outreach programme Cast Off.
Consultancy and facility services
In 2020 Bronwen initiated and delivered the first Radio Residency for Fine Art Students in partnership with Source FM. The 2 hour programme aired on Source FM on 26 July 2020. It was re-broadcast by Sound Art Radio, Totnes as part of their celebration of women in radio, August 2020.
In 2022 Bronwen worked with Newlyn Art Gallery and the Exchange to facilitate second year Falmouth students and students from the Chinese University in Hong Kong to deliver a workshop for the Peer-to-Peer* UK/HK Symposium
Peer to Peer: UK/HK 2022 was organised by Open Eye Gallery and University of Salford Art Collection with support from Arts Council England.
Independent professional practice
Solo shows
Four On The Floor | Six In The Air, durational performance and exhibition, Harbour House Gallery, Kingsbridge, July – September 2023
Nocturnal Inventory, audio with subtitles, 7.07 mins, mattflix.video (digital platform for Matt's Gallery, London), screening through October 2020 and ongoing in the archive. 
Widowhood, Live Work September 2018, Matt's Gallery, London. 
What I Thought I Saw, Saw Me, City Gallery Gdansk, Poland, 2016
Creatures Of The Mud, Estuary Festival, 2016
The Sorrowful and Immaculate Fall of One Hundred Grazing Sheep, Whitstable Biennale, 2014
Circular In A Dog. Oblique In A Wolf, The LookOut, Aldeburgh, Suffolk, 2013
A Ton of Worms in an Acre, Whitstable Biennale, Satellite Programme, 2012
[shif-terz], Rogue Project Space, Manchester, 2011
7 and 2 | Black is Water, Furnished Space, London, 2011
Books
Widowhood Softcover on newsprint, Pages: 56, Illustrations: 9 colour, 37 b&w, Dimensions: 190mm × 275mm, Weight: 128g, Edition of 200, Published by Matt's Gallery, London 2022
A Conversation with gamekeeper Josh Theobald, Publication: softcover risograph printed by Hato Press, 145 x 226 mm, 23 pages, 2015
Residencies
The Allotment Club Residency, with sharing event and public facing workshop, Penryn, July 2023. With support from Arts Council England.
Blackrock Artists Residency Programme. A partnership between Matt's Gallery and Lydney Park Estate on the edge of the Forest of Dean, 2015
Research residency at Metal Southend, 2015
The LookOut residency, Aldeburgh, Suffolk. Awarded by Studio Voltaire, 2013
57a residency, Whitstable, Kent, 2013
Wake residency at Dilston Grove, London, 2011
Project Space residency at Rogue Artists Studios, Manchester, 2011
The Red Mansion Art Prize, residency in Beijing. Selectors: Ossian Ward, Matthew Collings, Phyllida Barlow and Nicolette Kwok, 2008
Residency at The Atlantic Center For The Arts, Florida USA with selector and master artist: Mark Dion. Financial support awarded by the Joan Mitchell Foundation, New York, 2008
Selected group shows
Bird Talk live work at CAST Open Studios, 2022
Dusk Chorus At Dawn, sound and text for Come Hell Or High Water, July edition 2020
ArtHouses, Whitley Bay, 2019
PEST, Turner Contemporary, Margate, 2018
hmn edition 12, Peckham Library, London, 2018
The High Low Show, Laure Genillard Gallery, London, 2017
Portrait (for a Screenplay) of Beth Harmon, Tenderpixel, London 2017
Playroom, Union Club Studios. Curated by Olga Mackenzie and Sacha Galitzine, 2016
Blackrock Artists Residency Programme, A partnership between Matt's Gallery and Lydney Park Estate on the edge of the Forest of Dean, 2015
The Presence of Absence, Berloni, London. Curated by Paul Carey-Kent, 2015
FOAM, Grand Union, Birmingham, 2015
Revolver II, Part Two: Transverse. Matt's Gallery, London. Curated by Robin Klassnik and Michael Newman, 2014
This Is Not A Dog Show, Trailer for Revolver II, Matt's Gallery, London. Curated by Robin Klassnik and Michael Newman, 2014
FOAM at Project/Number, London touring to ANDOR, London, Attic, Nottingham and the Wysing Space-Time Arts Festival. Commissioned by Tamsin Clark, 2014
The Small Infinite, John Hansard Gallery, Southhampton University. Curated by Lanfranco Aceti and Stephen Foster, 2014
Sex Shop, Folkestone Fringe, 2014, then Transition Gallery, 2015
Open House, Studio Voltaire, London, 2014
Chapter, Austin Forum, Hammersmith, 2013
Open House, Studio Voltaire, London, 2013
Forgetting Babette, Construction Gallery, London, 2012
WAKE , Dilston Grove, London with Anne Bean, William Cobbing, David Cotterrell, Carl von Weiler and Rachel Lowe, 2011
Open House Weekend, Studio Voltaire, London, 2011
Sight Insight, Asylum Arts. Curated by Kate Groobey and Avis Underwood, 2011
Unfaithful Original, the Drawing Shed, PSL (Project Space Leeds), 2010
Screening at Cine Tech 2010, Gallery Primo Alonso, London. Curated by Harry Meadows and Joseph Childs, 2010
RE:animate, Oriel Davies Gallery, Wales. Selectors: Ceri Hand, Alex Boyd and Oriel Davies young curators, 2010
Moves 10: Framing Motion, FACT, Liverpool, 2010
The Disconcerted Concert Party, Propeller Island Part IV, Elevator Gallery, London, 2010
SV10, Studio Voltaire, London. Selectors: Jennifer Higgie and Rebecca Warren, 2010
The Open West, Summerfield Gallery, Cheltenham, 2010
Meet Pamela, John Jones Project Space, London touring to PSL (Project Space Leeds), 2009
Screening, X-Ray at the Perseverance, London, curated by Phil Wilson-Perkin, 2009
The Red Mansion Art Prize, Slade Research Centre, London, 2009
Futuremap, Arts Gallery, London. Selectors: David Hoyland, Libby Sellers, David Cross, 2007
Animal, Redgate Gallery, London. Curated by Alexandra Santos, 2007
How We May Be, Manton Lightbox, Tate Britain
Spark, Chelsea College of Art & Design, London. Curated by Doro Globus, 2007
The Shaping of Facts and Fictions, Chelsea College, London. Curated by Marthe Fjellestad, 2007
Growbag, Mile End Park Gallery, London, 2006
I'll Show You Mine, Chelsea College of Art & Design, London, 2006
The Mobile Locker Show, Venues in SW1, London
Chelsea Goes South, Sun and Doves Gallery, London. Curated by Anahita Rezvani, 2006
The Dias, The Library, Chelsea Collage of Art & Design, London, 2006
Directions, Lethaby Gallery, London, 2006
Social, community and cultural engagement
Workshops
Landscape Orchestra Workshop in collaboration with Kingsbridge Community College, July 2023
Sound Notation Workshop with the Saturday Club at CAST, Helston, June 2023
Landscape Orchestra Workshop for National Nature Reserve week with Natural England and support from CAST, May 2023
Listening Workshop, with Natural England and the Saturday Club at CAST, 2022
Listening Workshop for outreach programme CAST OFF, 2020 and 2021
Film and radio
Field recording for A Year In A Field, 2022 Documentary Feature Directed by Chris Morris, Produced by Denzil Monk at Bosena, Runtime 85 min 40 sec. Premiered at the Sheffield International Doc Fest June 2023 and nominated for Best First Feature
Public screening and introduction to Skolimowski's 1976 feature The Shout, for Artist's Choice, November 2020 at CAST Cornwall
Featured sound recordist for Sounds Of The Earth, BBC Radio 3 Breakfast Show, April 2020
Talks
In conversation and listening session with curator Amy Dickson at Harbour House Gallery as part of the Kingsbridge Nature Festival, June 2023
Book launch and reading from 'Widowhood', at Matt's Gallery, London 2022 and D.U.S.T. Penzance, 2022
Artist's Choice, talk and screening at CAST, Cornwall November 2020
Films and Filming: Other Worlding, screening and discussion event with invited artists Adam Chodzko and Peter Cusack, Studio Voltaire, 2016
Panel discussion, 'The Small Infinite' hosted by Lanfranco Aceti at John Hansard Gallery, Southampton,2014
Artist's talk with performance curator Emma Leach, Whitstable Biennale, 2014
I Think I See Ghosts or The Magic Hands Of Lee Smith, talk at Open House, Studio Voltaire, London, 2012
Panel discussion with Rachel Withers at Dilston Grove as part of 'Wake', 2011
Panel discussion 'Cinema and Sculpture', hosted by InC, Goldsmiths, 2010
Panel discussion, Moves 10: Framing Motion, FACT, Liverpool, 2010
Artist's talk, The Open West Symposium, Cheltenham Art Gallery & Museum, 2010
Artist's talk, Meet Pamela, Project Space Leeds, 2010
Panel discussion, Meet Pamela with Sam Thorne at John Jones Project Space, London, 2009
Engagement with professional associations and societies
Elected officer for the Wildlife Sound Recording Society (est.1968), 2019 and ongoing 
Bi-monthly officer meetings 
Contributions to the print and audio magazines (2019, 2020, 2022) 
Authored the creative category for the annual members competition (2021) 
Participated in the steering group for future direction of the society (2021 – 2022)