Falmouth duo launch dynamic new publication BLEACH Magazine
27 July 2023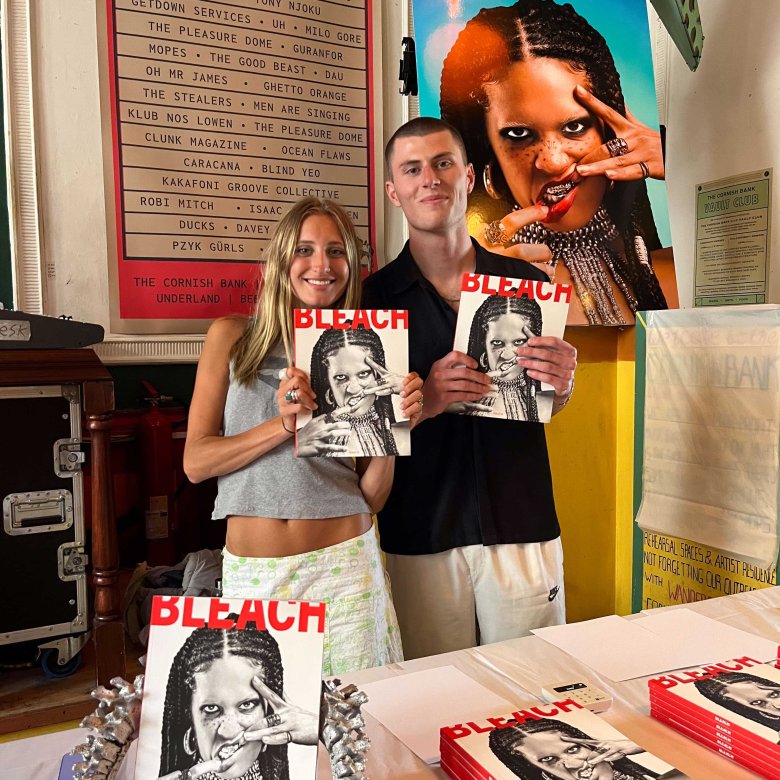 Bleach Magazine 3
Monty and Alex at the Bleach Magazine launch at Cornish Bank in Falmouth.
What are your future ambitions for the magazine? 
Monty: Funding is definitely something that we are going to try and knuckle down. We did make a profit from the first issue, because we had organised crowdfunding, and we had a limited print run of 100 issues. We sold out of those quickly, so are aiming to print 300 or more for the next issue.  We're also passionate about continuing to collaborate; the beautiful thing about how we work together is we relish sourcing artists to take part, and we're both aware of lots of great designers and creatives in other areas we want to feature in future issues.  
 
Alex: Another next step is to grow BLEACH into more of a commercially viable business without losing the overarching ethos with which we started the mag. We're already getting emails from people wanting to shoot for us, write for us and make work for us, and so we need to make it commercially viable and to achieve the financial stability to be able to experiment more with the physical and visual product, and to develop new themes for future issues. 
From what I've already learned from being on set with other people, and from what I've read, you need collaboration to succeed.
What would you both say has been the highlight of your time being creative students at Falmouth? 
Monty: Having a studio space was a highlight for me; it is just really nice to be with other people in a shared space, to talk about your work and share ideas. Also working with Alex - if he hadn't been looking for a stylist, I wouldn't have found my passion for styling. We have developed our own paths but have also pushed each other to reach our creative potentials.  
Alex: I'd agree; the photography studios are just amazing, as was the contact time I got with tutors. Whenever I was in the studios I could just go and find a tutor or technician, and they would come and help me to develop my ideas.  
 
Why is creative collaboration important to both of your practices? 
Monty: I originally studied interior design, but realised I wanted to explore a broader set of creative avenues, so I switched to studying fine art. I don't think I would have done that if it wasn't for coming to Falmouth and collaborating with other people; although I've always loved painting, it wasn't until I met fine art students in the studios during my first year that I realised it was something I'd like to explore.  
Alex: I may only be a 22-year-old trying to find his way in the creative world, but from what I've already learned from being on set with other people, and from what I've read, you need collaboration to succeed. It's a central part of the creative world and it's important to start doing it as early as possible, because the more you collaborate, the more people you meet and bigger your networks become.