Associate Lecturer, Fine Art BA(Hons)
Amy and Oliver Thomas-Irvine's work spans across sculpture, installation, performance, photography, drawing and print.
Thomas-Irvine is interested in the point in which form, nature and culture intersect and they build relationships with tectonic, architectonic and anthropological tension, traces and release. They are influenced by objects, materials and structures that are physically compelling and responsive to their environment.
External Links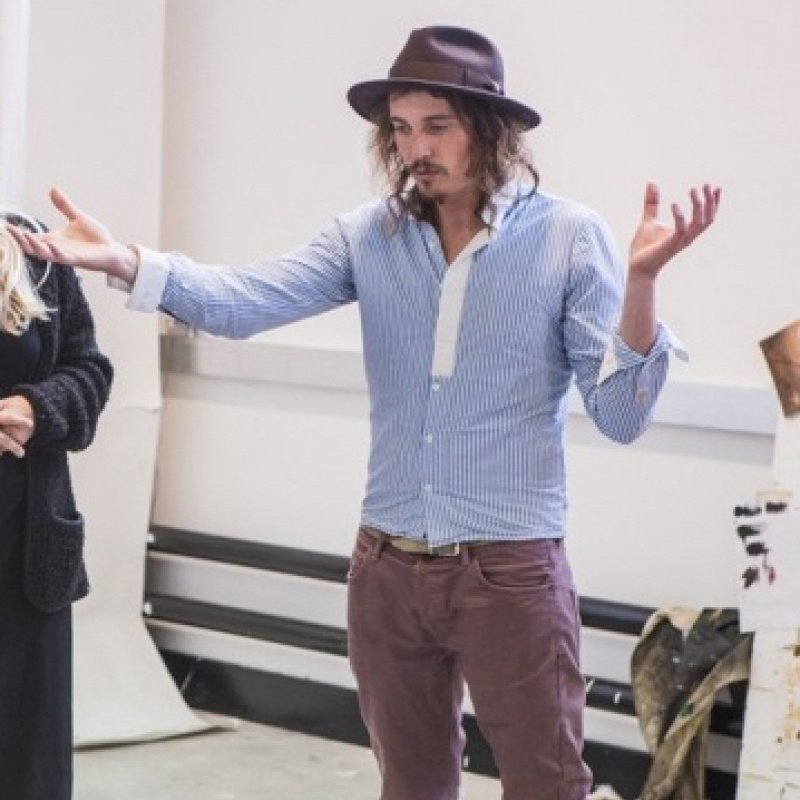 Contact details
Qualifications
| Year | Qualification | Awarding body |
| --- | --- | --- |
| 2008 | Fine Art BA(Hons) | Falmouth University |
Independent professional practice
Solo exhibitions
2021
Holding Breath, Outdoor sculptural installation, Tremenheere Sculpture Gardens, Cornwall, UK
2019
Inhale, Exhale, SAPH, The Bund, Shanghai, China
2018
Speaking Between Somehow The Spaces, Solo presentation, Commissioned by Slate Projects, Averard Hotel, London
Binlang, Gallery333, Exeter Phoenix, Exeter
2016
Monday Morning, OVERHEAD, To_Bridges, Bronx, New York

Limen Locale, G39, Cardiff

RROYA, Castor Projects, London

Derailer Derailer, The Still House Group, New York
2014
Accost Nascent, KARST, Plymouth
2013
The Dislocation, Public sculpture, Co.Derry, N. Ireland
The Feeling of Nothingness, Part 2 - Infiltrated Rank, ATOI & CULL
2012
The Feeling of Nothingness, Roll 5269, ATOI & CULL
End of the Valley, Pull of the Bull, La Fragua, Spain
Foist, Aid and Abet, Cambridge
Content in Collision, Anarch, London
2010
Playing in Storms, Chinese European Art Centre, Xiamen, China
2009
Cloud Seeding, G35, Manchester
Group Exhibitions
2021
The Seed & Chapter 1 of Hand / Earth / Gesture / Return, Daimler Powerhouse, Coventry, Rachael Champion, Dolon Kundu, Amy & Oliver Thomas-Irvine and Jim Woodall
The Rick, Chapter 2 of Hand / Earth / Gesture / Return, October – December, Hatton Farm, Warwickshire
2018
Dialogues5, Newbridge Project with MDP, Newcastle
European, Foreign and Domestic, Averard Hotel- Slate Projects, 10 Lancaster Gate, London, 8th June-1st July . ARTISTS INC - LOUIS ET MARIE AMAR//AMY AND OLIVER THOMAS IRVINE//MICHAEL IVESON// JACK BRINDLEY//MARC EINSIEDEL AND FELIX JUNG//THE COMMUNITY//ITTAH-YODA//OPHELIA FINKE n JJ LINCOLN
AIR Exhibition, TAV, Taiwan, March, 2018 (inc Yotaro Niwa, Takuya Yamashita, Anna Fabricius, Amy and Oliver Thomas–Irvine, Huang Chih-Cheng and Krystina Kaza)
2017
Collateral Drawing Archive, UCA Project Space, Folkestone
Collateral Drawing Archive, Margate Washhouse, Margate
​
2016
Maybe Your Lens is Scratched? The Averard Hotel- Slate Projects, London
2015
One + One, Lubomirov/Angus Hughes, London
FT@ Sluice Art Fair, London
Bideford Black: The Next Generation. The Burton Museum, Devon- Permanent collection
Plymouth Open, Peninsula Arts, Plymouth
Testing Tropes, ATOI, Kira Freije, Lauren Kelley, Ruaidhri Ryan, Ben Sanderson. Kestle Barton, Cornwall
Monochrome, Beers Contemporary, London
2014
In the Face of Collapse, ATOI & Jacobo Castellano, COMBO, Cordoba, Spain
Office of The Dead, Collaboration with La Fragua
Collateral Drawing, Plymouth College of Art
2013
The First 11, CAST, Helston. November
Manhunt, Suspended Sentences,Turners Warehouse, Newlyn
Crux Point, Cornwall Art Biennial, Halzephron House, Cornwall
A.P.T Gallery. Creekside open, selected by Paul Noble, London
2012
Extraction, Tate Modern - The Tanks, Art in Action, London
Mutual Annihilation (Antimatter), Florence Trust , London
Six Shooter Art Fair, Tate Britain, Art in Action, London
Cull Gallery, Cage Cull, Florence Trust, London
2011
Inland Fracture (Battles), Garage Centre for Contemporary Culture, Moscow
Things That Fall, P1 Project space, London
2010
Imagined Land, Garage Centre for Contemporary Culture, Moscow
2008
Orchestrated Circuit, Live Art Falmouth Festival
Awards
Selected for Dialogues5, Mark Devereux Projects. 2018
Selected for Testing Ground: Master Class 2015 at the Zabludowicz Collection, 2015
National Lottery Funding for THE DISLOCATION - Public Sculpture, 2014
AIDF Award, The Arts Council England and The British Council, 2013
ARTANGEL, open 100, 2014
ARTANGEL, open 100, 2013
Grant for Sculpture Award, La Fragua, 2012
British Council Award with Garage Centre for Contemporary Culture 2011
Grants for the Arts Award, Arts Council England 2009
Awarded Residences
Swatch Art Peace Hotel, Shanghai November 2018-2019
Selected for TAV AIR, Taipei, Taiwan, 2018
The Still House Group, Red Hook, NY, 2015
​La Fragua / Combo and Co, 2014
La Fragua, Grant for Sculpture, Spain, 2012
Aid and Abet, Cambridge, 2012
The Florence Trust, London, 2011-2012
Chinese European Art Centre, Xiamen, China 2009-2010
Publications
Try To Be Better- Work made in response to WS Graham prompts. Co edited by Sam Buchan Watts and Lavina Singer. Published by Prototype. 2019
Combo and Co 2017
Peninsula Open, 2015
The Florence Trust 2012
Interview with GARAGE CENTRE FOR CONTEMPORARY CULTURE- GARAGE MAG 2012
Interview and review in M STYLE , Chinese lifestyle and Culture magazine 2009
Talks
The Inclusivity of Taipei, Panel Discussion, TAV, Taipei, 2018
TAV Friday Night Talks, Taipei, 2018 (Anna Fabricius, Amy and Oliver Thomas–Irvine, Yotaro Niwa, Huang Chih-Cheng, Takuya YAMASHITA and Krystina Kaza)
Testing Ground: Zabludowicz Collection, 2015
PAC Home Talk at KARST ,Plymouth, 2014
Manchester Metropolitan University, 2013
Commission
ATOI t-shirt collection sold through Maison Twenty at Harvey Nichols 2012
Far from The Madding Crowds -Video commission for Pam Hogg at London Fashion Week on/off Venue,2011
Notre Dames - Film commission for Pam Hogg, Paris Fashion Week, Paris, 2011
Harvey Nichols, Floor set design, London, 2010
Engagement with professional associations and societies
Currently working on a year long sustainable public art project and commission with a culturally diverse group based in Coventry for Coventry City of Culture 2021.