Forest & Clay: Small business flourishes in the hands of Falmouth graduates
2 July 2021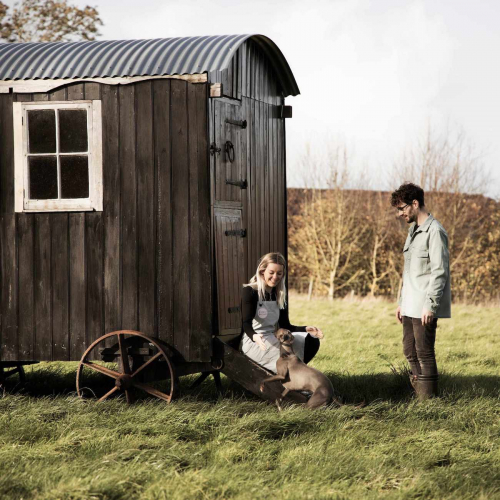 Fine Art graduate Dan Bethell and Fashion Photography graduate Anna Burnett have created Forest & Clay, a handcrafted pottery and furniture business that's nestled in the heart of the Cheshire countryside.
The couple have created a signature range of pottery, furniture and homeware. They also offer bespoke design services for furniture and larger fitted cabinetry.
Despite only setting up their business in October 2020, the couple's designs are already turning plenty of heads.
We caught up with the pair to discuss how the skills they learned at Falmouth have impacted their success, why so many Falmouth graduates go on to start their own businesses and what their hopes for the future are.
What's the origin story behind Forest & Clay?
Both: Forest & Clay is a small business designing and selling our signature collection of pottery and furniture. We found our love of making furniture after converting a barn together and decided we needed some furniture to fill it.
Dan: During my Fine Art degree, I leaned more towards sculptural forms and was always testing out new materials to work with. These skills transferred to my furniture making and are now the foundation of all my designs.
Anna: My grandmother was a successful potter, so I grew up with a fondness for ceramics. Before the COVID-19 pandemic I had my first go at pottery since being in my grandmother's studio some years ago. During lockdown I was able to devote all my attention to teaching myself how to throw, glaze and fire pots.
Can you tell us a little about the process behind your designs?
Anna: We design intuitively to projects we're working on. Currently we're working with a few homeware stores, interior designers and restaurants; this diversity has given us great inspiration and input from professionals in different sectors. 
Dan: The initial idea is either hand-drawn or created as a CAD file via Google SketchUp. The process of CAD is something we played with during studying Fine Art at Falmouth University, building spaces and layering imagery.
This process allows me to explore my form, material and scale without using any material. It's ideal for bespoke furniture where clients are involved in the designs and alterations.
How did Falmouth help develop your skills?
Dan: Our degrees have helped us with the marketing and creative side of things.
I completed a number of additional Adobe courses at Falmouth University, which gave me the skills to produce a website, design our branding and develop marketing materials.
Anna: My Fashion Photography degree has helped with the photographing of products within both editorial and e-commerce contexts. 

A recent study revealed that Falmouth graduates are the most likely in the UK to start their own business. Do you have an opinion as to why this is? 
Both: We found ourselves in a lucky position to start Forest & Clay when we did. The lockdown allowed us to focus all our time and attention into something we owned.
Throughout our degrees, we always trusted our critical feedback on each other's work, whether it's a painting, sculpture or photograph. This transparency is effective in building something together we are both proud of.
Our degrees at Falmouth University have given us a great foundation in visual branding of the business. We have been able to do almost everything ourselves. We're only 9 months into starting our business and we're already seeing so much progress in ourselves as makers. 
What are your aspirations for the business?
Both: Our hopes are to grow the business online further and then to open a physical store. This physical homeware/design store will enable us to have a showroom of projects we are working on, products for sale to the public and a space to design furniture and pottery for clients within the restaurant, interior design and homeware sector. 
We aim to extend our product line by including other British makers – small businesses that are selling handmade homeware products. We have connected to so many small businesses already across the UK, which is an amazing community to be a part of.
You might also like