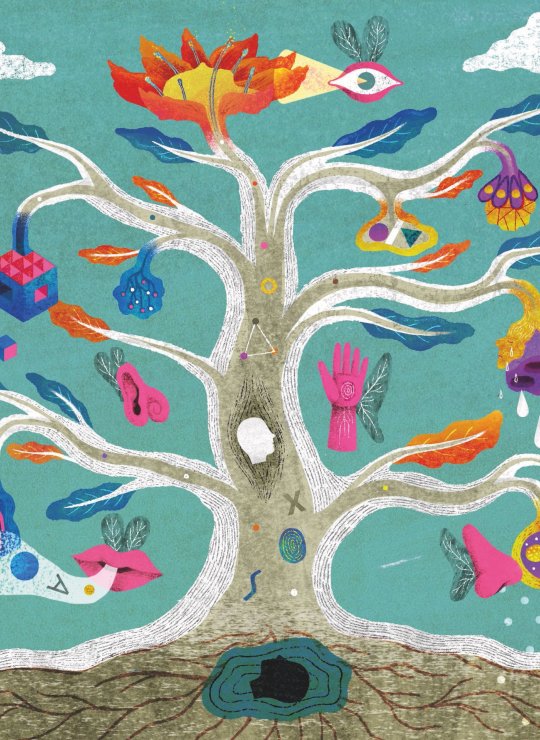 Illustration BA(Hons)
Follow in the footsteps of award-winning alumni on this renowned Illustration degree.
Key details
Course duration
3 years / 4 years
Attendance
Full-time / Placement year
UCAS code
W221 / FY12 / PY20
Course overview
Develop a unique visual language by experimenting with new technologies and processes on this Illustration degree. Enhance your traditional craft skills while learning to apply critical and theoretical thinking to your practice. Join this Illustration course and gain first-hand professional experience through interactions with clients, art directors, designers and creatives of all kinds, building a standout portfolio that will set you apart in industry.
You will:
Be part of a thriving and immersive studio culture that embraces innovation, champions risk-taking and encourages creative collaboration
Create your own digital portfolio and marketing campaign using digital platforms to reach global audiences 
Get your work seen by art directors, editors and designers around the world by engaging with a range of professional platforms 
Attend guest lectures from alumni and industry leaders that have previously included Dave McKean, Owen Davey, Harriett Lee Merrion and Edel Rodriguez 
Learn vital professional practice skills by working on engaging industry briefs  
Participate in our industry feedback week, gaining personalised portfolio feedback from agencies, publishers and design houses
Explore illustration as a tool for positive change, in response to environmental, ethical and moral challenges
The Integrated Foundation Year pathway is subject to validation.
On this Illustration degree, you'll have the opportunity to gain a BA(Hons) degree over three years or study Illustration BA(Hons) with an Integrated Foundation Year and/or placement year.
During your Illustration course, you'll develop an authentic visual language by experimenting with a broad range of media and processes, as well as established and emerging technologies. You'll learn to communicate conceptually using visual problem-solving strategies and techniques combined with ongoing reflective analysis and research.
You'll also build strong project management and collaboration skills, learning to translate briefs and see a project through from ideation to research and development to final output. Further industry insights and experience will be gained through our programme of internationally renowned guest speakers.
BA(Hons) Illustration course video
In your first year, you'll be supported to explore, question and disrupt new processes and practices. Through project briefs, workshops, collaborative projects, lectures and presentations, you'll be introduced to a range of creative processes: from critical thinking to practical hands-on skills across different mediums. You also begin to engage with a wider industry context, connecting with art directors, publishers, designers, advertising agencies, illustration agencies and freelance illustrators. 
Modules
Visual Problem Solving
You'll explore a broad range of visual problem-solving strategies and develop analytical and project management skills through a series of practical projects and contextual lectures. 
Practice & Purpose 
Through a set of project briefs, you'll investigate how illustration operates within the industry and how it communicates with audiences. You'll also be encouraged to develop an informed practice, considering ethical and inclusive ideas. 
Media & Methods 
You'll continue to develop a creative, imaginative and personal approach to your work while gaining awareness of the roles of media, mark making and process within industry.  
Context & Audience 
In this module, you'll focus on the contexts of narrative illustration and deepen your understanding of how to communicate inclusively to a range of audiences.   
Exciting briefs, workshops, lectures and presentations will introduce you to in-depth learning that includes a growing awareness of audience, refining practical skills, critical research, project management, history and theory and collaborative practice. Working both independently and in groups, you'll also embrace challenging subjects and explore the environment around us to investigate how illustration can be used to inform and implement change. 
As you progress through this stage of the Illustration degree, you'll begin to develop your own self-initiated projects as well as a range of collaborations. As more industry facing experiences begin to be introduced through live briefs and lectures, you'll be challenged to question convention, disrupt, innovate and maintain risk and courageous thinking throughout. 
Modules
Refine & Apply 
You'll experiment with a range of established and emerging technologies and undertake reflective and analytical research to refine your visual language.  
You'll also build on your visual communication skills through a broad range of illustrative contexts, platforms and applications. 
Challenging Subjects 
You'll explore illustration as a vehicle for communicating change and developing tools for improving equality, diversity, inclusivity and sustainability. 
Introduce & Negotiate  
In this module, you'll begin to develop your first independent negotiated practice project, through which you'll relate to key contexts in contemporary illustration practice to enable you to test both conceptual and visual language skills gained in the early phase of the course. The diagnostic nature of the module will enable you to make decisions about the future direction that your work takes. 
Collaboration
This module focuses on a range of collaboration skills, allowing you to develop and utilise them through working as part of a collaborative team both outside and inside your disciplinary studies.
You can choose to take an optional placement year after your second year on a three-year programme, or after your third year if you're studying for a degree with an Integrated Foundation Year. 
You'll be responsible for finding your own placement, with support from the RealWORKS employability team. 
Choosing this option will enhance your industry experience and skills while studying. 
How you'll study during your placement year 
You'll spend time working in a professional context, as part of a business or organisation. This can be in one role, or up to three, and must be for a minimum of 24 weeks. 
You'll develop in-demand workplace skills, deepen your insight into industry and grow your network of contacts, all of which could help you get ahead in your career after graduation. 
Throughout this year, you'll develop a portfolio of work that includes critical self-reflection on what has been learned from the experience. You'll be required to evidence your experiences, the skills you've learned and your professional growth. 
The final year allows you to refine your approach and to test and challenge your emerging fields of interest, culminating in a final digital portfolio of work and an industry feedback contextual report.  
The modules are designed to help you define your creative future beyond the course. You'll continue to build core skills while reflecting critically on your strengths and exploring alternative models of practice. 
Modules
Define & Realise 
Through ongoing visual and intellectual experimentation and a process of critical analysis, you'll work towards the development of an authentic visual language. 
Research & Extend 
You'll engage with an extended programme of independent research on a subject that supports your illustration practice. You'll then produce a written report. 
Connect & Transition 
In this module, you'll develop your Final Major Project. This is an independent body of work, utilising appropriate processes defined by your strengths and interests within the field of illustration.  
You'll demonstrate your intellectual, technical and self-reflective skills while showcasing an emerging authentic visual language that connects and communicates with industry. 
Professional Practice 
This module is designed to equip you with the necessary skills to operate within your chosen career path. You'll gain insights into the breadth of the creative industries and a deeper knowledge of professional practice.  
Why study an Integrated Foundation Year route? 
If you're taking on a new subject that you haven't studied in depth before, have been out of education for a while or have a non-standard educational background then an Integrated Foundation Year degree may be the right choice for you. It is a four-year degree with an Integrated Foundation Year to start, which allows you to explore the primary elements of your subject before progressing on to the remaining three years of the BA(Hons) degree. 
What you'll study in your Foundation year
If you choose this pathway, you'll study five core modules in your Foundation year. These are all designed to help you explore the foundational elements of your subject. You'll gain relevant technical skills, learn to experiment and take risks, develop an understanding of professional practice, have opportunities to work across disciplines and collaborate with other students on live project briefs. 
Modules
Explore
You'll begin your foundation year by working collaboratively with others to explore themes of the future. You'll take risks, experiment through play and be supported to break through barriers.
Technique
You'll take subject-specific workshops and develop essential technical and practical skills in your area of study. You'll also enhance your analytical and organisational abilities.
Apply
You'll work with your peer group to think beyond discipline by addressing a societal or global issue. You'll then showcase your work to your peers and deliver and accompanying evaluation of your process.
Industry
You'll enhance your creative and practical skills in your subject specialism by responding to typical industry briefs, underpinned by focused research and experiments. You'll also gain industry insights through guest lectures and workshops.
Launch
You'll develop your unique identity in your specialism through the production of a self-initiated body of work. Your final project will be the bridge to your next year, fully supported by evaluative reviews and critical analysis of the work you have created.
After the Foundation year, you progress into Year One of the full three-year degree, equipped with a deeper knowledge of your subject, a clear understanding of your strengths, and develop a practical and technical skillset and the confidence to excel in your chosen subject. 
If you apply for and enrol onto a degree with an Integrated Foundation Year, you'll have the option to switch onto a five-year version including a placement year. That means you'll complete the first three years of your course before completing a placement in industry in your fourth year and returning to Falmouth for the fifth year of your programme. 
The Integrated Foundation Year pathway for this course is subject to validation.
The modules above are those being studied by our students, or proposed new ones. Programme structures and modules can change as part of our curriculum enhancement and review processes. If a certain module is important to you, please discuss it with the Course Leader.
From module information to course aims and assessment criteria, discover the full course details:
How you'll learn
Balancing creativity with professional practice, you'll gain hands-on knowledge and experience through project work, live briefs and client meetings. Supporting this will be lectures, seminars, group crits, workshops, one-to-one tutorials and optional placements or industry visits. 
Our visiting speaker series has seen our students learn from Dave McKean, Noma Bar, Laura Carlin, Sam Arthur(Nobrow), Sue Coe, Paul Slater, Sara Fanelli, Russell Cobb, Graham Rawle, Matthew Richardson, Posy Simmonds, Jason Ford, Kai & Sunny, Owen Davey, Harriet Lee Merrion, Vivian Schwarz, Olivier Kugler and John Vernon Lord. 
At Falmouth, we use a 'digitally enhanced learning & teaching' approach. Your experience will always be predominantly in-person, including seminars, tutorials and studio teaching, with some, more targeted elements, being online either live (synchronous) or pre-recorded (asynchronous). You can read more here.
How you'll be assessed
100% of your assessment will be coursework. 
Assessment methods
Assessment will take place at the end of each semester, and you'll get feedback and evaluation throughout the year. You'll be assessed through visual, verbal and written assignments, including your portfolio, as well as a research proposal.
If you choose the Integrated Foundation Year pathway for this course, all assessments within your foundation year will be 100% coursework based.
Stories from our community
Explore student projects, graduate successes, staff news and industry insights
Staff
Our teaching staff are practising illustrators with experience working for the likes of the Wall Street Journal, the Lancet Medical Journal, United Airlines and Varoom. They're often key in helping our students find industry connections and opportunities. 
Some members of staff only teach on specific modules, and your course might not feature every staff member who teaches on the course.
Facilities
Dedicated open plan studios and seminar rooms 
Printmaking workshop 
Life drawing studio 
Range of IT facilities with full software and printing facilities 
Access to over 140,000 books, comprehensive electronic journal resource and DVD library featuring over 17,000 titles 
Our graduates have worked as:
Freelance illustrators working in editorial, advertising, publishing, fashion and narrative across a broad range of national and international clients, including the BBC, Google, The Royal Mail, The Guardian, Penguin, The New Yorker, Vodafone, Walker Books and The Wall Street Journal  
Designers, art directors and animators in companies such as the British Museum, Dorling Kindersley Publishing, Goodgame Studios, Nickelodeon, The Telegraph and Vault49 Design  
App and web designers  
Film and TV graphic designers 
Concept and character artists and visualisers 
Apply via UCAS
Ready to join us? You can apply through UCAS. You'll need to reference the course and University code (F33).
Applying as an international student? 
International students can apply for a course through UCAS, via an agent or directly with the university. For more information about how to apply as an international student, visit our international applications page.
| Course route | UCAS code |
| --- | --- |
| Illustration BA(Hons) three year degree | W221 |
| Illustration BA(Hons) with Integrated Foundation Year | FY12 |
| Illustration BA(Hons) with placement year | PY20 |
We consider all applications on their own individual merit and potential. We invite all applicants to an interview day or audition to give them the opportunity to demonstrate this along with what inspires and motivates them in their field. Applicants will also be able to show their portfolio or give a performance depending on the course. We welcome applications from all subject backgrounds, whether you've specialised in STEM, the arts or humanities.  
| Course route | Entry requirements |
| --- | --- |
| BA/BSc(Hons) three year degree | 104 – 120 UCAS Tariff points |
| BA/BSc(Hons) four year degree with placement year | 104 – 120 UCAS Tariff points |
| BA/BSc(Hons) four year degree with Integrated Foundation Year | 80 – 120 UCAS Tariff points |
Check the title of your course to see if it's a BA or BSc award. UCAS Tariff points will primarily be from Level 3 qualifications such as but not limited to A-levels, T Levels, a BTEC/UAL Extended Diploma or a Foundation Diploma. 
For applicants whose first language is English we require you to have or be working towards GCSE English Language Grade 4 (C), or equivalent. 
If English is not your first language you will need to meet the same standard which is equivalent to the IELTS Academic 6.0 overall score, with at least 5.5 in Reading, Writing, Speaking and Listening. We accept a range of in country equivalencies and approved tests.  
If you need a student visa to study in the UK, you may need to take a recognised language test. You can read our English Language Requirements for more information.
For starting your studies in 2023
UK applications: 25 January 2023 (for equal consideration)
Applications after the 25 January will be considered on a first-come, first-served as long as there are places available. Apply for this course now.
International fee payers
International fee payers can apply throughout the year. But we recommend applying as early as possible, to make time for visa and travel arrangements.
What we're looking for
We want someone who:
Has visual problem-solving skills, with a specific focus on generating ideas.
Shows development of visual language in drawing, life drawing, media, mark-making experimentation, reflective analysis and finished pieces.
Has a good contextual understanding of what illustration is.
Is confident in their abilities and prepared for the challenges of higher education.
Can communicate effectively.
Has a theoretical understanding of visual arts issues.
Tuition fees
| Annual tuition fee | Student |
| --- | --- |
| £9,250 per year | Full-time UK |
| £17,460 per year | Full-time EU/international |
| Annual tuition fee | Student |
| --- | --- |
| £9,250 per year | Full-time UK |
| £17,460 per year | Full-time EU/international |
| £1,850 per placement year | Full-Time UK and EU/international |
Tuition fees are set annually and are subject to review each year. The University may therefore raise tuition fees in the second or subsequent years of a course, in line with inflation and/or the maximum permitted by law or Government policy. Students will be notified of any changes as soon as possible. 
The figures above don't include accommodation and living costs
Typical course costs 
£250-£550 - Recurring annual costs (materials) 
£100-£400 - One off costs for the course duration (compulsory trips, final portfolios or shows, etc) 
£1,400-£2000 - Optional study visits and placements for the course duration 
If you need to bring equipment or materials with you, these will be outlined in your Welcome Letter. 
Additional typical course costs for Integrated Foundation Year pathway
£250 for materials
A laptop/desktop computer
Adobe Creative Suite
In order to participate in our digitally enhanced learning approach, you'll need to have a personal laptop/desktop computer. Depending on your subject, you may need a specific type of computer. If you're unsure about what you might need, please contact our course advisors.
What better way to find out about life at Falmouth University than by asking our current students?
From course details and academic support, to the social scene and settling in, our students are ready and available to answer any questions you might have. Simply set up your account, send them a question and they'll get back to you within 24 hours.