What can you do with an Art and Design degree?
An Art or Design degree is an opportunity to channel your creative flair by exploring a range of media techniques to refine your practice. 
From book covers and bedside lamps to the apps on our phones and art on the walls, we experience art and design every day. One of the benefits of studying a degree in Art or Design is that you're not pigeonholed to one specific job; an Art or Design degree will teach you skills that are relevant for multiple industries so you can follow a career path that is truly fulfilling for a lifetime. 
Some Art graduates establish successful careers as professional artists, selling their work in galleries or taking paid commissions.
Other graduates choose to work in the arts sector as curators or gallery managers, while some choose to share their creative skills by working in education.  
A degree in a Design subject also offers multiple industries to work in. Sectors such as advertising, branding, publishing, product design and interior design all require people with strong and adaptable creative skills. 
Job opportunities
Our Art and Design degrees prepare graduates for a broad range of careers in the creative industries. You could become a: 
Professional Artist 
Freelance Illustrator 
Graphic Designer 
Product Designer 
Interior Designer
Curator 
Gallery Manager 
Art Consultant 
Animator 
Printmaker 
Art Critic 
Copywriter 
Architectural Assistant 
Architectural Technician 
Teacher 
Graduates in the spotlight
Our Art and Design graduates have gone on to carve successful careers in the following roles: 
Freelance Illustrator for Vogue, Lego and National Geographic 
Designer at the Telegraph 
Junior Art Director at Cravens 
Copywriter at Google 
Senior Creative at The&Partnership 
Furniture and Lighting Designer at Tom Raffield 
Production Assistant at Theatre Peckham 
Interior Designer at Sybarite Architects 
Development Engineer at Heathcoat Fabrics 
Senior Designer at Empire Design 
A degree in an Art or Design subject gives you a platform to broaden your creative horizons by experimenting with a range of media and tools.  
Through lectures and workshop-based teaching, our students develop knowledge and skills in areas such as printmaking, bookbinding, life drawing, colour theory, typography, storyboarding, graphic layout and studio photography. 
Our academic and technical staff are on hand to support students with digital prototyping technologies such as 3D printing, 3D scanning and CAD software as well as training in CNC milling and laser cutting. Students can also experiment with hands-on making through joinery, casting and metal fabrication – our professional-standard facilities really do make the difference when it comes to a hands-on art or design specialism.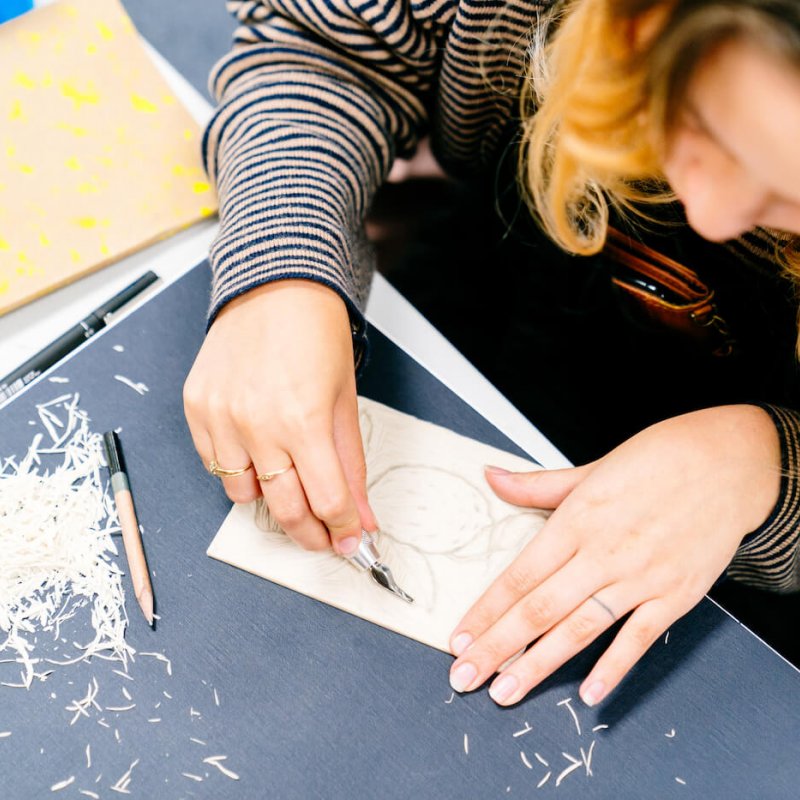 Transferable skills
As well as these specialist skills, students develop a range of transferable skills that are desirable to many employers. These include:
Ability to work towards live self-directed and/or client-led briefs
Leadership skills through project management and collaborative outputs
Creating innovative solutions to problem solving and a willingness to take creative risks
Strong research, observational and analytical skills
Verbal and written communication skills, including presentation and pitching
Interpersonal skills through critiques, peer reviews and group tutorials
Entrepreneurial skills in marketing your work and building professional networks
Our Art and Design degrees mirror a real-life studio setting, providing an environment where students can experiment alongside their peers and build those ever-important networks. Students have the opportunity to seek national and international placements, exhibit their work at public exhibitions, work on live briefs set by industry partners and connect with some of the sector's most influential figures through our guest speaker programme 
When you study at Falmouth, you also have access to our dedicated Employability Service. We offer weekly career workshops and events, support with practice interviews and advice on writing your CV or even going freelance. 
By the time our students graduate, they have their own professional identity and portfolio to start bringing their business ideas to life. 
Our Art and Design courses