Falmouth graduates compete for a share of £27,000 at prestigious Drawing Award
22 October 2021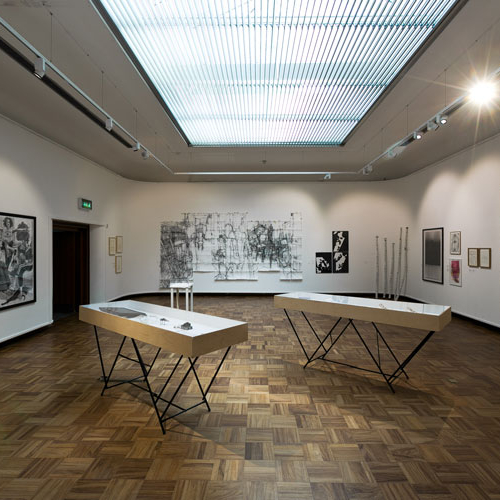 The Falmouth School of Art is celebrating a double success at the 2021 Trinity Buoy Wharf Drawing Prize after graduates Caroline Blythe and Hannah Davies were both shortlisted for the award.
The Trinity Buoy Wharf Drawing Prize is widely recognised as one of the most prestigious drawing prizes in the country. Selected from original drawings by a distinguished panel of members, the prize has an established reputation for its commitment to championing excellence and celebrating current drawing practice in the UK.
Drawing graduate Caroline and Fine Art graduate Hannah are two of 89 shortlisted artists from 3300 entries across 46 countries. They will discover if they've claimed a share of the prize money on September 29, when the award winners are announced.
However, given that all the shortlisted artists will have their work displayed in London before seeing the images toured across the country, the pair will already see their participation in the competition as an enormous success.
Recently we caught up with the two artists to learn a little more about their work and hear how they developed their creative skillsets while studying in Cornwall.

What are your memories of your time studying at Falmouth?
HD:
I knew Falmouth was the place for me as soon as I saw the palm tree fringed campus and route through the tropical gardens to the beach! Coming from Cambridge this was paradise and I fell in love with Cornwall and its wild nature as soon as I started here. The tropical plants definitely filtered into my drawing practice, and I began to draw the patterns the trees made on my studio wall as the sunlight shone through, which I'm still drawing now!
The other key moment was on the long 8-hour train journey I made from Cambridge to Falmouth, where I started to draw people. I found it easier to draw them in the reflection of the window so they wouldn't see me staring! This opened up my fascination for window reflections, which I'm now known for.
I'm endlessly drawn to the contrast between inside and out, the world rushing past versus somebody inside having a quiet moment, the organic nature of outside reflected on the very linear structures of buildings.


CB:
My time at Falmouth gave me the opportunity to meet and work closely with academics and creative practitioners across disciplines and schools of study. During my studies I was fortunate to work on some very interesting collaborative projects such as a poetry and drawing research project with Dr Kym Martindale.
At the end of my first year this research project was published by Little Toller in their online publication The Clearing. I also worked throughout my degree with MA Professional Writing student Jay Armstrong on her publication Elementum Journal, an illustrated literary journal of new nature writing.
We had great tutors on the BA Drawing course. Our studies into the history of drawing, as well as a wide range of drawing practice, gave us a toolkit of knowledge and skills to apply and experiment with across a range of creative projects. We were encouraged to push boundaries and challenge what a drawing is, does and could be. The course at Falmouth provided me with the space and time to explore, experiment and think - it was an incredible opportunity.
Can you tell us a little bit about your work and what it means to be shortlisted?
HD:
I have a roll of coloured pencils that I use, some oil based (as I paint in oils and you can layer and use turps with them) and this is what I used for the "little light patch" study that I entered for the drawing prize.
For this study I was trying to capture the light reflected from my bathroom window onto the rough, crumbling garage wall. I needed to use a light sensitive touch to describe the dancing, flickering light moving across the man-made structure and creating reflections of nature onto it as the light shone through the garden leaves.
I want the viewer to notice beauty (especially of the natural world which is very important to me) wherever they are, even in a very urban environment. Look for these fleeting moments of nature's beauty.
I'm so excited to be shortlisted for this prize and very surprised! I have long admired this exhibition and to have work hung amongst this standard of art is such an honour.
CB:
My drawing is a large graphite drawing on paper (86 x 66cm). The locations in this drawing are of screenshots from Google Maps Street View, selected using an algorithm which worked with personal data from retail receipts of my lived experience in London from 2005 to 2010. The title of this work is: Who Lives, Who Dies, Who Tells Your Story?
It means a great deal to me to be shortlisted for this prize and to have my drawing included in this select collection of drawings in an exhibition at Trinity Buoy Wharf and then to go on tour. To reach these audiences and to be on this stage is an incredible opportunity and a real privilege and I am very grateful to the prize and exhibition organisers and sponsors for this.


You might also like