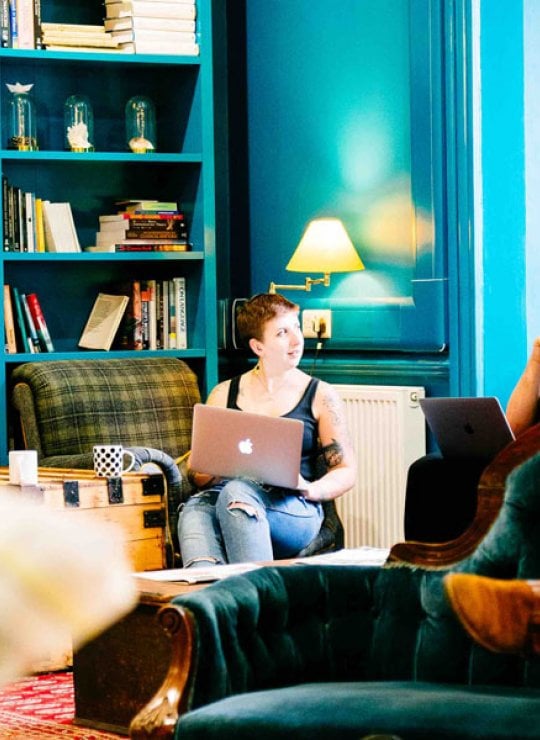 Professional Writing MA
Develop the skills to forge a successful career in professional writing.
Course overview
Immerse yourself in the literary world as part of a lively community of fellow writers and visiting speakers. On this Professional Writing course, you'll learn to craft fiction, script and non-fiction, as well as magazine features and marketing copy for a range of competitive and fast-moving industries.
You'll learn from active professionals and develop skills like genre writing, narrative structure, research and self-promotion. Graduating with a portfolio and an accomplished working style, you'll be primed to tackle the industry head-on.
You will:
Learn from our team of practising writers, publishers and editors, as well as from visiting industry professionals
Develop the supporting skills you need to succeed as a professional writer, including how to pitch your ideas and build an online presence
Benefit from our industry connections, including our Writers in Residence programme, which has featured Xan Brooks, Wyl Menmuir, Lionel Shriver and Matt Haig
Experience the atmosphere of Falmouth, surrounded by creatives from a range of disciplines in a region rich with history and literature
On top of their regular learning, our professional writing students have placed work in local and national publications, and secured placements and ongoing work with leading publishers, media organisations, copywriting agencies, magazines and newspapers.
We'll develop your core writing skills in a range of formats and explore how different writers work in different sectors. You'll then choose two specialisms from options like Fiction, Non-Fiction, Scriptwriting, and Business & Editorial Writing, so you can build a portfolio of your skills. We'll also look into using the web and social media to build a profile as a professional writer.
You'll then carry out industry-focused research, and we'll encourage you to secure work experience to help you develop a proposal for your creative Professional Writing MA project.
Module
Story, Structure and Form
In this module, you'll interrogate what we mean by structure, and how aspects of structure and form influence and shape storytelling. You'll consider how structure can assist you in your writing and also look at writers who have subverted form.  
Professional Contexts
In Professional Contexts, you'll practice different kinds of writing - blog posts, profiles, case studies, reviews - in order to create a portfolio of work that advertises who you are as an emerging writer. You'll be introduced to the skills and knowledge needed to operate in the professional writing industries. You'll also think about ways of promoting your work, develop online marketing materials and learn how to use relevant social media platforms in a way appropriate to the genre you work in.
Inhabiting Narrative: Character, World and Genre
In this module, you'll develop your understanding of core narrative techniques of narrative in order to create compelling, engaging fictional narratives. There's also a strong focus on character development, point of view and the use of genre conventions. 
Business & Editorial Writing
In this module, you'll study the key skills needed to write features for magazines, newspapers and online publications, as well as those needed for creative copywriting for businesses and other organisations. You'll produce a portfolio of high-quality work that spans several different formats and contexts – from press releases to feature articles and web copy. 
Non-Fiction
In this industry-focused module, you'll begin to develop and write a non-fiction project along with a commercially viable presentation package ready to send to a literary agent or editor. You'll explore the market for non-fiction in its many forms and genres, gaining an awareness of specialist publishers and commissioning editors, and of fan bases and 'containers' for their ideas in sectors of the non-fiction market that have a special interest to them.  
Novel
In this module, you'll develop the skills, techniques and considerations you need to develop your own novel, such as researching, plotting, structuring scenes, genre markers and tropes, as well as considering professional practice for novelists such as agent approaches and developing/maintaining your author profile. 
Scriptwriting
In Scriptwriting, you'll develop your skills as a writer and establish standards of professional practice – those qualities that will help you stand out in a very competitive industry, whether writing for audio, television or film. You'll also develop a critical awareness of contemporary practice at the forefront of screenwriting and an understanding of the market for screenwriting and opportunities within it. 
You'll work independently on your Professional Writing MA project, with support from your specialist tutor, and write an essay on an aspect of your writing practice.
Modules
Independent Project & Contextual Essay
In this module, you'll work independently on an individual project, which builds on the work completed in previous modules. You'll work with a tutor who will supervise the development of the project, set deadlines and advise on areas of improvement. The essay will contextualise your work with regard to current practice and theory.  
The modules above are those being studied by our students, or proposed new ones. Programme structures and modules can change as part of our curriculum enhancement and review processes. If a certain module is important to you, please discuss it with the Course Leader.
From module information to course aims and assessment criteria, discover the full course details.
How you'll learn
This 45-week Professional Writing course covers 3 study blocks and brings together seminars, lectures, real-world briefs, practical workshops and your own self-managed work. You'll work individually and in teams - collaborating with other media professionals, developing your own projects and business ideas, and giving and receiving feedback.
Our Writers in Residence programme has previously featured Wyl Menmuir, Emily Barr, Matt Haig, Lionel Shriver, Owen Sheers and Philip Marsden. You'll also have the chance to attend the London Book Fair and Port Eliot Festival.
Assessment methods
Formal assessment and feedback at the end of each module, based on portfolios of creative, critical and reflective writing, as well as presentations and pitches
Final assessment is largely based on your extended creative project, which is accompanied by a contextual essay.
Study Professional Writing at Falmouth and you'll have the chance to attend specialist writing workshops, collaborate on industry projects and enter your work into writing competitions. Check out the stories below to see what our Professional Writing students have been up to lately.
Staff
Our staff feature seasoned, published writers and industry professionals, with experience in areas like narrative and technology, game design, film directing, screenwriting, playwriting, journalism, young adult and children's writing, and creating award-winning short films.
Some members of staff only teach on specific modules, and your course might not feature every staff member who teaches on the course.
Facilities
Library with a wide range of online resources.
Media Centre with industry-standard audio/video recording and editing equipment.
Course-specific Virtual Learning Environment.
The Lighthouse – a dedicated writers' room and events space
The Soundhouse – podcasting facility
The Shed – dedicated study area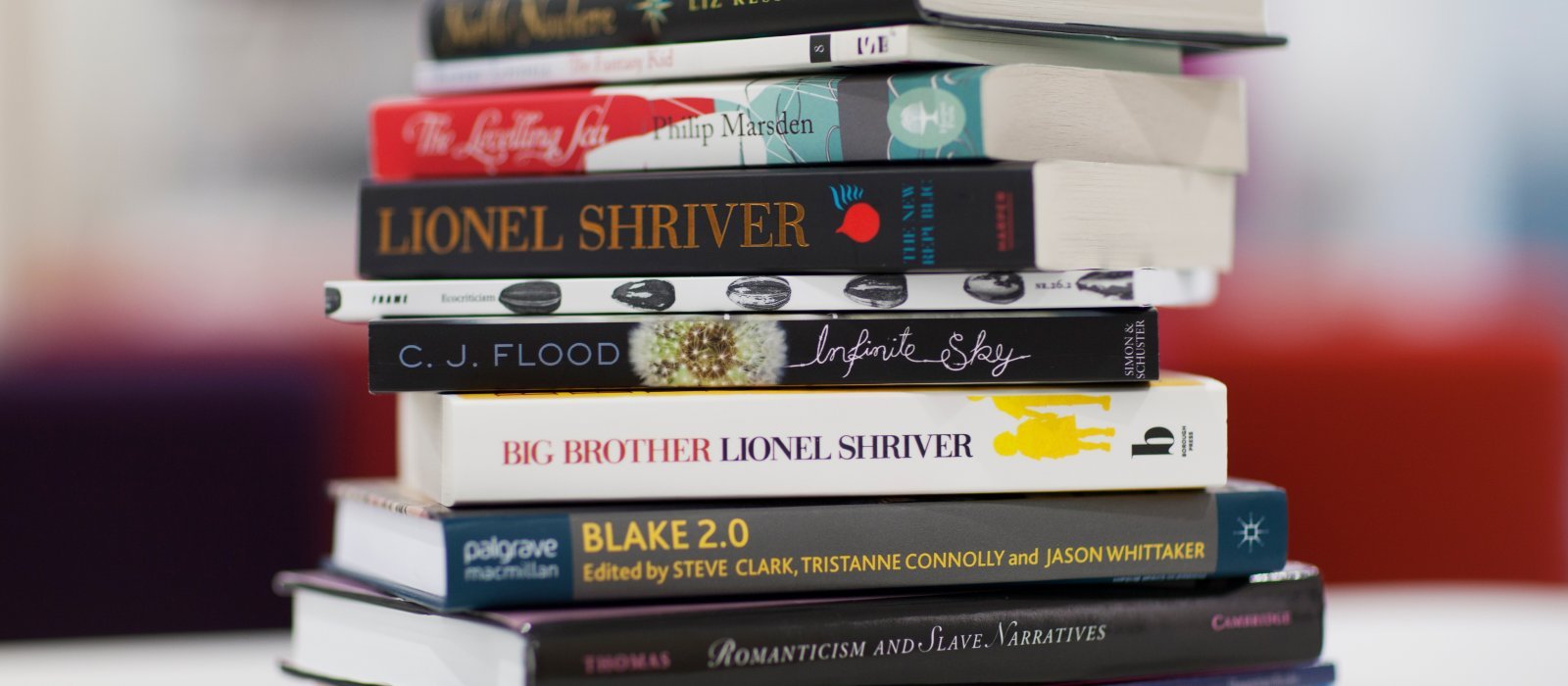 Our professional writing graduates have become published authors, and taken on roles like deputy editor, full-time playwright, psychologist, feature writer and entertainment journalist.
Talk to us
To find out more about this course, how you'll learn or what funding is available, get in touch with our Course Advisors. Click below to submit a form and we'll get back to you as soon as we can. 
Apply now
Ready to apply for postgraduate study? You can apply online by clicking the button below. 
Professional Writing course application process
We'll ask you to send us a sample of your work along with your application. This could be an unpublished (or published) short story, screenplay, report, journalistic feature, novel extract or anything else you've written. If we feel you have potential, we'll invite you to an interview. Skype interviews can be arranged if this isn't possible.
Once you've applied, you'll receive a Falmouth Applicant Portal login, where you'll find more details about these requirements.
We welcome applications from those with relevant equivalent Level 6 qualifications. Our typical applicants hold an undergraduate degree of 2:2 or above, or equivalent experience and a demonstrable interest in the subject.
We'll also welcome your application if you have formal or 'certified' learning (such as training courses not run by universities or colleges) and learning from work experience or self-study. This is called Accreditation of Prior Learning (APL), and should have been gained within the last five years, and be equivalent to the learning outcomes of our minimum entry qualifications.
APL applicants using experience to apply should note there is a £200 application fee for entry with advanced standing or with exemption from specific modules or credit.
If English isn't your first language, you'll need to demonstrate English language skills that are sufficiently developed for successful completion of your studies. We accept a range of recognised English language qualifications that are equivalent to the International English Language Testing System (IELTS) Academic minimum score of 6.5 overall, with a minimum of 6.0 in Reading, Writing, Speaking and Listening.
International applicants who require a student visa to study in the UK must take a recognised language test that is approved and vouched for by the University. Our Applicant Services Team can help with any questions you may have about study visas or suitable language tests.
Tuition fees
£8,950 per year - full-time UK (£250 acceptance fee payable. This is deducted from tuition fees.)
£17,460 - full-time EU/international (acceptance fee up to £1,000 payable, dependent on nationality. This is deducted from tuition fees)
£8,950 per year - full-time UK (£250 acceptance fee payable. This is deducted from tuition fees.)
£17,460 - full-time EU/international (acceptance fee up to £1,000 payable, dependent on nationality. This is deducted from tuition fees)
Tuition fees are set annually and are subject to review each year. The University may therefore raise tuition fees in the second or subsequent years of a course, in line with inflation and/or the maximum permitted by law or Government policy. Students will be notified of any changes as soon as possible. 
The figures above don't include accommodation and living costs
Typical course costs
£200 - Suggested reading 
£350 - Optional study visits and placements for the course duration
If you need to bring equipment or materials with you, these will be outlined in your Welcome Letter.
What better way to find out about life at Falmouth University than by asking our current students?
From course details and academic support, to the social scene and settling in, our students are ready and available to answer any questions you might have. Simply set up your account, send them a question and they'll get back to you within 24 hours.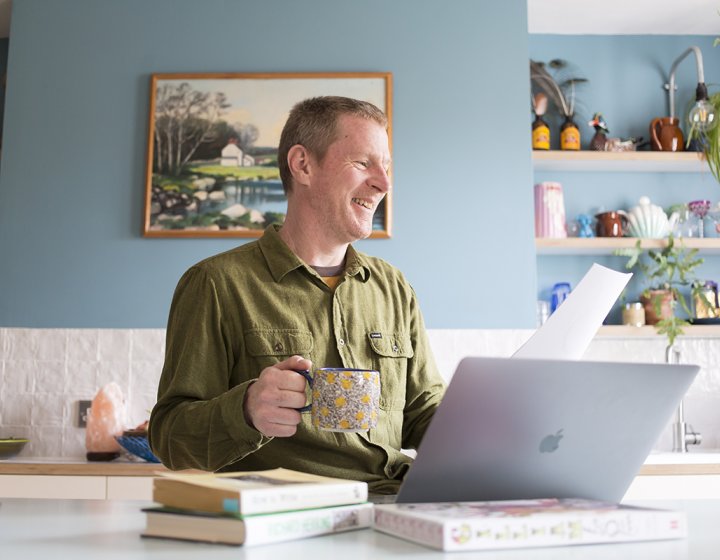 Comedy Writing
Comedy Writing MA (Online)
Get the skills, tools and industry insights to push your projects to the top of the commissioning ed...
Comedy Writing MA (Online)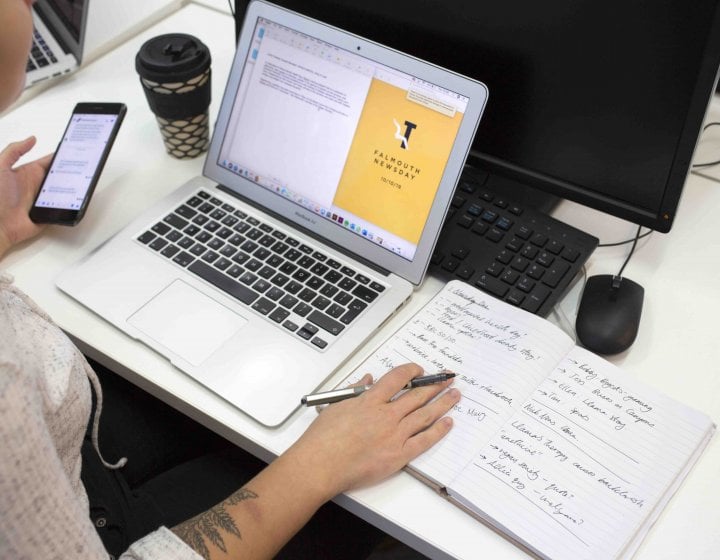 Journalism Ma 2022
Journalism MA (Online)
In a rapidly changing world, where people have never been more connected or content-hungry, agile th...
Journalism MA (Online)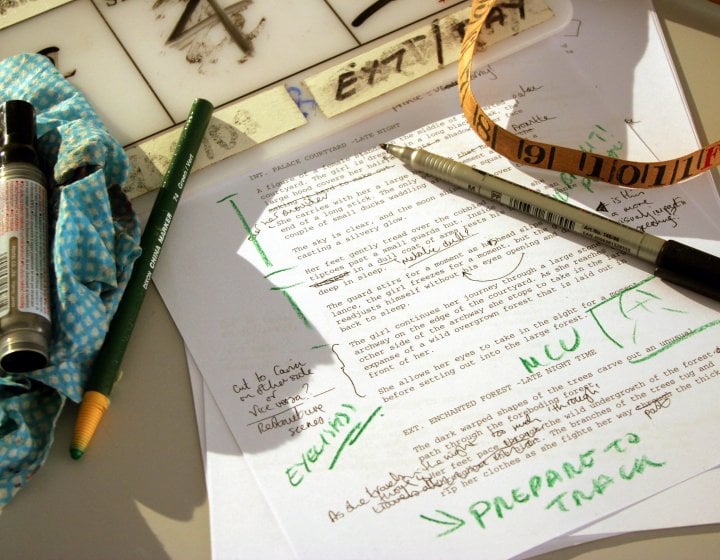 Writing For Script Screen Ma
Writing for Script & Screen MA/PGDip (online)
This course is designed to equip you with the writing skills, industry knowhow, professional skills ...
Writing for Script & Screen MA/PGDip (online)