What is a university portfolio?
A portfolio is a collection of your creative work. It's a way to demonstrate your ability to your chosen university. If you're attending an in-person interview you'll present your physical portfolio when you're there. If you need an online interview instead, you'll submit your portfolio as a digital document.
What should you include in a university portfolio?
The kinds of things you'll need to include in your portfolio depends on the course you're applying for. We've split out what to include by subject area below. Just select the subject area you're applying for and you can find out the kind of thing that's best to include in your university portfolio. Remember it's about quality not quantity – aim for between 10-20 pieces of your work.
Most of our interviews will be in-person again this year so you can bring your physical portfolio with you to your interview. If you have large pieces of work or anything that doesn't travel well, please take good quality photographs and include the photographs in your portfolio. If you can't attend in-person and request an online interview, you'll need to submit a digital portfolio in order to secure your interview date.
How to make a digital portfolio
Your digital portfolio needs to be capable of being submitted via an online link that doesn't require a password or login. You could present your portfolio as a document or slideshow, or even a video if you have moving image work to include. Ensure you add your name to the top of the page if using an online platform. If you are using a slideshow, please ensure your name is at the top of each slide.
Make sure you include good quality photographs or scans of any drawings, paintings, prints, 3D or other non-digital work and consider including captions that give details of the size, medium and content of your work.
Don't have a portfolio?
If you don't have a traditional portfolio from your recent school or college work and your chosen course requires one, don't worry. You'll be able to create one using our Falmouth Creative Projects. Find out more on our dedicated Creative Projects page.
In an Advertising or Graphic Design portfolio you'll want to include observational drawings (digital or hand drawn) and a range of design processes and ways of working. You can even include GIFs that you've created as part of the portfolio.

Projects that show your process from brief to final outcome are great to include along with visual research and any sketchbooks or journals you might have.
In an Animation or Post Production portfolio you'll want to include storyboards and film stills. A short showreel of moving image work is a good idea to put in your portfolio to show what you can do. It doesn't have to be long; short 60 second clips will be plenty.

GIFs that you've designed can also be included.

Preliminary sketches and observational drawings can be included along with photos, paintings, photos of sculpture work and design work.
In an Architecture, Product Design or Interior Design portfolio you'll need to include things like: observational, technical drawings and CAD renders.
If you've done 3D models and sculptures, then including photos of these is a great idea. Finished pieces and final outcomes should go in your portfolio. It's good to display a range of design processes and ways of working.
Show what inspires you by including notes and sketches that you've made of places and spaces that inspire you.
In a Fashion portfolio you'll want to include fashion illustration and drawings (digital or hand drawn). Adding in examples of textiles, prints and weave that you like is a good idea. Collages are also welcome.

Photos of finished pieces and final outcomes can be included. Fashion photography and sketchbooks or journals you have of visual research and idea generation can be included. Fashion Marketing and media/social media topics could also be evidenced in this way, by demonstrating written and visual skills e.g. through graphic design or magazine layouts. In all this you'll want to display a range of techniques and design processes.
In an art portfolio you'll need to include things like: preliminary sketches, observational drawings, finished pieces and final outcomes. Illustrations can be digital or hand drawn.
We also welcome paintings or colour work, to show how you can use, mix, control and communicate with colour.
You want to show a range of techniques and processes. If you do 3D work, then adding photographs of your work is a good way to showcase it.
If you've been to galleries and exhibitions and taken notes or sketches, then you can always include these as part of your portfolio.
If you are applying for a course that will involve elements of game design or creation, we would love to see some of the following:
Creative Computer work, e.g. 2D and/or 3D, digital composites, Computer Generated Imagery (CGI), Computer Aided Design (CAD), computer games. Remember, our course leaders love to see evidence of your thought processes, so please keep a record of your workings.
In this kind of portfolio, you can include coursework in relevant subjects (e.g. Media, Photography, Design). Rather than a formal school project, you can also include work inspired by your personal hobbies (e.g. Fashion, Music, Skating, etc.), or even content you have created for social media which received good feedback and engagement. Photos, films, short videos are also great to include.  
The important thing is selecting work to showcase your skills, personality, and creative interests. Include short captions to help explain or support the things you put in your portfolio. Be ready to talk about your work and what inspired you or how you made it at interview. 
In a Photography portfolio, you can include a mix of still or moving image work that demonstrates your photography skills, visual awareness, creativity and storytelling.
Your portfolio should include examples of your edited photography. We want to see evidence of idea development through sketchbooks, workbooks, notebooks or creative journals/blogs.
You may also include examples of essay writing or creative writing if you feel this is relevant.
Why do you need a university portfolio?
This is your chance to show not just your creative ability but also your personality. No one can create like you do so make the most of your digital portfolio.
How do you make a university portfolio?
Think of your university portfolio like a good story. You'll want a beginning, a middle and an end. It'll showcase your process, including sketchbooks and preliminary work. It's worth putting in a variety of techniques and processes. Remember, it's about quality over quantity.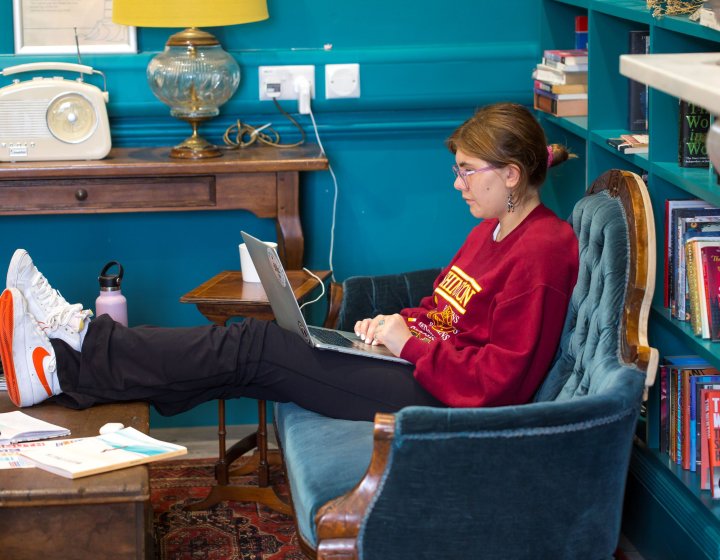 Personal statement page
Personal Statement Guide
How do you write a personal statement and what should you include? Read our advice.
Personal Statement Guide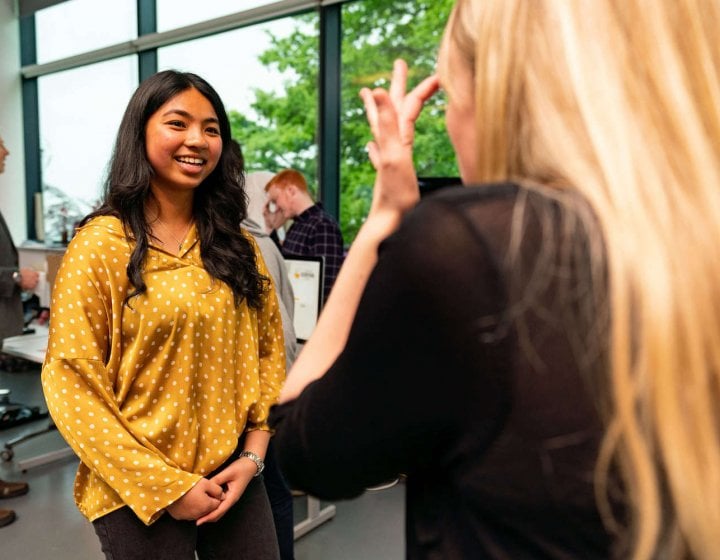 Interview Technique Header
Preparing for Your Interview
What's an interview like and how can you prepare? Read our advice and tips and search for course inf...
Preparing for Your Interview
Any questions?
If you need to speak to someone about your application then you can get in touch on the details below:
E: futurestudies@falmouth.ac.uk