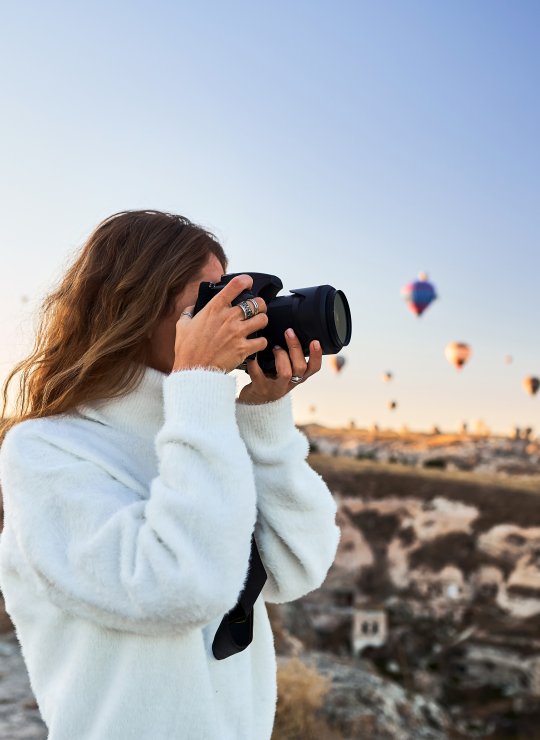 Photography BA(Hons) (Online)
Create compelling images that affect positive, global change.
Key details
Course duration
2 years / 3 years
Attendance
Full-time / Part-time
UCAS code
W64F (full-time)
Subject to validation during this academic year
Course overview
This course is new for entry year 2023
With a distinct focus on global digital communication, this online photography degree will equip you with the skills to become an agile multimedia content creator. 
Taught by practicing academic staff as part of Falmouth's renowned Institute of Photography, you'll join a global online community of bold and progressive image-makers working to promote social, ethical and sustainable change. 
By the time you graduate, you'll have a professional-standard portfolio of meaningful images, an industry-ready skillset and the ability to inspire and motivate through visual storytelling. 
You will:
Define your own visual language and approach to lens-based image making  
Build a unique portfolio of professional-standard work informed by historical and contemporary photographic contexts 
Develop complex problem solving and ideation skills to enable you to experiment, take risks and produce innovative imagery 
Become a globally-minded and resilient creative, refining your communication and collaboration skills for a successful career 
Acquire the business prowess needed to operate as a professional across a broad range of careers in the creative industries - or as a freelance photographer

On this accelerated online Photography degree, you'll have the opportunity to gain a BA(Hons) degree over two years full-time or three years part-time. 
You will learn to fuse experimental and professional approaches to photography. Informed by the ethos of ethical social responsibility central to the course, you will explore how photographic storytelling can create positive change and will become equipped with the cultural understanding and communication skills required to make waves in the global creative industries.  
Through active engagement with online workshops, you will develop greater technical photographic skills in response to the challenges of the industry, while input from professional practitioners will help you develop essential networking connections.  
By sharpening your research, analysis and collaboration skills - and with the ability to work from anywhere in the world - this online degree will prepare you for a global career in photography and digital communication; from producing multimedia content for social justice campaigns to working on cutting-edge freelance projects.  
Through practical and critical enquiry, you will be supported to disrupt, experiment and question creative processes. This initial stage of the online Photography degree requires courage to test, and curiosity to explore. You will be joining an immersive community culture, collectively growing skills, embracing innovation and encouraging creative endeavour.  
Through live briefs, and online workshops and lectures, you will be introduced to a range of creative processes, from critical thinking to practical hands-on skills across different photographic mediums. You will also begin to engage with a wider industry context, preparing you for the future workplace.  
Modules
Explore
You will immerse yourself in the course from week one, through experimentation with a range of photographic approaches and camera and post-production techniques. 
Source
This written module aims to refine your professional collaboration and research skills, helping you to develop important industry awareness at an early stage in your studies, preparing you for a range of careers in the creative industries. 
Make 
This photographic practice module develops your image making and post-production skills and refines your use of materials, process and techniques. It will involve you exploring the world around you, finding exciting ways to make images using film, digital or alternative processes.  
Reflect 
This module focuses on your critical thinking skills, and how you use research and image analysis to better understand the context of photographs. Through the lens of sustainability, you will explore how your own and others' images can communicate with impact. 
Advancing and deepening your technical skills, you will experiment and begin to specialise in certain areas of photographic practice by exploring responses to set briefs. You will have opportunities to collaborate with others on your degree and industry partners, to produce ambitious group projects using online platforms.  
You'll grow an awareness of audience, refining your practical and critical research skills, project management, and your knowledge of contemporary photography, history and theory. As you progress through this stage, you will begin to develop your own self-initiated projects and collaborations. As more industry-facing experiences begin to be introduced, you will be challenged to question convention, disrupt, innovate and maintain courageous thinking.
Modules
Define
This module aims to develop your ability to shape ideas and photographic outcomes, and to interrogate ethical and sustainable approaches to your practice. 
Audience
Using an array of research methods, you will develop creative photographic responses to contemporary issues; exploring social, ethical and environmental problems.  
Innovate
Applying the knowledge and skills you have developed so far, this self-directed practice module will harness your ability to generate innovative photographic responses to a variety of challenges, underpinned by your developing critical voice.
Collaboration
Working as part of a team, you'll work on 'Challenge Briefs' that reflect the sort of assignments you could expect to be working on in industry. Developing your 'soft skills', like communication, problem-solving, critical thinking and leadership, you'll sharpen your ability to work well as part of a group to produce outstanding work.
This stage supports you to refine your photographic approach and to challenge your emerging fields of interest, culminating in a final photography portfolio and a contextual report that grounds your work. You will build core skills and reflect critically on your strengths, exploring alternative models of practice that help define your creative future beyond the course.  
Modules
Develop
This module is designed to enable you to develop your professional identity ahead of your Final Major Project. You will evolve and refine a specialist body of creative, innovative work and identify a future career pathway in the creative industries.
Futures
This entrepreneurial module aims to situate your practice and prepare you with the business skills needed for a successful and dynamic career in the creative industries.   
Frame
In your Final Major Project, you will develop an innovative final photographic portfolio that demonstrates a high level of professionalism and industry level finish, appropriate for your career ambitions.
Frame
This module asks you write a 3,000-word report contextualising your work within the broader industry and identifying future audiences for your practice. 
The modules above are those being studied by our students, or proposed new ones. Programme structures and modules can change as part of our curriculum enhancement and review processes. If a certain module is important to you, please discuss it with the Course Leader.
Stories from our community
Explore student projects, graduate successes, staff news and industry insights
How you'll learn
This practice-based online photography degree is underpinned by workshop and video-based tuition. We offer a truly multidisciplinary syllabus designed to meet the demands of photography within the creative industry. 
Depending on your choice of full-time or part-time study, you'll spend between 27-50 hours a week developing dynamic creative processes and contextual understanding. You'll be taught in online lectures, webinars, forums and design activities by staff with a wide range of industry experience, while developing your own direction and specialisms. 
An accelerated degree condenses the modules into two years on the full-time route, or three years on the part-time route. 
How you'll be assessed 
This BA(Hons) Photography online degree employs a variety of assessment strategies over the course of the year. These include the submission of portfolios of practical work, presentations, verbal reports and a final major project. 
Your summative (final) assessments occur at the end of each module, usually at the end of the study block whereas you may have interim formative assessments part way through a module as well. These assessments help ensure that you remain on track with your work. 
You will receive continuous written and/or verbal feedback on all your work throughout the year. At the end of the module, you will receive detailed feedback in written form. 
You'll be able to check in with your online tutor to discuss your progress and ask any questions you have about your course.  
Staff
Falmouth's Institue of Photography has global connectivity to a broad range of photographic practitioners. This connectivity provides essential networking opportunities for our students and graduates and helps inform and shape our curriculum.
Oliver Udy
Head of Photography
Oliver Udy is a photographer, publisher and general facilitator of things.Udy joined Falmouth Univer...
Oliver Udy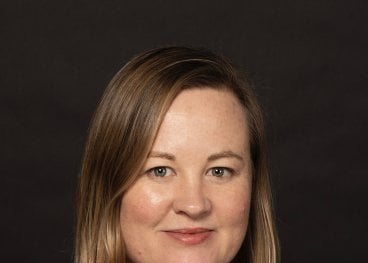 Mandy Jandrell
Dean of the Faculty of Creative Arts & Communication
Mandy Lee Jandrell is an internationally exhibiting artist working with installation, photography an...
Mandy Jandrell
Some members of staff only teach on specific modules, and your course might not feature every staff member who teaches on the course.
Resources and Support
Dedicated easy-to-use virtual learning environment (VLE)

Accessible online audio / visual content

A Student Advisor to support you throughout your studies and access to our Student Support Services

Access to our careers and employability service RealWORKS

24/7 access to Falmouth's extensive online library of contextual books, journals and resources

Access to online software tutorials at LinkedIn Learning

Students' Union community

Optional face-to-face events

Invitation to attend alumni events
Although online students don't have access to on-campus facilities as part of the course, you can hire equipment and access facilities by paying a charge. Find out more about availability and prices here.
As a BA(Hons) Photography (Online) graduate you could become:  
Self Employed Photographer/Videographer 
Digital Assistant 
Photoshoot Producer 
Picture Editor 
Digital Archivist (Photo Libraries/Museum sector) 
Curator 
Social Media Strategist 
Digital Content Editor 
Multimedia Designer 
Further Study options include: 
Postgraduate study within photography and related disciplines, or education 
PhD and research degrees    
Apply 
You have the option to apply via UCAS or directly with us, depending on your education and experience. Find out more about ways to apply. 
Ready to join us? Find out what course routes are available here.
UCAS codes
You can apply for the September 2023 full-time route through UCAS using: 
University code: F33
Course code: W64F
| Course route | Course start | Apply now |
| --- | --- | --- |
| Full-time | September 2023 | |
| Part-time | September 2023 | Apply now |
We consider all applications on their own individual merit and potential. We invite all applicants to an online interview to give them the opportunity to demonstrate this along with what inspires and motivates them in their field. Applicants will also be able to show their portfolio or give a performance depending on the course. We welcome applications from all subject backgrounds, whether you've specialised in STEM, the arts or humanities.
Applying with UCAS points
| Course route | Entry requirements |
| --- | --- |
| BA/BSc(Hons) degree | 104 – 120 UCAS Tariff points |
Check the title of your course to see if it's a BA or BSc award. UCAS Tariff points will primarily be from Level 3 qualifications such as but not limited to A-levels, T Levels, a BTEC/UAL Extended Diploma or a Foundation Diploma.
Check how many points your qualifications are worth
Applying without UCAS points
We'll welcome your application if you have formal or 'certified' learning (such as training courses not run by universities or colleges) and learning from work experience or self-study. This is called Accreditation of Prior Learning (APL), and should have been gained within the last five years, and be equivalent to the learning outcomes of our minimum entry qualifications. Find out more about APL.
For applicants whose first language is English we require you to have or be working towards GCSE English Language Grade 4 (C), or equivalent. 
If English is not your first language you will need to meet the same standard which is equivalent to the IELTS Academic 6.0 overall score, with at least 5.5 in Reading, Writing, Speaking and Listening. We accept a range of in country equivalencies and approved tests.  
If you need a student visa to study in the UK, you may need to take a recognised language test. You can read our English Language Requirements for more information.
For starting your studies in 2023
The application deadline for online undergraduate courses is 31 August 2023. The academic start date is 25 September 2023.
Applications for these courses remain open whilst there are spaces available. We encourage you to apply as early as possible to avoid disappointment.
Tuition fees
| Annual tuition fee | Student |
| --- | --- |
| £10,400 per year | 2 years accelerated full-time |
| £6,935 per year | 3 years accelerated part-time |
| Annual tuition fee | Student |
| --- | --- |
| £10,400 per year | 2 years accelerated full-time |
| £6,935 per year | 3 years accelerated part-time |
Tuition fees are set annually and are subject to review each year. The University may therefore raise tuition fees in the second or subsequent years of a course, in line with inflation and/or the maximum permitted by law or Government policy. Students will be notified of any changes as soon as possible. 
The figures above don't include accommodation and living costs
Typical course costs
One-off costs 
You will need a DSLR or Mirrorless camera system. There are lots of options for buying these, including second hand cameras. We would recommend a camera that has full manual controls and the ability to produce still and moving images, e.g.: 
Canon EOS DSLR or EOS R series  
Nikon DSLR or Z Series  
Sony A Series (A7 or A9) 
Fuji X series 
NB: Each of these will need two lens – we would recommend a zoom lens (24-70mm or similar) and a prime lens (50mm equivalent). 
You will need to purchase a laptop/desktop computer. It is an essential piece of equipment that you will need right from the start of the course. Our students use both PCs and Macs. 
When considering your purchase of a laptop, the most important things to look out for is the CPU/RAM/graphics card, as you will be using production software that needs a large amount of power. We recommend one with as fast a processor as you can afford (8GB of RAM minimum) and a reasonably sized screen (13" minimum, 15" is optimum), plus the following minimum computer specifications:
Windows: 
Windows 10 
At least an i7 processor 
No less than 8-16GB Ram  
Graphics Card (nVidia 1080 minimum, not Intel Iris integrated graphics) with at least 2GB  
256GB hard drive space minimum  
1920 x 1080 display resolution or higher (most displays offer a higher resolution than this) 
Apple MacBook Pro: 
Mac OS 10.15 or newer 
At least an i7 processor 
No less than 8-16GB Ram  
Graphics Card 
256GB hard drive space minimum  
1920 x 1080 display resolution or higher (most displays offer a higher resolution than this) 
Other digital equipment/software: 
1TB hard drive (approx. £50)
Wireless or Bluetooth mouse (approx. £15)
Recurring annual costs 
£100-£200 - Studio kit (outlined in your Welcome Letter) 
Face-to-face events (optional): £100-£400 - As an online student you will be given the opportunity to attend up to two events per academic year to meet your classmates and tutors in person. Dates and location of the events will vary.   
Adobe Creative Cloud: You will need access to Adobe Creative Cloud. You may be eligible for discounted licenses through Adobe's education pricing and Falmouth University seeks to provide further discounts when possible. If any discounts are available, we will communicate these to you. For more information please visit Adobe Creative Cloud.  
What better way to find out about life at Falmouth University than by asking our current students?
From course details and academic support, to the social scene and settling in, our students are ready and available to answer any questions you might have. Simply set up your account, send them a question and they'll get back to you within 24 hours.