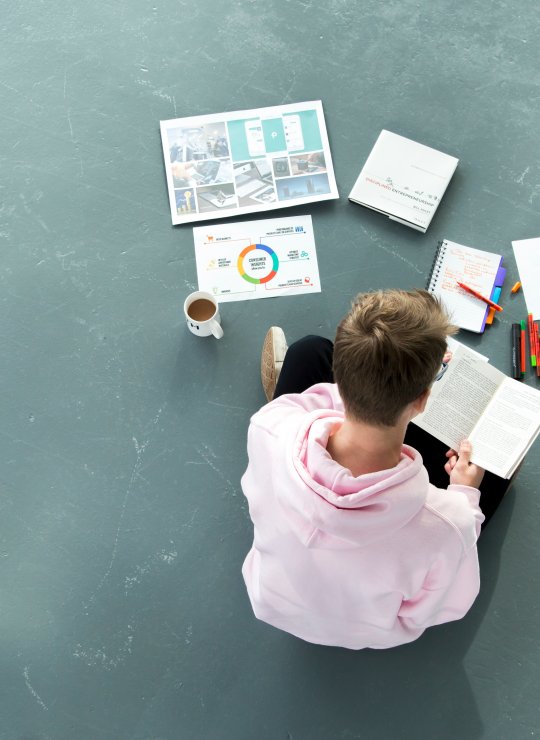 Business & Marketing BSc(Hons) (Online)
Become a skilled, confident and ethical business and marketing professional.
Key details
Course duration
2 years / 3 years
Attendance
Full-time / Part-time
UCAS code
N192 (full-time)
Course overview
This course is new for entry year 2022
Discover what it takes to build companies, recognisable brands and valuable connections in a fast-moving industry on this online Business & Marketing course. 
Learning from tutors with real experience, you'll develop a future-focused toolkit to get a head start in the world of business. You'll learn about digital marketing, market-research, data analysis, brand development, leadership and strategic operations– all underpinned by a conscious focus on civic responsibility and corporate sustainability. 
You'll also develop in-demand professional skills that are highly sought after by employers. You'll hone your project management abilities on website design, event promotion activities and social action plans, all while exploring ethical considerations such as sustainable practice and individual wellbeing. Taking on challenges with a diverse network of peers, you'll gain valuable team-working experiences that mirror production environments; collaborating across disciplines and responding to client briefs.
You will:
Build your understanding of business operations and sector challenges  
Develop market research and data analysis skills to deliver effective business and marketing strategies 
Hone vital team-working skills by collaborating on projects with peers 
Develop an ethical approach to your professional practice, exploring sustainability within company culture, events and marketing 
Build a network of contacts to promote and grow your entrepreneurial ideas  
Gain the leadership skills needed to build a career in business and marketing   
Business & Marketing BSc(Hons) (Online) is accredited by the leading professional marketing body for marketers, The Chartered Institute of Marketing (CIM). This means students who successfully complete the full undergraduate degree are part-accredited for qualifications CIM offers professional marketing practitioners.