What can you do with a Business, Marketing or Events degree?
The professional and commercial skills taught on a Business, Marketing or Events degree can be applied to almost any sector, opening a world of possibilities for future careers. 
If you're interested in business, consumer psychology or entrepreneurship then a degree in Business, Marketing or Events covers everything from brand development to market research and sustainable business practice.  
These degrees can be a springboard for a career in a range of industries, such as marketing, PR, consultancy management, sales, event management, entertainment, tourism or hospitality. If you aspire to run your own business, then a degree in Business, Marketing or Events is an opportunity to develop your entrepreneurial skills and launch your business ideas. 
Job opportunities
A degree in Business, Marketing or Events is designed to equip graduates for a huge range of careers. You could become a: 
Operations Manager 
Start-Up/Business Owner 
Digital Marketing Officer 
Social Media Manager 
Event Manager 
Artist Liaison
Talent Booker 
Volunteer Coordinator 
Sponsorship Manager 
Travel Consultant 
Travel Writer
Sales and Marketing Consultant
Digital Account Manager 
Content Manager  
Brand Manager 
Project Manager 
Graduates in the spotlight
Our graduates have gone on to work in the following roles: 
Founder of the creative production agency, JAMZ 
Team Liaison Officer at FIFA Women's World Cup 
Digital Strategist at Tregothnan Tea Company 
Event Fundraiser at Jeremiah's Journey 
Production Manager at Medalist Sports 
Assistant Agent at Ace Agency 
A Business, Marketing or Events degree will give you the confidence to become a courageous and creative practitioner. You'll learn specialist skills in market research, data analysis, data modelling, brand development, project management and consumer psychology. 
If you study an Events degree, you'll gain the knowledge and skills to deliver impactful events that are at the forefront of technology and sustainability.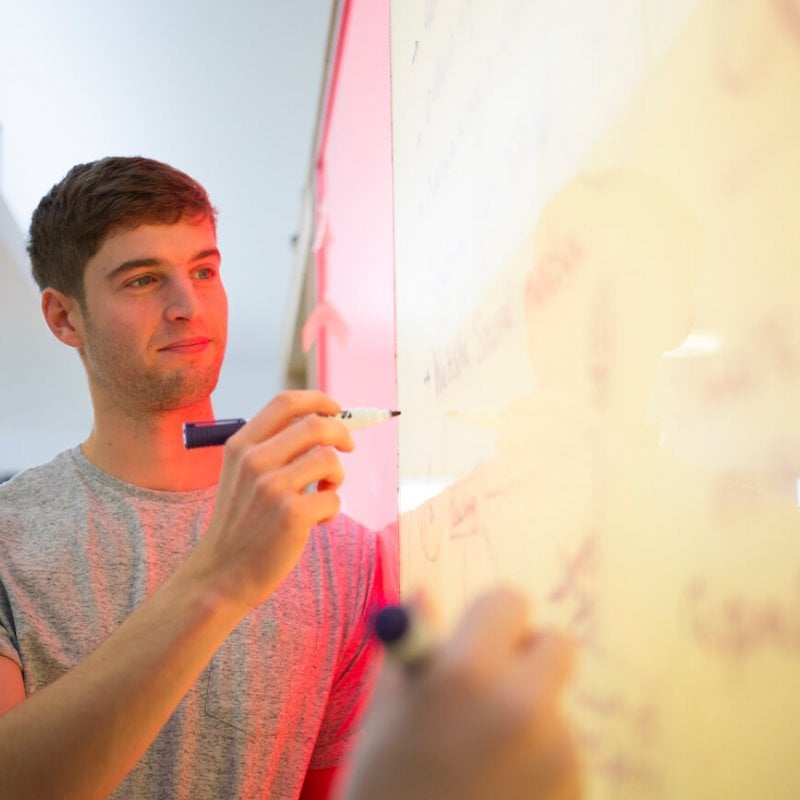 Transferable skills
As well as specialist skills, you'll also develop a variety of transferable skills that are desirable to a range of employers. These include:
Verbal and written communication skills, including presentation and pitching
Project management experience, including skills in responding to briefs, organising resources, collaborating with partners, time-planning, budgeting and reporting
Leadership skills and the ability to motivate others
A strong work ethic and tenacity to move projects forward
Innovative solutions to problem solving and a willingness to take creative risks
Professional approach to working in teams, both in person and remotely
Entrepreneurial skills in marketing your work and building professional networks
Our degrees in Business, Marketing and Events are designed to not only give you core skills and knowledge but also real-world experience. You'll have the chance to collaborate with innovators across the region. You may also have the option to grow your network through multiple 'micro' placements at organisations such as the Eden Project. 
If you're studying an Events degree, you'll gain first-hand experience of delivering real events and take part in workshops with organisations such as Attitude is Everything. By connecting with the media and creative industries on- and off-campus, you'll build valuable networks to boost your career. 
When you study at Falmouth, you also have access to our dedicated Employability Service. We offer weekly career workshops and events, support with practice interviews and advice on writing your CV or even going freelance. 
By the time you graduate, you'll have your own professional identity to start bringing your business ideas to life. 
Our Business, Marketing & Events courses