What is Creative Advertising?
22 May 2023
Creative Advertising MA St Tropez 1
Why is creativity important in advertising?
Creativity is the ability to produce or use original and unusual ideas. In the context of advertising, it allows brands to solve a problem, convey a message or promote a product in a new, refreshing way. 
Compared with other channels of marketing, creative advertising can gather momentum, reach new audiences and create a lasting impact. 
Creative advertising is effective for several reasons:
Attention grabbing
Creative advertising uses original and attention-grabbing techniques that are not commonly seen in traditional advertising. This helps to cut through the noise of competing messages and capture the attention of the target audience. For example, Channel 4's Super. Human. film for the Tokyo 2020 Paralympics captured the reality of a Paralympian in unparalleled accuracy. By removing the traditional patronising tone often used to describe anyone with a disability, the film tells real stories about real people that we, collectively, can relate to as humans.
Engages emotions 
Creative advertising often elicits an emotional response which in turn creates a memorable and impactful message. When audiences connect with the emotions evoked by an advertising campaign, they are more likely to remember the brand and acknowledge its call to action. 
Stand out from competitors 
Creative advertising helps brands to stand out from their competitors by using unique and innovative messaging and visuals. This can help to strengthen a brand's distinct identity and boost brand loyalty amongst customers. 
Increases memorability 
An advertising campaign that utilises creativity is more likely to stick in the minds of audiences. This helps to build brand awareness and recall, which can drive sales. 
Generates buzz 
Creative advertising campaigns have the potential to go viral, which can lead to increased brand awareness and reach. This is particularly effective in today's digital age, where social media has the power to accelerate the reach and impact of ad campaigns.
What is an example of creative advertising in action?
Extinction Rebellion
From the perspective of eliciting an emotional response to a campaign's call-to-action, Extinction Rebellion is a prime example of creative advertising in action. This organisation has a collective purpose of highlighting the climate emergency by creating and sharing impactful messages that resonate globally.  
Many people want to get involved in climate change activism but fear doing so on their own. Extinction Rebellion's marketing strategy taps into this audience; their ad campaigns look to mobilise people en masse and portray their community as a collective of ordinary people from different backgrounds. 
Extinction Rebellion's 'We Need You' campaign called on members of the public to join their climate protest 'The Big One' from 21-24 April outside the Houses of Parliament. In the campaign video, footage of past protests is juxtaposed with clips of political leaders, while a narrative voice-over talks directly to the viewer, encouraging them to join the climate protest. With every video, post or tweet, Extinction Rebellion is inviting the viewer to become part of the revolution and suggest that real change won't happen without the help of the person watching.
UBREW
Through a more commercial lens, the beer brand, UBREW's ad campaign for their new low alcoholic beer 'Responsibly' gained a large reach even with a small budget.
Their initial problem was that the brand was unheard of, their session lager product was getting lost in a highly competitive market, and their marketing budget was small. The solution was to create an ad campaign around their product name – Responsibly - a word already used by beer brands in the industry message 'drink responsibly' and pretend that it was free endorsement. Genius.
UBREW responsibly campaign
UBREW's' Responsibly' ad campaign produced by McCann World Group
What kind of jobs can you do with a degree in Creative Advertising?
A degree in Creative Advertising can lead to a range of job opportunities in the advertising, marketing, and media industries. Here are some potential job roles you could pursue: 
Copywriter 
As a copywriter, you would be responsible for creating compelling and engaging written content for different marketing channels, including print, web, ads, email, and social media. 
Art Director 
Art directors are responsible for overseeing the visual style of advertising campaigns. They work closely with designers, photographers, and other creative professionals to create visually impactful ads and marketing materials. 
Creative Director 
A creative director's role usually involves managing a creative team and overseeing the creative vision of large projects and campaigns. 
Account Manager 
Account managers work closely with clients to understand their needs and objectives, they then work with the creative team to develop and execute campaigns that meet the client brief. 
Media Planner 
Media planners are responsible for determining the best media platforms (TV, radio, print, digital) for advertising campaigns to reach the target audience. They work with clients and the creative team to develop effective media strategies. 
Social Media Manager 
Social media managers oversee a company's social media accounts. They are responsible for developing social media strategies that engages followers and builds brand awareness. 
Marketing Manager 
Marketing managers look after the development and implementation of marketing campaigns that promote a business' products and services. 
Brand Manager 
Brand managers are responsible for managing the overall brand identity and reputation of a company or product. They work closely with advertising and marketing teams to develop brand strategies and campaigns that are consistent, current, and impactful.
Kickstart your creative advertising career
Our undergraduate and postgraduate degrees in Creative Advertising can help you take your first steps into the industry. Through workshops, crits and studio-based activities, our students learn to produce impactful and engaging advertising campaigns while having the opportunity to network with advertising agencies and industry partners. 
Explore our courses in Creative Advertising below.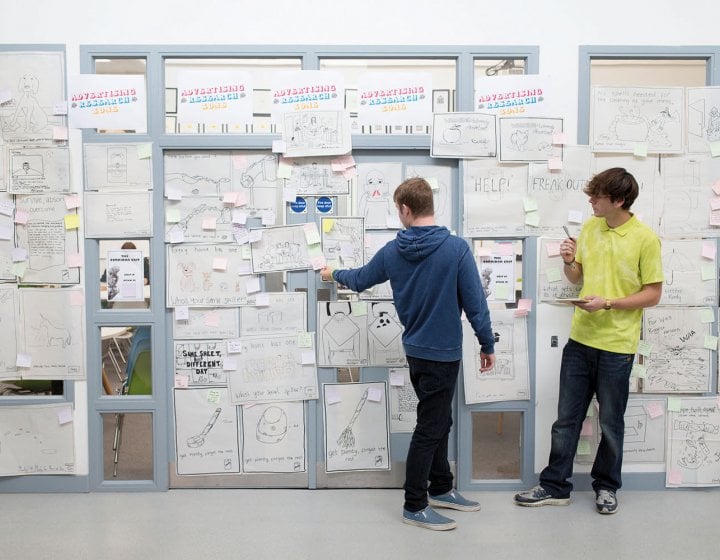 Creative Advertising - 2023
Creative Advertising BA(Hons)
Pitching, hustling, scribbling, protesting, researching, writing, experimenting, crafting and – mo...
Creative Advertising BA(Hons)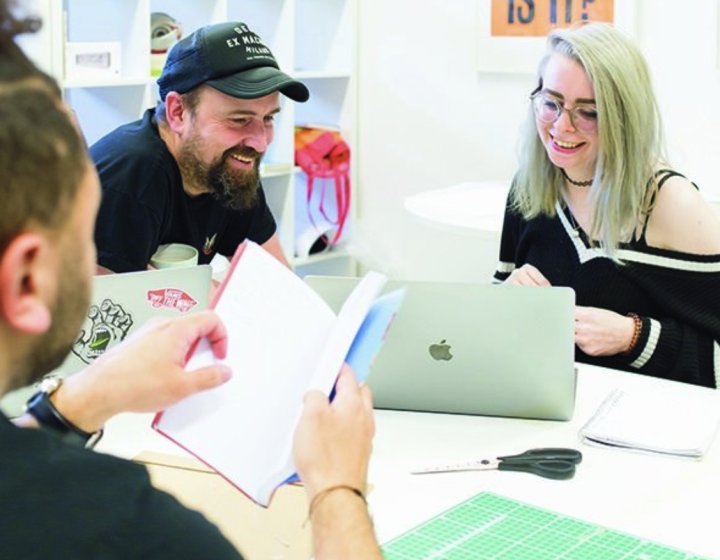 Creative Advertising MA lead image 2022
Creative Advertising MA
Build your capabilities as a strategically minded advertising creative. You'll enter an intensive ...
Creative Advertising MA