Creative Advertising MA
Build your capabilities as a strategically minded advertising creative. You'll enter an intensive environment replicating a full- service advertising agency, where you'll develop the creativity and key skills to forge a successful advertising career.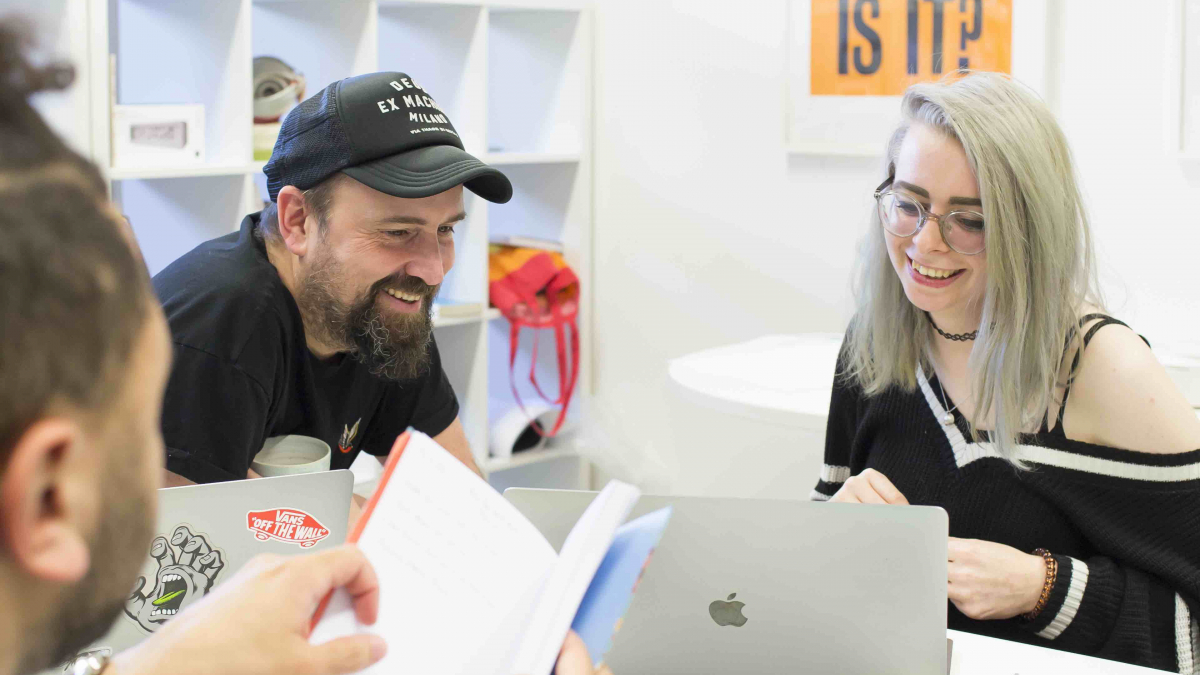 Key details
| | |
| --- | --- |
| Location | Falmouth Campus |
| Course Duration | 1 year |
| Attendance | Full-time |
| Contact | 01326 213730 |
Introduction
Working collaboratively in teams, you'll create innovative advertising from your very first week, tackling real agency briefs. While developing a keen understanding of conception and strategy, you'll learn the vital skills essential to any creative advertising role — like IT training, negotiation and presenting ideas.
You will: 
Graduate equipped with a professional portfolio and the contacts you need to win the job you want
Have the chance to exhibit your work at the D&AD New Blood competition
Interact with top international agencies and get advice from leading creative directors, strategists, planners and former students
Create links with the world's best advertising agencies
Covid-19 update
As we follow the roadmap out of the pandemic, for the academic year 2021/22, the University expects to be able to deliver courses as they were designed. However, the institution must comply with any public health measures that are imposed by Government and may need to vary its delivery at short notice. Examples of amendments we have previously made to modules to comply with government guidance can be found here.
What our students do
Here are examples of ads that our students have produced as part of their degree.
What our graduates do
The course has long-established links and presence in many of the world's best agencies. Our alumni are working at agencies like Ogilvy, VCCP, McCann, Mother, BBH, Saatchi & Saatchi, BBDO and even the BBC. They can be found working in cities like London, Manchester, New York, Amsterdam, Mumbai, Sydney and Shanghai.
Here is a compilation video of work recently produced by some of our graduates at some of those companies.
Course details
What you'll learn
Working on projects based on real agency briefs, you'll create engaging campaigns by focusing on planning, concepts and execution. We'll explore the ethical, economic, psychological and socio-political impacts of your work, and build your online and social media skills.
You'll exhibit your work at the D&AD New Blood exhibition in London, where you'll have the chance to meet key industry figures, while our industry contacts provide opportunities for workshops and placements at top international agencies.
You'll choose to specialise in art direction or copywriting, as we strategically answer client briefs. If you focus on art direction, you'll learn vital layout and typography skills, and look into how photography, film, illustration and fine art apply to advertising. If you specialise in copywriting, you'll take on practical projects that will help you write in a clear, lively and visual style to stimulate your audience.
London Study Week will be your chance to build your knowledge and make valuable contacts as we visit major advertising agencies. We'll also visit film and production companies to learn more about how they work with agencies and fit into the creative process.
Modules
Experience and Digital Culture
What is the role of strategy and messaging in a marketing world transformed by digital technology? How do you get a message across multiple channels, in an engaging yet coherent way? As creatives, how do you generate ideas that harnass the potential of technologies and the ways in which people use them?
You will learn about and explore the impact of digital culture on brands' communication strategies and tactics, and vice versa. You will learn to develop messaging that will work across a symphony of media, assume novel forms, and those that experiment with different ways of interacting with audiences, and create new experiences.
Working collaboratively, you will use different tools and experiment with prototyping and/or testing content, objects, artefacts or products created from a range of digital tools. This will culminate into a portfolio of creative work and a written piece that demonstrates your exploration and research.
Introduction to Concept Creation
On this module you'll be introduced to the advertising industry and the agency landscape, and engage with the techniques and vocabularies used in the creation of advertising. This includes weekly discussions in which you'll learn to evaluate and critique ads.
You will begin with an introduction to the purest form of an idea in advertising – the print ad. You will also learn how to interpret a creative brief and create scamps for print advertising, working to briefs agreed with your tutors
Campaign Development
This module builds on the strategic thinking skills you have accrued to further explore creative concepts for integrated campaigns and problem-solving for different a range of communication objectives.
To help you prepare for and shape your unique portfolio and personal brand as an advertising professional, you will research and develop your own creative briefs under the guidance of your tutors. This includes training and support in industry-recognised software for multimedia content creation.
You will also apply your Master's in advertising skills to industry competitions and graduate shows such as D&AD New Blood and YCN.
Media Lab
What does the future hold for creative advertising in a communications industry dominated by metric power and digital sensibilities? How should creativity in adland evolve and what role can it play in helping to shape the future of advertising and the digital economy?
Building on what you learnt in Experiences and Digital Culture, this module takes a step back to cast a critical eye over key debates in the digital and attention economy. You will use your creative practice to speculate and envision the future of advertising
Behavioural Change for Good
Can creative advertising be a tool for making the world a better place? The module tackles this question by exploring the mind of the consumer: how are decisions made? what drives good or bad behaviours? Building on the strategic thinking skills you have accrued in Campaign Development, you will study the theories behind consumers' decision making alongside the psychological strategies that influence consumer behaviour, especially in the charity and third sector.
You will learn skills to research consumers in order to obtain insights that can be used to inform a purpose-driven campaign or any communication that will instigate behaviour change for good. Discussions will examine moral and ethical considerations relating to consumer research and the use of persuasive techniques
Working with a partner, you'll strengthen your communication and negotiation skills as you produce a portfolio of live projects from agencies and clients. You'll balance out these practical elements by researching and analysing advertising in different cultures, and learning IT skills in InDesign, Photoshop, imaging, file conversion, typography and web development.
You'll exhibit your work at the D&AD New Blood exhibition in London. This event is attended by senior advertising creatives looking to take on new recruits and so is an ideal networking opportunity.

Modules
Final Portfolio & Website
For any creative advertising graduate, the portfolio is their calling card and replaces the traditional 'CV' as the most important factor for getting their first job.
This module builds on the skills you have accumulated in all of your previous modules, to produce a distinctive portfolio that showcases your skills and creativity to prospective employers.
Your portfolio will include a mixture of self-initiated briefs and other briefs as agreed with your tutors.
The modules above are those being studied by our students, or proposed new ones. Programme structures and modules can change as part of our curriculum enhancement and review processes. If a certain module is important to you, please discuss it with the Course Leader.
From module information to course aims and assessment criteria, discover the full course details

How you'll learn
This is a one-year, full-time course delivered over 45 weeks and divided into three 15-week study blocks.
Working in small groups, you'll learn in seminars, workshops, and through individual and team tutorials. Your projects and processes will mirror life in a full-service agency as you work in copywriter/art director pairs, as well as individually. Lectures from industry professionals will provide advertising and media insights, and you'll find helpful research and project work information in our Virtual Learning Environment.
Assessment methods
Assessment at the end of each study block.
Combination of visual, verbal and written assignments.
Final, external assessment takes place in September.
Staff
You'll learn from a variety of industry professionals with experience working for agencies like Y&R, Grey, DDB, and Saatchi & Saatchi, as well as for brands like VW, Audi, Dyson, BBC, Cadbury, Heinz, Sky, Jeep, and Honda.
Some members of staff only teach on specific modules, and your course might not feature every member shown here.
Facilities
Full IT facilities
Course-specific computer suite
Large Mac suite where most of the IT lectures take place
How to apply
Talk to us
To find out more about this course, how you'll learn or what funding is available, get in touch with our Course Advisors. Click below to submit a form and we'll get back to you as soon as we can.  
Apply now
Ready to apply for postgraduate study? You can apply online by clicking the buttom below.
After you apply you'll receive logins to the Falmouth Applicant Portal. You'll take on the creative brief below and upload your ideas to the portal.
We welcome applications from those with relevant equivalent Level 6 qualifications, or relevant equivalent experience, and a demonstrable interest in the subject.
We'll also welcome your application if you have formal or 'certified' learning (such as training courses not run by universities or colleges) and learning from work experience or self-study. This is called Accreditation of Prior Learning (APL), and should have been gained within the last five years, and be equivalent to the learning outcomes of our minimum entry qualifications.
APL applicants using experience to apply should note there is a £200 application fee for entry with advanced standing or with exemption from specific modules or credit.
If English isn't your first language, you'll need to demonstrate English language skills that are sufficiently developed for successful completion of your studies. We accept a range of recognised English language qualifications that are equivalent to the International English Language Testing System (IELTS) Academic minimum score of 6.5 overall, with a minimum of 6.0 in Reading, Writing, Speaking and Listening.
International applicants who require a student visa to study in the UK must take a recognised language test that is approved and vouched for by the University. Our Applicant Services Team can help with any questions you may have about study visas or suitable language tests.
Fees, costs & funding
Tuition fees
£8,500 per year - full-time UK (£250 acceptance fee payable. This is deducted from tuition fees.)
£16,950 - full-time EU/international (acceptance fee up to £1,000 payable, dependent on nationality. This is deducted from tuition fees)
£8,950 per year - full-time UK (£250 acceptance fee payable. This is deducted from tuition fees.)
£17,460 per year - full-time EU/international (acceptance fee up to £1,000 payable, dependent on nationality. This is deducted from tuition fees.)
Find out more about our Graduate Loyalty Discount for Falmouth Alumni, which offers a reduction in course tuition fees.
Typical course costs
£305 - Recurring annual costs
£550 - Optional study visits and placements for the course duration
If you need to bring equipment or materials with you, these will be outlined in your Welcome Letter.
The figures above don't include accommodation and living costs
Tuition fees are set annually and are subject to review each year. The University may therefore raise tuition fees in the second or subsequent years of a course, in line with inflation and/or the maximum permitted by law or Government policy. Students will be notified of any changes as soon as possible.
Postgraduate funding
There are loans, awards and alternative funding sources for postgraduate studies. Read about them on our Postgraduate Funding page.
Find out about funding
Ask a student
What better way to find out about studying at Falmouth University than by asking our current students or staff? 
From course details, our facilities and the local area to the social scene and settling in, our students and staff are ready and available to answer any questions you might have. Simply set up your account, send them a question and they'll get back to you.
Request information
Do you have questions about the course or studying at Falmouth? Fill in our simple online form and we'll get in touch to support your application journey.
Submit form