Fine Art MA (Online)
Tap into Falmouth's renowned Fine Art expertise from anywhere in the world. You'll learn to build a sustainable practice as an artist, while navigating the context of global economic, political, social and ecological change.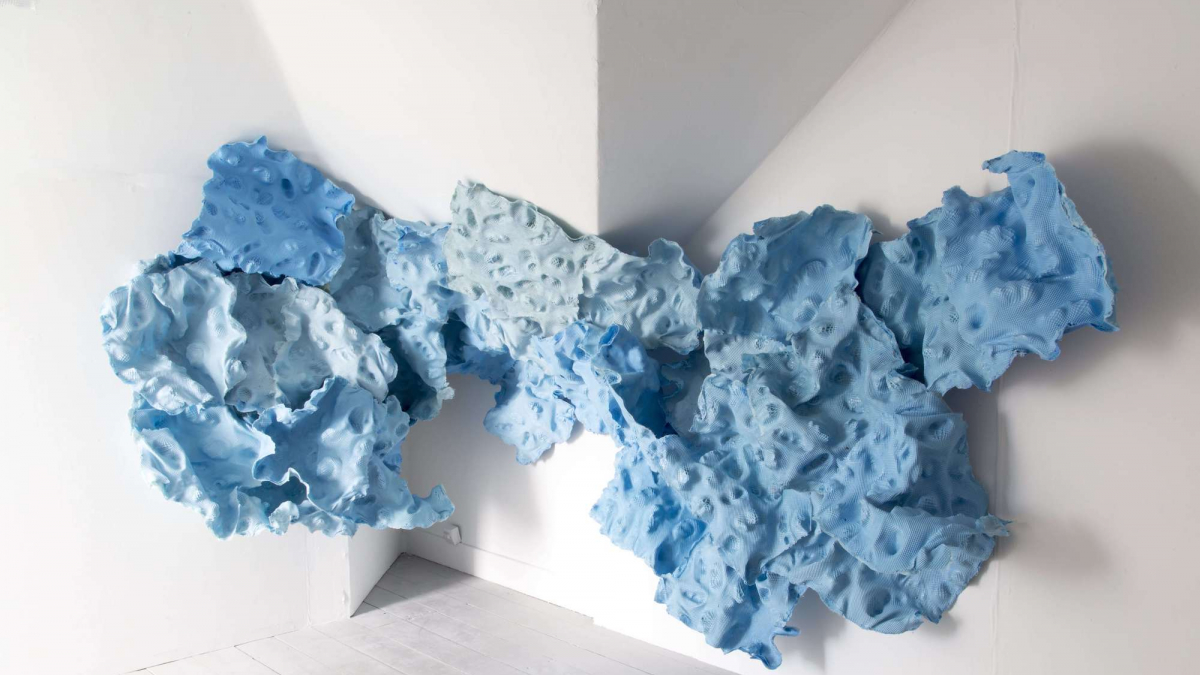 Key details
| | |
| --- | --- |
| Course Duration | 2 years |
| Attendance | Part-time |
Start dates: January / May / September
(Three intakes per year) 
Introduction
For almost 120 years, Fine Art at Falmouth has challenged students to develop a practice that engages with the most pressing issues of today and tomorrow.
You'll have the opportunity to collaborate and build networks on a global scale, all while enjoying the flexibility of online study. Through peer-led learning, mentoring and guest lectures with a range of expert professionals, you'll create exhibitions, events and a curated body of work.
You will:
Benefit from a vigorous programme of online guest lectures, workshops and masterclasses led by professionals from across the globe.
Have the opportunity to collaborate with and develop an international network of art practitioners and peers.
Apply critical reflection to define and articulate creative intent and purpose; analysing your practice in relation to specific themes to develop a reflective, adaptive and resilient practice.
Build an understanding of the historical and contemporary contexts that situate your practice in relation to the art world's complex global networks and positionalities.
Consider the social, environmental and ecological impact of your own practice and how it responds or poses solutions to global challenges.
What our graduates do
As a graduate, you could become:
Practicing artists
Curators and art exhibition or festival organisers
Arts teachers, lecturers and technicians
Art critics, journalists and publishers
Social entrepreneurs or campaigners
Research/PhD students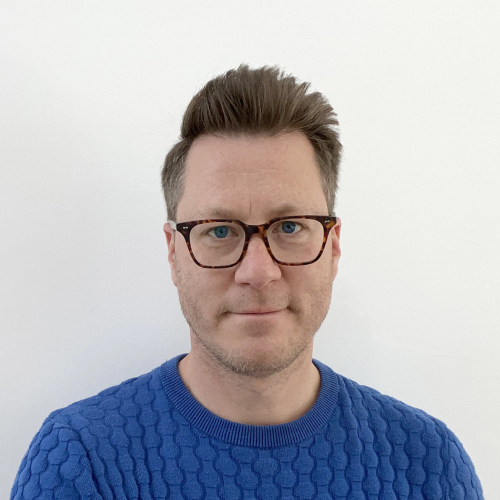 Meet your course leader, Ian Monroe
---
After coming of age as an artist in the midst of the 2008 financial crash, Ian Monroe discovered the secrets to becoming a resilient practitioner. Here, Ian recalls some of the moments that helped shape his career, outlines some key areas of his course and reveals some tips for building a career in art.
Read more
Read More
Course details
What you'll learn
Throughout this online master's degree, you'll be challenged to experiment while developing and situating your practice within relevant fields of critical art practice. Foregrounding the importance of sustainability, ethical practice and business know-how, you'll become a resilient and entrepreneurial practitioner, able to navigate global economic, political, social and ecological change.
Modules
MA Fine Art Online is comprised of five modules, four 30-credit modules and one 60-credit project (180 credits in total). The modules have been specifically designed to be studied in a non-linear order. You'll begin the course with Module 1 and end the course with your Final Major Project (MA only). The order in which you'll study modules 2-4 will depend on when you begin the course.
MA
You will need to complete four 30-credit modules and one 60-credit project (180 credits in total). All modules on the course are compulsory and must be passed in order to complete the award.
From module information to course aims and assessment criteria, discover the full course details for the MA.
PGDip  
You will need to complete four 30-credit modules (120 credits in total). All modules on the course are compulsory and must be passed in order to complete the award. A dissertation (major project) is not required. 
From module information to course aims and assessment criteria, discover the full course details for the PGDip.
The modules above are those being studied by our students, or proposed new ones. Programme structures and modules can change as part of our curriculum enhancement and review processes. If a certain module is important to you, please discuss it with the Course Leader.
How you'll learn
You'll learn through a blend of lectures, webinars, guest talks, tasks and discussion forums, which you'll access via our dedicated virtual learning environment. This is also where you'll find all key documentation, get course announcements and access extensive learning resources.
You'll be supported academically by Online Tutors, who will also deliver weekly webinars and facilitate the online forums. If you need assistance with anything that isn't directly related to course material, a dedicated Student Advisor team will be on hand to help. You'll also have access to Falmouth University's excellent employability service, RealWORKs.
You'll refine dynamic art practices, spending 20-25 hours a week working on your craft. We incorporate optional face-to-face events for all our online students. There will be up to two per year and will typically run over weekends, to fit around your other commitments.
Study hours
A postgraduate student should dedicate at least 20-25 hours per week for study.
Assessment methods
Assessment provides the course team with a means of offering tailored guidance alongside advice on how to progress knowledge and skills in key areas that relate to the course Learning Outcomes. The course team will identify your strengths and weaknesses as an individual and discuss them with you throughout your time on the course.
Assessments are 100% coursework, submitted in an electronic format to the virtual learning environment, and designed to reflect professional practice. Assessment methods include:
Completed projects submitted as portfolios
Written and verbal presentations
Illustrated proposals
Essays and reports
Staff
The course is taught by a range of practicing artists with strong global networks. Coming from diverse backgrounds and practices, they're well placed to guide your own unique development. You'll also enhance your understanding of global contemporary practice through a programme of international guest speakers, including artists, curators, critical thinkers, producers and gallerists.
Some members of staff only teach on specific modules, and your course might not feature every member shown here.
Facilities
Dedicated easy-to-use virtual learning environment (VLE)
Study alongside students from around the world
Accessible online audio / visual content
Optional face-to-face events*
Invitation to attend alumni events
24/7 access to Falmouth's extensive online library of contextual books, journals and resources
Access to online software tutorials at LinkedIn Learning
Students' Union community
A Student Advisor to support you throughout your studies and access to our Student Support Services
Access to our Careers and employability service RealWORKS
*Please bear in mind that the Covid-19 pandemic may impact these events. You can view the latest information here.
How to apply
Get in touch
If you'd like to talk to an Advisor about this course, or your application, request a call back using the form below. We'll get back to you to answer any questions and support your application journey.
Apply now
Ready to apply for postgraduate study? You can apply for the Fine Art MA (Online) by selecting a pathway button below.
What we're looking for
We're looking for critically engaged practitioners who are looking to refine their practice and build global cooperative networks.
Fees, costs & funding
Tuition fees
£11,300 total fee (incl. acceptance fee) - 2 years part time - MA/MSc course
£7,600 total fee (incl. acceptance fee) - PGDip course
£11,795 total fee (incl. acceptance fee) - 2 years part time - MA/MSc course
£7,865 total fee (incl. acceptance fee) - PGDip course
Tuition fees are set annually and are subject to review each year. The University may therefore raise tuition fees in the second or subsequent years of a course, in line with inflation and/or the maximum permitted by law or Government policy. Students will be notified of any changes as soon as possible.
Early Bird discount
An Early Bird discount is available for early applications. The scheme offers a £300 MA / £150 PGDip tuition fee reduction if you apply by the relevant deadline.
For information on fees, get in touch using our online form.
Find out more about our Graduate Loyalty Discount for Falmouth alumni, which offers a reduction in course tuition fees.
Typical course costs
As part of studying MA Fine Art you will require:
Laptop/computer
You will need a laptop of computer with a webcam, for virtual learning. You'll also need a good internet connection and data allowance capable of supporting video meetings and streaming.
Digital camera
We would recommend you have a digital camera capable of making still and moving image to document your work (this could be a good phone camera).
Resources and materials
You will also need to sustain your practice through managing your own resources. Depending on your own artistic style, you may wish to have a dedicated space in your home, access to a studio, materials, tools or necessary hardware and software to produce digital work.
Adobe Creative Cloud
You may be eligible for discounted licenses through Adobe's education pricing, however there is currently no discount for Adobe Creative Cloud available from Falmouth University. If any discounts do become available, we will communicate this to you.
For more information please visit Adobe Creative Cloud.
Optional face-to-face events
You will be expected to cover your own travel, accommodation and subsistence costs to attend these events. 
Online study funding
There are loans, awards and alternative funding sources for postgraduate studies. Read about them on our online study funding page.
Find out about funding
Request information
You can submit our simple online form and a Course Advisor will get in touch with you. They'll be able to answer questions about how you'll study, what to expect from the course and the next step to take on your application journey.
Get in touch