Module Leader, Fine Art MA (Online)
Since graduating from the Royal College of Art Chandra has exhibited widely, including: Paradise Now? Contemporary Art From the Pacific, Asia Society Museum, New York; Out of India, Queens Museum of Art, New York; The East Wing Collection, Courtauld Institute, London; Crown Jewels, Neue Gesellschaft Fur Bildende Kunst (NGBK) Berlin & Kampnagel Art Gallery, Hamburg; 000ZeroZeroZero, Whitechapel Art Gallery, London; Artist and the Archive, Shoreditch Biennale; and in international events such as the First Johannesburg Biennale and the Photography Triennial - Dislocations, Rovaniemi Museum in Finland. She has had solo shows at venues such as the Southeast Museum of Photography, Florida and the Bluecoat Gallery, Liverpool. Chandra also exhibited in Photo Kathmandu (2015), CCP Declares at the Centre for Contemporary Photography, Melbourne (2016),  Now! Now! In more than one place, curated by Sonia Boyce in collaboration with Black Artists and Modernism (BAM) research project/conference at Tate Modern, Chelsea College of Arts-University of the Arts London (2016), Confusion of Tongues: Art and the Limits of Language, The Courtauld Gallery, Somerset House, London (2016), the Focus Festival of Photography in Mumbai, (2017) and the Third Oceanic Performance Biennale in Auckland (2017). Most recently she has shown in Care, Contagion, Community at Autograph in London (2021), the Chennai Biennale  (2021), Unquiet Moments: Capturing the Everyday, Courtauld Institute, London (2020) and the Houston Fostofest Biennial, INDIA Contemporary Photographic and New Media Art , 2018. She recently held a solo show at MIRROR, Plymouth College of Art, 2021 for her new Arts Council funded work, Paradise Lost.
Her work is held in international collections in the UK and USA including the UK's Arts Council Collection and included in major survey publications such as Phaidon's Art and Photography (ed. David Campany). Chandra has recently been awarded both an Australia Council Grant for work in Fiji, an Asialink Residency in India funded by Arts NSW and an Australia Council Cite Residency in Paris for 2017. She has previously been awarded an Arts and Humanities Research Council Fellowship, Arts Council of England Individual Artists' Awards and travel awards from the British Council. Her work has also been supported by Autograph ABP. Recent awards include, 'The Arts Institute Film Commission' in association with the Box Museum for 2021,  'Hundred Heroines-Women in Photography' award for 2020, an Arts Council/Autograph Commission for Belated and an Arts Council/National Lottery Project Grant for Paradise Lost 2019-21.
Publications include: album pacifica (Autograph, 2001) , Day of Shadows (Artists Book Collective, 2020) and Paradise Lost (2021)
External Links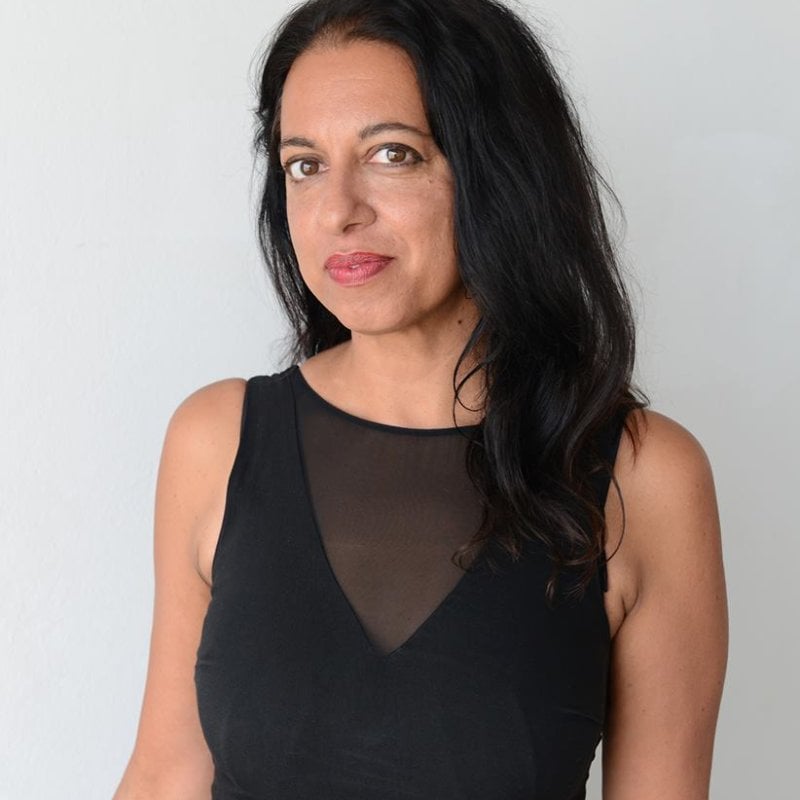 Contact details
Qualifications
| Year | Qualification | Awarding body |
| --- | --- | --- |
| 1999 | PhD | Royal College of Art |
Research interests and expertise
Mohini Chandra's research and visual practice deals with articulations of identity and globalised spaces, and the role of the photographic in relation to memory and migration. As a child Chandra spent time in Fiji and traveled widely with her family within the Indian-Fijian diaspora. She has an interest in photographic histories and the processes of visual culture within colonial, anthropological and ethnographic discourses and the imagery of contemporary globalised cultures. Her work uses a variety of media including still and moving image, found objects and sound to create complex installation works.
Mohini Chandra is currently developing Paradise Lost, an extensive project on the complexity of globalised Asia-Pacific diaspora experience and its articulation through photography.  Incorporating both still and moving image, this series of interrelated installations and publications explores significant sites and locations of collective and personal memory in both Fiji and India. Chandra has begun the project with Kikau Street which is based on the childhood home of her father in Suva and Forty Ships in which she continues to trace earlier indenture and family migrations, working in Kolkata and Northern India and museum collections such as the Musee du quai Branly in Paris. In the most recent phase,  she looks at the archaeology of shipwrecks and artefacts from slave and indenture ships which sailed from the UK in the colonial period.
Research topics
Photography and moving image
Vernacular photography
The archive
Memory and Trauma
Postcolonial theory
Migration and diaspora
Number of research students supervised to completion
1
Areas of teaching
Fine Art
Contextual studies