Business Management BSc(Hons)
Step into the world of business as a creative and future-proofed manager.
Key details
Course duration
3 years / 4 years
Attendance
Full-time / Placement year
Course overview
From understanding global economies, big data and business strategy to learning to navigate uncertainty and developing responsive and ethical leadership skills, this Business Management course will give you the knowledge and confidence to lead the future of business. You'll gain critical business theory and management expertise while responding to real-world team challenges, supported by experienced industry professionals.
You will:
Develop a detailed business plan based on an original idea
Work on real-life challenges and take part in work placements
Explore the principles of effective leadership, investigating different management styles, strategies and techniques
Learn key skills in sales, networking, negotiation and identifying business opportunities
Be based on our Penryn Campus, surrounded by students from a range of creative disciplines
While studying this Business Management course, you will be eligible to receive the CMI Level 5 Diploma in Management and Leadership if you complete specific modules (Market Intelligence, Financial Insights, DataLab, Social Action Project, Present and Future of Management, Creative & Ethical Leadership or Crafting Your Future: Professional Practice and Research).
For the duration of your Business Management course you'll also be an Affiliate Member of the CMI. This opens access to a host of member benefits to help you progress on your professional journey.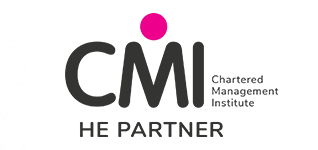 The placement year pathway for this course is new for entry year 2023 and is subject to validation.
BSc(Hons) Business Management
On this Business Management degree, you'll have the opportunity to gain a BSc(Hons) degree over three years or study Business Management BSc(Hons) with a placement year option.
Each term, you'll choose one module from each of our three categories. 'External' modules cover outward-looking subjects like customers, market research and industry partners. 'Internal' modules cover business management topics like people, finances and operations. And 'You' modules concentrate on your personal development, enhancing things like specialist knowledge, self-reflection and creative thinking.
During the first year of this business management course, you'll explore things like the key elements of business operations, current challenges in the business landscape, and future trends. Examining information, intelligence and data, you'll delve into finance, marketing, and how to influence people. You'll also see first-hand how businesses work through our field trip programme, and develop your individual and teamwork skills by presenting and pitching ideas.
Modules
Market Intelligence
In this module, you'll develop a working knowledge of market research methods, learning how to interpret examples of market research from the real world. You'll be introduced to primary and secondary modes of market research and gain an understanding of how to segment markets and analyse trends using different analytic methods. 
You'll also get a crash course in Big Data, learn how to present information to different audiences and explore how market intelligence is essential in market sensing, back-casting and futurecasting. 
Present and Future of Management
In this module, you'll be introduced to key concepts and theories in business management, with a focus on the practical and operational components of management. In seminars, lectures and tutorials, you'll learn to distinguish between strategy, operations, economic sectors and business models as these relate to management. You'll also explore the different ways in which managers engage with organisational behaviour, operations and systems management, markets, customers, suppliers and key partners. 
The Art of Strategy
In this module, you'll learn how to think strategically about business objectives by engaging with a variety of case studies spanning different sectors. You'll also explore different perspectives and theories on strategy, critically considering source and cultural context.
Wellbeing in Business
Here, you'll learn about how feelings of wellbeing are fundamental to our mental, emotional and physical health and how wellbeing is intimately connected to both organisational management and customer satisfaction. You'll also discover ways to develop wellbeing as a customer offer, addressing the importance of wellbeing for business success. Through a micro-placement, you'll also have the opportunity to explore the importance of wellbeing for your own personal and professional development. 
Design Thinking
In this module, you'll explore design thinking methodology as a problem-solving framework used across multiple sectors from business to international relations. Looking at contemporary issues such as – but not limited to – poverty, gender inequality, healthcare and cybersecurity, you'll work in groups to collaborate on a design-centric problem-solving process. 
Navigating Uncertainty
You'll learn to operate in always-uncertain contexts, where traditional modes of practice (predictability, commitment, linear planning) are replaced with skills of agility, resilience and systems thinking. You'll also look at uncertainty as opportunity, where change often indicates the emergence of new questions and consumer needs, as well as providing new tools for addressing these. 
Learning more about the business world, you'll explore how your solution could come together. You'll also begin specialising in management and develop your own style. Working with your team, you'll get a firmer grasp of managerial and team roles as you learn to think and express yourself on a deeper, data and business level.
Modules
Complex Problem-Solving
In this module, you'll practice multiple methods of complex problem-solving and explore outcomes through simulation. You'll be introduced to systems thinking, an absolute necessity for contemporary business leaders who will be working in environments of densely layered interdependencies and networks. Systems thinking and systems approaches to problem-solving will provide a framework for understanding and managing complex situations in business. 
Responsive Leadership and Social Change
Here, you'll engage with crucial issues of cross-cultural learning and development styles, change management, reflective business practices, workplace ethics and emotional intelligence. You'll also explore current thinking about leader development – including self-leadership – and you'll apply this to your own development. Various leadership scenarios will be explored (these may be based on real or fictional case studies) and working as part of a team, you'll evaluate the leadership problem and apply the contents of the module in creative ways to resolve the issue set. 
Human Resource Management
In this module, you'll develop an understanding of the core principles of human resource management (HRM) and build skills in team working, conflict resolution and motivational leadership. You'll learn best practices for recruiting and retaining talent, line managing for best results, performance management and conflict resolution.  
You'll also develop a working knowledge of the practices and functions of HRM in organisations of different kinds and sizes, and familiarise yourself with HRM policy structures, including how these translate in everyday use. This will be underpinned by cutting-edge and established HRM theory throughout. 
Demonstrating Sustainability
In this module, you'll explore the sustainability opportunities and practices within experience activities, as well as the devastating effects of unsustainable practice. You'll select a particular sustainability-related issue that you are passionate about and discuss this within a blog format. You'll also utilise examples of best practice to inform and justify proposals designed to address the issue that you have identified. 
Financial Insights
Here, you'll explore the basic principles of finance across a range of business sectors and build integrated knowledge of how finance impacts business operations. You'll acquire an understanding of financial terminology to the level whereby you can confidently debate the financial health of a business or sector. 
Collaborative Project: Growth Challenge
Here, you'll work collaboratively to create a disruptive solution to a challenge provided to you. For example, your solution could be in the form of a start-up or innovative business concept. To develop your solution, you'll carry out research and develop an informed approach to an evidenced market gap. You'll also be expected to provide an analysis of costs and return on investment, encouraging you to project value of investment over time. You'll be working collaboratively, either with an organisation, student colleagues from other courses, or members of your own cohort.  
By the end of the module, you'll produce a portfolio of materials to illustrate your solution and outline and justify your decision-making process. 
You can choose to take an optional placement year after your second year on a three-year programme, or after your third year if you're studying for a degree with an Integrated Foundation Year. 
You'll be responsible for finding your own placement, with support from the RealWORKS employability team. 
Choosing this option will enhance your industry experience and skills while studying. 
How you'll study during your placement year 
You'll spend time working in a professional context, as part of a business or organisation. This can be in one role, or up to three, and must be for a minimum of 24 weeks. 
You'll develop in-demand workplace skills, deepen your insight into industry and grow your network of contacts, all of which could help you get ahead in your career after graduation. 
Throughout this year, you'll develop a portfolio of work that includes critical self-reflection on what has been learned from the experience. You'll be required to evidence your experiences, the skills you've learned and your professional growth. 
You and your team will evolve your thinking by evaluating your business opportunity ideas – backing up your ideas by investigating areas like leadership strategies, professional practice, and sustaining and growing businesses. Alongside this development, you'll round off your Business Management degree by taking on a dissertation, applied project, or work placement.
Modules
Creative & Ethical Leadership
Here, you'll further develop your industry experience through the completion of a micro-placement opportunity, where you'll participate in a 360-degree appraisal. You'll also increase your understanding of creative and ethical leadership and build a portfolio to showcase the range of experiences and attributes that you have developed throughout your degree. 
Global Economies and International Markets
In this module, you'll explore the ever-changing environment of international trading and your learning may vary to reflect contemporary factors. You'll primarily examine the economic, political, social, cultural and environmental drivers that impact on trade and the different modes of entry into international markets. Choosing a preferred international market, you'll explore the practical issues of corporate expansion into this market and critique the support and guidance available to businesses and entrepreneurs when entering new markets.   
DataLab: Generation, Analysis, Iteration
In this module, you'll build skills in analysing data in the pursuit of business goals. You'll examine the effects of data on business models, product development and customer engagement and consider this from the perspective of managers, marketers and entrepreneurs. You'll look at data in relation to project parameters and you'll explore how data can help us effectively futurecast in many scenarios. 
Crafting Your Future: Professional Practice and Research
In this module, you'll put together a professional portfolio with the aim of showcasing your best work, skills and core interests. Your portfolio will be made up of three components: a digital showcase of professional practice, a personal development plan and an industry analysis essay focusing on the sector you wish to enter. Your portfolio will enable you to reflect on everything learnt during your degree and help you establish yourself as a professional within your preferred sector. You'll be supported by weekly lectures, seminars and one-to-one supervisions.  
Social Action Project
In this module, you'll be tasked with developing a social enterprise concept in response to a 'wicked problem' posed at the start of the module. You'll work in groups to co-develop your concept and you'll consider challenges of the Fourth Industrial Revolution and a range of societal challenges. You'll be expected to produce and share research on relevant audiences and markets and you'll be assessed based on a critical journal and presentation. 
The modules above are those being studied by our students, or proposed new ones. Programme structures and modules can change as part of our curriculum enhancement and review processes. If a certain module is important to you, please discuss it with the Course Leader.
From module information to course aims and assessment criteria, discover the full course details for 3 year course If you began your studies during or before 2021 on the 2 year course pathway you can find your course details here.
How you'll learn
This course is all about applied learning. Just like in the real world, you'll operate within a team to develop a business plan based on an original idea, and work towards taking it to market. For each module, you'll typically attend a weekly one-hour lecture followed by a two-hour seminar. There are also online materials you can access in your own time and in bitesize pieces. And you'll get weekly coaching to help you connect your knowledge with your team's innovation. 
At Falmouth, we use a 'digitally enhanced learning & teaching' approach. Your experience will always be predominantly in-person, including seminars, tutorials and studio teaching, with some, more targeted elements, being online either live (synchronous) or pre-recorded (asynchronous). You can read more here.
Stories from our community
Explore student projects, graduate successes, staff news and industry insights
Staff
With experience at businesses like General Electric, Marconi, Rolls Royce Business Ventures and Doctor Who, your tutors and sector-specific mentors provide real-world insights and personal support.
Some members of staff only teach on specific modules, and your course might not feature every staff member who teaches on the course.
Facilities
Professional design and prototyping tools.
IT suites and software packages.
Excellent media facilities for producing promotional material and audio-visual content.
Libraries housing a collection of 140,000 books, 17,000 DVD and video titles, and electronic and journal resources.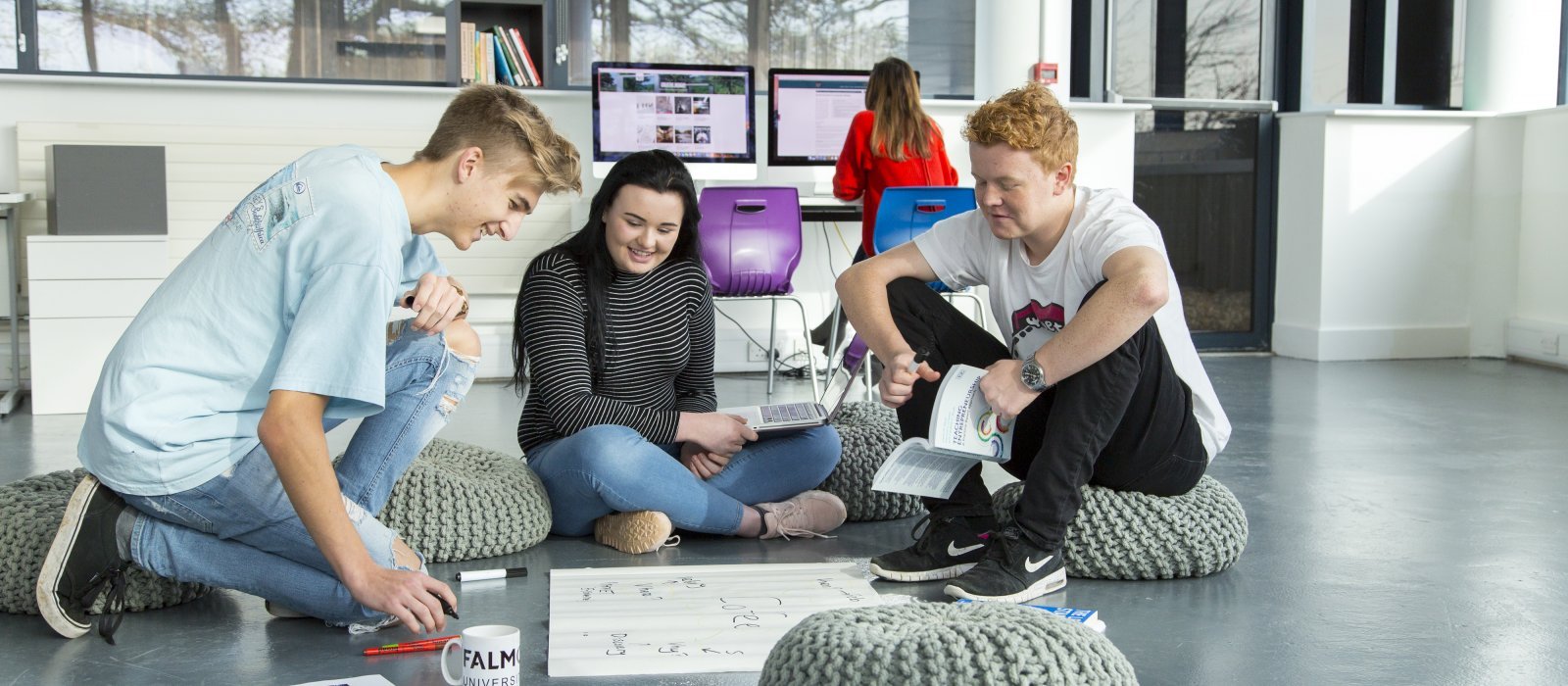 As a graduate, you could become:
A leader in the corporate, public or cultural and creative industry sectors
A business development manager
A project or risk manager
A graduate trainee in a multinational corporation
Part of Launchpad, our innovative postgraduate venture studio, where you can develop and launch a viable business while gaining a full master's degree
Apply via UCAS
Ready to join us? You can apply through UCAS. You'll need to reference the course and University code (F33).
Applying as an international student? 
International students can apply for a course through UCAS, via an agent or directly with the university. For more information about how to apply as an international student, visit our international applications page.
| Course route | UCAS code |
| --- | --- |
| Business Management BSc(Hons) three year degree | 3B6G |
| Business Management BSc(Hons) with placement year | PY16 |
All applications are considered on their individual merit and we welcome applications from all subject backgrounds including science, technology, engineering, mathematics, the arts or humanities.
| Course route | Entry requirements |
| --- | --- |
| BA/BSc(Hons) three year degree | 104 – 120 UCAS Tariff points |
| BA/BSc(Hons) with placement year | 104 – 120 UCAS Tariff points |
|   |   |
Check the title of your course to see if it's a BA or BSc award. UCAS Tariff points will primarily be from Level 3 qualifications such as but not limited to A-levels, T Levels, a BTEC/UAL Extended Diploma or a Foundation Diploma.
For applicants whose first language is English we require you to have or be working towards GCSE English Language Grade 4 (C), or equivalent. 
If English is not your first language you will need to meet the same standard which is equivalent to the IELTS Academic 6.0 overall score, with at least 5.5 in Reading, Writing, Speaking and Listening. We accept a range of in country equivalencies and approved tests.  
If you need a student visa to study in the UK, you may need to take a recognised language test. You can read our English Language Requirements for more information.
For starting your studies in 2023
UK applications: 25 January 2023 (for equal consideration)
Applications after the 25 January will be considered on a first-come, first-served as long as there are places available. Apply for this course now.
International fee payers
International fee payers can apply throughout the year. But we recommend applying as early as possible, to make time for visa and travel arrangements.
What we're looking for
We want someone who:
Has business knowledge, experience, and an enquiring attitude.
Shows self-motivation, a good work ethic, resilience, and perseverance.
Wants to learn, is open-minded, and takes on uncertainty and challenging situations.
Values others' opinions and backgrounds, and accepts feedback to improve their reputation and performance.
Can take responsibility for their actions and behaviours.
Tuition fees
| Annual tuition fee | Student |
| --- | --- |
| £9,250 per year | Full-time UK |
| £17,460 per year | Full-time EU/international |
| Annual tuition fee | Student |
| --- | --- |
| £9,250 per year | Full-time UK |
| £17,460 per year | Full-time EU/international |
| £1,850 per placement year | Full-Time UK and EU/international |
Tuition fees are set annually and are subject to review each year. The University may therefore raise tuition fees in the second or subsequent years of a course, in line with inflation and/or the maximum permitted by law or Government policy. Students will be notified of any changes as soon as possible. 
The figures above don't include accommodation and living costs
Typical course costs
Personal laptop (if not already owned)
Suggested reading. Approx £10 (also available to read for free in the library)
If you need to bring equipment or materials with you, these will be outlined in your Welcome Letter.
What better way to find out about life at Falmouth University than by asking our current students?
From course details and academic support, to the social scene and settling in, our students are ready and available to answer any questions you might have. Simply set up your account, send them a question and they'll get back to you within 24 hours.