Business & Management BSc(Hons)
Immerse yourself in the world of business and management on a degree course that seamlessly blends theory with practical experience. You'll become a skilled practitioner with valuable critical evaluation skills and develop the ability to problem solve using theoretical and conceptual learning.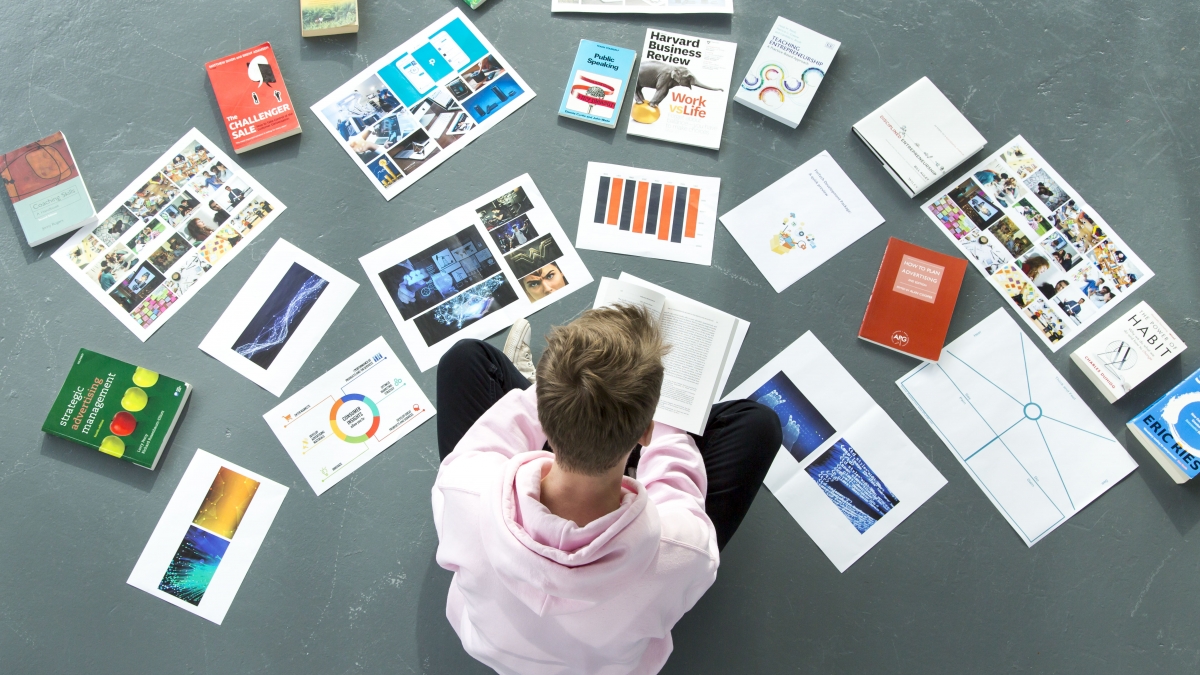 Key details
| | |
| --- | --- |
| Location | Penryn Campus |
| Course Duration | 2 years / 3 years |
| Attendance | Full-time |
| UCAS code | 3B5G/3B6G |
| Contact | 01326 254350 |
Introduction
You'll apply theory to your own business plans, with the opportunity to test, analyse and develop best working practices.
You will:
Practice your business and collaborative skills in a development consultancy team
Develop a business plan based on an original idea
Work on real-life challenges and take part in a range of work placements
Learn key skills in identifying business opportunities, sales, networking and negotiation
Be based on our Penryn Campus surrounded by students from a range of creative disciplines
Covid-19 update
In response to the Covid-19 pandemic, we have reviewed and made changes to our courses to provide flexible, blended delivery that offers high-quality digital engagement and access to face-to-face teaching in our facilities. You can see how your course may be adjusted by viewing the changes for the current academic year by visiting our welcome letters & latest course updates pages
What our students do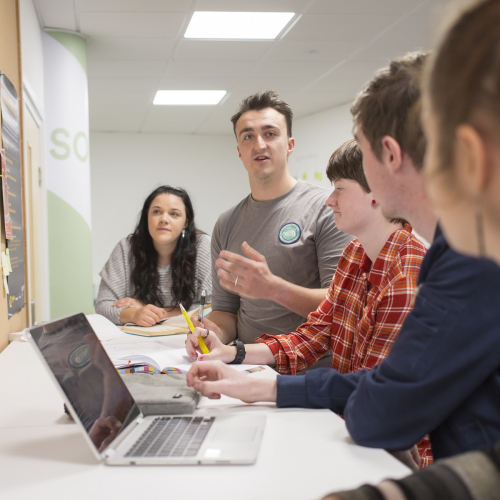 For Gen Z, by Gen Z - Student-led Agency
---
Student-led and staffed agency, Gallos, is the first of its kind in the country. Combining digital marketing, innovation processes and experience design it offers a multi-disciplinary approach for businesses to tap into the Gen Z market audience.
Read article
Read More
What our graduates do
Our graduates could go on to work as company owners, human resource managers, project managers, product/service development managers, tourism managers, operation managers or hospitality managers within this exciting and varied sector.
Course details
What you'll learn
Each term, you'll choose one module from each of our three categories. 'External' modules cover outward-looking subjects like customers, market research and industry partners. 'Internal' modules cover business management topics like people, finances and operations. And 'You' modules concentrate on your personal development, enhancing things like specialist knowledge, self-reflection and creative thinking.
During the first year of this business and management course, you'll explore things like the key elements of business operations, current challenges in the business landscape, and future trends. Examining information, intelligence and data, you'll delve into finance, marketing, and how to influence people. You'll also see first-hand how businesses work through our field trip programme, and develop your individual and teamwork skills by presenting and pitching ideas.
Modules
Market Intelligence
Present and Future of Management
The Art of Strategy
Wellbeing in Business
Design Thinking
Navigating Uncertainty
Learning more about the business world, you'll explore how your solution could come together. You'll also begin specialising in management and develop your own style. Working with your team, you'll get a firmer grasp of managerial and team roles as you learn to think and express yourself on a deeper, data and business level.
Modules
Complex Problem-Solving
Responsive Leadership and Social Change
Human Resource Management
Demonstrating Sustainability
Collaborative Project: Growth Challenge
You and your team will evolve your thinking by evaluating your business opportunity ideas – backing up your ideas by investigating areas like leadership strategies, professional practice, and sustaining and growing businesses. Alongside this development, you'll round off your Business and Management degree by taking on a dissertation, applied project, or work placement.
Modules
Creative & Ethical Leadership
Global Economies and International Markets
DataLab: Generation, Analysis, Iteration
Crafting Your Future: Professional Practice and Research
Social Action Project
The modules above are those being studied by our students, or proposed new ones. Programme structures and modules can change as part of our curriculum enhancement and review processes. If a certain module is important to you, please discuss it with the Course Leader.
From module information to course aims and assessment criteria, discover the full course details for the 2 year course and 3 year course
How you'll learn
This course is all about applied learning. Just like in the real world, you'll operate within a team to develop a business plan based on an original idea, and work towards taking it to market. For each module, you'll typically attend a weekly one-hour lecture followed by a two-hour seminar. There are also online materials you can access in your own time and in bitesize pieces. And you'll get weekly coaching to help you connect your knowledge with your team's innovation. 
Staff
With experience at businesses like General Electric, Marconi, Rolls Royce Business Ventures and Doctor Who, your tutors and sector-specific mentors provide real-world insights and personal support.
Some members of staff only teach on specific modules, and your course might not feature every member shown here.
Facilities
Professional design and prototyping tools.
IT suites and software packages.
Excellent media facilities for producing promotional material and audio-visual content.
Libraries housing a collection of 140,000 books, 17,000 DVD and video titles, and electronic and journal resources.

 
How to apply
Apply via UCAS
Ready to join us? If you're applying through UCAS Apply and Track, you'll need to reference the university and course codes below. 
University code: F33
Course code: 3B5G

/3B6G
Applying as an international student? 
International students can apply for a course through UCAS, via an agent or directly with the university. For more information about how to apply as an international student, visit our International applications page.
 
We consider all applications on their own individual merit and potential. We invite all applicants to an interview day or audition to give them the opportunity to demonstrate this along with what inspires and motivates them in their field. Applicants will also be able to show their portfolio or give a performance depending on the course. We welcome applications from all subject backgrounds, whether you've specialised in STEM, the arts or humanities.
As a guide our typical offer at undergraduate level is 104 – 120 UCAS Tariff points, primarily from Level 3 qualifications such as but not limited to A-levels, a BTEC Extended Diploma or a Foundation Diploma.
For applicants whose first language is English we require you to have or be working towards GCSE English Language Grade 4 (C), or equivalent.
If English is not your first language you will need to meet the same standard which is equivalent to the IELTS Academic 6.0 overall score, with at least 5.5 in Reading, Writing, Speaking and Listening. We accept a range of in country equivalencies and approved tests.
If you need a student visa to study in the UK, you'll need to take a recognised language test that is approved and vouched for by the University. You can read our English Language Requirements for more information.
UK/EU applications: 15 January 2021 (for equal consideration)
Late applications will be considered if there are places available.
International fee payers can apply throughout the year. But we recommend applying as early as possible, to make time for visa and travel arrangements.
Interview information & application advice
What we're looking for
We want someone who:
Has business knowledge, experience, and an enquiring attitude.
Shows self-motivation, a good work ethic, resilience, and perseverance.
Wants to learn, is open-minded, and takes on uncertainty and challenging situations.
Values others' opinions and backgrounds, and accepts feedback to improve their reputation and performance.
Can take responsibility for their actions and behaviours.
Fees, costs & funding
Tuition fees
3 year course
£9,250 per year - full-time UK/EU
£16,000 per year - full-time international
2 year accelerated course
£11,100 per year - full-time UK/EU
£19,000 per year - full-time international
3 year course
£9,250 per year - full-time UK
£16,950 - full-time EU
£16,950 - full-time international
2 year accelerated course
£11,100 per year - full-time UK
£19,000 - full-time EU
£19,000 - full-time international
Tuition fees are set annually and are subject to review each year. The University may therefore raise tuition fees in the second or subsequent years of a course, in line with inflation and/or the maximum permitted by law or Government policy. Students will be notified of any changes as soon as possible. 
Funding
For the two-year, accelerated degree, students may be eligible for an amount of Long Course Loan in addition to the standard maintenance loan, from Student Finance. The exact amount of funding support you'll receive will be calculated by your regional funding body on application.
For further information about funding, please visit our undergraduate funding page
Ask a student
What better way to find out about life at Falmouth University than by asking our current students? 
From course details, our facilities and the local area to the social scene and settling in, our students are ready and available to answer any questions you might have. Simply set up your account, send them a question and they'll get back to you within 24 hours.