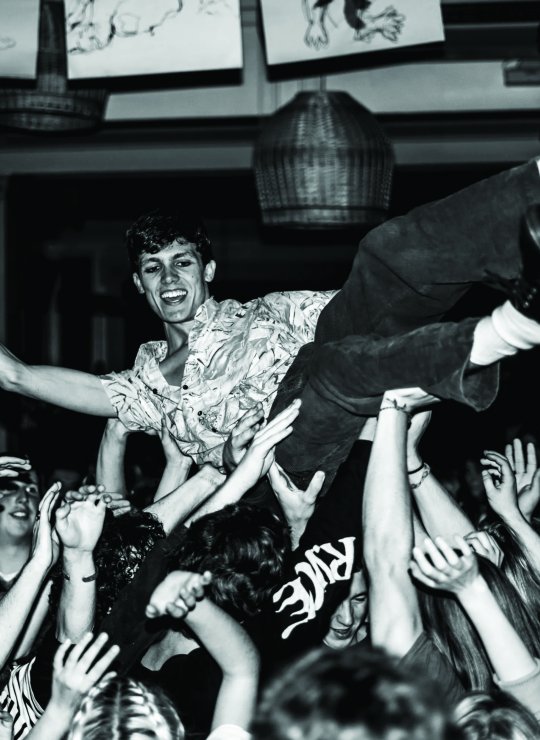 Creative Events Management BA(Hons)
Learn how to take an innovative approach to designing and delivering events.
Key details
Course duration
3 years / 4 years
Attendance
Full-time / Placement year
Course overview
On this Creative Events Management degree, you'll learn to work collaboratively to organise outstanding experiences, from fashion shows, sports events and music festivals to weddings, business events and product launches.
With employability and sustainability at its core, this Creative Events Management degree will equip you with a wide range of practical skills and a well-established network.
You will:
Organise at least four assessed live events over the three-year course, with the chance to specialise in an area you're passionate about
Study on a course that's accredited by both A Greener Future and Attitude is Everything
Be involved in industry events and take part in workshops with organisations such as Attitude is Everything
Explore sustainable, inclusive and digital event management futures
Be supported to develop creative approaches and specialise in an area you're passionate about
Take micro-placements throughout the course, with previous destinations ranging from Cornwall to California
The placement year pathway for this course is new for entry year 2023 and subject to validation.
On this Creative Events Management degree, you'll have the opportunity to gain a BA(Hons) degree over three years or study Creative Events Management BA(Hons) with a placement year option.
Through this uniquely creative event management degree, you'll explore the cultural sector's history, politics and other contexts, and take a creative and entrepreneurial approach to products, services and communications.
Building individual and teamwork skills, you'll apply cultural management practices like development, marketing and project management to your own productions. You'll also develop critical research and analytical skills, and improve your learning by investigating ideas and practices.
BA(Hons) Creative Events Management course video
You'll deepen your understanding of organisations and events planning processes, and grow your teamwork and presentation skills. On top of this, you'll explore everything from marketing and technical skills to managing resources and engaging with clients.
Modules
Marketing & Digital Media
In this module, you'll explore a range of marketing techniques including the use of social media influencers, user generated content and second screen advertising. You'll also focus on the growth of experiential marketing itself as an events and experience activity. 
Real World Skills
You'll explore a range of 'real world' skills that relate to your own professional goals and have the opportunity to take part in several technical inductions that may include health and safety, for example. There will also be opportunities to take part in a work-based learning placement. You'll reflect on what you have learnt and how you have developed through a series of blog entries.  
Contemporary Event & Festival Impact
Considering both mainstream and niche sectors, you'll explore the diversity of the industry. You'll also examine the impact events can have on environments, economies and communities, and identify best practices for responsible events and festivals management.  
Working in small collaborative teams, you'll have the opportunity to focus on a particular event/festival, or area of the events and festivals industry, and its related impacts. There will also be the opportunity to delve into your specialist area of interest and consider impacts within a broad ethical framework.   
Wellbeing in Experience Management
Looking at how wellbeing is connected to experience management and wider aspects of customer satisfaction, you'll explore ways to develop wellbeing as a customer offer while addressing its importance within an organisation. Crucially, you'll explore the value of wellbeing for your own personal and professional development through a micro-placement opportunity.  
Live Student Event Project
A high-quality event can be the most enjoyable and 'real' experience that an individual can take part in. In this module, you'll learn how to design captivating events for a range of audience segments. You'll work with a small team of colleagues to deliver an innovative event based on a specific venue, interest or customer profile. 
Creative Innovation in Experience Management
In this module, you'll look at the ways that sustainable experience management relies on the innovative use of management tools and technical processes to respond to changing political, social and economic environments. You'll explore a range of innovations including the use of virtual reality and artificial intelligence, Blockchain, naturescaping, social infrastructure projects, passive energy systems and the development of the sharing economy. 
You'll explore original ways to deliver successful events, build your understanding of audiences and learn about the industry's legal, financial and sustainability issues. Tailoring your learning to your ideal career, you'll choose an area to specialise in, and use your expertise to help put on two live events.
Modules
Legal & Financial Management in the Experience Sector
You'll learn how to accurately analyse a range of financial materials including industry-standard financial templates such as balance sheets, profit and loss statements and cash flows. You'll also get to grips with legal and regulatory considerations such as data protection, equality and diversity, health and safety, consumer protection and workplace legislation. 
Audience Insight Project
Undertaking a placement as part of this module, you'll complete a live market research activity and formulate a market intelligence report, the findings of which you'll represent in a poster format. Your learning will enhance your ability to originate and manage audience data, an important skill for any event planner, event marketer or event organisation. 
Live Digital Event Project
In this module, you'll explore digital practices and different areas of the project management process. Working in a team, you'll apply your new expertise by taking an innovative approach to designing and delivering a live digital event. 
Team Learning & Performance
In this module, you'll take part in a micro-placement and complete an audit of your own team orientated skills and assess how they contribute to team performance. You'll also reflect on the practices of others. Additionally, you'll produce a development plan that will help you to continue to enhance your professional development. 
Demonstrating Sustainability
In this module, you'll explore the theory and practice of 'experience impact'. Investigating the huge benefits that experiences can bring, as well as the, sometimes, devastating effects of unsustainable practice, you'll analyse a range of impacts and learn to develop a holistic view of experience activities.  
You'll select a particular sustainability-related issue that you're passionate about and discuss this within a blog format. You'll also utilise examples of best practice to inform and justify proposals designed to address the issue that you have identified.  
Live Public Event Project
In this module, you'll work in a small collaborative team to devise and deliver an innovative public event that fits the local community landscape. You'll examine key aspects of the operational and strategic management of a public event and apply relevant processes through a live public event project. 
This could also be an opportunity to add some social value to the local community and/or perhaps work with a local business. You'll assess technical resource and venue management, develop your ability to procure support services and enhance your customer and venue/site logistics. You'll also test your skills to both write and critique event plans. 
You can choose to take an optional placement year after your second year on a three-year programme.
You'll be responsible for finding your own placement, with support from the RealWORKS employability team. 
Choosing this option will enhance your industry experience and skills while studying. 
How you'll study during your placement year 
You'll spend time working in a professional context, as part of a business or organisation. This can be in one role, or up to three, and must be for a minimum of 24 weeks. 
You'll develop in-demand workplace skills, deepen your insight into industry and grow your network of contacts, all of which could help you get ahead in your career after graduation. 
Throughout this year, you'll develop a portfolio of work that includes critical self-reflection on what has been learned from the experience. You'll be required to evidence your experiences, the skills you've learned and your professional growth. 
You'll build your specialist knowledge, and learn analytical and problem-solving skills that are useful in a range of careers. Bringing your abilities together, you'll organise and deliver a complex, multi-agency, live cultural event project.
Modules
Event Innovation Project
In this module, you'll complete a market audit of an area of the events industry that interests you and then design an innovative, sustainable and inclusive product or service to launch into that market. Through the completion of a business plan, you'll communicate both your innovative concept and its key financial and operational information, justifying the value of your innovation. 
Creative & Ethical Leadership
In this module, you'll further develop your industry experience through the completion of a micro-placement opportunity. You'll also continue to enhance your understanding of creative and ethical leadership and build a portfolio to showcase the range of experiences and attributes that you have developed throughout the degree. 
Crisis Management for Festivals & Events
Here, you'll develop your ability to deal with complex crisis situations. Working in a realistic multidisciplinary team, you'll experience a live crisis scenario and will be assessed on your ability to respond to and evaluate it. Throughout the experience, you'll consider crowd management, venue and site management and attendee behaviour.   
Personal Research Project
In this module, you'll produce an extended piece of independent research based on a topic that aligns with your career development goals. Making new and original discoveries in your chosen field, you'll be supported by a research project supervisor who is there to help guide you through the research process. 
Live Partnership Event Project
In this module, you'll work in a team to research, design, implement and evaluate a multi-agency event. During this project, you'll develop your practice around setting and measuring objectives, event plan writing, diversity and accessibility, crowd management, evaluating event equality and critically reflecting on the role of other organisations. 
The modules above are those being studied by our students, or proposed new ones. Programme structures and modules can change as part of our curriculum enhancement and review processes. If a certain module is important to you, please discuss it with the Course Leader.
From module information to course aims and assessment criteria, discover the three year degree full course details.
Stories from our community
Explore student projects, graduate successes, staff news and industry insights
How you'll learn
You'll work on live briefs and projects, deliver real, assessed events, and have the chance to take on a number of micro placements. These activities will be complemented by expert speakers, lectures, seminars, workshops, professional experience and tutorials. And by connecting with the media and creative industries on- and off-campus, you'll build valuable relationships to boost your career.
At Falmouth, we use a 'digitally enhanced learning & teaching' approach. Your experience will always be predominantly in-person, including seminars, tutorials and studio teaching, with some, more targeted elements, being online either live (synchronous) or pre-recorded (asynchronous). You can read more here.
How you'll be assessed
You'll be assessed with practical exams and coursework.
Assessment methods
You'll be assessed through presentations, boardroom discussions, event delivery and written assignments - including blogs, essays, reports, marketing strategies, and a business plan.
You'll deliver assessed, live, cultural event projects every year.
Feedback and evaluation will be provided throughout the year.
Staff
Our staff have worked with Glastonbury Festival, Tate St Ives, the Design Council, Ford, Reading & Leeds festivals, BT, Kneehigh, A Greener Future, Attitude is Everything, Bestival, Mackerel Sky Events and Festival Republic. You'll also learn from our large team of associate staff, industry contacts and our production and technical support teams.
Some members of staff only teach on specific modules, and your course might not feature every staff member who teaches on the course.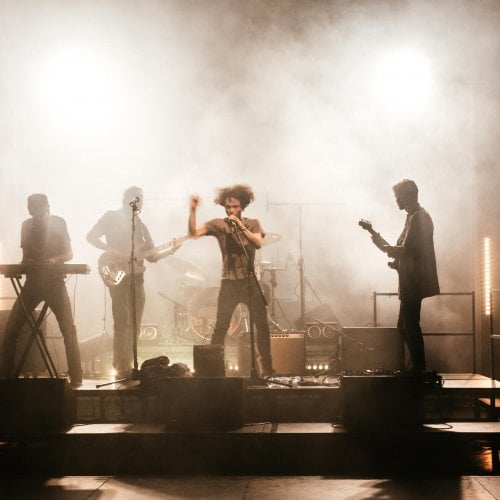 Popular Music live band
Academic publishes new research on the future of live music events
---
As coronavirus forced the music industry to pivot to online gigs, Adrian Bossey was busy conducting research into how digital events can improve the sustainability of the performing arts.
Read more
Facilities
Specialist studio spaces licensed for public events, lecture theatres and seminar rooms.
A digital box office system to support your professional practice.
A production space for group work.
Libraries housing 140,000 books, 17,000 DVD and video titles, radio archives, and electronic and journal resources.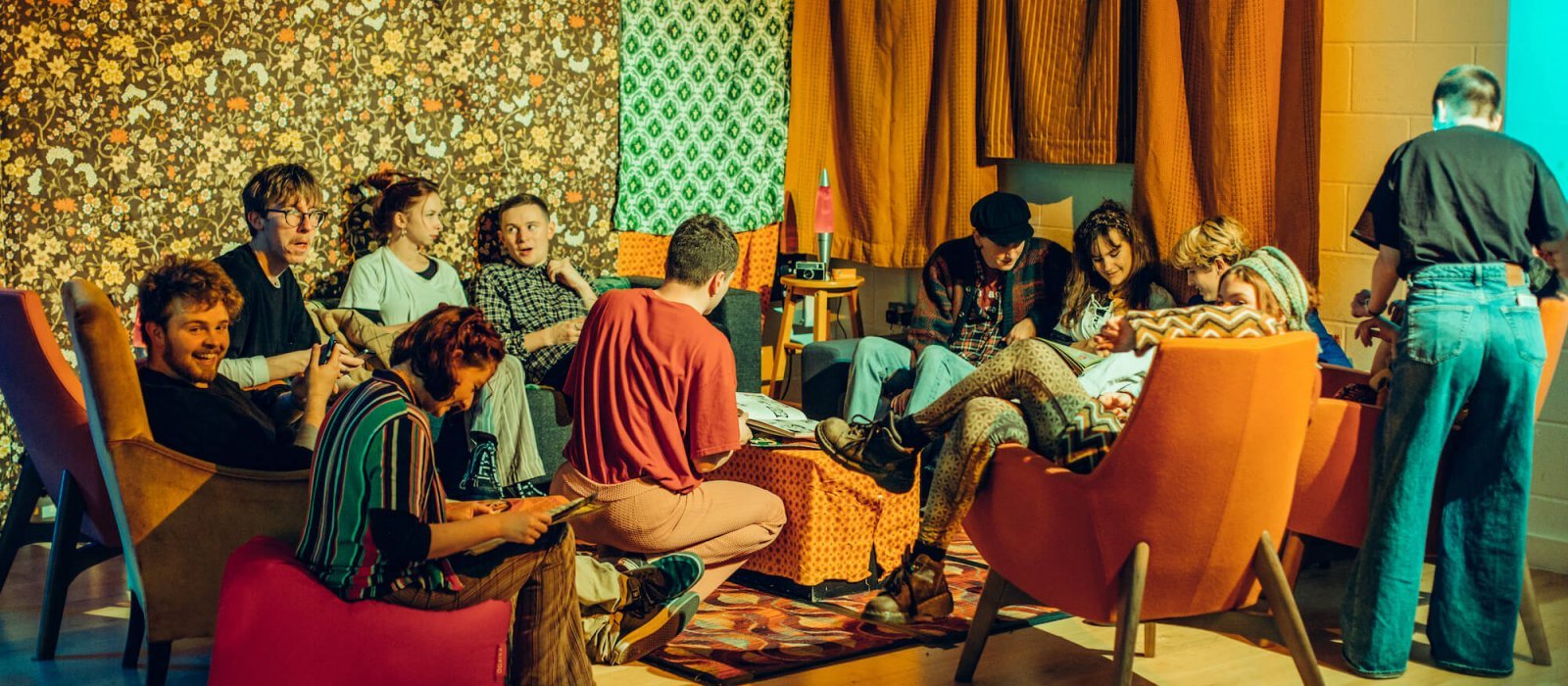 Our graduates have worked as:
Campaign Consultant at Sentius Group, Melbourne

Events Assistant at Cambridge University

Production Manager at Medalist Sports, Atlanta

Account Executive at VenueScanner

Events Executive at Hamilton Fraser
Apply via UCAS
Ready to join us? You can apply through UCAS. You'll need to reference the course and University code (F33).
Applying as an international student? 
International students can apply for a course through UCAS, via an agent or directly with the university. For more information about how to apply as an international student, visit our international applications page.
| Course route | UCAS code |
| --- | --- |
| Creative Events Management BA(Hons) three year degree | N820 |
| Creative Events Management BA(Hons) with placement year | PY17 |
All applications are considered on their individual merit and we welcome applications from all subject backgrounds including science, technology, engineering, mathematics, the arts or humanities.
| Course route | Entry requirements |
| --- | --- |
| BA/BSc(Hons) three year degree | 104 – 120 UCAS Tariff points |
| BA/BSc(Hons) with placement year | 104 – 120 UCAS Tariff points |
|   |   |
Check the title of your course to see if it's a BA or BSc award. UCAS Tariff points will primarily be from Level 3 qualifications such as but not limited to A-levels, T Levels, a BTEC/UAL Extended Diploma or a Foundation Diploma.
For applicants whose first language is English we require you to have or be working towards GCSE English Language Grade 4 (C), or equivalent. 
If English is not your first language you will need to meet the same standard which is equivalent to the IELTS Academic 6.0 overall score, with at least 5.5 in Reading, Writing, Speaking and Listening. We accept a range of in country equivalencies and approved tests.  
If you need a student visa to study in the UK, you may need to take a recognised language test. You can read our English Language Requirements for more information.
For starting your studies in 2023
UK applications: 25 January 2023 (for equal consideration)
Applications after the 25 January will be considered on a first-come, first-served as long as there are places available. Apply for this course now.
International fee payers
International fee payers can apply throughout the year. But we recommend applying as early as possible, to make time for visa and travel arrangements.
What we're looking for
We want someone who:
Is enthusiastic about events management
Has creative ideas
Can innovate
Works professionally and wants to succeed
Tuition fees
| Annual tuition fee | Student |
| --- | --- |
| £9,250 per year | Full-time UK |
| £17,460 per year | Full-time EU/international |
| Annual tuition fee | Student |
| --- | --- |
| £9,250 per year | Full-time UK |
| £17,460 per year | Full-time EU/international |
| £1,850 per placement year | Full-Time UK and EU/international |
Tuition fees are set annually and are subject to review each year. The University may therefore raise tuition fees in the second or subsequent years of a course, in line with inflation and/or the maximum permitted by law or Government policy. Students will be notified of any changes as soon as possible. 
The figures above don't include accommodation and living costs
Typical course costs
£100 - Recurring annual costs
£50-£250 - One off costs for the course duration (compulsory trips, final portfolios or shows, etc)
£300 - Optional study visits and placements for the course duration
If you need to bring equipment or materials with you, these will be outlined in your Welcome Letter.
What better way to find out about life at Falmouth University than by asking our current students?
From course details and academic support, to the social scene and settling in, our students are ready and available to answer any questions you might have. Simply set up your account, send them a question and they'll get back to you within 24 hours.