Students run creative digital events
19 April 2021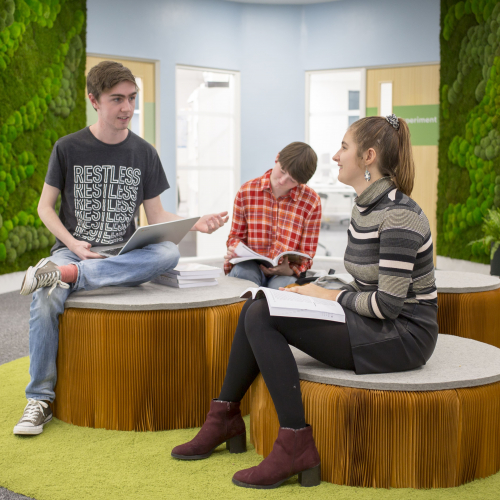 Second-year students on the Creative Events Management course have been getting real industry experience running creative digital events.
The second-year students will be running digital events from 24 April – 2 December. Upcoming events include environmental talks, virtual 10K races, digital festivals and live streamed half marathons. From the event concept through to live event management, students are getting the opportunity to gain industry experience during their studies while offering meaningful online experiences to the wider community during the pandemic.
"A key learning strategy of the Creative Events Management course is learning by doing," says course leader Matt Kirby. "Since 2010 we've challenged all of our students to devise, plan and deliver live events. We know this enhances their decision-making and problem solving skills, but they also learn a lot about themselves and the trials of team-work."
Supporting the 'doing it for real' ethos of the University, this digital events programme gives students the opportunity to explore creative concepts, get to grips with the logistics of event planning, and trouble-shoot in the moment. This equips students with the skills they need to succeed in industry and provides a unique programme of events for students and the public to enjoy.
"Working on live events really allows me to explore different sectors of the industry," Cheddar George, a second-year student on the course, said. "All of my previous projects were music-based, but having now worked on a fashion event it really made me think about all the other possible routes I can go down, which I might not have considered taking before."
Read on for how to participate in the student events.


Save the Wave
Aiming to inspire and help fundraise for the Cornish charity Turn-The-Tide, this live online event will see inspirational speakers Andrew Cotton and Andrew Frost in conversation with Freya Butler on surfing and the environment. Save the Wave will take place on 21 April at 6pm.
Find out more on Facebook and Instagram.
Falmouth Fashion Festival
Pushing boundaries with this digital fashion festival, students will be running a show and marketplace for design students to share their work from 19 – 22 April. It's the ideal opportunity for our creative community to gain recognition for their work and will give a platform from which they can sell.
Find out more on Facebook.
Virtual 10K
Why not raise money for the incredible charity Mind while you exercise? Mind works to support positive mental health in all ages which is as important as ever during the pandemic. This inclusive family event challenges individuals and families to complete a 10K while fundraising. No matter your age, ability or background, the aim of this event is to be as inclusive as possible, so all you need to do is track your run, walk, cycle or swim. The Virtual 10K is taking place from 29 March to 19 April and to sign up all you need to do is donate a minimum of £2 on the JustGiving page.
Find out more on JustGiving.
esc.festival
This virtual festival will bring inspirational talent from performers to speakers, instructors and creative small businesses, to an online audience. 100% of profits will be donated to EventWell, the, 'Event industry's trailblazing charitable social enterprise, dedicated to educating, campaigning and supporting better mental health and wellbeing in events.'
There'll be an interactive festival sitemap which will include The Bar, esc.inconversation, the Main Stage and a Yoga Yard.
Find out more on Facebook and Instagram.
WALK4WILDLIFE
This student-led event, aligning with Earth Day, will focus on the conservation and enjoyment of wildlife and nature. Opening on 22 April and running until midnight on 25 April, it'll include the opportunity to sponsor two students running a half marathon in aid of the Cornwall Wildlife Trust.
A live stream by the runners will be featured on the site throughout the day and the public will be encouraged to get involved themselves, either walking or running part of the coast between Land's End and the Devon border, and sharing images of their own walks on social media. It'll be a unique event that offers the opportunity to be enjoyed from afar or in-person if you choose to participate yourself.


You might also like