Harnessing technology to make live events more inclusive
05 June 2023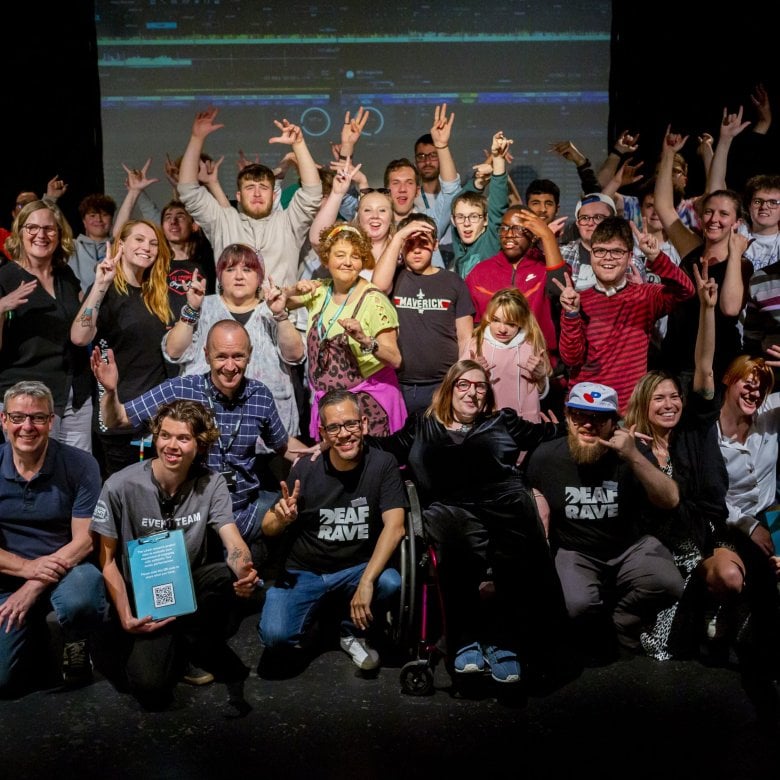 LAAA Event Image - Group Photo
Attendees also heard from Falmouth University Honorary Fellow and founder of Attitude is Everything, Suzanne Bull MBE; In Place of War's Producer and Events Manager Lucy Evans; Beat Blocks founder Rowan James; and our very own Head of Business & Experience Design, Adrian Bossey. Further happenings included 'Haptic Thresholds: Feeling the World Through Sound', a haptic sound installation by researchers working at the intersection of soundscape ecology, aural diversity, voice studies and sound-based composition. 
Rowan James, Beat Blocks founder, said: "The week's events at Falmouth were varied and ambitious. The atmosphere of the university was supportive and curious. The technical team and students who were working the events offered amazing support going the extra mile to make everything runs smoothly. A particular highlight for me was the visit of student from the Deaf Academy. Their excitement and enthusiasm was immense, and seeing our hopes for the floor's use beginning to be realised was amazing." 
It was also a valuable experience for the Falmouth University students involved, across AMATA and Cornwall Business School's events courses. Creative Events Management BA(Hons) student Freya Pretty said: "Working on the LAAA project was such an incredible experience. Accessibility for the deaf is very close to my heart, and learning about this inclusive technology, seeing it being used by members of the deaf community, and knowing what kind of difference it can make, really made me look forward to the future of inclusive events." 
During the captivating three-day performances, we witnessed the potential of haptic floor technology in fostering accessibility and inclusivity in a live performance.
Dr Antti Sakari Saario, Head of Music at AMATA, said of the events: "AMATA's involvement in the LAAA project exemplifies the dynamic synergy between our talented technical team, music and sound academic researchers, and our vibrant community of undergraduate and PhD students within the Music Subject Area.
"During the captivating three-day performances, we witnessed the potential of haptic floor technology in fostering accessibility and inclusivity in a live performance context. Through technology that translates sound into vibration, we were immersed in a diverse range of musical genres such as hip-hop, dance, soul, RnB, as well as affective animal voices and electroacoustic compositions. This immersive experience intersects with a multitude of collaborative research inquiries underway in AMATA, particularly in relation to immersive performance, sound and the environment, health and wellbeing – so it was wonderful to be part of a project that orientated some of the cross overs and collaborations between AMATA's teaching and research.
"A highlight for many involved was the visit from Exeter Deaf School, where students had the opportunity to experience the AMATA Function Band's performance led by Senior Lecturer, Sam Murray. This encounter resonated deeply with all involved and the joy of music was palpable in the room."
Falmouth University would like to extend special recognition to Ghetto Orange, Lobisen, The Beau Bennett Collective, Achilles Heel, Adrian Bossey, Dr D Ferrett, Dr Antti Sakari Saario and PhD researchers Dinah Hayward (aural diversity) and Tom Hull (soundscape ecology), for their involvement, as well as Pete Hooper and AMATA technicians Alex Smith and James Scarle for their support throughout the week.