Why I chose to study Events Management
27 January 2021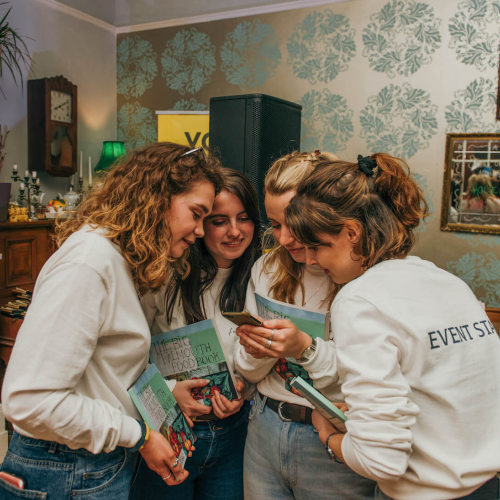 Event management was not where I thought I was going in life. If you'd have asked me what I wanted to do 5 years ago, I would have shrugged my shoulders and maybe muttered journalism. That was before I discovered the Creative Events Management (CEM) degree at Falmouth.
When I came down south for my first ever Open Day, it was love at first sight with Creative Events Management BA(Hons). Little did I know then that love would only grow and spur me on through some of the best three years of my life at Falmouth University.
One element of the Creative Events Management degree that sticks out to me when I think about it, are the staff. The course team are out of this world. With a wide range of experience and outlooks on academia, there's always someone available to help you, talk to or guide you through an especially tough assignment. When I've struggled through both personal and academic troubles, the team were there to support me and get me the help I needed in order to succeed!
The Creative Events Management team are out of this world.
The content of the Creative Events Management degree is also exceptional. It's ever-evolving to fit in with this fast-paced industry, the event management course is unique in just how much you can get your hands on. With academic opportunities, to holding events, plenty of chances to do placements and real-life experiences are weaved into the course expertly, mixing academia and hands-on experience to create the perfect event management experience.
This hands-on approach is unique compared to other university courses in event management which follow a rigid academic structure with little to no opportunities to get your hands dirty. But that's not the only unique component of the Creative Events Management degree. I love how much the degree course explores the culture around events. Within your time here you dive into history, politics and other contexts as well as culture management practices like marketing and project management. These broaden your horizons into industries you'd never even considered. I didn't realise how much I enjoy leading projects and events until I joined this course!
Finally, I have to address the cohort. The people you do the course side by side with. Coming into the Creative Events Management degree from such a long way up country, I was frightened I would be without friends, which turned out to be the furthest from the case. The creative events crew feel like family because of our shared passion and love for what we do. Everyone brings a new perspective to the table and we adore listening to everyone's outlook. Along with the degree's integration with the Academy of Music & Theatre Arts, the sheer number of awesome individuals you get to work with is fantastic.
Overall, I couldn't recommend Creative Events Management BA(Hons) enough for any budding event managers, or for anyone interested in the industry.
You might also like