Music BA(Hons)
Prepare for a career as a professional musician with this industry-focused music degree. Based within our supportive and collaborative environment, you'll develop your practice, pushing stylistic and technological boundaries while carving out your musical identity.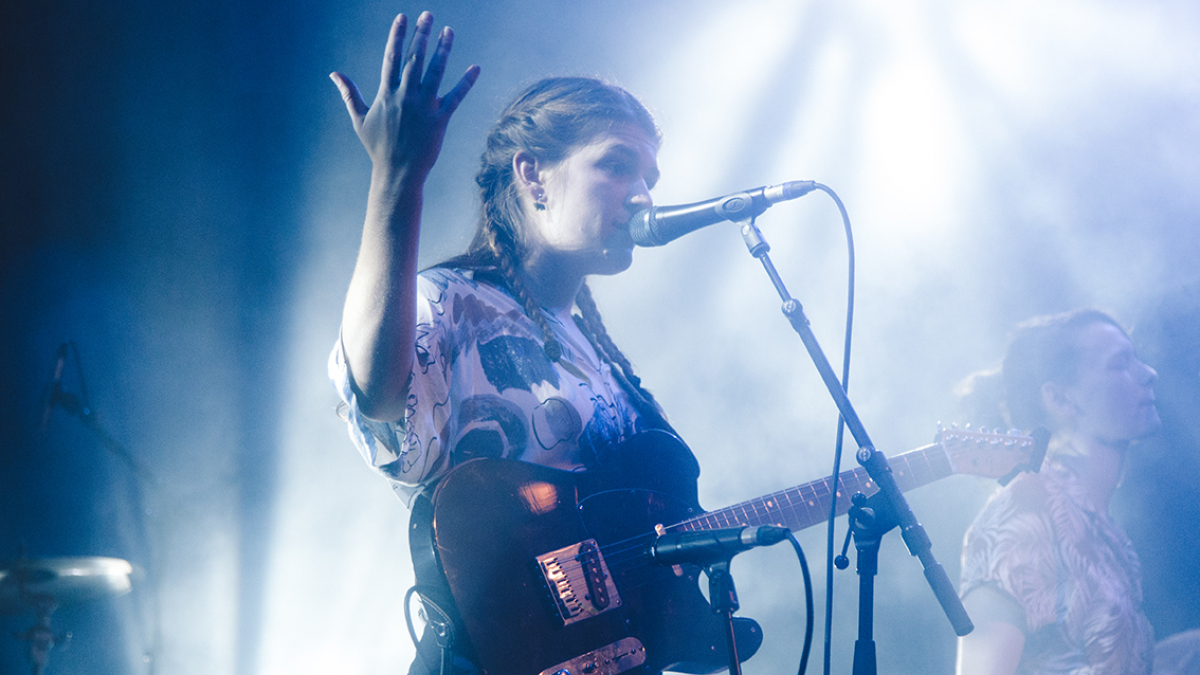 Key details
| | |
| --- | --- |
| Location | Penryn Campus |
| Course Duration | 3 years |
| Attendance | Full-time |
| UCAS code | W300 |
| Contact | 01326 254350 |
Introduction
If you're stylistically eclectic and keen to experiment, this is the course for you. Whether you aspire to be a performer, composer, session musician, music educator, sound artist or to work in a mixture of these disciplines, we'll offer an insight into the modern music industries.
You will:
Learn to play in a range of musical styles and genres, in a variety of professional contexts.


Play regularly in ensembles, including session bands, vocal groups, contemporary music groups and laptop orchestras

Benefit from guest speaker artists and ensembles. Recent visitors include Adrian Utley (Portishead), Graham Fitkin (composer), Kenny Werner (pianist), Ed O'Brien (Radiohead) and Kevos (ensemble).

Have the chance to gain industry experience through a three-month placement or internship, from shadowing a professional composer or interning with a record label, to working with a professional orchestra.


Have the opportunity to take advantage of our prestigious international exchange partners, including CalArts (USA), Griffith University (Australia), LASALLE (Singapore) and Nagoya University (Japan).
Covid-19 update
In response to the Covid-19 pandemic, we have reviewed and made changes to our courses to provide flexible, blended delivery that offers high-quality digital engagement and access to face-to-face teaching in our facilities. You can see how your course may be adjusted by viewing the changes for the current academic year by visiting our welcome letters & latest course updates pages
Course details
What you'll learn
This BA(Hons) Music degree will provide you with a range of experiences and enable you to develop a unique musical identiy, a diverse set of musical and academic skills, strong critical awareness, and a good understanding of the contemporary musical world. By the end of the course, you'll have a varied portfolio of work and a keen sense of enterprise. This will equip you well to identify, create and respond to the many musical opportunities that exist in the professional world. 
Analysing and exploring the basics of music-making, you'll study performance, critical listening, composition, recording, theory and notation.
Modules
Audio Cultures and Critical Theory
In an age that's seeing rapid technological changes and huge political, social and financial shifts across the globe, this module explores sound and music practices as they evolve within ever-changing audio cultures. 
Composition Studies: The Elements of Music
You'll be looking at music across a range of styles, establishing theories and techniques that consolidate, challenge and develop an understanding of the main elements of music: melody, lyrics, harmony, rhythm, form and timbre.
Performance Studies: Self and Sound
In this module, you'll delve into a range of issues pertinent to the performer, from theories of embodiment and authenticity to creative processes of interpretation and critical listening, to skills in stage craft and dealing with anxiety.
Core Music Practice
This module considers a wide variety of approaches and roles within the vast and broadly termed 'music industry'. The module covers fundamental key skills needed by professionals, such as communication, collaborative work, independently managed self-discipline and a strong work ethic. 
Music Technologies
Here, you'll explore a range of music technologies relevant to the contemporary musician. Through lectures and workshops, you'll learn and develop new skills, while seminars provide an opportunity to explore the role of technology in a range of musical styles.
Contemporary Techniques
Focusing on a number of key twentieth-century principles, you'll question what music can be. A series of miniature projects will explore important techniques/ideas/principles, along with their socio-historical context.
You'll choose from specialist modules like Film Music, Music Education, Studio Composition, and the Music Business. Other modules will explore the latest trends in the music scene, and the right career opportunities for you. There'll also be opportunities to study abroad with one of our partner institutions.
Modules
Creative Writing and Research in Virtual Music
This module explores the interdependency of technology, language and culture. You'll undertake a written project based on either self-promotion or the analysis and evaluation of a relevant case study. Either project will need to carefully consider context, module concepts, critical reflection, thorough research and appropriate language.
Music Innovations
You'll consider in detail new and innovative music that is being produced now. Weekly lectures will cover trends and today's music of interest across a range of styles, detailing contexts, innovations, artist case studies and relevant techniques.
Professional Music Practice
This module moves you towards the realities of working in the sound and music industries as a professionally-minded creative individual. You'll continue the acquisition, development, deployment and evaluation of your specialist skillset. Strong emphasis will be placed on the ability to evaluate your practice with respect to professional contexts, as well as seeking out future development and career opportunities. 
Applied Music
In this module you'll consider real-world applications of your music-making, and ways of adapting your practice to particular professional scenarios while preserving your individuality.
Optional modules
Voice
Timbre
Supersonic
The Working Musician: Reproduce; Arrange; Mutate
The Hit Machine
The Music Educator
Music and Moving Image
Creative Performance Technology
You'll begin by gaining professional experience with an independently organised specialist project – anything from overseas community projects to working in a UK record label. When you return, you'll work on self-devised projects, like writing an album, putting on a major performance, or composing a film score.
Modules
Specialist Practice in Context
This module is designed to help you realise your professional aims and ambitions by developing an in-depth, specialist understanding of the relationship between your practice and context.
Dissertation
The dissertation module provides an opportunity for you to carry out in-depth research and critical analysis of a topic relevant to the direction and development of your practice. It's also a further opportunity for you to gain and develop skills in the structuring, protocols and conventions associated with effective academic and discursive writing.
Professional Portfolio
This module will enable you, in consultation with your tutor(s), to develop and consolidate your creative, theoretical and contextual enquiries into your own independent practice.
Emphasis will be placed on integrating your practice and research with strategies for sustaining a collaborative, or individual, body of work that demonstrates levels of compositional, contextual and critical thinking and realisation consistent with relevant professional arts practice.
This module will also support you in devising a professionalisation strategy for bridging your practice from university to employment or an entrepreneurial future.
The modules above are those being studied by our students, or proposed new ones. Programme structures and modules can change as part of our curriculum enhancement and review processes. If a certain module is important to you, please discuss it with the Course Leader.
From module information to course aims and assessment criteria, discover the full course details
We are making changes to our curriculum framework for courses starting in 2022. Modest amendments to our course module structure will provide you with new opportunities to collaborate and co-create with students from across disciplines during your studies.
This course page will be updated when these changes have been finalised and applicants will be notified.
How you'll learn
You'll study a range of ideas and techniques in lectures and seminars, collaborate with a variety of people, and find support in tutorials. Regular learning will also come through specialist instrumental lessons, or lessons in composition or studio production. 
Industry insights and expertise will come from our regular guest speakers and artists, like composer Graham Fitkin, Portishead's Adrian Utley, conductor Marta Gardolińska, producer and guitarist Dan Weller (SikTh), and Island Records' Darcus Beese. 
Previous third-year Practice in Context modules have included organising an international conference, working as a session musician, researching American folk music in New York, and working as a film composer in Sri Lanka. Local possibilities include placements in UK schools, orchestras and record labels.
How you'll spend your time
Year

Timetabled teaching

and learning activity

Guided 

independent 

study

Placements

1

31%

69%

0%

2

32%

68%

0%

3

14%

72%

14%
How you'll be assessed
| Year | Written exams | Practical exams | Coursework |
| --- | --- | --- | --- |
| 1 | 0% | 33% | 67% |
| 2 | 0% | 22% | 78% |
| 3 | 0% | 25% | 75% |
The above percentages relate to 2019/2020 data.
Assessment methods
Assessment is a combination of practical exams and coursework.
Staff
You'll learn from performers, composers, producers, sound artists and musicologists, working across a wide range of musical styles. Our associate staff members include instrumental tutors, composers and songwriters, industry contacts and technical support staff.
Some members of staff only teach on certain modules, and your course might not feature everyone shown here.
Facilities
High-spec studios for acoustic and amplified music.
Recording studios and practice rooms for bands and solos.
Some of the best studio hardware, software and collection of microphones in any UK higher education institution.
Professional theatre venue hosting visiting companies and artistes.
How to apply
Apply via UCAS
Ready to join us? If you're applying through UCAS Apply and Track, you'll need to reference the university and course codes below. 
University code: F33
Course code: W300
Applying as an international student? 
International students can apply for a course through UCAS, via an agent or directly with the university. For more information about how to apply as an international student, visit our International applications page.

 
We consider all applications on their own individual merit and potential. We invite all applicants to an interview day or audition to give them the opportunity to demonstrate this along with what inspires and motivates them in their field. Applicants will also be able to show their portfolio or give a performance depending on the course. We welcome applications from all subject backgrounds, whether you've specialised in STEM, the arts or humanities.
As a guide our typical offer at undergraduate level is 104 – 120 UCAS Tariff points, primarily from Level 3 qualifications such as but not limited to A-levels, a BTEC Extended Diploma or a Foundation Diploma.
For applicants whose first language is English we require you to have or be working towards GCSE English Language Grade 4 (C), or equivalent.
If English is not your first language you will need to meet the same standard which is equivalent to the IELTS Academic 6.0 overall score, with at least 5.5 in Reading, Writing, Speaking and Listening. We accept a range of in country equivalencies and approved tests.
If you need a student visa to study in the UK, you'll need to take a recognised language test that is approved and vouched for by the University. You can read our English Language Requirements for more information.
UK applications: 29 January 2021 (for equal consideration)
Late applications will be considered if there are places available.
International fee payers can apply throughout the year. But we recommend applying as early as possible, to make time for visa and travel arrangements.
What we're looking for
We want someone who:
Has musical ability, experience and contextual knowledge.
Shows creativity and imagination.
Can write and speak clearly.
Engages with interview questions and discussion.
Can critically discuss their portfolio or other musical examples.
Shows ongoing engagement, motivation and creative potential.
Fees, costs & funding
Tuition fees
£9,250 per year - full-time UK/EU
£16,000 per year - full-time international
£9,250 per year - full-time UK
£16,950 - full-time EU
£16,950 - full-time international
Tuition fees are set annually and are subject to review each year. The University may therefore raise tuition fees in the second or subsequent years of a course, in line with inflation and/or the maximum permitted by law or Government policy. Students will be notified of any changes as soon as possible. 
Typical course costs
£150 - Recurring annual costs
£550 - Optional study visits and placements for the course duration
If you need to bring equipment or materials with you, these will be outlined in your Welcome Letter.
The figures above don't include accommodation and living costs
Funding
For information about funding available, please visit our undergraduate funding page
Ask a student
What better way to find out about life at Falmouth University than by asking our current students? 
From course details, our facilities and the local area to the social scene and settling in, our students are ready and available to answer any questions you might have. Simply set up your account, send them a question and they'll get back to you within 24 hours.
Virtual Open Days & online events
See how we turn real industry experience into real careers.
Experience Falmouth