CertHE Music Courses
Take your first steps towards becoming a skilled creative music artist with one of our three CertHE courses. As part of the Academy of Music & Theatre Arts, you'll learn from industry professionals and have access to our cutting-edge facilities and performance spaces.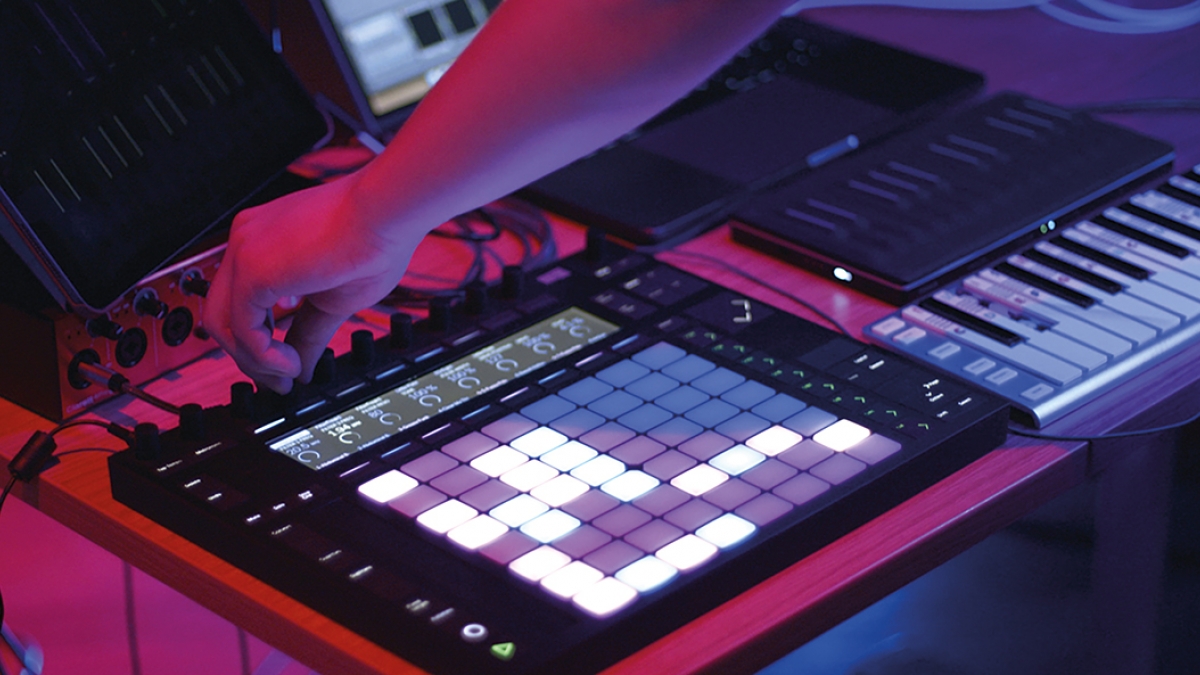 Key details
| | |
| --- | --- |
| Location | Penryn Campus |
| Course Duration | 1 year |
| Attendance | Full-time |
| UCAS code | W3W1/ W3W2/ W3W3 |
| Subject to validation during this academic year | ✔ |
Introduction
This course is new for entry year 2021
Our one-year CertHE courses give you the opportunity to explore your artistic identity, while creating and collaborating within our purpose-built professional performance venue. 
Whether you choose Music CertHE, Popular Music CertHE or Creative Music Technology CertHE, you'll be supported by industry professionals to explore a range of contemporary music practices and contexts and develop your specialist skills.  
Once you've successfully completed your CertHE course, you'll have the option to progress to the second year of the equivalent BA(Hons) degree course.  
You will:
Develop and nurture your specialist practice

 

Communicate via sound and music in collaboration with others

 

Gain key insights into the music industry and understand the requirements to succeed in a variety of roles

 

Explore sound and music practices as they evolve within ever-changing audio cultures

 

Examine the contexts and culture in which artists and musicians work, to better understand and critically question the relationship between music, sound, noise and culture

 

Engage with various theoretical concepts to form critical theories and reflect on your own practice

 

Acquire the fundamental set of skills and knowledge needed to work in the sound and music industries

 

Study modules tailored to your chosen subject

 
Our CertHE courses at a glance
Music CertHE
Suitable if you are looking to develop your practice and musical identity for a career as a professional musician
UCAS code: W3W1
Popular Music CertHE
Suitable if you are looking to focus on your unique artistic identity and work creatively in both live and studio environments. 
UCAS code: W3W2
Creative Music Technology CertHE
Suitable if you want to explore composition, music production and sound design while growing as an artist and musician.
UCAS code: W3W3
What our graduates do
After completing your CertHE you could continue developing your skills in industry or go on to complete a degree-level qualification in your chosen specialism. You'll be able to join the second year of our equivalent BA(Hons) degree course.
Course details
What you'll learn
Whichever course you choose, you'll find a wealth of teaching experience, technical support and industry links that will provide you with the opportunity to progress your creative ambitions. 
Details for each course
You'll develop and advance your musical and creative ability through technical study and practice of performance, composition, notation and music technology, in a wide range of musical contexts.
Modules could include:
Composition Studies: Musical Building Blocks
You'll be looking at music across a range of styles, establishing theories and techniques that consolidate, challenge and develop an understanding of the main elements of music: melody, lyrics, harmony, rhythm, form and timbre.
Performance Studies: The Self and Sound
In this module, you'll delve into a range of issues pertinent to the performer, from theories of embodiment and authenticity to creative processes of interpretation and critical listening, to skills in stage craft and dealing with anxiety.
Here, you'll explore a range of music technologies relevant to the contemporary musician. Through lectures and workshops, you'll learn and develop new skills, while seminars provide an opportunity to explore the role of technology in a range of musical styles.
Focusing on a number of key twentieth-century principles, you'll question what music can be. A series of miniature projects will explore important techniques/ideas/principles, along with their socio-historical context.
You'll study improvisation, songwriting, aesthetics, recording, group dynamics, reinterpretation, stage presence, visuals, live sound, and listening. We'll introduce you to electronic instruments, vintage equipment, and the recording studio. Taking inspiration from popular musicians, you'll develop an original style and approach based on art forms like poetry, film and visual art.
We'll explore music through philosophy, critical thinking and debate. And you'll focus on improving the quality of your output through a combination of musicianship skills, creative experimentation and by developing an understanding of the contexts in which you wish to work as a creative specialist in popular music.
Modules could include:
Playing Live: Creative Performance
This live performance module encourages you to creatively develop your ability to perform live on stage, while teaching you how to write and arrange songs as part of a collaborative project.
Making Popular Music: Technology and Aesthetic
During this module, you'll become immersed in the possibilities of music technology. You will be encouraged to integrate different kinds of music technology into your current approach, pushing the boundaries of your songwriting and the perception of your sound.
Signs and Lyrics: Making Meaning in Popular Music
This module explores the relationships and interactions between popular music, art and literature. Together, we'll consider specific case studies of popular musicians and how the influence of different art forms and cultural texts such as film, dance, poetry and painting can be read and analysed in their music and performance.
Creative Recording: Studio Practice
This module explores the studio environment, asking questions about the nature and context of the studio. You'll build on your existing technological skillset and look towards the recording, processing and production of acoustic and electronic sound sources, with a view to making contemporary recordings.
With technical and artistic guidance from staff and specialists, you'll develop your musical skills, knowledge, and creative voice. You'll learn analytical and problem-solving expertise, and project management and interpersonal skills. You'll also produce your own artistic work following training in industry-standard software and hardware tools and techniques.
Here, you'll explore a range of music technologies relevant to the contemporary musician. Through lectures and workshops, you'll learn and develop new skills, while seminars provide an opportunity to explore the role of technology in a range of musical styles.
Audio Cultures and Critical Theory
In an age that's seeing rapid technological changes and huge political, social and financial shifts across the globe, this module explores sound and music practices as they evolve within ever-changing audio cultures.
Studiocraft is about effective working with instruments, spaces, equipment and people, in the context of contemporary, studio-based music recording and production.
This module explores the ways in which recorded sound can be edited, manipulated and mixed. It also introduces the professional workflows involved in putting sound to picture and the ways in which sound can bring new depth and meaning to moving images.
This module focuses on electronic music, covering the fundamentals of sound synthesis and audio signal processing. You'll learn to create your own sounds, developing a systematic understanding of how they were made, and considering how to apply them to your own work.
Mixcraft introduces students to the art and craft of sound mixing, exploring both the technical and aesthetic aspects of the mixing process. The module covers a wide variety of genres and examples from students' work and professional multi-track recordings.
The modules above are those being studied by our students, or proposed new ones. Programme structures and modules can change as part of our curriculum enhancement and review processes. If a certain module is important to you, please discuss it with the Course Leader.
How you'll learn
Our CertHE music courses are designed to allow you to explore your creativity, collaborate musically and develop your professional identity. You'll be taught through collaborative exercises, workshops and peer evaluations. 
How you'll spend your time 
CertHE option

Timetabled

teaching and

learning

activity

Guided

independent

study

Music CertHE

31%

69%

Popular Music CertHE

36%

64%

Creative Music Technology CertHE

33%

67%
How you'll be assessed
| CertHE option | Written exams | Practical exams | Coursework |
| --- | --- | --- | --- |
| Music CertHE | 0% | 33% | 67% |
| Popular Music CertHE | 0% | 33% | 67% |
| Creative Music Technology CertHE | 0% | 25% | 75% |
The above percentages for the CertHE year relate to projected data as this course is new for entry 2021.
Assessment methods
Depending on the course option you choose, your assessment methods may consist of the following:
Essays 
Performance 
Portfolios 
Presentations 
Individual reports 
Practical work
Course progression options
Once you have successfully completed your chosen CertHE course, you can apply to join the second year of the equivalent honours degree at Falmouth University on your chosen subject of Music BA(Hons), Popular Music BA(Hons) or Creative Music Technology BA(Hons). 
Staff
During your CertHE course, you'll be taught by lecturers ranging from professional musicians to respected academics in the field. Depending on the course option you choose, you may be taught by the following members of staff. 

Facilities
The Academy of Music & Theatre Arts sits within a purpose-built professional performance venue on Penryn Campus. It houses an assembly of flexible theatre spaces, performance, rehearsal and recording studios, a box office and exhibition areas. Facilities include:
High-spec performance studios for acoustic and amplified music.
Recording studios and practice rooms for bands and solos.
Music practice rooms for bands and solo work.
Some of the best studio hardware, software and collection of microphones in any UK higher education institution.
Professional theatre venue hosting visiting companies and artistes.
A superb collection of analogue and virtual analogue synths and drum machines.
Professional theatre venue hosting visiting companies and artistes.
Sound studios featuring SSL AWS and TL Audio Valve desks.
Support for all the industry standard audio software including ProTools, Logic, Ableton Live, etc.
10 channel Genelec Surround space and 5.1 surround monitoring in all control rooms.
Hire store with thousands of items available to borrow free of charge for off campus use.
Access to over 140,000 books, a comprehensive electronic journal resource and over 17,000 DVD titles.
Professional theatre venue hosting visiting companies and artistes.
How to apply
Apply via UCAS
Ready to join us? If you're applying through UCAS Apply and Track, you'll need to reference the university and course codes below. 
University code: F33
Music CertHE code: W3W1
Popular Music CertHE code: W3W2
Creative Music Technology CertHE code: W3W3
Applying as an international student? 
International students can apply for a course through UCAS, via an agent or directly with the university. For more information about how to apply as an international student, visit our International applications page.

 
We consider all applications on their own individual merit and potential. We invite all applicants to an interview day or audition to give them the opportunity to demonstrate this along with what inspires and motivates them in their field. Applicants will also be able to show their portfolio or give a performance depending on the course. We welcome applications from all subject backgrounds, whether you've specialised in STEM, the arts or humanities.
As a guide our typical offer at undergraduate level is 104 – 120 UCAS Tariff points, primarily from Level 3 qualifications such as, but not limited to, A-levels, a BTEC Extended Diploma or a Foundation Diploma.
If English is your first language we require you to have or be working towards GCSE English Language Grade 4 (C), or equivalent.
If English isn't your first language you'll need to meet the same standard which is equivalent to the IELTS Academic 6.0 overall score, with at least 5.5 in Reading, Writing, Speaking and Listening. If you don't require a student visa we accept a range of in country equivalencies and approved tests.
If you need a student visa you will need to take a recognised Secure English Language Test (SELT) to satisfy Home Office requirements as this course is below degree level.
UK/EU applications: 29 January 2021 (for equal consideration)
Late applications will be considered if there are places available.
International fee payers can apply throughout the year. But we recommend applying as early as possible, to make time for visa and travel arrangements.
Fees, costs & funding
Tuition fees 2021-22
£9,250 per year - full-time UK
£16,950 per year - full-time EU
£16,950 per year - full-time international
Typical course costs
£150 - Recurring annual costs
If you need to bring equipment or materials with you, these will be outlined in your Welcome Letter.
The figures above don't include accommodation and living costs
Tuition fees are set annually and are subject to review each year. The University may therefore raise tuition fees in the second or subsequent years of a course, in line with inflation and/or the maximum permitted by law or Government policy. Students will be notified of any changes as soon as possible.
Funding
When you study our CertHE you are eligible for the same student funding as students on any other higher education course. This means that, if you are eligible, you will receive tuition fee and maintenance loans.
As a CertHe is equivalent to the first year of a degree, it would normally be expected for you to progress into employment or the second year of an award at Falmouth or another University. You should know that if you choose to re-start your higher education journey (for example start in the first year of a different subject) you will be able to do so, but you will only be eligible for funding for the normal duration of your course (i.e. were you to need to re-take a year, this would not be funded). Similarly, if you needed to re-start your CertHE for any reason (e.g. a re-take) you should also speak to our Student Finance Team for advice on your funding options in the future before re-enrolling.
For information about available funding, please visit our undergraduate funding page
Ask a student
What better way to find out about life at Falmouth University than by asking our current students? 
From course details, our facilities and the local area to the social scene and settling in, our students are ready and available to answer any questions you might have. Simply set up your account, send them a question and they'll get back to you within 24 hours.
Virtual Open Days & online events
See how we turn real industry experience into real careers.
Experience Falmouth