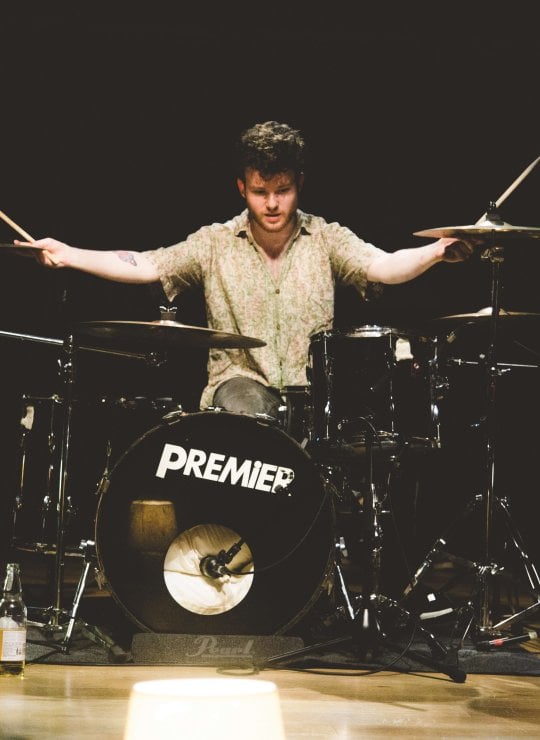 Popular Music BA(Hons)
Carve out a distinct and sustainable music career.
Key details
Course duration
3 years / 4 years
Attendance
Full-time / Professional Placement
Course overview
On this Popular Music degree, you'll gain the skills and experiences needed to carve out a distinct and sustainable career as a creative artist and professional musician. You'll learn how to promote and release your own music and create innovative audiovisual portfolios based on experimentation, defining a practice that's stylistically sophisticated and future-facing.
Throughout the course, you'll experiment with a variety of approaches to songwriting, performing and producing content, while thinking critically about music's place in relation to identity, culture, the creative industries and the environment.    
You will:
Become part of a vibrant creative community of songwriters, musicians, producers, DJs, composers and sound artists 
Discover how to write and perform original material in relation to a unique artistic identity 
Learn to deploy instruments and technology with skill and imagination in live performance and the recording studio 
Develop an awareness of music business, including legal, ethical and financial considerations 
Gain a framework to explore innovative ways of promoting and disseminating work, independent self-release and building networks 
Learn from staff and visiting lecturers with wide-ranging experience and valuable connections across the music industry 
Bring your projects to life by tapping into expertise across the university, including dancers, filmmakers, writers and designers
What better way to find out about life at Falmouth University than by asking our current students?
From course details and academic support, to the social scene and settling in, our students are ready and available to answer any questions you might have. Simply set up your account, send them a question and they'll get back to you within 24 hours.