A Creative Career with Cooking Vinyl
12 March 2019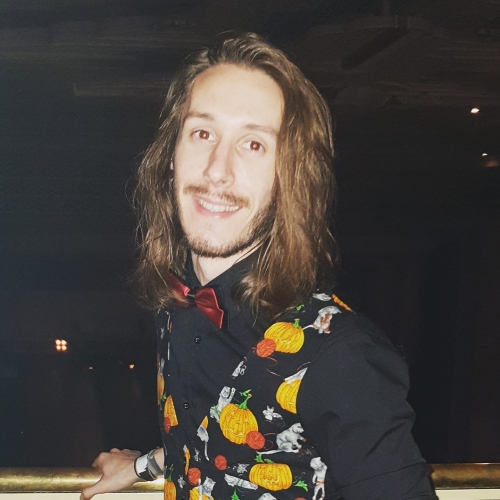 Cooking Vinyl is one of Europe's most innovative independent record labels and Marcus Knight, 2011 alumnus from the Academy of Music and Theatre Arts (AMATA), is a Cooking Vinyl "veteran". He landed an internship shortly after graduation and has been there ever since.

Now, as Product & Marketing Manager, he's responsible for running artists' campaigns and has worked with some of the biggest names in the music industry: Marilyn Manson, Will Young, Nina Nesbitt, The Fratellis, Alison Moyet and Amanda Palmer, to name just a few.
Marcus "sits in the central place of the campaign" and makes sure it all comes together, but he got to the top by working his way up through the ranks. He came back to Falmouth last week to talk to current students about his journey.

He started at Cooking Vinyl as an intern, working one day a week. He made such a great impression that after just a few months, he was invited to join the team. As Office Manager, Marcus was not only responsible for office admin duties; he also coordinated an office move.

Marcus recalled: "It was quite a big job and a big responsibility, particularly for someone who was in their first job. Thankfully it all went really well; it showed the company that I was good at organisation, I was proactive and could handle responsibility."

Having shown what he was capable of, Marcus was offered a job in production, in the manufacturing of the music. He was responsible for getting the audio masters, dealing with artwork, making CDs and Vinyls, and delivering the music to online streaming platforms.



During that role, Marcus also began picking up extra bits of work, gaining experience in marketing and the promotional side of the business.

"That was where my interests were," Marcus told us. "I always wanted to be in marketing – as a creative person that's what I saw myself doing – so whenever there was a project going that I could get involved in, I'd ask 'do you mind if I do this' and would jump aboard."

By the time a marketing position eventually opened up, Marcus was first in line.

Now, Marcus is the person who runs an artist's campaign. He is in charge of organising the timelines, working out when singles should be placed, hiring and managing the promo teams (radio, press and TV), creating digital strategies with the digital team, targeting streaming platforms, working with production on the manufacturing, getting the audio masters and artwork made, and creating the marketing/advertising plans.

When asked what it's like to work with such huge clients, Marcus said: "It's great but it's not the size of the artist that makes a great campaign. Sometimes working with smaller artists means each achievement feels more significant and harder fought for. It can also make for a more interesting and creative marketing campaign. Regardless of size, I'm blessed that all the artists I've worked with have been extremely talented and amazing at what they do."

From intern to Product & Marketing Manager, Marcus' journey proves that if you make a good impression, work hard and keep developing your skills, you can take your career anywhere.
Fancy studying music?
Our amazing facilities comprise 11 performance and rehearsal spaces, flexible theatre space, 650 square metres of sprung dance floors, live rooms, control rooms, and digital and analogue equipment. We're also a working venue.
Discover the Academy of Music & Theatre Arts
You might also like