VIP Industry Guests at AMATA
31 January 2020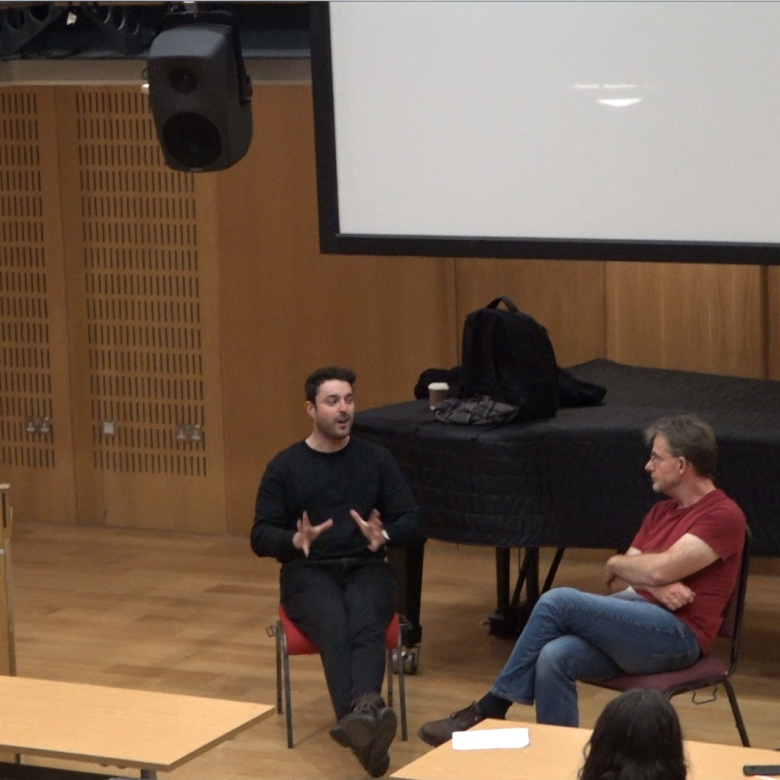 Matt Scott Rogers hosting a Masterclass at AMATA
Matt Scott Rogers hosting a Masterclass at AMATA
Students and staff were captivated by industry guest masterclasses during Enhancement Week at AMATA (our Academy of Music and Theatre Arts).
Songwriter, Glen Roberts hosted a songwriting bootcamp and songwriting tutorials with students to share his experience in becoming a published songwriter who works with some of the top artists and producers in the UK. Glen is fast becoming one of the main go-to songwriters in London across all major labels and Indies alike. He is signed as a songwriter to Kobalt Publishing, and has recently collaborated with artists and producers such as AURORA, Joy Crookes, SOAK, Tom Grennan, Tourist, Danny Jones (Mc Fly), Martin Sjølie (Sigrid), Nick Atkinson (Lewis Capaldi), Starsmith (Ellie Goulding), Joel Pott (George Ezra), and many more.
Sudents were also able to attend a mixing masterclass hosted by London-based Producer, Cam Blackwood, who has three number one albums to his name. Cam has made records with the likes of George Ezra, Jack Savoretti, Tom Walker, London Grammer, British Sea Power, Billie Martin and many more. He works from his studio, Voltaire Road Studios, in Clapham south London.
Composer, Matt Scott Rogers, held a composition masterclass and composition tutorials with students. Matt's success in classical music has seen him perform in Europe's major opera houses, he is also recognised as a contemporary musician, with commissions from prestigious institutions within the arts and industry on several continents. He has recently completed four seasons on the conducting staff of the Royal Opera House, London.
Antti Saario, Head of Music, said: "With lots of exciting plans for 2020 we are thrilled these VIP's have been able to take the time to visit us and share their expertise with students. It's a wonderful opportunity for students to understand more about what it's like in industry and to hear direct from such prominent professionals in a variety of genres."