Radiohead's Ed O'Brien delivers a Q&A session to Music students
7 May 2020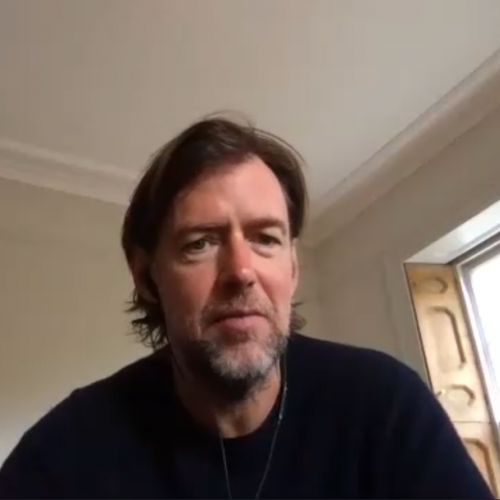 Radiohead's Ed O'Brien recently delivered a Q&A session to Falmouth University Music students with a surprise visit from Adrian Utley from Portishead.
The impact of COVID-19 across the globe is being felt by everyone. For those studying music or working in the music industry, these are challenging times economically, creatively and emotionally.
Lock-down for Falmouth University's students in the Academy of Music and Theatre Arts has meant the cessation of live and studio projects, cancelled gigs and concerts, separation from bands and collaborators, the postponement of plans and changing assessments. Such dramatic changes have required adaptability and resourcefulness. In response to this and recognition how difficult these times are for creators, Ed O'Brien accepted an invitation to speak with Music students at Falmouth about his experiences and perspective.
Hosted by Dr D Ferrett, participants in this virtual meeting posed questions about Ed's albums, both EOB and Radiohead releases, asking his advice and opinion on what the future holds and, in the process, creating an incredible dialogue that foregrounded love and compassion for family and community.
Having recently released his solo album Earth as EOB (Capitol Records), Ed was keen to raise the need for music and the continuation of music-making, while also acknowledging the difficulties and pressures on creatives to continue making, taking 'advantage of the time' – despite the fears and emotional tolls – a requirement too heavy to bear for many in isolation. Earth, an album that brings together a range of musical and literary influences, manages to combine the darkness of deep environmental, economic and political crisis with hope, a sonic embodiment of what became the refrain of Ed's perspective on life's journey, 'out of the darkness and into light'.
The incredible exchange with students expanded further with Adrian Utley's (of Portishead and guitarist on Ed's latest album) surprise appearance, after which ensued a discussion around the artist as 'antenna' of society, in that artists are often amongst those sensitive to the early warning signs that tell 'something big is going to happen'. As musicians, both Ed and Adrian are of course particularly attentive to sound and moreover the recent 'noise' reduction due for example to the decrease in aeroplanes and road traffic alongside the apparent amplification of bird song – in effect an increase in 'headroom'. With love, the message given: hold on, keep going, slow down, everything has changed. Listen to Earth here: www.eobmusic.com
You might also like