Dance & Choreography banner lead video
Dance & Choreography BA(Hons)
Become a skilled dancer and daring choreographer.
Key details
Course duration
3 years / 4 years
Attendance
Full-time / Professional Placement
Course overview
The only undergraduate programme of its kind in the UK, you'll emerge from this degree as both a technically skilled dancer and a daring choreographer. As a Dance & Choreography student, you'll develop your own ideas and create your own work from day one. You'll train in our exceptional state-of-the-art dance studios, learning from experienced industry professionals.  
You'll also be immersed in an inspirational creative community, benefiting from an interdisciplinary culture where you can collaborate with students from a range of creative disciplines, expanding your skillset and establishing your own innovative practice ready for industry. 
Studying at a creative university, you'll not only deep dive into your discipline, you'll also develop crucial critical thinking, problem solving and communication skills, growing as an individual who can not only make an impact in the world of dance, but in the wider the creative industries and beyond. 
Why study this course at Falmouth?
Ours is the only UK dance degree to give equal weight to developing technical dance skills and to nurturing your individual choreographic voice, from day one
You'll be challenged to imagine new futures for dance, developing projects in collaboration with musicians, illustrators, fashion designers, photographers, filmmakers, game developers and more 
Build industry links through workshops, guest lectures and visits from internationally renowned practitioners such as Company Chameleon and our Honorary Fellow Julie Felix 
Benefit from AMATA's year-round performance programme, which attracts top artists and performers from all over the world, such as Aakash Odedra Company and Jamaal Burkmar 
Learn to utilise our extensive range of technical sound, lighting and recording equipment, to enabling you to realise your own production ideas and visions 
BA(Hons) Dance & Choreography Course Video
On this Dance & Choreography degree, you'll have the opportunity to gain a BA(Hons) degree over three years or study Dance & Choreography BA(Hons) with a professional placement.
Our course structure, teaching and world-class facilities will provide you with time and space to develop physical, technical and critical capabilities. On this dance degree, you'll receive a thorough grounding in dance techniques and develop your own innovative performance and choreographic practice.
There will be opportunities for collaboration and cross-disciplinary practice, and to engage with the wider communities of the contemporary dance industry. This dance & choreography degree will enable you to make creative contributions to a range of professional arts contexts within which dance plays a vital role.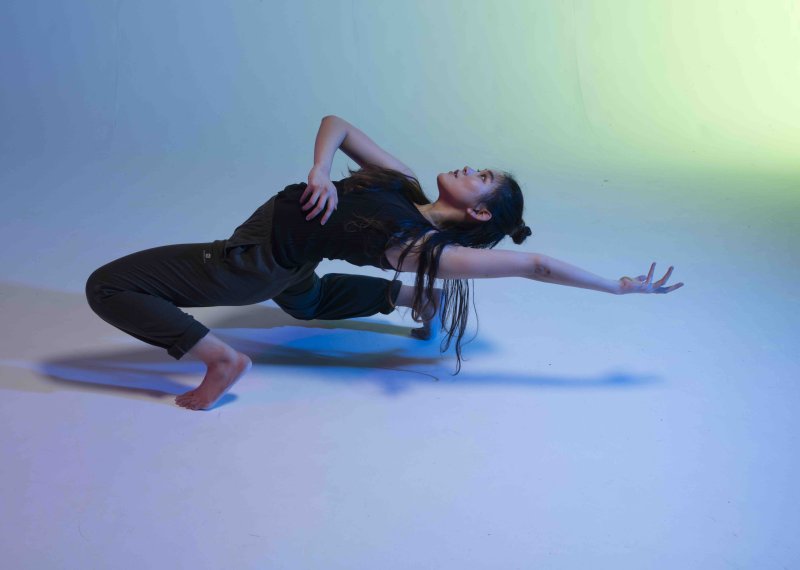 " With state of the art facilities and creative art subjects close by for collaboration, this course is at the forefront of developing the next generation of dance artists. "
You'll explore and challenge your ideas of performance and choreography, make and perform work in different settings and locations, and develop strategies for making connections between practice and theory.
Modules
Contemporary Techniques & Improvisation
Through studio-based bodywork sessions, you'll develop your fundamental physical and improvisational skills such as basic alignment, posture and placement and the development of stamina and strength. Your learning on this module will underpin the course's structure and help you prepare yourself for the degree. You'll be encouraged to document and reflect on your development as you progress through the module. 
Performance & Choreographic Practices
In this module, you'll receive an introduction to the creative and collaborative processes involved in developing choreography and performance, including conceptual development, creative resources, generating movement material, artistic collaborations, presentation and audience considerations. 
The module focuses on solo, duet and small group work and you'll receive ongoing feedback on performance-making process and informal sharing of work. 
Embodied Learning: Theories & Practices
Through a series of practical workshops and lectures, you'll explore how different perceptions of the body inform approaches to training, choreography and performance. In order to encourage an understanding of the body in society both historically and culturally, emphasis will be placed on learning through doing. You'll be assessed by producing a case study or essay, which will introduce you to the requirements for academic writing at undergraduate level. 
Contemporary Techniques & Improvisation 2
Here, you'll continue the bodywork sessions started earlier in the course and develop your physical and improvisational skills, focusing on an increased level of conditioning, and a developed understanding of placement, shift of weight and movement through space and an increased awareness of how to manage the body in training for purposes of injury prevention and wellbeing. 
Dance Cultures, Histories & Practices
Through a series of lectures, seminars and discussions, you'll explore a range of historical and theoretical issues that arise from dance and performance practice. Key issues are explored in relation to wider cultural contexts, with reference to documented dance on film, theoretical writing and philosophy to enable you to develop a reflexive and critical practice. 
Site-Based Practices
In this module, you'll be introduced to a key area of contemporary dance practice: making dance in and for non-theatre spaces. You'll explore the various aspects of sitework through a series of introductory workshops and your practice will be contextualised through seminars, presentations and discussions. This module is delivered in a variety of different spaces, utilising internal and external sites both on and off campus and you'll create a group site choreography for assessment.  
Throughout the duration of the module, you'll regularly update a journal that will support you in preparing for your final performance. 
You'll continue to develop your technical and creative skills, while developing your specialist interest in choreography or performance. You'll further develop your research skills, gain a greater understanding of the contexts for your practice and start to consider your own future in dance.
Modules
Performance & Choreographic Skills
In this module, you'll expand your physical knowledge and confidence through a range of technical, improvisational and somatic practices. You'll explore different strategies for performing and structuring movement material and you'll develop your abilities to reflect on your practice as a dance maker. You'll also receive on-going feedback on your performance-making processes as well as during informal sharing of work. 
Dance Futures
In this module, you'll learn how and why dance practitioners and companies create supportive and sustainable frameworks to contribute to the industry. With teaching provided by core staff and industry specialists, a seminar and workshop series will introduce and examine a range of approaches and responses to the challenges of making and showing dance and choreography in the 21st century. Through critical research, you'll position yourself as an artist in relation to the approaches you have explored in theory and in practice. 
Applied Techniques
In this module, you'll focus on consolidating technical skills (alignment, stamina, strength, posture, assimilation skills) and apply them to increasingly more complex movement material, styles and research. You'll develop a comprehensive awareness of your technical strengths and weaknesses and you'll receive ongoing feedback during the taught sessions. 
Researching Dance: Theories & Contexts
Here, you'll explore the varied contexts for dance practice through looking at the socio-cultural conditions that give rise to the development of particular dance practices and performances through history and in contemporary culture. You'll also look at several theories through which to read choreography and performance. This module is designed to develop your confidence in writing and in becoming an independent dance researcher. 
Optional modules
Devising Performance
In this module, you'll have the opportunity to explore different strategies for making performance, encouraging you to contribute to an ensemble creative process that is rooted in a choreographic context. You'll focus on the collaborative choreographic relationship and the connection between technique and performance. You'll also receive on-going feedback throughout the making processes, as well as through the sharing of process work. 
Choreography in Context
In this module, you'll explore choreography as a widening field with broad applications, social imperatives and interdisciplinary practices. You'll identify how choreography can encompass participatory dance, activism, technology, public art and site-related performance and you'll develop a critical and theoretical research framework to support your collaborative choreographic practice. 
Cross-Disciplinary Performance
In this module, you'll work in groups to devise a cross-disciplinary approach to performing. You'll collaborate with practicing artists in other disciplines and art forms such as technical theatre, voice work, photography, theatre, and visual arts. This module culminates in the showing of a work-in-progress that demonstrates your research and collaboration between dance and another discipline. 
Choreographing the Screen
Here, you'll experiment with ways of choreographing for, with and through the camera. Through making video-specific choreography, you'll explore choreographic questions in relation to a range of spatial, temporal and compositional elements. You'll also be introduced to film and online editing skills and their choreographic potential through exploring diverse live and screen-based performance formats such as live-feed projection.  
You can choose to take a professional placement after your second year on a three-year programme. 
You'll be responsible for finding your own placement, with support from the employability team. 
Choosing this option will enhance your industry experience and skills while studying. 
How you'll study during your professional placement
You'll spend time working in a professional context, as part of a business or organisation. This can be in one role, or up to three, and must be for a minimum of 24 weeks. 
You'll develop in-demand workplace skills, deepen your insight into industry and grow your network of contacts, all of which could help you get ahead in your career after graduation. 
Throughout this year, you'll develop a portfolio of work that includes critical self-reflection on what has been learned from the experience. You'll be required to evidence your experiences, the skills you've learned and your professional growth. 
Taking charge of your learning, you'll undertake two research projects (one practical and one written), both of which focus on your chosen areas of interest. Throughout the year, you'll advance your physical training and creative and choreographic skills. This culminates in a professional practice project, in which you'll collaborate to produce, market, choreograph and perform an original work for public performance.
Modules
Written Research Project
In this module, you'll produce an extended essay that gives you the opportunity to carry out critical analysis of a topic relevant to the direction and development of your dance or choreographic practice. You'll gain and develop skills in the structuring, protocols and conventions associated with effective academic and discursive writing, building your confidence in creating written contributions to public and professional debate.
Practical Research Project
In this module, you'll begin to form collaborative relationships and explore ideas that could feed into your Professional Practice Project. You'll focus on the process of researching, experimenting with, and reflecting on a chosen theme in one of the following three areas: teaching and facilitation, technical collaboration or independent enquiry.  
Advanced Bodywork 1
Through studio-based bodywork sessions, you'll continue to develop your contemporary dance skills, focusing on adjusting alignment, building stamina and strength, and developing your ability to assimilate movement material. You'll study a range of styles and approaches that may include Graham, Cunningham and Release based techniques, as well as augmenting your training with complementary practices that may include ballet, and High Intensity Training. 
Advanced Bodywork 2
Following on from the skills gained in Advanced Bodywork 1, in this module you'll work on augmenting your technical foundation with advanced coordination skills, movement vocabulary and a solid technical understanding. Contemporary dance classes will be supported by training sessions, such as ballet, yoga and Pilates, as well as your own methodical and regular self-directed body conditioning. On completion of this module, you are expected to have developed your contemporary technique to a professional standard. 
Professional Practice Project
In this module, you'll have the opportunity to create a producing company as a launchpad for graduate work, allowing you to develop your subject-specific skills alongside your employability. With the support of your tutor, you'll also harness everything you've learned during the degree and produce and present an independent performance work within a public context.
The modules above are those being studied by our students, or proposed new ones. Programme structures and modules can change as part of our curriculum enhancement and review processes. If a certain module is important to you, please discuss it with the Course Leader.
From module information to course aims and assessment criteria, discover the full course details: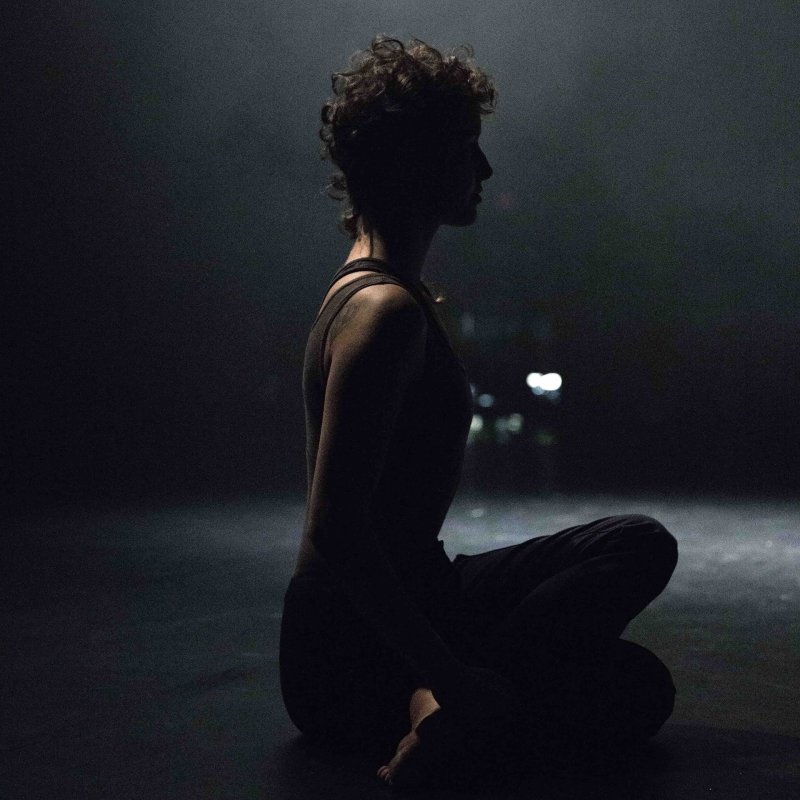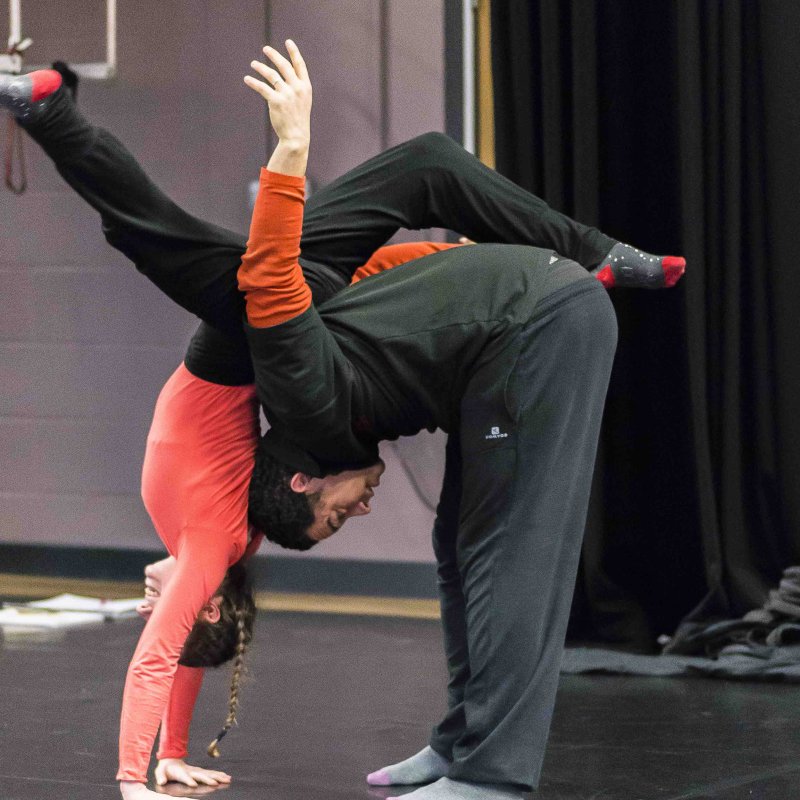 Facilities
Two 200-capacity flexible performance spaces.
11 high-specification performance and rehearsal studios, featuring production lighting, projection and sound facilities.
700m2 of fully sprung dance floors.
Analogue and digital recording complex.
Breakout areas.
Professional theatre venue hosting visiting companies and artistes.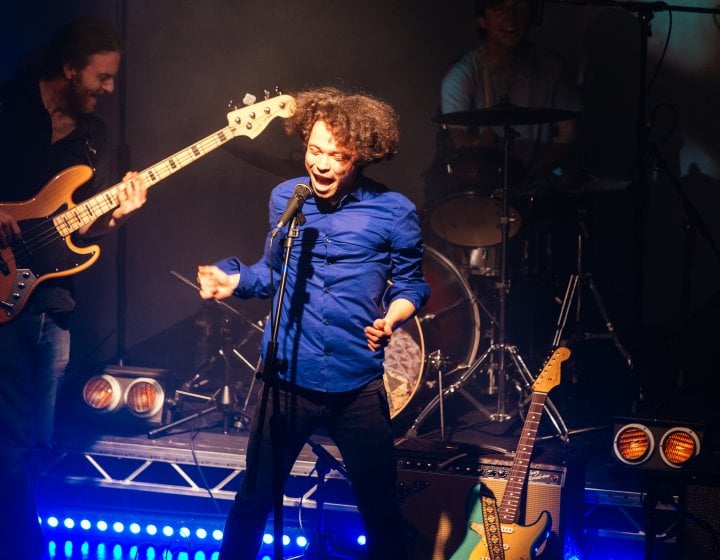 Performance Facilities Image
Performance - AMATA
Performance Facilities
The Academy of Music and Theatre Arts (AMATA) is a purpose-built live venue housing an assembly of f...
Performance Facilities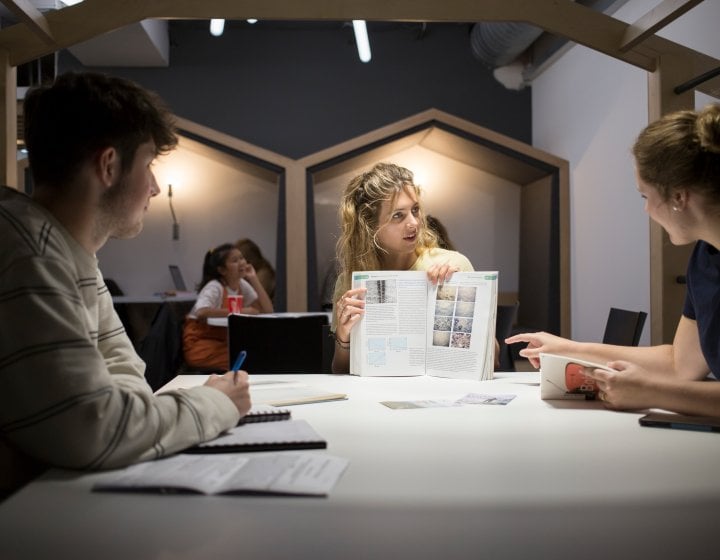 Library facilities
Library Facilities
Offering extensive collections, our two libraries provide a wealth of digital resources, magazines, ...
Library Facilities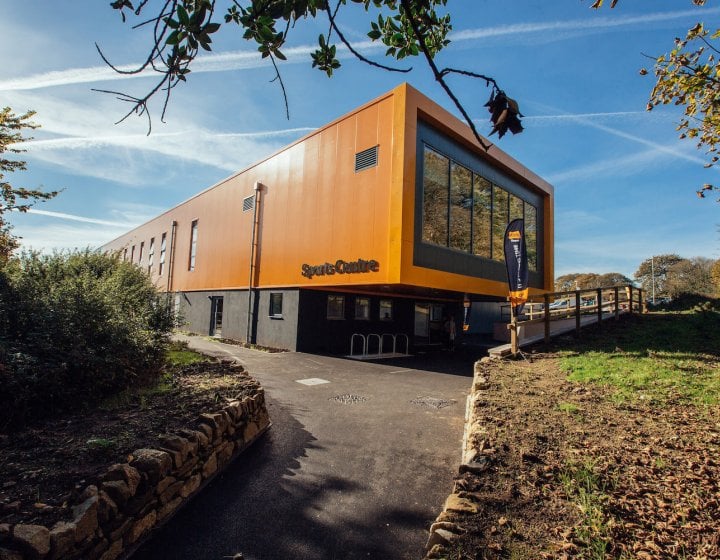 Sports Centre - Outside
Sports Centre
Sports Centre
Our Sports Centre, on Penryn Campus, includes a spacious gym with up to 90 of the latest, new statio...
Sports Centre
Stories from our community
Explore student projects, graduate successes, staff news and industry insights
How you'll learn & be assessed
As part of this innovative choreography and dance degree, you'll participate in dance classes, workshops, seminars, lectures and self-generated projects. Based in a supportive environment, you'll be encouraged to push your practice through taking creative risks.
You'll work both individually and collaboratively and have the chance to grow alongside professional artists and our industry partners.
At Falmouth, we use a 'digitally enhanced learning & teaching' approach. Your experience will always be predominantly in-person, including seminars, tutorials and studio teaching, with some, more targeted elements, being online either live (synchronous) or pre-recorded (asynchronous). You can read more here.
You'll be assessed with practical exams and coursework.
Assessment methods
Assessment is both practical and written, ranging from presentations of practical work, essays and case studies, to performances and video projects.
Assessed practical work is shown in either a studio context to staff and peers or to public audiences on and off campus.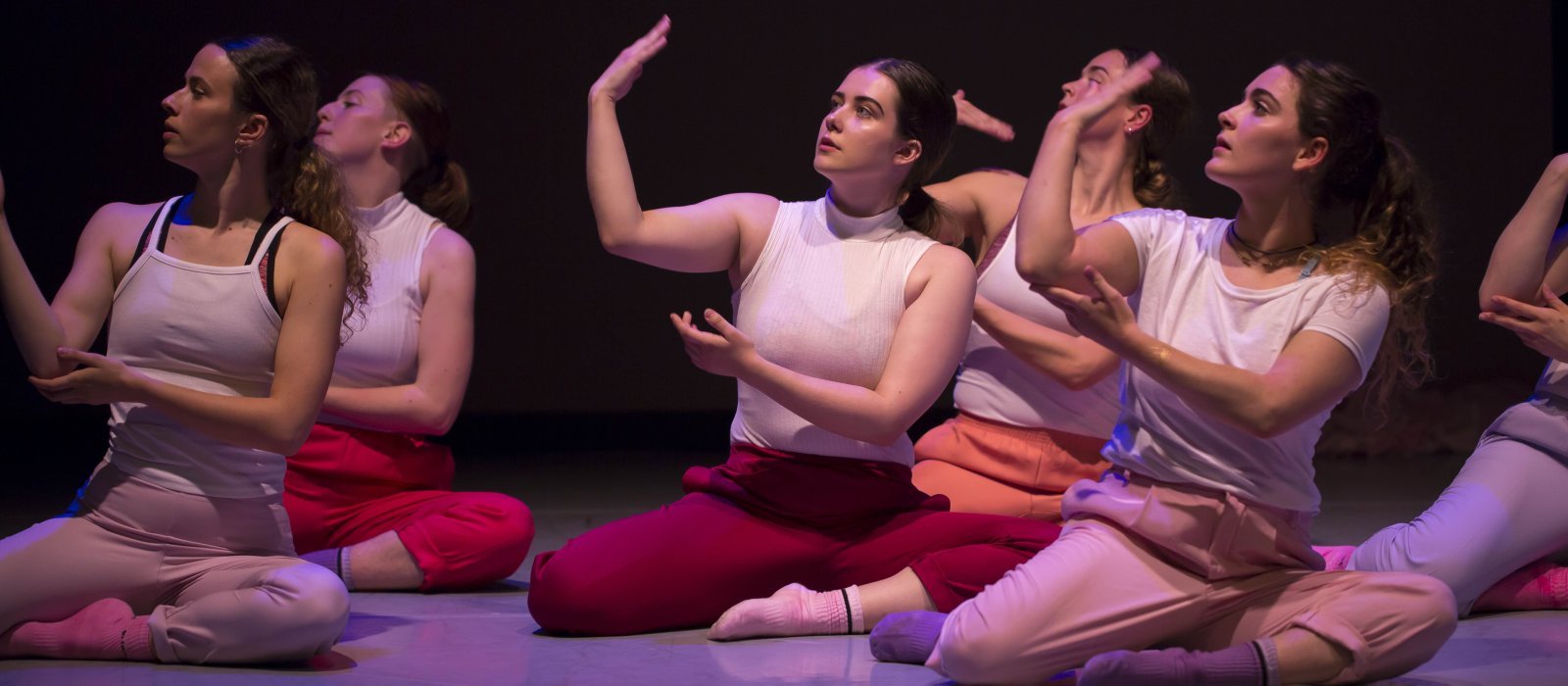 Staff
The dance staff are all professional practicing artists from the fields of performance, choreography, dance pedagogy, dance on screen and dance research.
Some members of staff only teach on specific modules, and your course might not feature every staff member who teaches on the course.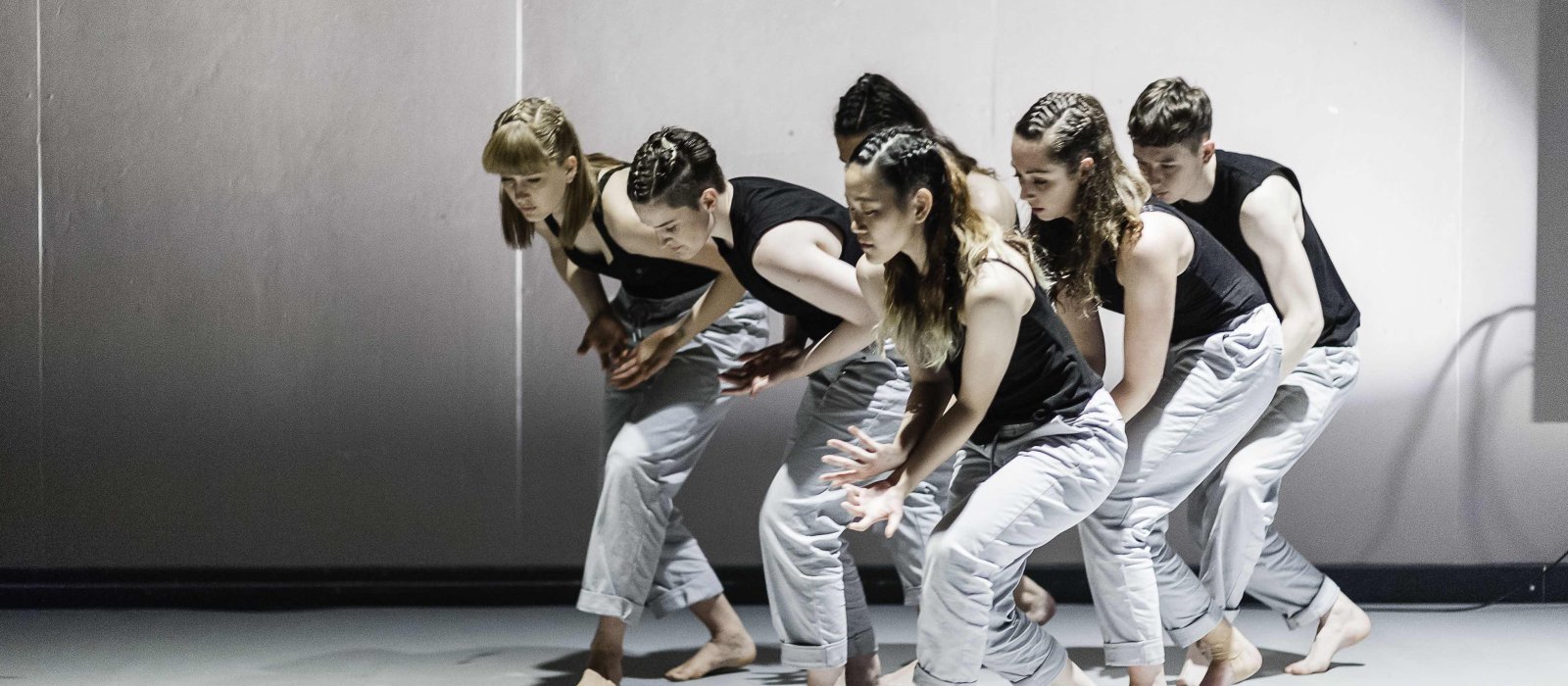 Our dance & choreography graduates have worked as:
Dancers

Choreographers

Dance production and management consultants

Arts and health practitioners

Educators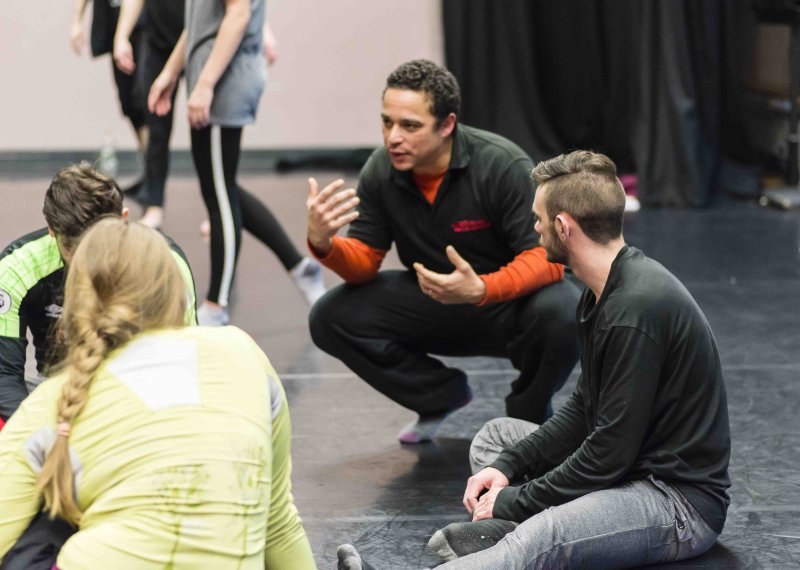 You could become a professional dancer, work as a freelance performer, or work as a teacher in a traditional context or as a community arts practitioner.
Ready to join us? You can apply for September 2024 through UCAS. You'll need to reference the course and University code (F33).
| Course route | UCAS code |
| --- | --- |
| Dance & Choreography BA(Hons) three year degree | W511 |
| Dance & Choreography BA(Hons) with professional placement | PY03 |
We consider all applications on their own individual merit and potential. We invite all applicants to an interview day or audition to give them the opportunity to demonstrate this along with what inspires and motivates them in their field. Applicants will also be able to show their portfolio or give a performance depending on the course. We welcome applications from all subject backgrounds, whether you've specialised in STEM, the arts or humanities.  
| Course route | Entry requirements |
| --- | --- |
| BA/BSc(Hons) three year degree | 104 – 120 UCAS Tariff points |
| BA/BSc(Hons) four year degree with professional placement | 104 – 120 UCAS Tariff points |
Check the title of your course to see if it's a BA or BSc award. UCAS Tariff points will primarily be from Level 3 qualifications such as but not limited to A-levels, T Levels, a BTEC/UAL Extended Diploma or a Foundation Diploma. 
For applicants whose first language is English we require you to have or be working towards GCSE English Language Grade 4 (C), or equivalent. 
If English is not your first language you will need to meet the same standard which is equivalent to the IELTS Academic 6.0 overall score, with at least 5.5 in Reading, Writing, Speaking and Listening. We accept a range of in country equivalencies and approved tests.  
If you need a student visa to study in the UK, you may need to take a recognised language test. You can read our English Language Requirements for more information.
For starting your studies in 2024
UK applications: 31 January 2024 (for equal consideration)
Applications after the 31 January will be considered on a first-come, first-served as long as there are places available. Apply for this course now.
International fee payers
International fee payers can apply throughout the year. But we recommend applying as early as possible, to make time for visa and travel arrangements.
What we're looking for
We want someone who:
Shows physical aptitude, potential and motivation, can assimilate movement and respond to information.
Has devising skills, can develop movement material and communicate ideas.
Can collaborate, effectively communicate and work with others.
Can think independently and effectively on a supplied topic.
Tuition fees
| Annual tuition fee | Student |
| --- | --- |
| £9,250 per year | Full-time UK |
| £17,460 per year | Full-time EU/international |
| £1,850 per professional placement year | Full-Time UK and EU/international |
| Annual tuition fee | Student |
| --- | --- |
| £9,250 per year | Full-time UK |
| £17,950 per year | Full-time EU/international |
| £1,850 per professional placement year | Full-Time UK and EU/international |
| £1,385 per study abroad year | Full-Time UK and EU/international |
Tuition fees are set annually and are subject to review each year. The University may therefore raise tuition fees in the second or subsequent years of a course, in line with inflation and/or the maximum permitted by law or Government policy. Students will be notified of any changes as soon as possible. 
The figures above don't include accommodation and living costs
Typical course costs
Public Programme season tickets (student rate) costs found: amata.org.uk/livepass
Students must come prepared with suitable clothing appropriate for all practical classes.  Approx £70-£100/year
If you need to bring equipment or materials with you, these will be outlined in your Welcome Letter.
What better way to find out about life at Falmouth University than by asking our current students?
From course details and academic support, to the social scene and settling in, our students are ready and available to answer any questions you might have. Simply set up your account, send them a question and they'll get back to you within 24 hours.