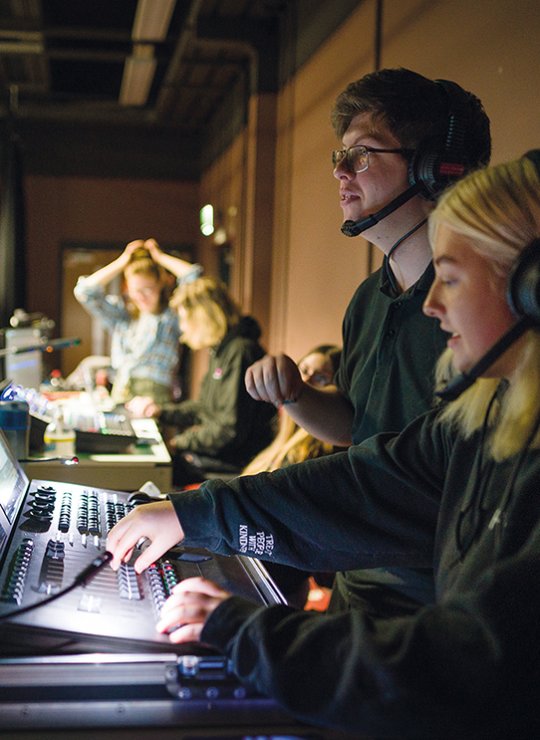 Technical Theatre Arts BA(Hons)
Master your passion for bringing stage and live events to life.
Key details
Attendance
Full-time / Professional Placement
Course overview
This course will provide you with the practical knowledge and skills needed to succeed in the exciting and ever-changing industry of stage, theatre and live event production.
Captivate audiences from behind the scenes by developing an array of technical skills in stagecraft. On this course, you'll transform your enthusiasm into expertise in lighting, sound, visual technologies and stage management. You'll also have the opportunity to hone your collaborative skills as you work alongside students from across the Academy of Music & Theatre Arts.
Working in our purpose-built professional studios and production spaces, you'll gain practical design and production skills in lighting, sound effect production, digital mixing and contemporary stage rigging. You'll also develop skills in practical construction techniques and in design tools, such as 3D CAD modelling and multimedia manipulation, while you study the theory behind a range of important productions and approaches.
You will:
Gain an all-round technical grounding in live sound, lighting, stage management, rigging and scenic construction

Receive a critical insight into the cultural sector, exploring how performance technologies and professional practice influence each other

Work in state-of-the-art facilities with access to both core industry technology and some of the latest equipment. 

Broaden your skills by collaborating with students across a broad range of disciplines including popular music, contemporary dance, and musical, devised and traditional theatre

Gain industry-recognised safety accreditations