Post Production & Visual Effects BA(Hons)
Key details
| | |
| --- | --- |
| Location | Penryn Campus |
| Course duration | 3 years / 4 years |
| Attendance | Full-time |
| UCAS code | W614/FY25 |
Course overview
You'll develop high-level skills and professional qualifications in picture editing, colour grading, compositing, visual effects, roto, visible and invisible effects, DIT, sound design and audio mixing and be supported by industry- leading professionals to experiment, collaborate and connect with industry.
You will:
Gain recognised industry software certifications as part of the course, giving you the edge over your peers
Benefit from our industry links including Adobe, Avid and Blackmagic Design and numerous UK-based and international post houses and VFX studios
Gain intensive, hands-on technical and craft experience of image and audio post-production equipment, workflows and software
Network with visiting professionals. Recent guests include Nikki Atkinson (Pre-vis/ Post-vis, The Matrix Resurrections, Post-vis, Rogue One: A Star Wars Story), Mark Connell (Production Designer, Radiohead: Follow Me Around and The Chemical Brothers: We've Got To Try) and Graham Wild (Dubbing Mixer, Our Planet, Blue Planet II and Planet Earth II)
Have the chance to work for our in- house creative agency on live briefs, earning money while you learn
The Integrated Foundation Year pathway for this course is new for entry year 2023 and is subject to validation.
On this Post Production & Visual Effects degree, you'll have the opportunity to gain a BA(Hons) degree over three years or the option to study Post Production & Visual Effects BA(Hons) with an Integrated Foundation Year study option. 
You'll develop a strong skills base and a working knowledge of industry practice by responding to an exciting and diverse range of post production and visual effects challenges. With access to professional-standard facilities, the chance to collaborate with multi-skilled teams and opportunities to learn from industry leaders, you'll graduate with a diverse portfolio, invaluable connections and the entrepreneurial skills to start making an impact.
You'll begin your degree with an introduction to the workflows and technologies involved in professional post-production and visual effects. Covering the fundamentals of audio, video and visual effects, you'll develop your skills in these core specialisms to build a solid foundation for the next stage of your studies.
Modules
Audio Post-Production Fundamentals
You'll get an introduction to the fundamentals of audio post-production processes and software. This will give you an understanding of audio as a whole and enable you to integrate the skills and understanding you gain into your wider work.
Video Post-Production Fundamentals
You'll be introduced to the fundamental processes and essential tools used in editing for post-production, giving you the confidence to explore these skills and take on greater challenges in your work.
VFX Fundamentals
You'll develop your insights into key visual effects (VFX) principles, while developing related software-based knowledge and skills.
Audio Post-Production Competency
You'll get the opportunity to further develop your software skills and explore the creative side of audio post-production.
Video Post-Production Competency
You'll develop your editing skills further and delve deeper into the tools and platforms used within post-production.
VFX Competency
You'll get the opportunity to apply visual effects (VFX) techniques and develop a deeper understanding of visual effects principles. Enhancing your software-based knowledge and skills will be an integral part of this.
With greater confidence in your skills and a clearer understanding of your own interests, you'll focus your development on three core areas. You'll also explore the cutting-edge world of virtual production and collaborate on challenging projects with peers from the School of Film & Television and across the University. You'll also have the opportunity to define an intermediate post-production or visual effects project.
Modules
Audio Post-Production Proficiency
You'll focus on enhancing your skills in audio post-production workflows, software and hardware.
Video Post-Production Proficiency
You'll take your editing skills for picture post-production to a professional level by participating in an industry accredited programme as an enhancement to your activities.
VFX Proficiency 1
You'll engage with and reflect on intermediate visual effects techniques related to the cutting-edge world of virtual production.
Collaboration Lab 1: Collaborative Project
By taking on a University-wide brief, you'll get the opportunity to collaborate with peers to meet the challenge with your developing specialist skills.
Intermediate Post-Production & Visual Effects Project
Collaborating with your peers, you'll embark on a project as a specialist in your chosen field of audio post-production, video post-production or visual effects.
VFX Proficiency 2
You'll deepen your knowledge and refine your skills in visual effects, specifically around techniques relevant to virtual production.
Your final year will be dedicated to refining and mastering your skills as you prepare for industry. You'll cement your learning across the three core areas of audio post-production, video post-production and visual effects. You'll have the opportunity to take on a collaborative contextual or entrepreneurial project with peers across the University, especially in animation, film, television, prosthetic effects, games or on one of the School of Film & Television's funded micro-budget films. You'll also work on an advanced post-production or visual effects project.
Modules
Audio Post-Production Mastery
You'll progress to become an advanced operator for audio production by mastering technical and practical skills.
Video Post-Production Mastery
You'll refine your practice and take your knowledge to the next level by developing your understanding of industry and the application of key workflows.
VFX Mastery
Take a prescribed supervised project where you'll apply current professional working practices. This will enable you to demonstrate proficiency in a chosen specialism.
Collaboration Lab 2: Future Skills
You'll be equipped to critically examine and practice a range of future skills so you can become a resilient and connected practitioner.
Advanced Post-Production & Visual Effects Project
Get industry-ready by working on a live client-related brief in collaboration with post-production and visual effects specialists.
Why study an Integrated Foundation Year route? 
If you're taking on a new subject that you haven't studied in depth before, have been out of education for a while or have a non-standard educational background then an Integrated Foundation Year degree may be the right choice for you. It is a four-year degree with an Integrated Foundation Year to start, which allows you to explore the primary elements of your subject before progressing on to the remaining three years of the BA(Hons) degree. 
What you'll study in your Foundation year
If you choose this pathway, you'll study five core modules in your Foundation year. These are all designed to help you explore the foundational elements of your subject. You'll gain relevant technical skills, learn to experiment and take risks, develop an understanding of professional practice, have opportunities to work across disciplines and collaborate with other students on live project briefs.
Modules
Explore
You'll begin your foundation year by working collaboratively with others to explore themes of the future. You'll take risks, experiment through play and be supported to break through barriers.
Technique
You'll take subject-specific workshops and develop essential technical and practical skills in your area of study. You'll also enhance your analytical and organisational abilities.
Apply
You'll work with your peer group to think beyond discipline by addressing a societal or global issue. You'll then showcase your work to your peers and deliver and accompanying evaluation of your process.
Industry
You'll enhance your creative and practical skills in your subject specialism by responding to typical industry briefs, underpinned by focused research and experiments. You'll also gain industry insights through guest lectures and workshops.
Launch
You'll develop your unique identity in your specialism through the production of a self-initiated body of work. Your final project will be the bridge to your next year, fully supported by evaluative reviews and critical analysis of the work you have created.
After the Foundation year, you progress into Year One of the full three-year degree, equipped with a deeper knowledge of your subject, a clear understanding of your strengths, and develop a practical and technical skillset and the confidence to excel in your chosen subject. 
The Integrated Foundation Year pathway for this course is new for entry year 2023 and subject to validation.
The modules above are those being studied by our students, or proposed new ones. Programme structures and modules can change as part of our curriculum enhancement and review processes. If a certain module is important to you, please discuss it with the Course Leader.
From module information to course aims and assessment criteria, discover the full course details. 
We are making changes to our curriculum framework for courses starting in 2022. Modest amendments to our course module structure will provide you with new opportunities to collaborate and co-create with students from across disciplines during your studies.
This course page will be updated when these changes have been finalised and applicants will be notified.
How you'll learn
This practice-based degree is underpinned by creative, technical and critical tuition, designed to meet the demands of today's post production and visual effects industries. You'll curate your practice with a sense of personal direction and specialism while working with world-class leaders in your field. They will guide you in lectures, seminars, workshops and individual tutorials.
At Falmouth, we use a 'digitally enhanced learning & teaching' approach. Your experience will always be predominantly in-person, including seminars, tutorials and studio teaching, with some, more targeted elements, being online either live (synchronous) or pre-recorded (asynchronous). You can read more here.
How you'll be assessed
The BA Post Production & Visual Effects degree employs a variety of assessment strategies over the year, including:
Portfolios of practical work
Written reports
I

ndustry accredited exams
Your final assessments occur at the end of each module, usually at the end of a study block. You'll also benefit from interim formative assessments partway through modules. These assessments help ensure that you remain on track with your work. You'll receive feedback on all your work throughout the year. It will be delivered in tutorials and studio-based workshops. At the end of a module, you'll be given detailed written feedback on your work and the opportunity to meet with your assessor to gain further clarity.
If you choose the Integrated Foundation Year pathway for this course, all assessments within your foundation year will be 100% coursework based.
Staff
Our staff includes academic and technical tutors with extensive industrial experience in post production and visual effects. This experience combines games, feature films, commercials and TV.
You'll also interact with the School of Film & Television's writers, academics, directors, producers, cinematographers, editors, screenwriters, script editors, sound designers, branded content producers and art directors.
Some members of staff only teach on specific modules, and your course might not feature every member shown here.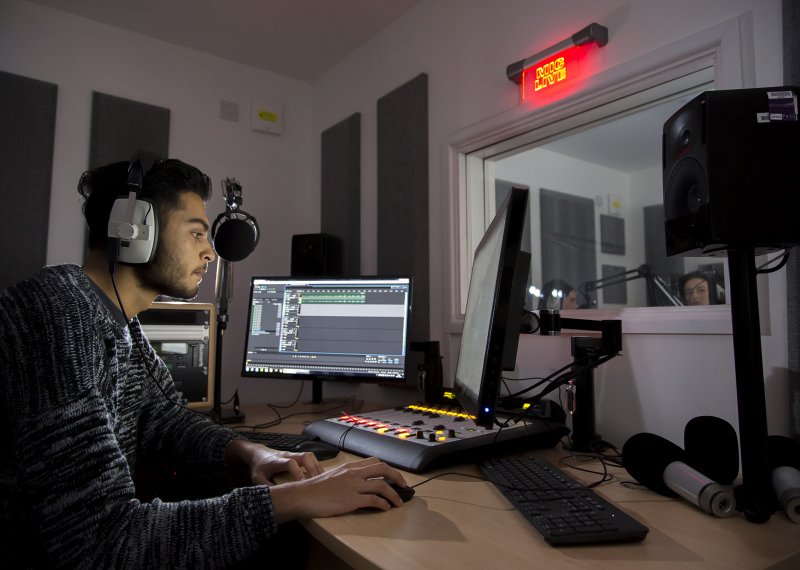 " I regularly find graduates who have used the [Falmouth] VFX course to springboard themselves into worldwide VFX and animation companies and productions. "
Facilities
The multi-million-pound, industry standard School of Film & Television offers professional facilities including:
Four large production studios, including a large multipurpose studio equipped with three Sony HXC-FB80 studio cameras and full lighting rig, and an integral live gallery including 4-input Tricaster Ultra HD production system
Extensive production, post production and facilities store open to midnight during term time and on Saturdays
Specialist green screen studio with infinity cove & 360-degree subject lighting rig. Access to Xsens motion capture kit and VR/AR/MR equipment
Nine Mac Pro edit suites with Avid Media Composer, Adobe Creative Cloud Suite & Da Vinci Resolve
Two specialist grading suites featuring DaVinci Resolve and 4K preview screens
Three 28-seat 'Post Hubs' for post production software training, equipped with dual screen Apple iMacs
Software available includes Avid Media Composer, Adobe Creative Cloud, Da Vinci Resolve and Avid Pro Tools
Avid NEXIS shared storage system for seamless access and integration of post production projects
25-seat dubbing theatre with Avid S6 mixing desk and Pro Tools Ultimate
Foley/ADR suite with access to a wide range of mics, foley traps and props. As well as three further post production audio suites, all equipped with Pro Tools Ultimate
Ten Mac Pro edit suites
Two 29-seat post production hubs
Three post production audio suites
Cinema with Christie M-Series HD projection and 7.2 surround sound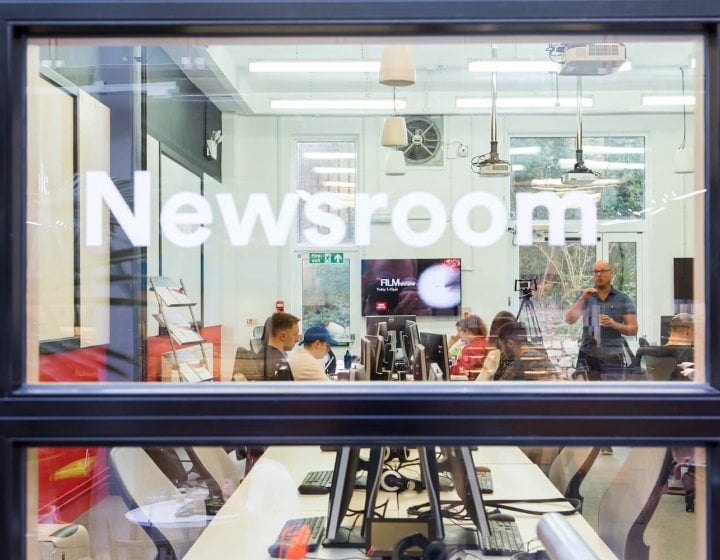 SoWJ Newsroom through window lecturer talking
Media Equipment and Facilities
Our industry-level facilities offer everything you need to practice and produce animation, film, TV,...
Media Equipment and Facilities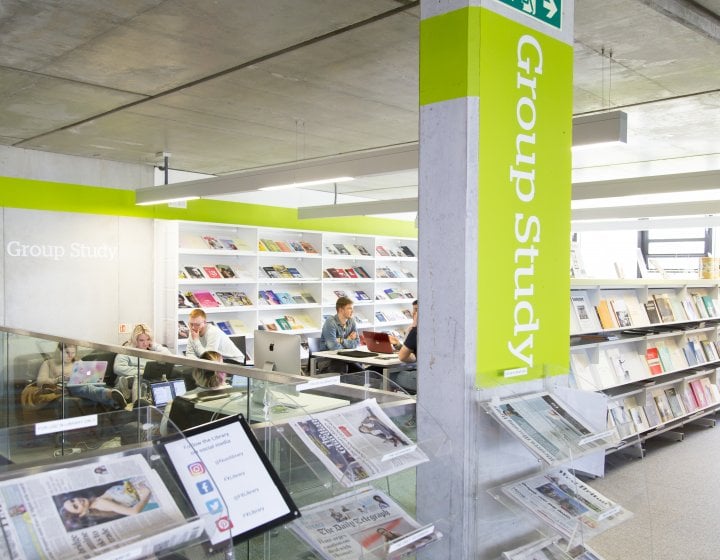 Penryn library group study area
Library Facilities
Offering extensive collections, our two libraries provide a wealth of digital resources, magazines, ...
Library Facilities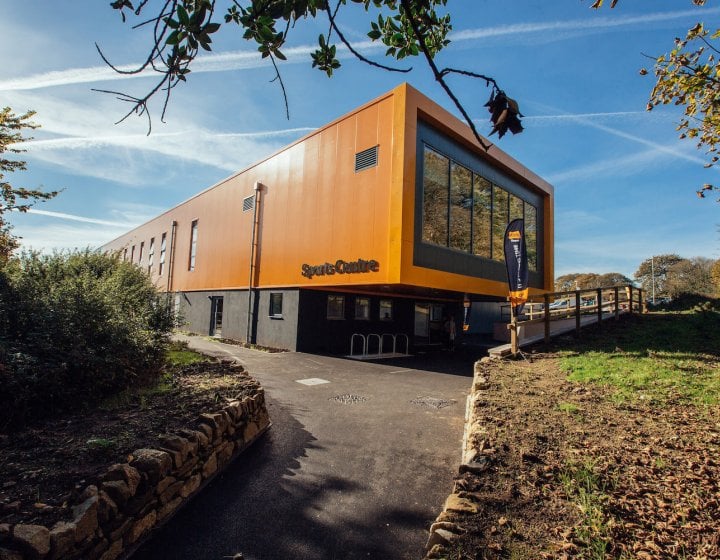 Sports Centre - Outside
Sports Centre
Sports Centre
Our Sports Centre, on Penryn Campus, includes a spacious gym with up to 90 of the latest, new statio...
Sports Centre
When you graduate you could forge a career in a variety of post production and visual effects roles, including post production supervisors, VFX producers, editors, colourists, MCR operators, post production sound assistants, music coordinators, data wranglers, Roto artists and technical directors within this developing sector.
Our graduates have worked as:
Broadcasters including BBC, Channel 4, Channel 5, HBO, ITV and Netflix
VFX companies including Framestore, ILM, MPC, Pixomondo, The Mill and Weta Digital
Production companies, editing and audio post production including Envy, Films@59, LipSynch, Molinare, Passion Pictures and Twofour
Centroid, FirstLook TV, Oakwood and WING London
Apply via UCAS
Ready to join us? You can apply through UCAS Apply and Track. You'll need to reference the course and University code (F33). 
Applying as an international student? 
International students can apply for a course through UCAS, via an agent or directly with the university. For more information about how to apply as an international student, visit our International applications page.
Course route
UCAS code
Post Production & Visual Effects BA(Hons) three year degree
W614

Post Production & Visual Effects BA(Hons) 

with Integrated Foundation Year (new for entry year 2023)
FY25

We consider all applications on their own individual merit and potential. We invite all applicants to an interview day or audition to give them the opportunity to demonstrate this along with what inspires and motivates them in their field. Applicants will also be able to show their portfolio or give a performance depending on the course. We welcome applications from all subject backgrounds, whether you've specialised in STEM, the arts or humanities.  
| Course route | Entry requirements |
| --- | --- |
| BA(Hons) three year degree | 104 – 120 UCAS Tariff points |
| BA(Hons) four year degree with Integrated Foundation Year  | 80 – 120 UCAS Tariff points |
UCAS Tariff points will primarily be from Level 3 qualifications such as but not limited to A-levels, T Levels, a BTEC/UAL Extended Diploma or a Foundation Diploma. 
For applicants whose first language is English we require you to have or be working towards GCSE English Language Grade 4 (C), or equivalent. 
If English is not your first language you will need to meet the same standard which is equivalent to the IELTS Academic 6.0 overall score, with at least 5.5 in Reading, Writing, Speaking and Listening. We accept a range of in country equivalencies and approved tests.  
If you need a student visa to study in the UK, you'll need to take a recognised language test that is approved and vouched for by the University. You can read our English Language Requirements for more information.
UK applications: 25 January 2023 (for equal consideration)
Applications after the 25 January will be considered on a first-come, first-served as long as there are places available. Apply for this course now.
International fee payers can apply throughout the year. But we recommend applying as early as possible, to make time for visa and travel arrangements.
| Annual tuition fee | Student |
| --- | --- |
| £9,250 per year | Full-time UK |
| £17,460 per year | Full-time EU/international |
| Annual tuition fee | Student |
| --- | --- |
| £TBC per year | Full-time UK |
| £TBC per year | Full-time EU/international |
Tuition fees are set annually and are subject to review each year. The University may therefore raise tuition fees in the second or subsequent years of a course, in line with inflation and/or the maximum permitted by law or Government policy. Students will be notified of any changes as soon as possible. 
Typical course costs
£200 annually – Study trips to film festivals, relevant trade shows and post production companies based locally and in London, Cardiff or Bristol.
£50 – Compulsory trips and final portfolios or shows.
£50 – Recurring annual costs for optional study visits and placements.
If you need to bring equipment or materials with you, these will be outlined in your Welcome Letter
Additional typical course costs for Integrated Foundation Year pathway
£250 for materials
A laptop/desktop computer
Adobe Creative Suite
In order to participate in our digitally enhanced learning approach, you'll need to have a personal laptop/desktop computer. Depending on your specialism, you may need a specific type of computer. You can find out more about the type of machine you'll need on your course specialism page. If you're unsure about what you might need, please contact our course advisors.
The figures above don't include accommodation and living costs
Funding
For information about funding available, please visit our undergraduate funding page.
What better way to find out about life at Falmouth University than by asking our current students? 
From course details, our facilities and the local area to the social scene and settling in, our students are ready and available to answer any questions you might have. Simply set up your account, send them a question and they'll get back to you within 24 hours.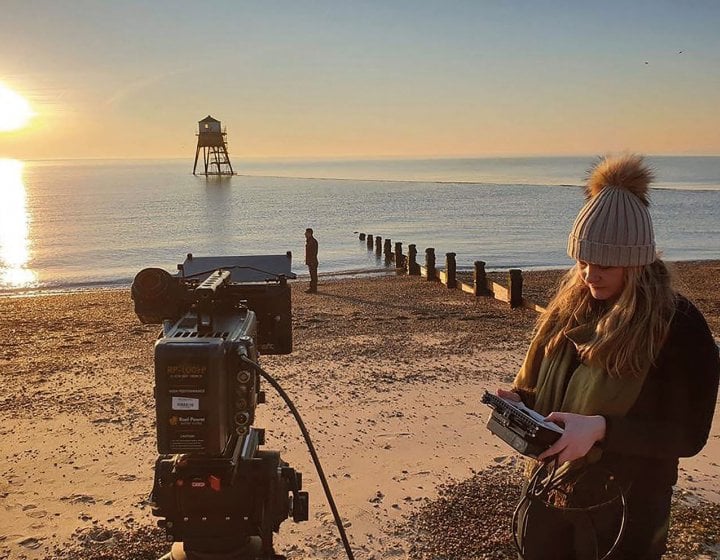 Television - 2023
Television BA(Hons)
Discover how to create everything from high-end dramas with full scale crews through to fast moving ...
Television BA(Hons)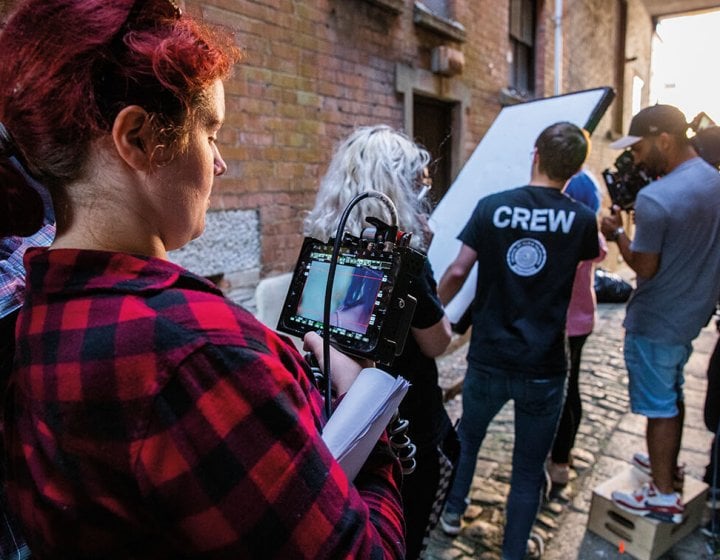 Television_2022
Film BA(Hons)
Immerse yourself in the world of film, where time, space, form and creative ideas translate into mea...
Film BA(Hons)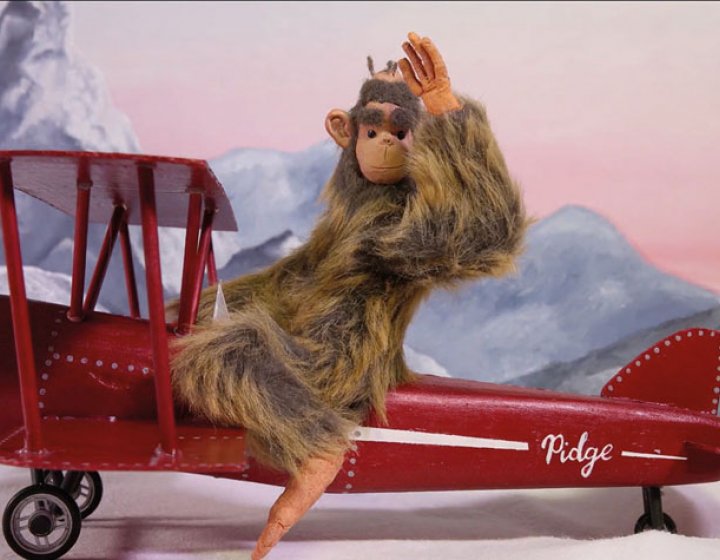 Animation 2023 lead image
Animation BA(Hons)
Bring your ideas to life through the world of animation. We'll support you in developing original,...
Animation BA(Hons)