What can you do with a Film, Television or Animation degree?
With British TV and film production at an all-time high, there has never been a better time to enter this industry.  
If you have aspirations of becoming a screenwriter, producer, director or animator then a degree in Film, Television or Animation provides the foundations for a career in cinema. Studying Film, TV or Animation also offers the opportunity to develop a varied skillset and try different specialisms such as documentary filmmaking, editing, sound design, post-production and publicity. 
As well as working in the film industry, graduates could also pursue careers in other media sectors such as gaming, publishing, marketing, music and sport. 
Job opportunities
Our Film, Television and Animation degrees prepare graduates for a broad range of careers in the creative industries. You could become a: 
Producer 
Director 
Production Manager 
Production Coordinator 
Post-production Supervisor 
Concept Artist 
Art Director 
Storyboard Artist 
Character Designer 
Modeller 
Animation Technical Director 
Layout Artist 
Background Artist 
Rigger 
Lighting Artist 
Animator 
Post-Production Supervisor 
VFX Producer 
Editor 
Colourist 
Music Coordinator 
Data Wrangler 
Roto Artist 
Graduates in the spotlight
Our graduates have gone on to carve successful careers in the following roles: 
Production Assistant at HBO 
Script Assistant at BBC Children's 
Edit Assistant at BBC Studios 
Camera Operator at LoveLove Films 
Production Coordinator at NBCUniversal 
Assistant Producer at Telegraph Media Group 
Senior Set Dresser and Prop Maker at Aardman Animation 
Motion Designer at Radley Yeldar 
Editor at Beagle Media  
Assistant Director at Films@59 
Camera Floor Technician at Take Two Films 
Researcher at Back2Back Productions 
A degree will teach you the technical skills needed to work in the film industry. If you're studying on campus, our professional film and television facilities include production studios, editing suites, animation studios, green screens, radio control rooms and a 129-seat cinema.  
Through lectures and industry masterclasses you'll gain experience in sound design, lighting, editing, post-production, visual effects, screenwriting, storyboarding, colour grading, rigging, facial capture and stop-motion animation – many of the core skills needed in modern productions. 
Students are also taught industry-relevant business practices such as legal, social and ethical issues and codes of practice when filming; particularly useful if you're looking to work as a freelancer, or start your own production company.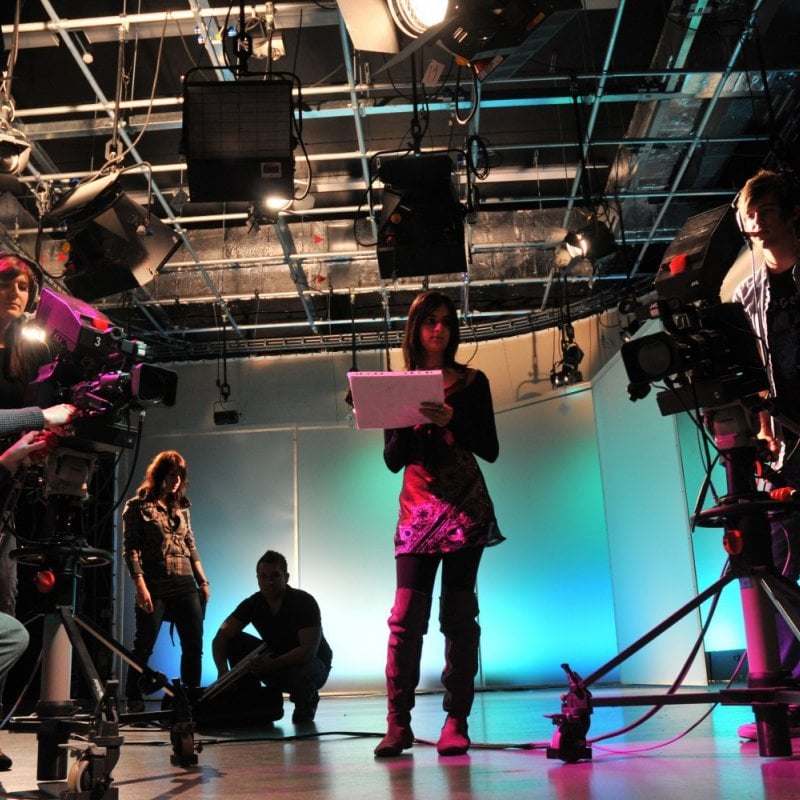 Transferable skills
As well as specialist skills, students develop a range of transferable skills that are desirable to many employers. These include:
Ability to understanding a brief and the needs of different stakeholders
Leadership skills through project management and collaborative outputs
Innovative solutions to problem solving and a willingness to take creative risks
Strong research, observational and analytical skills
Verbal and written communication skills, including presentation and pitching
Interpersonal skills through critiques, peer reviews and group tutorials
Ability to meet deadlines and manage budgets
Ability to negotiate and outsource tasks
Entrepreneurial skills in marketing your work and building professional networks
The hands-on approach of our degrees mean that students are industry-ready practitioners upon graduation. While studying, students can work on in-house short and feature films through the Sound/Image Cinema Lab – which has in the past included BAFTA-winning Bait (Mark Jenkin, 2019) and The Tape (Martha Tilston, 2020). 
Our guest lecture series provides students with an unrivalled programme of guest speakers who deliver talks and masterclasses across a range of specialisms and career paths. This is a chance to learn from and network with working practitioners who are keen to share their knowledge and experience with the next generation of filmmakers. 
Throughout their studies, students and graduates can access our dedicated Employability Service. We offer weekly career workshops and events, support with practice interviews and advice on CV writing or even going freelance. 
By the time our students graduate, they have their own professional identity and portfolio to start bringing their business ideas to life. 
Our Film, Television & Animation courses