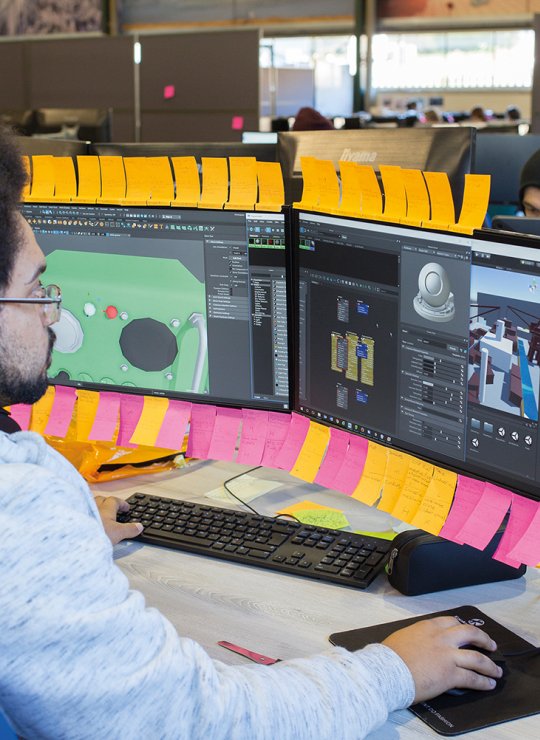 Game Animation BA(Hons)
Specialise as an animator working on games.
Key details
Course duration
3 years / 4 years
Attendance
Full-time / Placement year
Course overview
Specialise as a games animator, one of the industry's most sought-after roles. If you have the passion, we'll teach you what you need to know – from mastering core character animation skills to integrating real-time animation into projects. Working in studio-style collaborative teams that mirror industry practice, you'll experience working through full implementation of the game animation pipeline. You'll graduate with a rich portfolio of work, ready to launch your games career.
You will:
Develop key animation principles in a game development context
Learn how to animate believable and stylised characters
Rig and animate characters in real time to implement into major game engines Unreal and Unity
Learn how to use motion and facial capture equipment effectively
Collaborate in multidisciplinary teams, keeping the Intellectual Property (IP) of games you produce
Work in one of the largest, best-equipped dedicated game-making spaces of any UK university
The placement year pathway for this course is new for entry year 2023 and is subject to validation.
On this Game Animation degree, you'll have the opportunity to gain a BA(Hons) degree over three years or the option to study Game Animation BA(Hons) with Integrated Foundation Year and/or a placement year.
You'll build up your core skills as an animator, learning game development processes and the roles of different specialisms within the games industry. You'll then work on team-led projects and collaborate with artists and programmers to create rich characters that are responsive to player controls. You'll rig and animate digital models to bring your ideas to life.
Games Academy showreel 2020
Course structure
You'll learn what it takes to make an animated game, including asset creation, project management and development pipelines, pitching ideas and considering theories about what games are and how they engage players. Developing your skills in animation, you'll enhance cross-disciplinary groups as you pitch a game and build it as part of a collaborative team.
Modules
Development Foundations
You'll be introduced to the basic principles of game animation, including key roles, terminology and tools used in the development of digital products and services.  
Working as part of a small team, you'll practice various prototyping methods and pitch your idea for a future games project.
Digital Creativity
You'll explore a range of digital media formats, including text, image and sound. You'll experiment with manipulating digital artefacts and learn how to integrate them with digital game technologies, such as game engines, to make your work interactive.
Game Animation 1
Through regular animation exercises, you'll deepen your knowledge of key animation principles, including learning about rigging and animation workflows. You'll then produce a showreel of your work.
Reading Games
To help inform and broaden your own development practice, you'll study and write about the nature of digital experiences, their markets and the context of their production.
Multidisciplinary Teamwork
Working in multi-skilled teams, you'll produce a digital product or service in response to a brief. You'll learn how to manage a software development project and apply your specialist skills in game animation within a development pipeline.
Game Animation 2
Building from the Game Animation 1 module, you will focus entirely on creating believable characters, developing a full motion set for a character that will be set up in a game engine ready for playing.
With greater confidence in your skills, you'll mirror professional game development as you tackle a larger game project in a multi-skilled group. Over the course of the year, you'll research and experiment with various approaches to game animation and create innovative features. You'll investigate strategies to enhance the player experience and learn what drives industry trends and developments from visiting professionals. Throughout the year you'll continue developing your specialist game animation practice.
Modules
Game Form and Player Experience
In this module, you'll explore the relationship between game design and player experience. You'll research theories of game play, and analyse the popularity of certain methodologies, including ludic experiences and narrative.
World Building: Pre-production
Working in a multi-skilled team, you'll design a concept for a digital 'world creation' project. You'll broaden your understanding of key game animation principles, including world-building and exploratory concept work, prototyping, pre-production, and the early phases of production.
Game Animation 3
You'll develop advanced rigging and animation skills, with an emphasis on facial rigging and motion capture. You'll also create a short cinematic sequence to highlight a game character.
World Building: Production
You'll continue to design and build your 'world creation' project while working in your multi-skilled teams. You'll deliver content in line with production milestones and prepare to launch and market your product.
Collaboration
You'll collaborate with fellow students in the Games Academy to respond to a challenge brief.
You'll then use this experience to respond to a second project brief set by the Game Animation course teams.
You can choose to take an optional placement year after your second year on a three-year programme, or after your third year if you're studying for a degree with an Integrated Foundation Year. 
You'll be responsible for finding your own placement, with support from the RealWORKS employability team. 
Choosing this option will enhance your industry experience and skills while studying. 
How you'll study during your placement year 
You'll spend time working in a professional context, as part of a business or organisation. This can be in one role, or up to three, and must be for a minimum of 24 weeks. 
You'll develop in-demand workplace skills, deepen your insight into industry and grow your network of contacts, all of which could help you get ahead in your career after graduation. 
Throughout this year, you'll develop a portfolio of work that includes critical self-reflection on what has been learned from the experience. You'll be required to evidence your experiences, the skills you've learned and your professional growth. 
During the final year of your Game Animation course, you'll produce a complete and potentially publishable game as part of a team. By pitching it to industry professionals, you'll receive reliable and insightful feedback. You'll also research a topic relevant to your project and build an online portfolio with a clear centrepiece, sharpening your real-world insights and building valuable career contacts.
Modules
Experience Design
Broadening your transferable skills, you'll create a product or service centred around experience design. This could include an animated short film, interactive novel, animation for an app, motion capture sequence or animated assets for a specific media experience.
Future Skills
Focusing on employability, you'll develop a commercial awareness and entrepreneurial mindset. You'll explore career options, including researching the skills required to set up your own business, establish yourself as a freelancer, or for use as an employee in a business or organisation.
Professional Portfolio
You'll broaden your knowledge of employment and enterprise opportunities within the industry, and receive mentoring on how to apply for work, including CV and portfolio advice.
Future of Games
You'll explore the current climate of contemporary games and digital culture, while examining cultural and technological changes that are likely to influence the future of the games industry. In doing this, you'll confront a range of issues relating to ethical production and sustainability, equality and civil rights, and personal identity and ideology.
Major Collaboration
Leveraging the skills learnt across the three years, you'll deliver a substantial collaborative project. Working in multi-skilled teams, you'll design and build a digital product or service, such as a mobile app, installation, game, web application, robot, immersive experience or software development tool.
Why study an Integrated Foundation Year route?
If you're taking on a new subject that you haven't studied in depth before, have been out of education for a while or have a non-standard educational background then an Integrated Foundation Year degree may be the right choice for you. It is a four-year degree with an Integrated Foundation Year to start, which allows you to explore the primary elements of your subject before progressing on to the remaining three years of the BA(Hons) degree.
What you'll learn
If you choose this pathway, you'll study five core modules in your Foundation year. These are all designed to help you explore the foundational elements of your subject. You'll gain relevant technical skills, learn to experiment and take risks, develop an understanding of professional practice, have opportunities to work across disciplines and collaborate with other students on live project briefs.
Modules
Explore
You'll begin your foundation year by working collaboratively with others to explore themes of the future. You'll take risks, experiment through play and be supported to break through barriers.
Technique
You'll take subject-specific workshops and develop essential technical and practical skills in your area of study. You'll also enhance your analytical and organisational abilities.
Apply
You'll work with your peer group to think beyond discipline by addressing a societal or global issue. You'll then showcase your work to your peers and deliver and accompanying evaluation of your process.
Industry
You'll enhance your creative and practical skills in your subject specialism by responding to typical industry briefs, underpinned by focused research and experiments. You'll also gain industry insights through guest lectures and workshops.
Launch
You'll develop your unique identity in your specialism through the production of a self-initiated body of work. Your final project will be the bridge to your next year, fully supported by evaluative reviews and critical analysis of the work you have created.
After the Foundation year, you progress into Year One of the full three-year degree, equipped with a deeper knowledge of your subject, a clear understanding of your strengths, and develop a practical and technical skillset and the confidence to excel in your chosen subject.
If you apply for and enrol onto a degree with an Integrated Foundation Year, you'll have the option to switch onto a five-year version including a placement year. That means you'll complete the first three years of your course before completing a placement in industry in your fourth year and returning to Falmouth for the fifth year of your programme. 
The modules above are those being studied by our students, or proposed new ones. Programme structures and modules can change as part of our curriculum enhancement and review processes. If a certain module is important to you, please discuss it with the Course Leader.
From module information to course aims and assessment criteria, discover the three year degree full course details
Stories from our community
Explore student projects, graduate successes, staff news and industry insights
How you'll learn
You'll create original animated games through group work, professional practice and Game Jams. You'll also develop practical skills through practice-based workshops and learn to evaluate and improve your work through group tutorials, crits, and individual tutorials. 
You'll share specialist first-year modules with other Games Academy courses. As the Game Animation course progresses, you'll move from fundamental animation skills to rich, character-driven animation and shift your focus to project teamwork. 
At Falmouth, we use a 'digitally enhanced learning & teaching' approach. Your experience will always be predominantly in-person, including seminars, tutorials and studio teaching, with some, more targeted elements, being online either live (synchronous) or pre-recorded (asynchronous). You can read more here.
How you'll be assessed
100% of your assessment will be coursework.
Assessment methods
Teamwork features heavily to reflect the industry
Game making is the primary form of assessment
Continuous assessment with no formal examinations
Visual, verbal and written assignments
Portfolio of project work
Foundation year assessments are 100% coursework based.
Staff
You'll be taught by professional game animators, developers and artists coming from companies like Square-Enix, Octopus 8 Studios and Disney as well as indie studios. Together, they have worked on titles like Hitman, League of Legends, World of Warcraft and Final Fantasy XII.
Some members of staff only teach on specific modules, and your course might not feature every staff member who teaches on the course.
Facilities
Large studio equipped with regularly updated, state-of-the-art game development machines, crash mats and soft animation props
XSens MVN Awinda motion capture suits
Life drawing studio for artists and weekly life drawing sessions
Specialised computing hardware for game development, deep learning projects, motion capture and immersive experiences
Standard packages used in software development for the games and visual effects industries, including Adobe and Autodesk suites
Attached lab committed to staying at the cutting edge - featuring augmented reality, virtual reality AR/VR/MR (XR) equipment including HoloLens, HoloLens 2 and Oculus Quest 2
Attached lab with access to PS4 development and testing kits
Access to a variety of game engines including Unity and Unreal
Access to voice over and video recording facilities
Studios open late during term time
Access to free software via Microsoft Imagine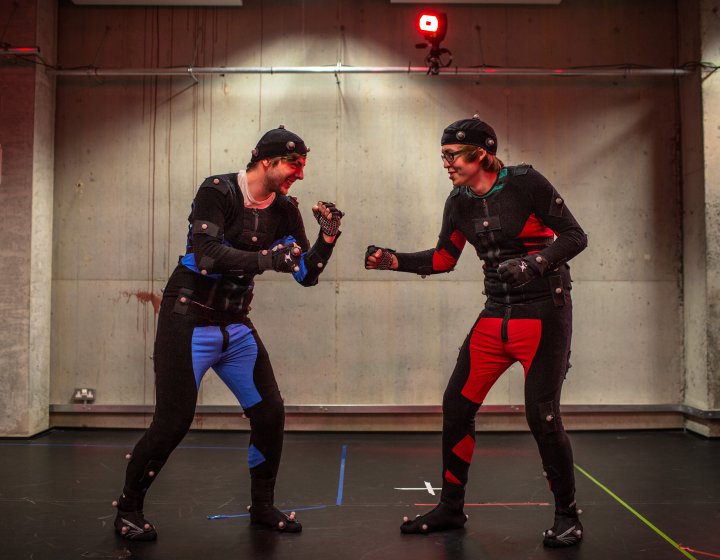 games academy fight
Games Academy Facilities
Our Games Academy offers professional-standard studios, a dedicated craft room, breakout spaces, and...
Games Academy Facilities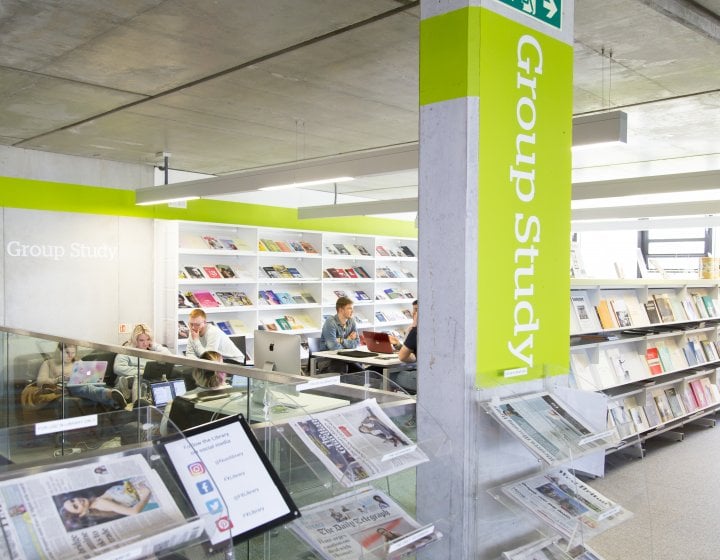 Penryn library group study area
Library Facilities
Offering extensive collections, our two libraries provide a wealth of digital resources, magazines, ...
Library Facilities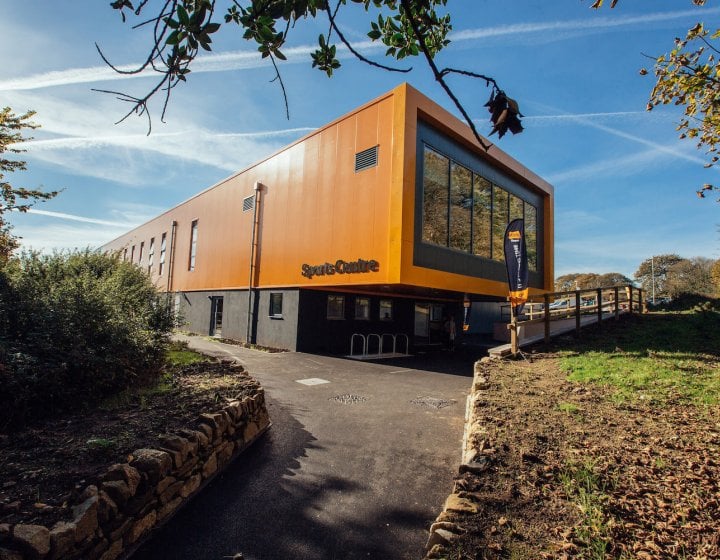 Sports Centre - Outside
Sports Centre
Sports Centre
Our Sports Centre, on Penryn Campus, includes a spacious gym with up to 90 of the latest, new statio...
Sports Centre
As a Game Animation graduate, you could become a:
Cinematic Artist
Animator
Junior Animator for VR
Games Animator
Creature Animator
Gameplay Animator
Character Animator
Trainee motion capture technician
Apply via UCAS
Ready to join us? You can apply through UCAS. You'll need to reference the course and University code (F33).
Applying as an international student? 
International students can apply for a course through UCAS, via an agent or directly with the university. For more information about how to apply as an international student, visit our international applications page.
| Course route | UCAS code |
| --- | --- |
| Game Animation BA(Hons) three year degree | I609 |
| Game Animation BA(Hons) with Integrated Foundation Year | FY38 |
| Game Animation BA(Hons) with placement year | PY28 |
We consider all applications on their own individual merit and potential. We invite all applicants to an interview day or audition to give them the opportunity to demonstrate this along with what inspires and motivates them in their field. Applicants will also be able to show their portfolio or give a performance depending on the course. We welcome applications from all subject backgrounds, whether you've specialised in STEM, the arts or humanities.  
| Course route | Entry requirements |
| --- | --- |
| BA/BSc(Hons) three year degree | 104 – 120 UCAS Tariff points |
| BA/BSc(Hons) four year degree with placement year | 104 – 120 UCAS Tariff points |
| BA/BSc(Hons) four year degree with Integrated Foundation Year | 80 – 120 UCAS Tariff points |
Check the title of your course to see if it's a BA or BSc award. UCAS Tariff points will primarily be from Level 3 qualifications such as but not limited to A-levels, T Levels, a BTEC/UAL Extended Diploma or a Foundation Diploma. 
For applicants whose first language is English we require you to have or be working towards GCSE English Language Grade 4 (C), or equivalent. 
If English is not your first language you will need to meet the same standard which is equivalent to the IELTS Academic 6.0 overall score, with at least 5.5 in Reading, Writing, Speaking and Listening. We accept a range of in country equivalencies and approved tests.  
If you need a student visa to study in the UK, you may need to take a recognised language test. You can read our English Language Requirements for more information.
For starting your studies in 2023
UK applications: 25 January 2023 (for equal consideration)
Applications after the 25 January will be considered on a first-come, first-served as long as there are places available. Apply for this course now.
International fee payers
International fee payers can apply throughout the year. But we recommend applying as early as possible, to make time for visa and travel arrangements.
What we're looking for
We want someone who:
Is passionate about creating games.
Wants to work as a specialist game animator in either the AAA or indie area of the industry.
Wants to develop real games in multidisciplinary teams in a studio mirroring the industry.
Enthusiastically follows current video game technologies.
Shows communication skills and understands their specialism.
Tuition fees
| Annual tuition fee | Student |
| --- | --- |
| £9,250 per year | Full-time UK |
| £17,460 per year | Full-time EU/international |
| Annual tuition fee | Student |
| --- | --- |
| £9,250 per year | Full-time UK |
| £17,460 per year | Full-time EU/international |
| £1,850 per placement year | Full-Time UK and EU/international |
Tuition fees are set annually and are subject to review each year. The University may therefore raise tuition fees in the second or subsequent years of a course, in line with inflation and/or the maximum permitted by law or Government policy. Students will be notified of any changes as soon as possible. 
The figures above don't include accommodation and living costs
Typical course costs
£1500 - Laptop or desktop capable of running 3D modelling software
£150 - Recommended reading
£30-£150 - Headset with microphone
£25-£100 - Webcam
If you need to bring equipment or materials with you, these will be outlined in your Welcome Letter
Additional typical course costs for Integrated Foundation Year pathway
£250 for materials
A laptop/desktop computer
Adobe Creative Suite
In order to participate in our digitally enhanced learning approach, you'll need to have a personal laptop/desktop computer. Depending on your subject, you may need a specific type of computer. If you're unsure about what you might need, please contact our course advisors.
What better way to find out about life at Falmouth University than by asking our current students?
From course details and academic support, to the social scene and settling in, our students are ready and available to answer any questions you might have. Simply set up your account, send them a question and they'll get back to you within 24 hours.