What can you do with a Games or Computing degree?
Studying a degree in Computing or Games will open doors for an exciting and potentially lucrative career in a variety of industries. 
There has never been a better time to study a Computing or Games degree. From the Internet of Things and big data to augmented reality and machine learning, new developments in computing are becoming part of our everyday lives. Not to mention that gaming is the fastest-growing form of entertainment globally, with over 2.5 billion video gamers around the world. 
With the evolution of digital technologies, computing graduates are desirable to a range of employers in sectors such as aerospace and defence, cyber security, financial services, healthcare, manufacturing, telecommunications, as well as IT consultancies and IT service providers. 
If you've always wanted to be a programmer, graphic artist or work for the big names in games, then a degree in a game specialism, such as game design, development or art, can lead to a rewarding career working in the industry. 
Job opportunities
Our Games and Computing degrees are designed to equip graduates for a broad range of careers. You could become a: 
Data Scientist 
Computer Scientist 
Programmer 
Data Analyst 
App Developers 
AI Programmers 
Software Engineer 
Network Engineer 
IT Consultant 
Chief Technical Officer 
Entrepreneur 
Game Animator
Game Designer 
3D Modeller 
XR Specialists 
Machine Learning and AI specialists 
Roboticists 
Graduates in the spotlight
Our graduates have gone on to carve successful careers in the following roles: 
Game Designer at Supermassive Games 
AI Programmer at Gates of Amenti 
Junior Artist at Stainless Games 
Software Developer at Bluefruit Software 
Our Games and Computing degrees offer the chance to specialise in a particular field, such as Data Science, Robotics or Esports. Through lectures and workshop-based teaching, our students gain professional skills in programming, mixed reality, software engineering, virtual reality, cloud computing, AI, machine learning and design thinking. If you study a Game Art or Game Animation degree, you'll also build skills in drawing, composition, digital painting, 3D modelling, rigging, motion capture, character art, environment art and concept art. 
Our Games Academy is one of the largest dedicated game studio spaces of any UK university. Students have access to industry-standard technology, including portable VR systems, motion capture suits, 3D printers, mobile development kits, HoloLens devices, voiceover recording equipment and robotics R&D labs.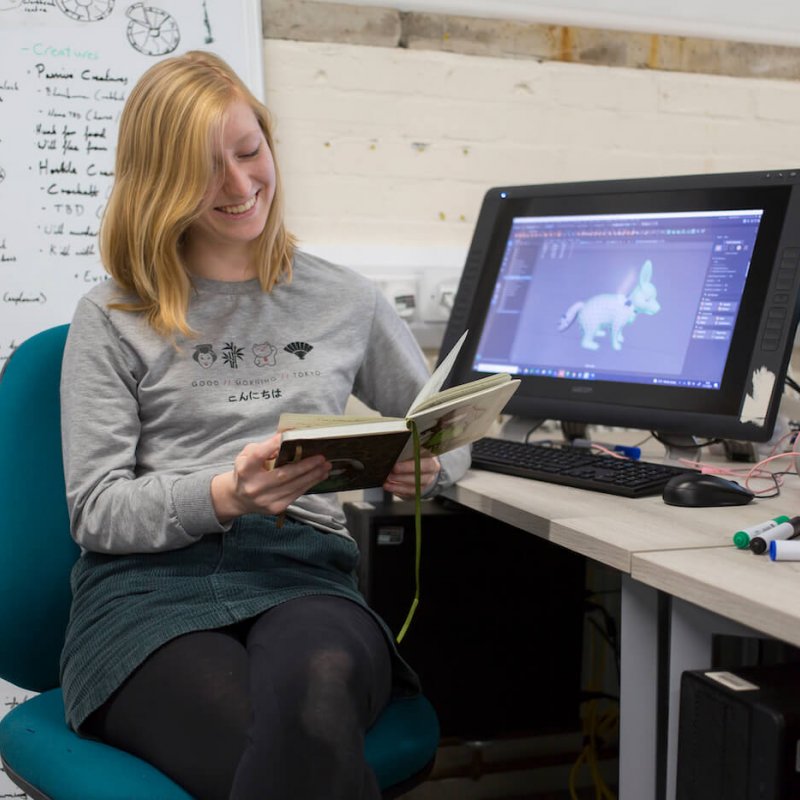 Transferable skills
As well as specialist knowledge and skills, students develop a variety of transferable skills that are desirable to a range of employers. These include:
Leadership skills through project management and collaborative outputs
Innovative solutions to problem solving and a willingness to take creative risks
Strong research, observational and analytical skills
Verbal and written communication skills, including presentation and pitching
Interpersonal skills through critiques, peer reviews and group tutorials
Entrepreneurial skills in marketing your work and building professional networks
Our industry-focused Computing and Games degrees offer the chance to create original programs and games while you study. We put a focus on working in multi-skilled teams to realise projects with real commercial potential using approaches that mirror industry practice. Furthermore, several of our Computing degrees facilitate self-directed national and international work placements. 
Alongside their studies, students can also build industry networks by taking part in events such as the Global Game Jam and pitch their projects to industry professional at our annual Show and Tell day. 
When you study at Falmouth, you have access to our dedicated Employability Service. Students can sign up for weekly career workshops and events, take practice interviews and get support on CV writing or even going freelance. 
Our Computing & Games courses