Immersive Computing BSc(Hons)
Working across the whole spectrum of extended reality, learn to develop mixed, augmented and virtual reality experiences for real companies from day one.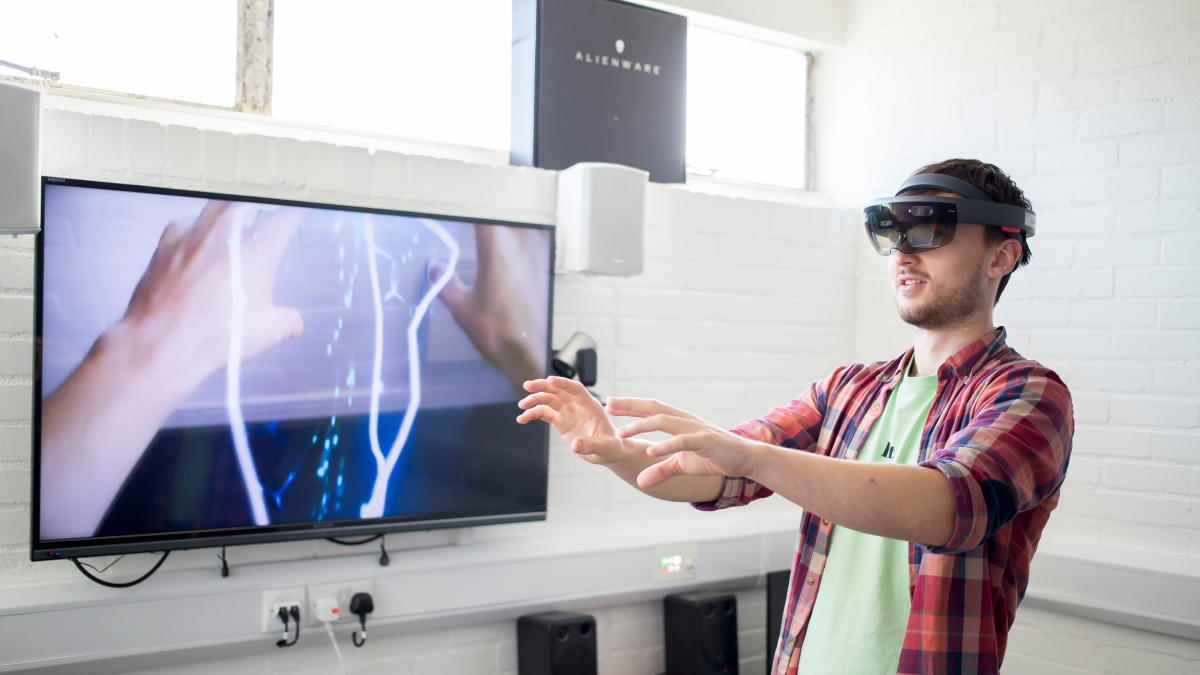 Key details
| | |
| --- | --- |
| Location | Penryn Campus |
| Course Duration | 3 years |
| Attendance | Full-time |
| UCAS code | I630 |
| Subject to validation during this academic year | ✔ |
This course is in Clearing
Introduction
As an early adopter of new and experimental technology, you'll learn computer science and human-computer interaction, alongside practical programming skills to create compelling immersive experiences.
You will:
Collaborate in multidisciplinary teams designed to simulate industry life.
Create a varied portfolio of VR and XR experiences with support and guidance to take your products to market.
Develop immersive experiences which have the power to fundamentally change the way we interact with technology.
Work alongside a community of game artists, animators and writers.
Have the chance to be the first to market with new, interesting and disruptive technology.
Course details
What you'll learn
You'll gain practical experience in software engineering, computer science, and immersive media research methods. We'll cover development pipelines like agile with scrum, and build your specialist knowledge of novel and emerging immersive technologies used across the spectrum of extended reality (XR) applications.
You'll learn the basics of computing, programming and computer technology, and the pipelines and processes used in the industry. We'll support complete beginners as we go through the standards for collaborative software development, helping you apply what you've learned to a small team-based design and development project.

Modules

Development Principles
Principles of Computing
Creative Computing
Multidisciplinary Development Practice
Individual Creative Computing Project
Along with a team of multi-skilled collaborators, you'll integrate AR, VR or MR into a year-long 'world creation' project alongside game developers. You'll also develop your core computing skills in immersive technology.

Your Specialist XR Practice module focuses on the design and implementation of immersive experiences using novel and emerging technologies. We'll cover languages like Java and JavaScript, place more emphasis on C++, and teach you to develop for equipment like Microsoft HoloLens and HTC Vive.

Modules

World Creation Project: Pre-Production
Mathematics for Virtual Worlds & Simulations
Specialisms in Creative Computing
World Creation Project: Production
Developing Specialist VR Practice
We'll further explore the industry, and help you prepare for your future as an immersive technology developer. You'll take on an individual research project into novel and emerging technology, and a year-long team project combining collective innovation and enterprise. At the end of the year, you'll pitch your project to industry professionals as part of our annual Show & Tell day.

Alongside this you'll study advanced topics in immersive experience design, and learn statistical computing for audience and experience analysis in R. You'll also set up a portfolio website using HTML and CSS.

Modules

Major XR/VR Development Project: Pre-Production
Research & Development: Practice
Major XR/VR Development Project: Production
Research & Development: Dissertation
The modules above are those being studied by our students, or proposed new ones. Programme structures and modules can change as part of our curriculum enhancement and review processes. If a certain module is important to you, please discuss it with the Course Leader.
How you'll learn
The course is built around collaborative team projects, industry speakers, technical demonstrations, crit sessions and project supervision. You'll also learn through lectures, seminars, workshops, tutorials and studio work. Your tutors will support your individual and team projects with weekly supervision meetings, and help you develop self-evaluation skills.
How you'll spend your time
| | | | |
| --- | --- | --- | --- |
| Year | Timetabled teaching and learning activity | Guided independent study | Placements |
| 1 | 34% | 66% | 0% |
| 2 | 33% | 67% | 0% |
| 3 | 33% | 67% | 0% |
How you'll be assessed
| | | | |
| --- | --- | --- | --- |
| Year | Written exams | Practical exams | Coursework |
| 1 | 0% | 0% | 100% |
| 2 | 0% | 0% | 100% |
| 3 | 0% | 0% | 100% |
Assessment methods
Coursework is the only form of assessment.
You'll be continually assessed on your projects, portfolios of specialist work, and insights.
Staff
You'll learn from immersive technology scholars and researchers, game designers, and other industry professionals. Each tutor and mentor brings unique experience from companies like Blizzard, IO Interactive, Sony Computer Entertainment, Riot, Square Enix, Creative Assembly, Bizarre Creations, Antimatter Games, Lionhead Studios, Supermassive Games, Zenimax, and Blitz Games.
Facilities
Large studio equipped with state-of-the-art game development machines.
Specialised computing hardware for game development, deep learning projects, motion capture and immersive experiences.
Standard packages used in software development for the games and visual effects industries, including Adobe and Autodesk suites.
Attached lab committed to staying at the cutting edge - featuring AR/VR/MR (XR) equipment including HoloLens, Vive Pro and Oculus Rift.
XSens motion capture suits.
Attached lab with access to PS4 Development and Testing kits.
Access to a variety of game engines including Unity and Unreal.
Studios open late during term time.
Access to free software via Microsoft Imagine.
How to apply
Entry requirements
GCSE Mathematics Grade 4 (C), or equivalent.
104 - 120 UCAS points, primarily from Level 3 qualifications like A-levels, a BTEC Extended Diploma or a Foundation Diploma.
Check how many points your qualifications are worth
We'll also consider you based on your individual merit and potential. So get in touch if:
You're predicted points below our requirements
You're thinking about transferring from another institution
You have other qualifications or professional experience
Language requirements
GCSE English Language Grade 4 (C), or equivalent.
We also accept qualifications equivalent to the IELTS Academic 6.0 overall score, with at least 5.5 in Reading, Writing, Speaking and Listening. 
If you need a Tier 4 student visa to study in the UK, you'll need to take an approved Secure English Language Test (SELT).
Apply via UCAS
Enter these codes at UCAS Apply and Track

University code F33
Course code I630
Deadlines
UK/EU applications: 15 January
Late applications will be considered if there are places available.
International fee payers can apply after the deadline. But we recommend applying as early as possible, to make time for visa and travel arrangements.
Next steps
What we're looking for
We want someone who:
Is passionate about immersive technologies
Aspires to work as a programmer or technology specialist
Wants to develop immersive experiences in multidisciplinary teams in a studio mirroring the industry
Enthusiastically follows current virtual reality and mixed reality technologies
Likes to experiment and tinker with code and technology
Enjoys finding out how things work
Is comfortable with maths and problem solving
Fees, costs & funding
Tuition fees
£9,250 - full-time UK/EU

£15,000 - full-time international

Typical course costs

£500 - Recurring annual costs
£1500 - Laptop or desktop capable of running appropriate software
£500 - VR headset

If you need to bring equipment or materials with you, these will be outlined in your Welcome Letter.

The figures above don't include accommodation and living costs
£9,250 - full-time UK/EU

£16,000 - full-time international

Typical course costs

£500 - Recurring annual costs
£1500 - Laptop or desktop capable of running appropriate software
£500 - VR headset

If you need to bring equipment or materials with you, these will be outlined in your Welcome Letter.

The figures above don't include accommodation and living costs
Tuition fees are set annually and are subject to review each year. The University may therefore raise tuition fees in the second or subsequent years of a course, in line with inflation and/or the maximum permitted by law or Government policy. Students will be notified of any changes as soon as possible.