Computing for Games BSc(Hons)
Acquire the skills needed to shape the games of the future by studying computer science through the lens of games.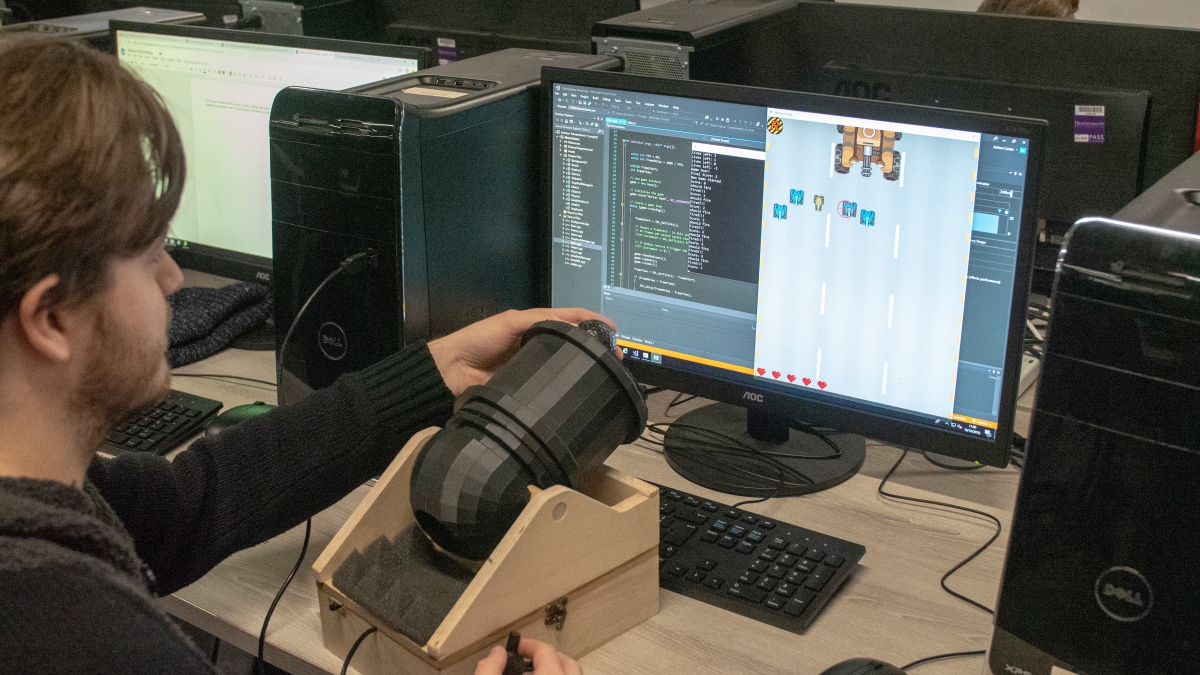 Key details
| | |
| --- | --- |
| Location | Penryn Campus |
| Course Duration | 3 years |
| Attendance | Full-time |
| UCAS code | I610 |
| Contact | 01326 254350 |
This course is in Clearing
Introduction
You'll work with everyone else in the Games Academy - from animators through to sound designers - to develop a multi-disciplinary approach, with creative collaboration at its heart, which will give you the best possible preparation for industry.
You will:
Get under the hood of video game engines like Unity and Unreal while learning a range of programming languages like Python, C# and C++.

Explore the latest technologies like procedural content generation, deep learning, and mixed reality.

Blend art and science while developing teamwork and communication skills that are highly desired in the industry.

Create an 'optimisation mindset' by learning to work within technical constraints.

Make games collaboratively with artists, animators, composers, designers 

and writers.
What our students do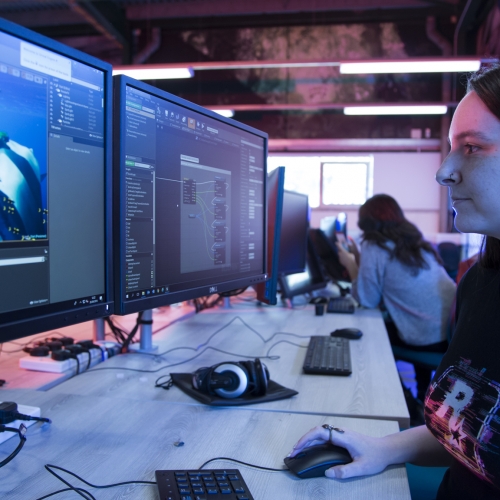 Student Wins Women in Games Scholarship
---
Third year Computing for Games student Lucy Stent has been awarded a scholarship by the 2018 European Women in Games conference.
Lucy's story
Read More
What our graduates do
While our graduates typically work towards careers in sectors like digital games and software development, we also help them set up their own businesses, or take on incubation programmes like Launchpad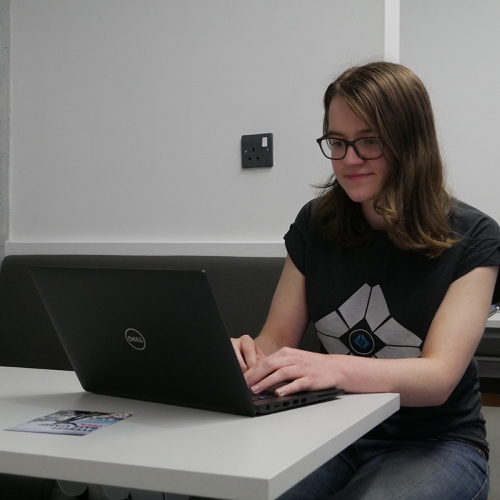 Graduate Presents AI Research at Games Conference
---
Maddie Kay presented her cutting-edge research project at the Foundations of Digital Games Conference 2018 in Malmö, Sweden.
Maddie's story
Read More
Course details
What you'll learn
You'll concentrate on programming in multiple languages, including C++, as well as software engineering, project management and technology. By studying industry-level software development methods, and focusing on collaboration, creativity and enterprise, you'll equip yourself to make and sell original games.
Beginning with an introduction to programming, you'll learn the basics of computing using Python. We'll support complete beginners as we go through the standards for collaborative software development, helping you apply what you've learned to a small team-based exercise.

You'll then embark on your first multi-disciplinary game development project alongside artists, animators, composers, designers, and writers. This project gives you a practical understanding of game engineering processes and game engine architecture - typically, using either C++ in Unreal 4, or C# in Unity.

Throughout the year, you'll work individual creative computing projects into your games. These projects typically involve procedural content generation and physical computing, reflecting our research strengths.

Modules

Development Principles
Principles of Computing
Creative Computing
Multidisciplinary Development Practice
Individual Creative Computing Project
You'll develop a game in collaboration with students from other disciplines, develop a portfolio of specialist game components for current and future projects, and explore specialist fields in modern gaming.

These fields give you a chance to learn to develop for equipment like Microsoft HoloLens or HTC Vive, and analyse rendering APIs like OpenGL and shader languages like GLSL. You'll also be able to apply techniques like Monte Carlo Tree Search to design bots, and implement client-server multiplayer games using the cloud. On top of a greater emphasis on C++, we'll also address a greater variety of programming languages like Java and JavaScript.

Modules

World Creation Project: Pre-Production
Mathematics for Virtual Worlds
Specialisms in Creative Computing
World Creation Project: Production

Options include:

Interfaces & Interaction
Graphics & Simulation
Artificial Intelligence
Distributed Systems
Working with team members from different disciplines, you'll turn your skills and expertise into an original game as part of a year-long major development project. You'll also research a specialism as part of your final year project - applying cutting-edge computing technology to your game's development. At the end of the year, you'll pitch your game to industry professionals as part of our annual Show & Tell day.

You'll also study advanced topics like low-level programming in assembly, techniques for optimising code for console architectures like Sony PlayStation 4, and learn statistical computing for game analysis in R. You'll also set up a portfolio website using HTML and CSS.

Modules

Major Game Development Project: Pre-Production
Research & Development: Practice
Major Game Development Project: Production
Research & Development: Dissertation
The modules above are those being studied by our students, or proposed new ones. Programme structures and modules can change as part of our curriculum enhancement and review processes. If a certain module is important to you, please discuss it with the Course Leader.
How you'll learn
You'll learn in an environment mirroring the industry, with technical workshops and tuition boosted by collaborative, studio-based projects. Individual and group projects with students from other disciplines will be key to your development. You'll create software, devise new applications for computing, generate solutions to technical problems, and develop novel and appealing games.
How you'll spend your time
| | | | |
| --- | --- | --- | --- |
| Year | Timetabled teaching and learning activity | Guided independent study | Placements |
| 1 | 34% | 66% | 0% |
| 2 | 33% | 67% | 0% |
| 3 | 33% | 67% | 0% |
How you'll be assessed
| | | | |
| --- | --- | --- | --- |
| Year    | Written exams | Practical exams | Coursework |
| 1 | 0% | 0% | 100% |
| 2 | 0% | 0% | 100% |
| 3 | 0% | 0% | 100% |
Assessment methods
Coursework assessment with no formal examinations.
Portfolios, projects, pitches and papers.
Staff
With a range of commercial titles to their names and strong creative computing research profiles, our staff provide both experience and expertise.
Some members of staff only teach on specific modules, and your course might not feature every member shown here.
Facilities
Large studio equipped with state-of-the-art game development studio
Specialised computing hardware for game development, deep learning projects, motion capture, and immersive experiences
Standard packages used in software development for the games and visual effects industries, including Adobe and Autodesk suites
Attached lab committed to staying at the cutting edge - featuring AR/VR/MR (XR) equipment including HoloLens, Vive Pro, and Oculus Rift
XSens motion capture suits
Attached lab with access to PS4 Development and Testing kits
Access to a variety of game engines including Unity and Unreal
Studios open late during term time
Access to free software via Microsoft Imagine
How to apply
Entry requirements
GCSE Mathematics Grade 4 (C), or equivalent.

104 - 120 UCAS points, primarily from Level 3 qualifications like A-Levels, a BTEC Extended Diploma, or a Foundation Diploma.
Check how many points your qualifications are worth
We'll also consider you based on your individual merit and potential. So get in touch if:
You're predicted points below our requirements
You're thinking about transferring from another institution
You have other qualifications or professional experience
Language requirements
GCSE English Language Grade 4 (C), or equivalent.
We also accept qualifications equivalent to the IELTS Academic 6.0 overall score, with at least 5.5 in Reading, Writing, Speaking and Listening.
If you need a Tier 4 student visa to study in the UK, you'll need to take an approved Secure English Language Test (SELT).
Apply via UCAS
Enter these codes at UCAS Apply and Track
University code F33

Course code I610
Deadlines
UK/EU applications: 15 January
Late applications will be considered if there are places available.
International fee payers can apply after the deadline. But we recommend applying as early as possible, to make time for visa and travel arrangements.
Next steps
Once you've applied, you'll receive a Falmouth Applicant Portal login, where you'll find more details about these requirements.
What we're looking for
We want someone who:
Is passionate about digital games
Wants to work as a programmer or technology specialist in either the AAA or indie context
Passionately follows current video game technologies
Likes to experiment and tinker with code and technology
Wants to develop real games in multidisciplinary teams in a studio mirroring the industry
Enjoys finding out how things work
Is comfortable with mathematics and problem solving
Fees, costs & funding
Tuition fees
£9,250 - full-time UK/EU

£15,000 - full-time international

Typical course costs

£100 - Recurring annual costs
£1500 - Optional laptop or desktop capable of running appropriate software

If you need to bring equipment or materials with you, these will be outlined in your Welcome Letter

The figures above don't include accommodation and living costs
£9,250 - full-time UK/EU

£16,000 - full-time international

Typical course costs

£100 - Recurring annual costs
£1500 - Optional laptop or desktop capable of running appropriate software

If you need to bring equipment or materials with you, these will be outlined in your Welcome Letter

The figures above don't include accommodation and living costs
Tuition fees are set annually and are subject to review each year. The University may therefore raise tuition fees in the second or subsequent years of a course, in line with inflation and/or the maximum permitted by law or Government policy. Students will be notified of any changes as soon as possible. 
Ask a student
What better way to find out about life at Falmouth University than by asking our current students? 
From course details, our facilities and the local area to the social scene and settling in, our students are ready and available to answer any questions you might have. Simply set up your account, send them a question and they'll get back to you within 24 hours.